Analog Corner #95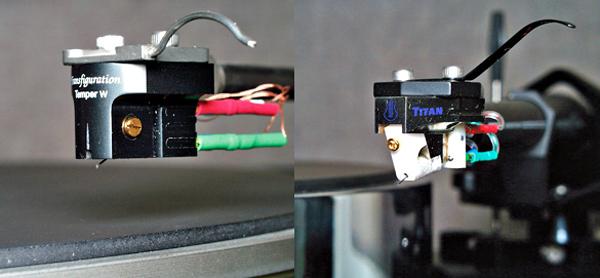 Thomas Edison was granted a patent for his phonograph on February 19, 1878. To celebrate the 125th anniversary of that momentous event, the Grammy Foundation, in partnership with the Edison Preservation Foundation, held a party at the French Institute Alliance Française, (possibly forced to rename itself the "Freedom" Institute by the time you read this?), sponsored, appropriately enough, by Con Edison, the New York City power company.
The evening's main draw was live performances by Patti Austin, Les Paul, Daniel Rodriguez (the cop famous for singing "God Bless America"), Arturo Sandoval, BeBe Winans, and Reverend Run of Run DMC, recorded direct to wax cylinder using Edison's original equipment. Also shown were videos of recent wax-cylinder recordings made at Edison's West Orange, New Jersey facilities by Peter, Paul and Mary, Bucky Pizzarelli, and Rodriguez. Produced by music-biz veteran Russ Titelman, this series will include contributions from 25 or so artists, including James Taylor, and will be included among the contents of a time capsule to be buried at the site of Edison's old lab in West Orange.
Aside from marking the patent's anniversary, the event honored two important organizations: the Grammy Foundation's Music On Film Preservation Project and the Edison Preservation Foundation. Music On Film partners with archives, institutions, families, and individuals to preserve historical musical films. A copy of Duke Ellington Makes a Record, a newly preserved 1934 short subject on nitrate film, was shown as an example of what must be saved before it turns to dust. The joy and sheer energy of the music-making was mesmerizing, as were watching and listening to the documentary-style description of the cutting, plating, and pressing processes of the time. The Edison Preservation Foundation's mission is to preserve the inventor's historic homes, laboratories, equipment, and papers in West Orange. This is where what we love was born.
The event was enjoyable—especially the live-to-cylinder recording sessions—but left me with the clear impression that the Grammy people are clueless about the state of analog playback in the 21st century. They plan to release the wax-cylinder recordings on CD. Vinyl? Never heard of it. Throughout the event, the various speakers spoke of the phonograph in the past tense, as if it exists now only as a vehicle for nostalgia. There was also a short film on the history of sound that basically ignored high fidelity. This from the people fighting MP3 downloads.
If this event was intended to celebrate the invention of the phonograph, there should have been some acknowledgment of that technology's amazing longevity and, as we move further into the digital age, its increasing popularity. The Grammy Foundation could have shown the audience shots of modern turntables still being made, LPs still being pressed—a fitting tribute to Edison and his invention. But, as I said, these people are clueless. I told the publicist for the event that I'd be happy to meet with whomever and give them a wake-up call so that future events, press releases, and programs can better reflect reality. We'll see what happens.
In the meantime, Edison's facility is in serious trouble: In 1993 it was listed as one of the nation's "most endangered historic places" by the National Trust for Historic Preservation. Here's what you can do to help, and to help further the cause of analog: Send a check to the Edison Preservation Foundation, One Riverfront Plaza, Fourth Floor, Newark, NJ 07102, payable to the Foundation. I'm sending $25 and hope that many of you will, too. It's a small and, I suspect, tax-deductible amount, but if even only a quarter of the readers of "Analog Corner" send in checks of this amount, imagine how much money can be raised to help. Together, we can easily raise at least a quarter of a million dollars.
Of equal importance, include with your check a photo of your turntable and a note explaining that you still play records—including new ones—and anything else you'd like them to know. Perhaps we can raise our profile and help the future of analog. Tell them Mikey sent you. Don't let me or Thomas down!
For more information on the Foundation, visit www.edisonpf.org. This has been a recorded announcement.
Three State-of-the-Art MC Phono Cartridges
Whether it's to offer a "relaxed fit" to make life easier for analog lovers, or because both Scan-Tech and Immutable Music believe that they've found a way to offer better performance with higher output, the Lyra Titan ($5000) and Transfiguration Temper W ($4000) offer considerably higher output than the "statement' models they replace. Lyra's previous best, the Parnassus D.C.t, was rated at 0.25mV, while Transfiguration's Temper Supreme offered even less: 0.2mV (both at 3.54cm/s). Each of the new models are claimed to output 0.5mV, but their outputs are actually different.
How's that? Two test records are commonly used to measure output, one each from JVC (TRS-1007) and CBS (STR-100). Scan-Tech's Jonathan Carr used to complain to me that while he used the JVC disc as a standard, some other companies use the CBS LP, which results in a higher output rating. He also found that too many consumers didn't bother looking beyond the first number in the rating, and some were scared away by the lower voltage.
The new Lyra Titan's 0.5mV output is based on the CBS LP, while the Transfiguration Temper W's 0.5mV is still based on the JVC record, which means that it has even higher output than the Titan. In fact, Lyra's Parnassus D.C.t was rated at 0.35mV using the CBS record, so Scan-Tech has actually upped the output ante from 0.35mV to 0.5mV (at 5cm/s), while Immutable has gone from 0.2mV to 0.5mV (at 3.54cm/s)—which means that the Temper W's output using the CBS record would be more than 0.6mV. The Audio Tekne MC-6310 ($4995, not related to Audio-Technica) is rated at a minuscule 0.1mV using the CBS record, meaning it has less than half the output of the already low-output Temper Supreme.
Is all of that clear to you? No wonder CDs took over.
Lyra Titan: $5000
According to Scan-Tech, the Lyra Titan "takes the best aspects of the Parnassus D.C.t and Helikon, and introduces further advancements of its own." That's a good thing, in my experience; I felt the Helikon sounded better overall than the D.C.t, though it didn't resolve low-level information quite as well—and that goes for the lower-output SL edition as well. The D.C.t was easy to respect but difficult to love.
The Titan has two symmetrical disc magnets that Lyra claims create a symmetrical magnetic field that eliminates distortions common to conventional pole-piece designs. The neodymium compound is said to be the most powerful magnetic material in the world, and the improved magnetic field is said to give the coils and cantilever greater freedom of movement. The result is better tracking, improved low-level resolution, and lower distortion.
The Titan's body is machined from a single piece of titanium alloy, curved and shaped to minimize standing waves, internal reflections, and resonances. The internal body structures house the various components, which are integral to the body—unlike in less sophisticated designs, where a completed motor assembly is glued or affixed to a housing. According to Scan-Tech, these internal structures are so complex that a non-physical-contact process, called "electrical discharge machining," had to be used. The process has the added benefit of not causing mechanical stress to the structure. The idea is to create a rigid, low-resonance, clearly defined reference pivot for the cantilever that improves the accuracy of the conversion of mechanical energy to electrical energy.
The D.C.t was a semi-open design; the Titan is fully "nude," which makes setup much simpler, with easy access to the cantilever. Unlike some nude designs, the Titan (and the Helikon) include "full frontal" stylus guards—a very good thing to have when you're handling a $5000 cartridge. The nude design eliminates resonance-producing body cavities and minimizes the presence of conductive materials near the magnetic gap and coil assemblies.
The Titan features a core cantilever of solid boron, with an outer diamond layer and a metal jacket for additional reinforcement. According to designer Jonathan Carr, the Lyra-designed line-contact stylus has a minor radius of 3µm and a variable major radius with a maximum value of 70µm. This shape was chosen for its tracking and detail retrieval, low groove wear, good S/N ratio, and attenuation of existing groove damage.
The coils, wound from high-purity copper over an iron core plated with high-purity (5N) gold, have a low impedance of 5.5 ohms that remains constant with frequency to well beyond the audible range. Finally, the suspension wire is short, which also improves the precision of the cantilever's "reference point."
The entire generator assembly is mounted directly to the titanium body, which reduces the number of mechanical joints between cantilever and tonearm to maximize the transfer of mechanical energy away from the stylus-and-generator system. The result is less reflected energy, but it means the cartridge delivers a large amount of mechanical energy to the headshell and through the arm. Therefore, the manufacturer cautions, the Titan should be used only with the finest arms. Rigid bearings and/or stiff, low-resonance armtubes are mandatory. But then, if you're spending $5000 on a cartridge, chances are that's what you already have.
Finally, Carr emphasized the importance of Yoshinori Mishima, who hand-builds and "voices" every premium Lyra cartridge, and repeats the process after the cartridge has had time to "settle."
Titanic Sound: Easily the best-sounding Lyra cartridge I've ever heard, the Titan is a step up from the Helikon's already superb performance. I had a prototype Titan for a few months; whatever changes were made for the final edition yielded a much different and far more impressive-sounding cartridge.
Lyra detractors have complained over the years about the line's lack of emotional and textural complexity while admiring its analytical and information-retrieval abilities. Some find Lyra designs somewhat "mechanical," and perhaps short on delivering music's full harmonic structure while favoring rhythmic and transient detail. I've never shared those opinions, though I can understand why some might prefer a richer, softer, somewhat more forgiving sound. And, of course, these observations are system-dependent—the integral generator-and-body designs of more recent Lyras do kick back a lot of energy and require a well-designed, well-executed tonearm if they're not to sound bright. The Helikon took the Lyra sound in a somewhat richer, fuller direction without losing the detail, and earned respect even from those who prefer cartridges that sound "lush" and "warm."
The Titan was something else altogether. It combined the detail-retrieval capabilities and transient purity and speed of the Parnassus D.C.t with the textural and emotional abilities of the finest Koetsus I've heard. If the D.C.t sounded somewhat sterile, the Titan had a rich, Merlot-like finish with a rich and appropriate bloom and harmonic structure. I made a CD-R for a friend of Van Morrison's Astral Weeks from an original Warner 7-Arts pressing, and what this cartridge did for the touch of the great bassist Richard Davis and Connie Kay's drums (nice rhythm section for the kid, don't you think?) was truly surprising—and I've heard that record hundreds of times over the decades. I didn't hear added detail—at this point, those days are mostly over. (How much more stuff do you think can be pulled from familiar vinyl?) It was more a matter of texture, delicacy, touch, and warmth lacking in earlier Lyra designs, but without loss of transient speed or rhythmic drive. The softly strummed background guitar on many of the tracks had body, depth, and detail I'd never heard communicated quite as subtly or with such grace.
In a comparison of the Koetsu Urushi and Lyra Parnassus D.C.t in the October 1998 Stereophile (Vol.21 No.10), I wrote: "Not that these two fine performers sounded identical. They didn't. The tonal clichés were reduced to 'tendencies.' The Koetsu was slightly richer in the lower midrange, which made strings 'sing' with a rich, vibrant, ever-spreading glow." The Titan added that magic to Lyra's repertoire while maintaining the line's noted resolution of detail, clarity of attack, transient speed, and purity. The Titan is the least "mechanical"-sounding Lyra I've heard, and one of the most lyrical and liquid-sounding cartridges I've heard from anyone at any price. And it delivered that musical ease without sounding dull or closed-in.
Pure Audiophile's reissue of the Ray Brown Trio's Soular Energy (2 LPs, PA-002) arrived toward the end of the reviewing period. Cut by Stan Ricker, himself a bassist, it is a very difficult record to track. When pianist Gene Harris accents a chord as Brown digs into the bass, only the best combinations of tonearm and cartridge can properly navigate the grooves. This acid test required that the Titan's vertical tracking force (VTF) be set at its recommended upper limit of 1.75gm. Playing other LPs while installed in the Immedia RPM2 and Graham 2.2 arms, the medium-compliance cartridge flawlessly tracked vocal sibilants, muted trumpets, and other difficult sounds at 1.6gm.
As you should expect for $5000, the Titan's dynamics, soundstaging, depth, detail resolution, bass definition, and all other parameters of cartridge performance were the state of the art or close enough. The Titan's high output allowed the Manley Steelhead phono stage to coast at its lowest moving-coil (MC) setting, with the lowest-impedance transformer tap selected, while delivering full dynamic authority. If any detail was lost in providing the additional 150µV over the Parnassus D.C.t—particularly at the bottom end of the dynamic scale—I wasn't aware of what might have been sacrificed, given how much had been improved.
The Lyra Titan seemed to sail through the grooves, ignoring or minimizing wear, scratches, and other defects, while retrieving and delivering a level of musical delicacy and nuance that set it apart from any other cartridge I've heard. Listen to Cisco's astounding reissue of Nathan Milstein's performances of the DvorQ225;k and Glazunov violin concertos (Capitol/Cisco SP8382), mastered by Kevin Gray and Steve Hoffman at AcousTech, and you'll hear the Titan's sheer musical greatness. It did justice to Classic's 45rpm "Stairway to Heaven," too.
Audio Tekne MC-6310: $4995
Exotic and breaking some of the rules, the limited-edition Audio Tekne MC-6310, from Japan, is the brainchild of Kiyoaki Imai. Though his company is small and little known in the US, Audio Tekne enjoys a higher profile in Italy, judging by reviews on the website (www.audiotekne.com, click on "English"). The range of products is wide, varied, and very expensive, including hand-wired tube power amplifiers, phono sections ($28,942, $64,316, and $171,508, the last requiring the $64,316 Audio Tekne preamplifier for its power), step-up transformers, and a very expensive turntable ($95,570 with MC-6310 cartridge). There's also a line of loudspeakers, most of which make use of a proprietary carbon material Imai is said to have invented and sold to Matsushita while maintaining the right to use it in his small, tweaky audiophile business. The material is said to have amazingly effective resonance-damping properties.
The MC-6310 comes in a small box, inside of which is a small, white, snap-open jewel box identical to the one Sumiko uses to present its $295 Blue Point cartridge. The long, stocky cantilever is unprotected and lacks a stylus guard—you're on your own with this $5k baby, so handle with care. The main body appears to be milled from a solid block of the carbon material, and the four signal pins are aligned in a row on a separate slice of carbon screwed into the main block.
I e-mailed Kiyoaki Imai to get some design details. Although he doesn't speak English, he was able to tell me that the cantilever is an aluminum-magnesium alloy (AlMg5), the stylus is "0.6mil and Cone" (which I assume means elliptical), the coil wire is high-purity copper, and the magnet is samarium cobalt. The block is tapped and threaded, making the tricky "nude" installation somewhat easier—but you must use the supplied nonstandard screws.
Wide-Bodied Sound!
Using the WallyTools AnalogShop box and a voltmeter to set azimuth, I was amazed to find that the MC-6310 had the lowest crosstalk voltage at 1kHz I've ever measured on the unmodulated groove, and by a wide margin. How this is achieved, I don't know, but it indicates superb separation and a resulting w-i-d-e soundstage.
In fact, that CinemaScopic soundstaging was the first thing I noticed. If that's what you want, the Audio Tekne MC-6310 will deliver it, along with ultra-detailed resolution on a par (as I remember it) with the van den Hul Colibri, where every ridge of a scratched gourd becomes a momentous event and the smallest reverberant cue stands out in relief. But it will do so only with an appropriately high-performance phono section with, in most cases, an equally high-quality step-up transformer. When you work with such ultra-low-output devices, RF, grounding, and other noise become big issues—for the MC-6310 to give you the goods, everything has to be ideal. In my system, while it was slightly elevated in the mids and highs, it sounded neither bright nor etched, indicating a slight rise in wideband response as opposed to nasty peaks.
When I ran the MC-6310 into Audio Tekne's MCT-9448 step-up transformer ($5150; other models cost $2575 and $16,095) driving the Manley Steelhead's moving-magnet (MM) input, the sound smoothed out and become richer, lusher, and even more expansive, though it never approached the textural delicacy of the Lyra Titan through the Steelhead. Still, the Audio Tekne combo was absolutely hair-raising; when I played Ray Brown's Soular Energy, the MC-6310 had no trouble tracking the LP at 1.75gm, which is midway in its recommended VTF range of 1.5–2.0gm. Compared to the Lyra Titan, the MC-6310 reproduced Brown's string bass with a bit more string and a bit less body, and Gene Harris's piano with more of the percussive action of the hammers on the strings and a bit less of the sound board. This was a sonic role reversal: the Titan became more like the Koetsu Urushi, the Audio Tekne more like the Parnassus D.C.t. Like an LP, 'round and 'round we go.
The Audio Tekne MC-6310 was fast, articulate, detailed, well-controlled in the bass, surprisingly dynamic given its low output, and presented an enormously wide and deep soundstage. It offered less of the violin's delicacy and textural nuance than did the Lyra Titan, but delivered more of the "event drama" of the bow scraping across the strings. Through my electronics, the MC-6310 didn't sound nearly as rich or as delicate as the Titan, but, combined with the right electronics, the MC-6310 delivered spectacular musical performance and a high level of overall excitement. How such a long, thick cantilever manages to trace the grooves with such aplomb, when everything I've learned tells me it should be at a disadvantage compared to the tiny cantilevers of most modern, ultra-high-performance cartridges, is something I can't answer. This intriguing cartridge will surely find an audience.
Transfiguration Temper W: $4000
As with earlier Transfiguration Tempers, the W uses a yokeless, double ring-magnet design that puts the coils inside the magnet. Like the Lyra Titan though somewhat different in execution, the Temper W has an extremely effective coil/magnet coupling, the coil located optimally within the magnetic field. Improvements in the W include a new "ultra-grade SS" (SS for "super secret") mu-metal square core that Immutable claims increases sensitivity by 30dB for improved S/N ratio, new coil wire of 7N copper, a new non-temperature-sensitive damping material, a new boron cantilever, and a few other changes. Overall, however, the Temper W is more an upgrade of the Transfiguration Temper Supreme than a completely new design. That makes sense—the Temper Supreme remains one of the most neutral, detailed cartridges I've ever heard. It's still my true reference; I always use it as a measure of other cartridges' neutrality.
The Temper W had the same admirable "house sound" as the Temper and Temper Supreme, both of which I've reviewed in Stereophile (Temper, May 1999; Temper Supreme, February 2000), but with much higher output—at around 0.6mV via the CBS test record, it's up there with the Clearaudio MCs. Once it was broken in, one of the first records I listened to was Sundazed's fantastic and long-overdue vinyl reissue of Van Dyke Parks' unique Song Cycle (Warner Bros./Sundazed LP 5140). This album is intricately arranged, laden with string and studio effects, punctuated by percussion, and carefully layered in a wide, deep aural panorama.
When it was over, I played my original gold-label Warner Bros. LP and realized that Sundazed had pretty much nailed the reissue: it sounds very close to the original. The Temper W offered amazing transparency and "see into the event" clarity. At first I'd thought only the reissue offered that, but then I heard the same thing on the original pressing—a clarity not born of "etch" but of background quiet. Perhaps part of this was due to the Temper W's high output, but after a few nights' listening I concluded that it was a notable character (or lack thereof) of the cartridge itself. Trotting out the old audio clich;ae, "veils seem to have been lifted," so transparent and quiet was the picture.
Event detail—snare-drum strokes, rim shots, bows and fingers contacting strings—appeared with unforced clarity where before they'd been not nearly as clean or dimensional. In some ways, an attractively murky mystery had been removed that detracted from the sonic picture. But once I'd gotten used to it, I appreciated the absence of aural cobwebs and the clarity and transparency that had replaced them. At first I thought the Temper W was missing some of the reverb on the records, but I came to find that it was simply clarifying the mix. When I listened to Tony Bennett's Live at Carnegie Hall (Columbia C2S 823), I found the wraparound mid-hall sound all there, but what was coming from the stage had a clarity, focus, and transient naturalness that said "you are there": it didn't blend in with the reverb but separated out, as you'd experience it in concert.
The Transfiguration Temper W demonstrated outstanding tracking on Ray Brown's Soular Energy at 1.9gm, the upper limit of its recommended range; 1.8gm sufficed for everything else I threw at it. While the W wasn't quite as lush as the Lyra Titan or as sharply drawn or as "widescreen" as the Audio Tekne MC-6310, it once again demonstrated the Temper line's balance of high-performance attributes, while adding a new benchmark for phono cartridges in terms of transparency and "CD-like" (in the best sense of the term, if there is such a thing) background silence. Add to that a host of high-performance strengths you'll find documented in my Temper and Temper Supreme reviews, and, for $1000 less than the Lyra or the Audio Tekne, you can own a cartridge that is more than competitive in most respects (though not as texturally rich and communicative as the Titan, or with as big a soundstage as the MC-6310), and arguably superior in terms of see-into-the-soundstage transparency and resolution of event detail.
Conclusions
The Lyra Titan, Audio Tekne MC-6310, and Transfiguration Temper W are three of the finest cartridges I have ever heard. Are they that much better than $1000 and $2000 cartridges? In my experience, yes. Could even more expensive cartridges be better by a similar degree? I don't think so...but I'm willing to listen!
---
Sidebar: In Heavy Rotation
1) Van Dyke Parks, Song Cycle, Sundazed 180gm LP
2) Ray Brown Trio, Soular Energy, Pure Audiophile 180gm LPs (2), Groove Note SACD
3) Cannonball Adderley, Somethin' Else, Classic 200gm Quiex SV-P LP (mono or stereo)
4) Pink Floyd, Dark Side of the Moon, EMI 180gm LP, EMI multichannel SACD
5) Eleanor McEvoy, Yola, Vivante/Market Square 180gm LP, SACD
6) Thelonious Monk, Brilliant Corners, Analogue Productions 180gm 45rpm LPs (2)
7) Roy Haynes, Love Letters, Eighty Eight's 180gm LP, SACD
8) Charles Lloyd Quartet, Love-In, 4 Men With Beards 180gm LP
9) The Police, Every Breath You Take, A&M Chronicles multichannel SACD
10) Kathleen Edwards, Failer, Zöde CD
<!- ------------------------------------>