Analogplanet Interviews Producer/Arranger/Musician John Simon (Corrected Introduction)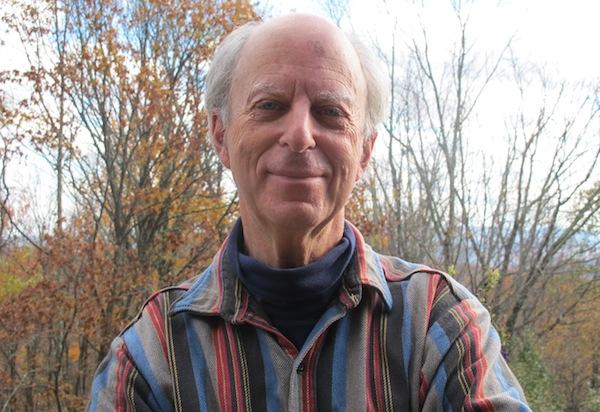 I drove to record producer and musician John Simon's Catskill mountaintop home on a gorgeous, unusually mild November 1st. Simon is best known for producing
Songs of Leonard Cohen
, BS&T's
Child is Father to the Man
, Big Brother and the Holding Company's
Cheap Thrills
and of course The Band albums
Music From Big Pink
,
The Band
and
The Last Waltz
.
The warmth allowed us to chat outdoors in a charming backyard spot complete with natural "water feature." I can only imagine the setting's mid-summer pastoral splendor.
The recording session began embarrassingly for me with my usual Blue Fire "Mikey" stereo microphone and iPhone 3GS combo for some reason failing to stay in "record" mode—something the bright sunlight made difficult to see on the touchscreen.
By the time I realized what had happened, Simon had covered his childhood in Norwalk Connecticut, where he was born in 1941 the son of a violin playing doctor who thought Frank Sinatra was too "far out" and his early interest in music beginning with marches by John Philip Sousa and the popular 1947 tune "Open the Door Richard," though he didn't specify which version he'd heard.The catchy tune was covered by Count Basie, Dusty Fletcher, The Three Flames, Jack McVea and Louis Jordan.
Simon recalled that the early records his family had listed on the label whether they were "groove in" (as records are today), or "groove out", where the stylus would start at the inner groove area and move outward.
Once I realized the recording problem, I told him I had the early history down in my mind and that we should continue. I hit "record" only to have the phone say it was nearly out of storage space and I had no idea how to delete the phone's extensive iTunes music catalog.
Fortunately I had my iPhone4S with me as well and used it to record the interview as a voice memo, which, as you'll hear came out sounding remarkably clear considering the setting, the occasional wind and that we were sitting across from one another at a good sized table with the phone in between.
By the time I had realized the older phone was not recording the conversation, Simon had covered his childhood musical education on the violin and piano, his high school years during which he played in various ensembles, his applying to Harvard, Yale and Princeton—rejected by the two former, accepted by the latter—and his musically active college days.
Simon said he was so busy with music at Princeton he wonders how he managed to graduate. As a freshman he put together a band for the first Georgetown Intercollegiate Jazz Festival. His group was among the 6 finalists (Dave Brubeck and Paul Desmond were the judges) but didn't win. Neither did Chuck Mangione, another finalist that first year.
During his senior year, he was recruited by The Ted Bates advertising agency as a jingle writer and by Columbia Records as an apprentice producer under the supervision of the label's president Goddard Lieberson. He chose the latter.
Though vinyl fans might consider Lieberson's greatest legacy his being responsible for the introduction of the LP record, most observers consider his Broadway show production as his singular achievement.
Though other labels had issued Broadway shows on LP (Decca issued "Guys and Dolls" in 1950) Lieberson's extensive coverage of Broadway mainstreamed and popularized original cast recordings.
In fact, Lieberson provided the $375,000 needed to produce the stage production of "My Fair Lady", considered to be among the greatest shows ever, in exchange for the rights to release on Columbia the original cast recording.
The investment paid off both on stage and at the record store. The original cast recording (in mono only) starring Julie Andrews and Rex Harrison topped the Billboard 200 charts for fifteen weeks between 1956, 1957, 1958 and 1959. A stereo recording produced in England with Andrews and Harrison was issued in 1959.
Perhaps you think I've gone on for too long about Lieberson, who died in 1977 at age 66, but I suspect John Simon would approve. I brought with me a Columbia Records produced book and record album (narrated by Charles Kuralt) about Lieberson issued after his passing that Simon perused with great pleasure, identifying, while praising Lieberson's genius, many unfamiliar faces including legendary recording engineer Fred Plaut.
Simon was assigned to work on Broadway show production. He remembers original cast Broadway show recording sessions at the legendary 30th Street Studio , where whole albums were recorded on Sundays, the one day the shows were "dark".
The big orchestral overture was recorded first, followed by vocal numbers. Tapes were then taken to editing suites where one of Simon's first jobs was to carry out the editing and EQ choices made by Teo Macero, the legendary jazz producer well-known for his great ears. At the time only union editor were allowed to touch tape.
Once the reels were assembled as sides one and two, Lieberson would listen and based on his comments the tapes would either be revised or taken immediately to lacquer cutting facilities in the building. Lacquers were then taken to Columbia's old Bridgeport, Connecticut facility (closed in1964) for plating and pressing. Later of course, lacquers went to Pittman, NJ, Terre-Haute Indiana and Santa Maria, CA.
Simon enjoyed this period at Columbia, which was then, he says, a wide-open freewheeling type organization. He worked on many projects during which he learned what was involved in the business's producing, recording and production stages.
From this point, the recording picks up Simon's story. These included a "Legacy" series of Book and Record "theme" packages produced by Lieberson that featured artists like Ramblin' Jack Elliot, Ed McCurdy, The Clancy Brothers and Sonny Terry and Brownie Mcghee.
His enchantment ended with the "corporatization" of the business. Columbia was divided into two basic groups: popular and classical. Simon was assigned to a 'special projects' group that had to be put in one of the two groups, which it was decided would be the classical one. This was not good for Simon, whose classical music knowledge was slim.
He oversaw some unusual "audio book" type releases, like the famous "Point of Order" LP that chronicled the infamous Senate hearings chaired by Communist witch hunter Joe McCarthy.
He was eventually 'rescued' from the classical side by Ken Glancy who had been made head of A&R (artist and repertoire). He'd noted Simon's keen ear, and gave him a popular music producer assignment. Simon produced, among others, Of Course, Of Course an early release by jazz great Charles Lloyd, albums by Jesuit singers and two albums by "polka king" Frankie Yankovic, which he described as having been a great deal of fun.
His first big producing hit was "Red Rubber Ball" by The Cyrkle. He'd learned about the band from Nat Weiss, who identified himself as "Brian Epstein's American associate", (Epstein managed and named them "The Cyrkle"). Thus in the summer of 1966 they were one of the opening acts for The Beatles. The catchy million selling song "Red Rubber Ball" was co-written by Paul Simon and Bruce Woodley of The Seekers. A follow up "Turn Down Day" was also a hit.
For his success, Simon was awarded a spacious office that included an actual live plant. The man was on his way! Ironically, it turns out that two members of The Cyrkle Tom Dawes and Don Dannemann found great success in the jingle writing business Simon turned down after college. Dawes wrote the "plop plop fizz fizz (oh what I relief it is)" Alka-Seltzer jingle, while Dannemman wrote, among other jingles 7Up's "uncola".
It should also be noted that in addition to producing, arranging, songwriting and composing, Simon can be heard on his own albums and in collaboration with artists including Howling Wolf, Dave Mason and Eric Clapton. He's worked with Dylan, Bonnie Raitt, Dr. John, Joni Mitchell, Dusty Springfield, etc.
<!- ------------------------------------>