The Anvil "Alloy Convertible" Turntable—Motor City Metal Machine Magic!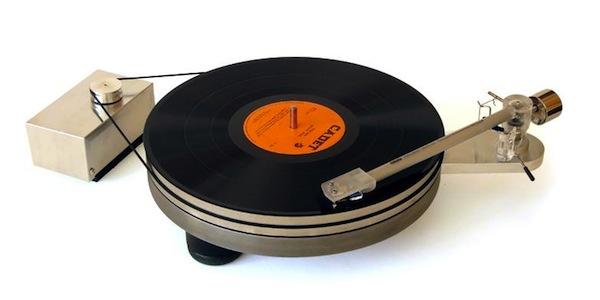 The two basic turntable design approaches are low mass that quickly evacuates energy and high mass that sinks and damps energy. Both designs seek to avoid reflecting back into the system the considerable energy produced at the stylus/groove interface.
So you have lightweight plinth designs like those from Rega and Arthur Khoubesserian's The Funk Firm and heavy ones from I'm sure you can name many.
Platter mass matters too. All other things being equal, higher mass is desirable but cost can be a mitigating factor. So in the budget end of the business we find glass, acrylic and Delrin, all of which can be relatively high mass and inexpensive, and in the higher price brackets metal or sometimes acrylic with cylindrical metal inserts usually placed close to the platter's outer perimeter to produce a speed-stabilizing "flywheel effect."
Back in the 1990s I reviewed and then purchased a Simon Yorke S7 turntable that did away with the conventional square plinth and instead sunk the bearing into a massive but compact round base of austenitic (non-magnetic, corrosion resistant) steel and a massive platter fabricated from the same material. Mr. Yorke made his armboard of a lightweight wood laminate, thus "mixing metaphors."
With its ability to produce deep, very solid bass, authoritative dynamics and black backdrops, S7 remains one of my favorite turntables. The S7 redefined for me the word "punch" but it costs around $10,000.
So when Detroit, Michigan turntable manufacturer Bruce McDougall emailed me the link to his website www.anvilturntables.com and I saw a $2200 turntable reminiscent of the S7 (though to be fair, that's minus a tonearm) I immediately asked if I could review it.
Shortly thereafter two boxes arrived one containing the platter, the other everything else. The packing was strictly amateurish but McDougall explained that he uses an excellent foam fabricator who was backordered at the time and as he wanted to get the turntable to me pronto, he did some makeshift packing. I get it. That said, the instruction manual is better than some by veteran manufacturers.
The Anvil's base consists of a 25 pound cast iron circular base with an integral removable armboard made of T6 aluminum (T6 is a heat treated, artificially aged, magnesium and silicon aluminum alloy). The base can be fitted with a second armboard for two arm operation at an additional cost of $250-$300 depending upon arm. The Anvil's price includes one pre-drilled armboard. Additional pre-drilled armboards are priced at between $150 and $200 depending upon the arm (the price differential is based on the machining/drilling complexity).
The bearing housing, threaded on its exterior, fits into a hole in the plinth and is secured with a large nut. Also supplied are four large aluminum/Sorbothane footers with magnetic inserts.
The AC synchronous motor is housed in what appears to be an off the shelf "industrial strength parts box" of folded metal but Mr. McDougall says it, like all of the parts, are sourced locally and made for him. McDougall "bundles" with his 'table Music Hall's Cruise Control electronic speed adjustment box. Drive can be via whatever method you choose: rubber O-ring, dental floss, magnetic recording tape or whatever.
McDougall prefers, and he supplied me with, braided surgical silk thread impregnated with bees wax. The motor is fitted with a large flat-sided pulley into which are cut three shallow grooves for the surgical thread, which he said would work best on the lowest of the three.
The 25 pound platter is a casting of a proprietary copper/nickel alloy created by Mr. McDougall. The large diameter sapphire tipped bearing spindle fits into the bearing sleeve after you drop a hardened chrome steel ball bearing into it along with about 14 drops of supplied 20 weight oil (you can use up to 80 weight should you so desire).
The platter/bearing system features dual opposing ring magnets (also custom manufactured locally)—one fits in a circular cutout on the platter bottom and one sits in a cutout on the top of the base— that reduce the weight seen by the thrust pad from more than 25 down to around two pounds.
While the 'table I reviewed came finished "raw" (it's a very cool industrial look IMO) you can order yours powder coated in any one of up to 10,000 different colors.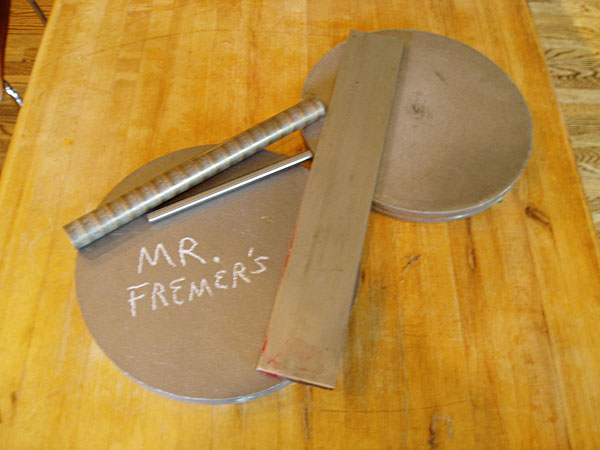 Each 'table is individually tested for speed accuracy using Dr. Feickert's iPhone software app ("Platterspeed") and highly recommended but you'll need the accompanying 7" test record.
Set Up
The base comes out of the shipping carton with the magnetic feet attached but slippage in transit (at least with mine) required them to be slid into position, which is arbitrary but obviously symmetrically around the base perimeter is best.
The Sorbothane footers are "sticky" so if you need to reposition the base, it's best to put paper under each and then slide. After dropping in the ball and adding around 14 drops of oil using the supplied dropper you carefully lower the spindle into the sleeve. It will take some time for the bearing to completely bottom out. Then give the platter a spin and it will just keep spinning—longer with 20 weight oil, shorter with heavier oil.
Some turntable manufacturers believe some friction yields better speed consistency but speed measurement results were superb with 20 weight oil.
I had the armboard machined for the Graham Phantom II Supreme, which costs more than twice the 'table but I wanted to hear just how good it could be.
Using the supplied thread was less than convenient and will require acquired skills. Do yourself a favor and keep the stylus guard in place while you learn how to put the thread in place. In the (likely) event it slips under the platter and gets contaminated with oil, you'll have to clean it carefully.
McDougall gives good instructions on how to best accomplish this tricky maneuver but until you do it you'll not know what you're getting yourself into! Patience is a virtue.
The platter will not spin by itself once you turn on the motor controller so you'll need to give it a careful spin and be sure to remember there's a nearly invisible thread between the motor and platter or you're more than likely to bump into it and knock the thread off the platter rim. I hated when that happened! But over time I trained myself.
Rather than use any of the supplied mats—Delrin, aluminum or the Music Hall cork mat—I used the Merrill-Scillia cork and lead mat that I really liked on the Onedof turntable reviewed in Stereophile and I also tried the Boston Audio graphite mat as well. Use any mat you like, just don't use soft rubber or Sorbothane! While Sorbothane is an effective damping material under pressure (50 pounds of turntable for instance), when used as a thin mat under no pressure it becomes a spring! Do you want a spring under your record? I don't.
McDougall also supplies a lightweight aluminum record weight that I used for the initial listen and I was plenty happy with that, but getting the most from the 'table requires more weight in my opinion and I ended up using the Stillpoints LP1 a 1.5 pound, $495 weight containing five of the company's devices said to convert vibrational energy into heat. Okay, that's probably overkill but it was worth the price for what it did!
So configured with mat and weight we're still talking under $3000, which puts it in the Avid Diva II category. That is a very fine 'table that I reviewed a few years ago. It comes with an MDF platter not a 25 pound one of cast alloy!
Sound
I chose a Helikon SL low output MC into the recently reviewed Musical Fidelity ViNL M1 phono preamp so the combination retailed for around $11,000. Not chump change, obviously, but imagine a modestly priced Rega, Origin Live or Jelco arm on the Anvil and an under $1000 cartridge to start with and your records are still riding in style for around $5000.
Even with the stock record weight, the Anvil produced pitch-black backdrops out of which emerged well-focused three- dimensional images. Rhythm'n'pacing and "punch", expressed as bass dynamics and tautness were ridiculously good for a turntable costing $2200 but not surprising given the amount of mass the designer was able to provide in both the base and the platter.
The Anvil performed way, way, way beyond its modest price point. Granted that most of the $2000 or so competition includes a tonearm, but still, add a $1000 arm to the $2200 Anvil and I'm confident you'll retain those qualities that are usually found in far more expensive turntables, particularly the black backdrops and pitch stability.
Mr. McDougall individually tests the speed stability of every turntable he ships using the Feickert software and test record. He measured wow and flutter readings of .01 filtered and .02 unfiltered with very low drift. I obtained the same readings using the same software.
Superb image stability, black backgrounds, rock solid pitch stability, clinically clean, fast transients, a freedom from mechanical colorations, "punch," unrestrained dynamic expression and especially the ability to tamp down impulse events like pops and clicks are what you pay for in very expensive turntables.
Such 'tables produce a smoothness and grace along with the retrieval of inner detail and the image and soundstaging three-dimensionality that are immediately obvious and set them apart from budget models.
The Anvil managed to produce all of those sonic riches far in excess of what one should expect for $2200—especially the pitch stability, background quiet, transient clarity and ability to restrain impulse noise.
I'm listening now to The Julian Bream Consort's recording of An Evening of Elizabethan Music (RCA Soria LDS-2656) and the Anvil's ability to suppress the occasional pops and clicks on the typically noisy Soria pressing (RCA Soria pressings are consistently noisy compared to less deluxe "Living Stereo" pressings, for reasons I'd love to understand) reminded me of far more expensive turntables.
But more importantly, the 'table's rendering of string pluck transients achieved a level of clarity, three dimensionality and overall sophistication rarely found in 'tables at this price point. The Anvil reminded me of VPI's Classic 3 (itself a bargain) and the TW-Acoustic Raven 1 but at a much lower price point. This is not really surprising given the amount of mass Anvil manages to offer at such a reasonable price.
Problems?
The initial set-up with the surgical silk thread can be a hassle and until you get used to it, you'll probably hit the string and have to go through the initial hassle more than once. I also found that over time the Sorbothane donuts on the bottom of the motor housing deform, especially if you try to nudge the housing's position to obtain the optimal string tension. This leads to a footer instability that can cause the thread to lose tension and slip off the platter.
That's the worst I can say about the Anvil. The best is that the combination of Anvil "Alloy Convertible," Graham Phantom Supreme II, Lyra Helikon SL and Musical Fidelity M1 ViNL phono preamp had me forgetting about what I was listening to and what it cost and just laying back and enjoying the musical performance. Whatever sins the combination might have committed were strictly of omission. I could have cared less about what might or might not have been missing.
Conclusion
Because it's marketed direct and manufactured in-house the Anvil turntable can be sold at a price significantly below that of a traditionally manufactured and distributed high-performance product. Therefore it's not surprising that the Anvil can compete easily—especially in terms of dead quiet, black backgrounds— with turntables costing $5000 and perhaps even $10,000 though I have nothing here at that price point with which to compare it. Mr. McDougall has done an excellent job here and this is his first 'table. He told me his goal was to produce a turntable that would produce a truly high-end listening experience at a reasonable price. He's done just that in a cosmetically appealing, compact package (though some may find the parts box motor housing rather spartan.
Highly recommended though with the usual caveats about the potentially limited re-sale value of non-marquee products. That said, given the ultra-reasonable price and the rock-solid build quality I really don't see how you can go wrong with the "Alloy Convertible" turntable. Detroit is coming back. This market segment, however, didn't require a government bailout (not that there's anything wrong with that!).
<!- ------------------------------------>