The Audio Technica AT-LP120-USB Turntable Shames the Plastic Competition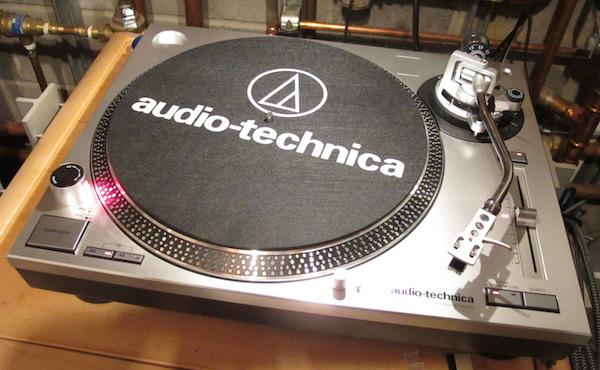 Off the audiophile pedestal and into the "real world" we go, with a review of Audio Technica's easy to set up $299.95 ("street" price $250) AT-LP120-USB turntable.
This feature-packed turntable bears more than a passing resemblance to the Technics SL-1200, the final iteration of which was the MK6. Citing dwindling sales and parts procurement issues, Panasonic/Matsushita absurdly discontinued the 1200 in 2010. What next? They'll stop making plasma TVs? Oh. They did that too (they had rational reasons in both instances, though plasma still far surpasses the picture quality of LCD IMO).
A-T's LP120 is a Quartz PLL (phase locked loop) direct drive design capable of spinning its relatively light-weight cast aluminum platter at 33 1/3, 45 and 78rpm. You can disable the Quartz speed lock and via a slide switch adjust the speed ±10% or ±20%. A built-in strobe light and pattern incorporated in the platter casting makes easy setting and monitoring speed.
You can even spin the platter backwards to decode secret messages found on some '60s and '70's era drug-soaked albums. For instance on David Bowie's terribly underrated The Lodger he sings "All the Young Dudes" backwards on the song "Move On". With this turntable you can play it backwards and clearly hear it. But I digress.
The gimbaled "S" shaped arm incorporates a knurled VTA/SRA adjustment platform similar to the one found on the SL1200's arm. The plinth includes a 45rpm adapter holder as well as one for a second head shell. There's even a pop up "stylus target light".
A MM phono preamplifier is built in, and can be disabled at the flip of rear-mounted switch allowing you to use your choice of phono preamplifiers. A built-in analog to digital converter capable of 44.1 or 48K 16 bit resolution connects via a USB port adjacent to the "line-phono" switch. Audio-Technica includes Audacity software for both Mac and Windows computers though of course you can use your software choice.
Finally, the 'table comes complete with a range of useful accessories including a sturdy, hinged dustcover as well as an installed-in-the-head-shell $40 Audio Technica AT95E MM phono cartridge that tracks at 2 grams, which is Audio Technica's "secret weapon." The 95E has long been one of my favorite "el-cheapo" MM phono cartridges.
Out of the Box And Quickly Up and Running
Few audiophile quality products are packaged and documented as well as is this turntable, which weighs in at 23.5 pounds and rests on solidly constructed, damped feet. The packaging is smartly done and aimed at making sure that even neophytes can have it quickly up and running. The software and its computer interface is also well-explained.
Once the 'table has been situated on a level surface all that remains to be done is to balance the arm and set the VTF to 2 grams and the anti-skating to "2". Actually the most difficult part was to find the A.C. socket tucked into a rear panel fold that's not well-documented in the instructions. And of course you have to plug the hard-wired RCA cables into either a line level or phono input depending upon how you've set the "line-phono" switch.
Does Speed Accuracy Guaranty Accurate Sonics?
If you look at the measured speed accuracy using the Feickert Platterspeed app and test record, this budget turntable produces impressive specs. It runs precisely at the correct speed and while its deviation is ±10Hz, once it's been low pass filtered to remove record eccentricity issues, it looks fine. And in terms of speed stability and "wow" the AT-LP120-USB performs well.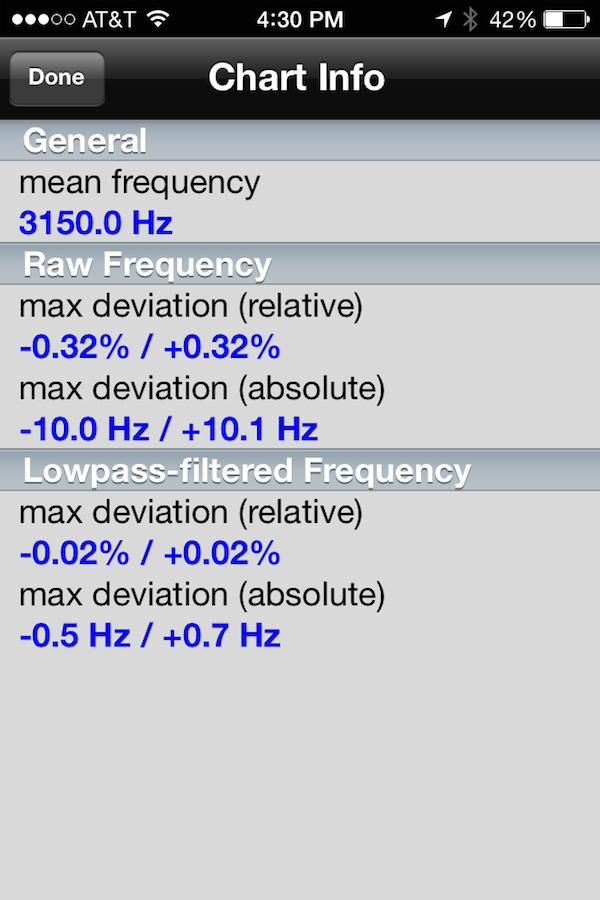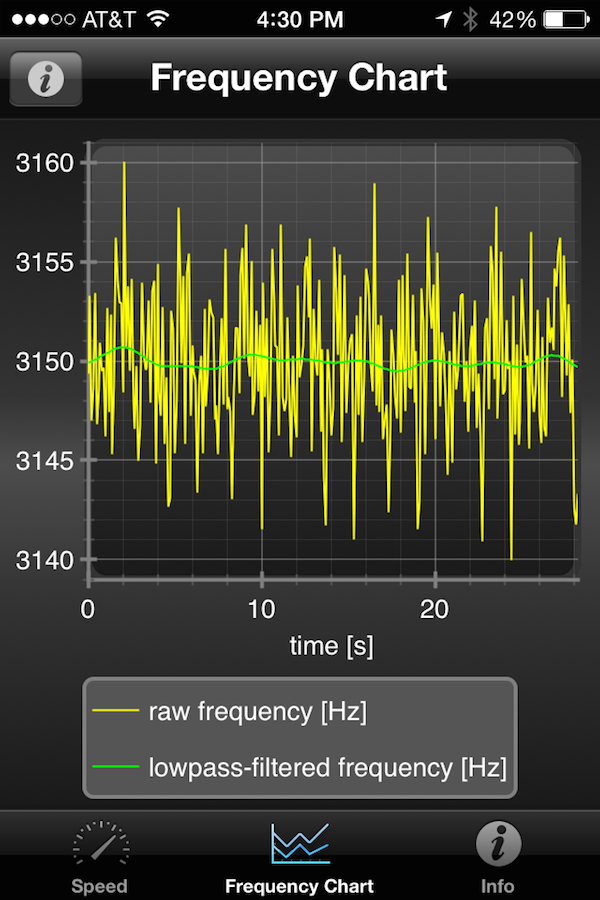 In terms of its overall sonics, with the supplied cartridge, well considering the price it sounds pretty good but way on the soft side of the sonic fence. Top to bottom transients are soft. So cymbals sound soft, bass lines sound soft and the rhythmic results are soft as well. This makes for a very pleasant but hardly exciting or detailed listening—and that's with the built-in MM phono preamp or with a variety or external phono preamps I tried.
I did note that despite the relatively high mass plinth, it was quite "lively" and even a gentle tap on it with the stylus in the groove produced a pronounced "thump" through the speakers.
However, backgrounds are quiet and if the goal is easy listening or converting to CD quality digital for less than "archival quality" archiving, the AT-LP120 does the job well.
I installed a low output Adcom Cross-coil cartridge that I'd had rebuilt some time ago that was already installed on a compatible head shell, and while it usually sounds fast, detailed and perhaps slightly aggressive, installed in the AT-LP120 it too sunk into the soft but pleasant ooze.
What accounts for this? I cannot be certain. In fact, my sonic recollection of the old Technics 'tables was of a somewhat hard and aggressive sound, which many surmised was the result of the constant "hunting and pecking" by the servo controlled motor as it overshot and undershot the correct speed; those micro speed changes producing an edgy quality. Is that true? I don't know. It's just what some people surmised.
Here the results were the opposite—even when the supplied felt "slipmat" was replaced with any of the mats used in the just concluded mat comparison. The sound was soft and sweet. But because it was uniform from top to bottom, it was actually quite pleasant, though of course diffuse and lacking in focus.
I played a clean original of Dave Brubeck's Time Out and the performance was unusual and unique. I certainly did not fear for the record grooves because the arm is clearly well-made and low in friction.
Conclusion
The Audio Technica AT-LP120-USB is a well-made, feature packed, "ready to play" inexpensive turntable that is a significant step up from the plastic crap competition. The lightweight platter is clearly one place Audio Technica saved some money, and perhaps it more than anything else accounts for the startlingly soft, but pleasingly lush sound.
In no way does this turntable compete sonically with a more costly belt drive design such as the $399 Pro-Ject Debut Carbon, or even with the less expensive U-Turn Orbit in my opinion though those (especially the U-Turn) can't begin to compete with the Audio Technica's build quality, feature set and ease of use. It all depends upon for what you are looking.
From what I experienced with this turntable, Audio-Technica has hit a bulls eye with its target audience—the casual record spinner—especially those seeking to give their vinyl an archival digital final spin.
The AT-LP120-USB is extremely well made, packaged and presented equally well, including excellent instructions for both vinyl playback and computer interface, and with its generous accessories should make casual vinyl spinners very happy with their purchase.
<!- ------------------------------------>