AXS TV's Vinyl Obsession Is Our Favorite New TV Show, and Executive Producer Katie Daryl Tells Us Exactly Why You'll Love It Too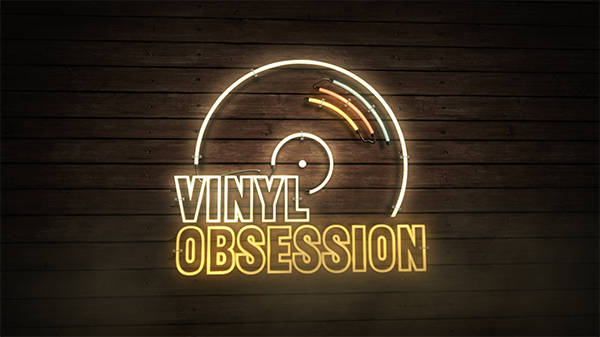 Is it any wonder why something called Vinyl Obsession instantly became our favorite TV show? Airing on Sunday nights at 8:30 p.m. EST on AXS TV, this half-hour show follows a pair of musicians and/or rock-adjacent celebs shopping for their five favorite albums at Grimey's in Nashville. Naturally, we had to find out how Vinyl Obsession came to be, so we went directly to the analog source, so to speak.
"Vinyl Obsession is a show AXS TV is really proud of and excited by," says Katie Daryl, the show's executive producer and AXS TV VP of programming. (Regular AXS TV viewers will likely recognize Daryl as one of the channel's most music-savvy on-air personalities as well.) Continues Daryl, "A show like this is for vinyl junkies and people who appreciate, understand, and really follow the story of vinyl, and not just bands in particular."
Season 1 of Vinyl Obsession consists of eight episodes. The first three have already aired, and they can be seen whenever AXS TV re-airs them in regular rotation, and/or via the On Demand function of your cable and/or streaming provider. Episode 4, featuring Lzzy Hale of Halestorm and Billy Sheehan of Mr. Big, is coming up this Sunday night, April 23. (You can check out a sneak preview of Lzzy's segment below.)
In that particular episode, Hale describes something I bet many of us have done at one time or another when we've been out vinyl shopping with friends. Daryl relays the tale: "Lzzy said she and the boys in Halestorm love to go into record stores together, and sometimes they will go, 'Okay, today you can pick something only based on the artwork.' They will go into it with different rules to the vinyl shopping game."
Because the response to Vinyl Obsession has been so overwhelmingly positive, AXS TV has created a weekly vinyl newsletter to accompany it. To see the latest edition of that newsletter, go here. To sign up for the newsletter — something AXS TV went out of their way to make sure was up and running for the AnalogPlanet faithful to access once this story was posted, by the way — go here.
Last week, I got on Zoom with Katie Daryl to get all the obsessive LP-centric details, and she told me how the idea for Vinyl Obsession moved from brainstorm into reality, who her main dream guest would be for Season 2, and what her own personal top Vinyl Obsession LP choices are.
Mike Mettler: Let's start at the beginning. How did Vinyl Obsession come into existence?
Katie Daryl: It's produced out of house by a gentleman named Stephen Stormer. Stephen and I go way back. He actually used to work at AXS TV years ago. When I got the job as VP of programming, I went straight to him and I was like, "Let's brainstorm. What ideas do you have? What ideas do I have? What can we come up with?" We had a laundry list of great shows and concepts, and the one that really rose to the top was Vinyl Obsession. Once we officially got it green-lit and got the budget all set, then we had to start thinking, "Okay, we gotta go out and film, and we gotta get guests. Who are we gonna get?"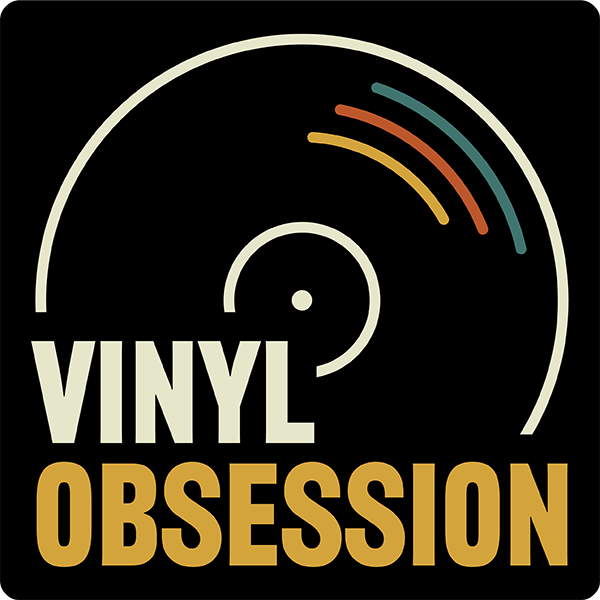 Mettler: Was the show always called Vinyl Obsession? Did that name just come to you right away, or did you guys go through some other options?
Daryl: We had a bunch of working titles, actually. There was a whole email list of ideas and brainstorms, but we finally landed on Vinyl Obsession because the truth of the matter is, the people who love vinyl are really obsessed with it.
Mettler: Guilty as charged. (both laugh) I've seen the first three episodes that have already aired, and the show is really good at capturing that sense of, "This is what we all do." You go through all the bins, you look at a lot of albums, and you often don't go to the shop with a specific idea in mind other than, "If something strikes me, that's what I'm gonna get." If it's the cover that appeals to me, or it's just a vibe or a feel, then you go with it.
Daryl: That's exactly what it is, yes — and you can see that in Episode 4 with Lzzy Hale, as I mentioned earlier.
Mettler: When bands are on the road, some of them are gonna go find the local gear shop, and others find the local record shop. Some musician friends of mine will send me photos from the store they're in and ask things like, "Do you have this album? Should I get this one?"
Daryl: Vinyl's so special. Often, we hear the question of, "Okay, what five albums would you wanna be stranded with?" One of our digital shows on AXS TV is called Stranded, and we ask people, "What would you wanna be stranded with?" It's kind of a different question than, "What five vinyls did you buy?"
It's different when you get to own, hold, listen, and hear the scratches. It's more about the inserts, and the artwork, and the experience of it as a whole. That's what we're doing with Vinyl Obsession, by being in the store. It doesn't necessarily mean it's your favorite album that you wanna listen to when you're under a coconut tree. (laughs)
Mettler: That's true. Being in the store is a much more visceral experience anyway. Oh, and without giving it away for those who haven't seen the show yet, whose idea was is to have "the twist" at the end of some of the episodes when the artist comes to the checkout counter? I don't think I'd be able to handle it if I had to deal with it myself. (laughs)
Daryl: Oh, the twist! (laughs heartily) I think when Stephen Stormer and I were talking about this series and just coming up with the production beats — listen, this is the world of television, and everyone has a TV idea. But being able to make a TV show and have those twists and those beats — that's what makes a producer, right? That's what gets the guy off the couch, and into the editing bay.
As we were pounding out the beats and the segments, I was like, "We're missing something at the end. Let's figure this out." And he and I came up with the idea of the twist.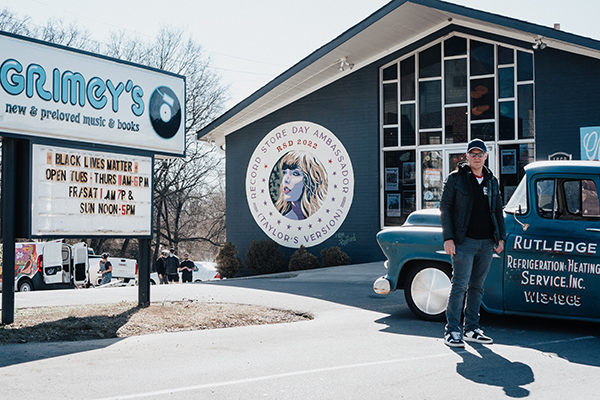 Mettler: Well, I must say that it is a bit of a cruel twist in a way, but we'll leave that to the viewers to decide. (laughs) Was Grimey's always the intended chosen location, or did you guys scout a bunch of different record shops to shoot in? [Above, guitar maestro Joe Bonamassa, who was in Episode 3, can be seen above after pulling into the Grimey's parking lot.]
Daryl: Grimey's was our first choice — our top choice. We had some backups, but when Grimey's said yes, we didn't even have to go to the backups. We knew we wanted to do it in Nashville. We wanted to have a good vibe and a certain feeling at a place that did feel like "The Church," right? That's what Grimey's is. And we were just lucky enough they said, "Yeah, let's do this."
Mettler: Did Grimey's close down when you went inside to shoot those eight episodes? Sometimes it looks like nobody's in there with the artists, but other times, we see people in the background. I wound up thinking to myself, "Are those production assistants, or were they allowed to have customers?"
Daryl: No, those are real people, and real customers. There were a couple of days we had morning shoots before they opened their doors. I think there were two days where they were actually closed, and they let us come in.
But then we had other days where people were full-on just shopping, and we had to say, "Look natural. Stop staring!" They may not recognize who's standing next to them, but they gotta know something important is going on, because they see multiple cameras are there.
What's great is, no sooner do you finish production on one season that you start thinking, "If we do a second season, what are we going to do? Would we go here, or would this become something that we do in a different city each season?" We've opened a can of worms, of brainstorms, at this point.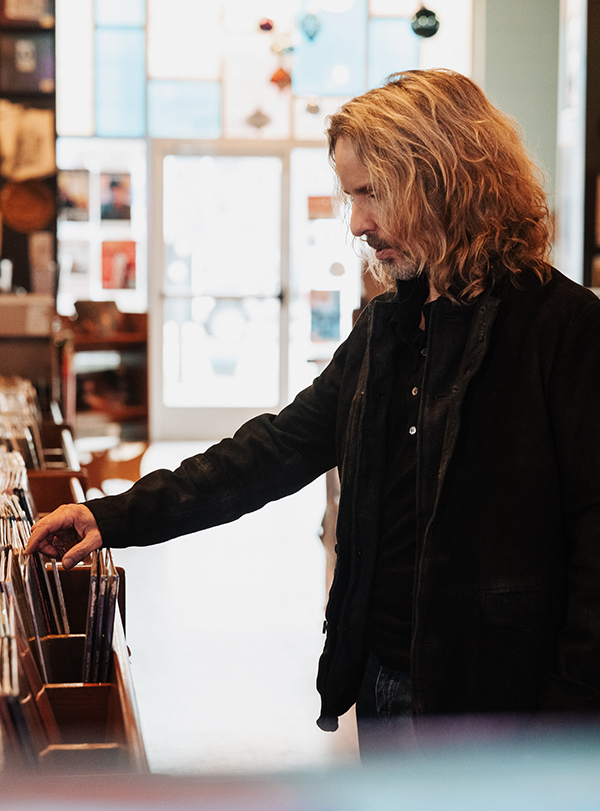 Mettler: Did you know right away that Tommy Shaw of Styx [seen above, shopping in Grimey's] was going to be the very first guest on Episode 1?
Daryl: Oh yeah. Tommy was the first person we reached out to, to be on the series. He was my No. 1 ask. Yeah, I love Tommy. He's always been great with the network, and he really resonates with us and the AXS TV audience — and his episode of Vinyl Obsession was great.
Mettler: I'm sure that took all of 0.5 seconds for him to give you a yes. (both laugh)
Daryl: Luckily, it was so quick, and Styx works with our audience. I mean, truly, I think Tommy Shaw was the first name out of my mouth. Now I will say I think I had just finished doing a Zoom interview with Tommy to talk about the tour Styx was doing with Loverboy and REO Speedwagon [for their summer package tour together in 2022 that was called Live and UnZoomed], so it was perfect timing that he was fresh on the brain. (chuckles)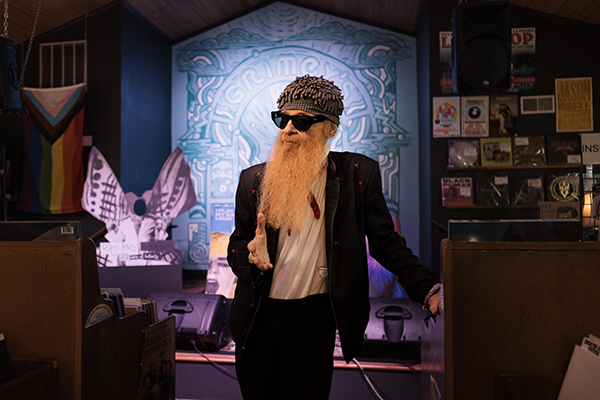 Mettler: I saw Billy Gibbons doing his thing in Episode 3. I talked with Billy last year about vinyl here on AnalogPlanet, and he's as hardcore as they come. How did that episode come together?
Daryl: Billy was a last-minute entry. We had wanted Billy, don't get me wrong. We had been trying to get Billy, but we had basically wrapped up production, and knew we had one pickup day left. We needed to get one more person because, obviously, with eight episodes, we needed 16 people — but when we finished filming, we only had 15.
At the last minute, Billy's people were like, "Yes, he's available." And we're like, "What? What day??" We were like, "Well, we're gonna have to get the crew back out to Nashville, and do this one pickup shoot."
And like you said, Billy's on Episode 3, and that was tricky because he was the last one we shot. Usually, in the world of production, we would've put him on Episode 7 or 8 because all the other stuff was already in production. So we had to halt, pivot, and pull someone off of that one and move them around because you don't bury Billy F Gibbons, right? (laughs)
Mettler: No, you certainly do not bury the right Rev Billy F! When you do finally get to do Season 2, are you already thinking about your next dream guests?
Daryl: Yes. We do hope to get to do a Season 2. There's room for so many great artists and cities and record stores in future seasons, I think.
Mettler: Maybe we can be onsite for some of those episodes, when you get there. But now I want your personal pick. You've gotta have one artist who is specifically "Katie's Pick." Who would you choose for that?
Daryl: (no hesitation) Okay, I'll tell you. I want Slash [the iconic Guns N' Roses lead guitarist]. I want Slash to do the show. I want Slash to pick his five.
Mettler: I like that idea. But, uh, who's gonna tell Slash about the twist?
Daryl: (laughs) I know, exactly! It would be like, "Everybody shut up! You tell him." (more laughter)
What's funny is, when we were working on the budget of the show, I said, "Well, once these artists pick these albums, we have to buy them for them. It would be rude to not buy them." Then I was like, "What if someone picks out something that's super-unique that costs beaucoup bucks? How are we gonna reel them in?"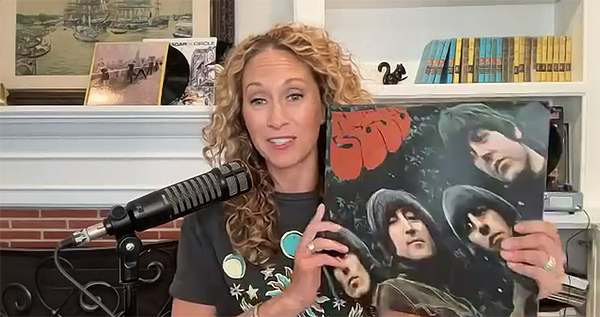 Mettler: That's why you're the executive producer, Katie. (both laugh) Now, what about your own five? You are now choosing for yourself. What among your own top Vinyl Obsession choices?
Daryl: All right, so one of my favorites is this album. [Katie leans over offscreen for a moment to get the LP out of a cabinet that's behind her.] This was also one of Tommy Shaw's choices. He picked what happens to also be one of my favorites — Rubber Soul [The Beatles' December 1965 classic]. I just love it.
And what I also really like about this album is — well, my son is seven years old, and during the pandemic, or even just slightly post-pandemic, we did a lot of puzzling together. We had a table where we did a lot of puzzles, and we would do it in this same room. We would put a record on, and he would always choose Rubber Soul.
One day, without the record player being on, he just was walking around the house, singing one of these songs. He was singing "Run for Your Life" [Track 6, on Side 2] — (Katie sings) "You gotta run for your life." And it's basically about how he's going to kill her! I was like, "What are you singing?" (laughs)
Mettler: You may have to have a talk with your son about what that means when he's a little bit older, since John [Lennon] got a bit dark there. Well, obviously, I like that album choice too, since Rubber Soul is really at the beginning of the album-as-artform era. Every song on every side now counts, and the album is taken as a whole. It's a complete artistic concept. What else would be on your list? Do you have a couple other potential top selections?
Daryl: Oh, gosh. I hate to be the person who gets stuck on The Beatles, but I will do Beatles-adjacent. I will do John Lennon and Double Fantasy, with Yoko Ono [released on Geffen in November 1980]. Now, mind you, you can pick up the needle and you can skip the Yoko songs on it, if you want.
Mettler: I hate to say it, but when I first bought Double Fantasy in 1980, that's exactly what I did. I listened to the first one of her songs on Side 1, "Kiss Kiss Kiss," just to be fair. Sorry, Yoko. We do love you, and we were eventually able to come around to your songs on that album later on.
Daryl: Also for me, when I start getting into some of the things I'm obsessed with that influenced me in my childhood — and I originally had this one on cassette tape — I would love to have the vinyl of U2's Achtung Baby [originally released on Island in November 1991]. That's where I first got exposed to U2. But it may not be my favorite album of theirs. I think [February 1983's] War might be my favorite — but I heard Achtung first, and that's where it started for me.
Mettler: Achtung Baby came out in a 2LP 30th anniversary edition in 2021, so you should definitely get a copy of it if you ever do your own episode of the show! (both laugh)
Daryl: I will say, when they're talking about what albums they would pick for Vinyl Obsession, a lot of people are very smart and they will choose a compilation — a best of — because, you know, hey, why not? Why not just take the hits? You have a nice splattering of music that you like. I, in that same vein, would go to a soundtrack for that — and I think The Big Chill soundtrack [released on Motown in 1983] is pretty on-point.
Mettler: Oh, good call there. The Big Chill is one of my all-time Top 5 films, and I love that soundtrack too. They put out a couple of sequel LPs to the first one, but those vintage Motown hits just can't be beat.
Well, to wrap things up, I'd like to say I love seeing the wide variety of LP choices all the artists on Vinyl Obsession have made so far. Sometimes they're unexpected choices, which I think is fantastic. You can really learn about an artist's roots and influences from the album choices they make on the show — and that's the beauty of record collecting too.
Daryl: Yeah. Yeah, it is. And Vinyl Obsession — well, it's just a really great show. We've had a great response to it so far, and I'm happy to be a part of it.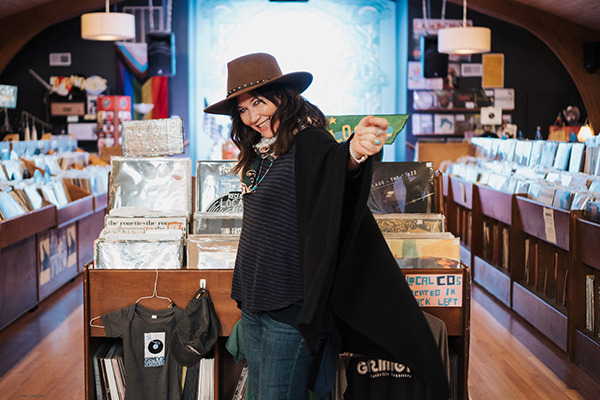 <!- ------------------------------------>