Bob Mould Gives Keynote and Performs at Making Vinyl Berlin Day One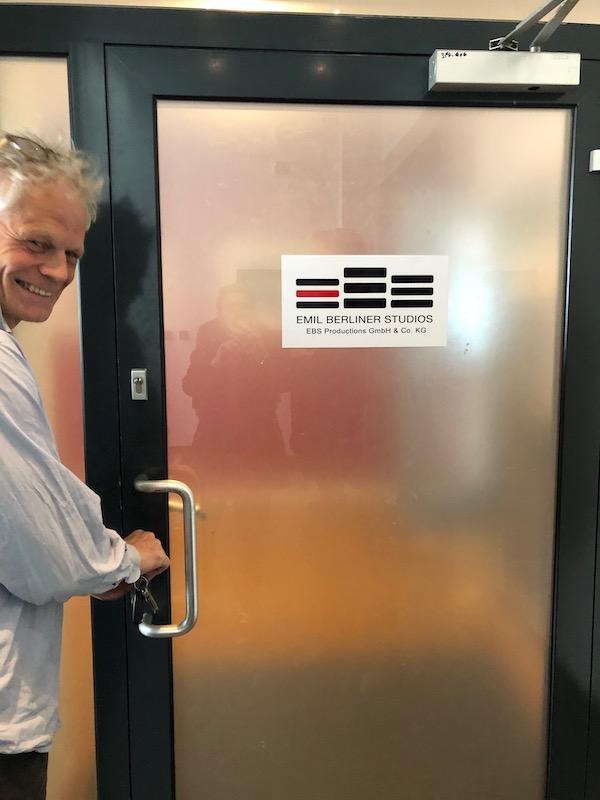 Frank explained the history of Okeh! records and Parlophon (correct spelling) and there labels that began in Germany and ended up purchased and thriving elsewhere. I will get that story clarified for another day because if you don't know it, you'll enjoy reading about it as it ties a lot of seemingly loose strings into a neat record business knot!
We met up with tone arm designer extraordinaire Frank Schröder for a walk through a huge flea market where we all bought some 1 Euro records and Frank found stacks of AGFA professional recording tape and a super rare vintage loudspeaker. I said to Frank "Now you'll have to find another for stereo." He said "I already have one that I found at another flea market." Of course you did Frank!
Through Mr. Wonneberg we got a personal tour of Reiner Maillard's lacquer cutting room at the Emile Berliner Studio located in theMeistersaal and Hansa Studios where David Bowie recorded Heroes and The Lodger (Low was recorded in Switzerland) and many other rock legends recorded. There's more to that story but it will have to wait for the video to post.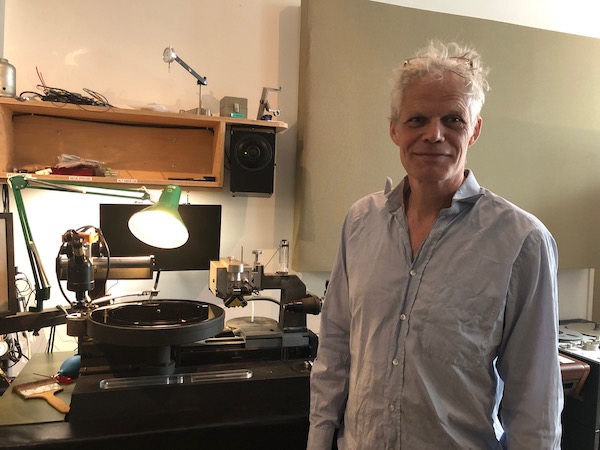 I was treated to dinner at an Asian fusion restaurant with Wonneberg, Schröder and a few others who will have to forgive me for forgetting their names, but not before I was taken to the apartment where David Bowie lived in Berlin on the wall of which is a porcelain commemorative plaque. It was an amazing first day and i was shown great hospitality and friendship.
Day 1 of Making Vinyl Berlin was not supposed to be excessively about vinyl. It was called "Physical Media World Conference" hosted by Media Tech Associates and was supposed to be more "general". The day began with a terrific keynote by René Rennefeld titled "Get Inspired: The Hit Formula". Rennfeld is an energetic, exciting speaker who talked about moving forward in a rapidly changing media world and about success and creativity. He talked about his coming up in the business when it was a more exciting and creative time and how he somehow also drew success from a singing animated underwear wearing green gummy bear. It was simultaneously funny, ironic, sad and inspiring—especially when he got to the mysterious "SDR", which turned out to be sex, drugs and rock'n'roll.
The "Formats in Numbers" produced interesting statistics about the German market. According to one speaker, vinyl sales dropped 4% in the country in 2018. I don't think that's true elsewhere and I am not convinced the statistics are accurate especially given the pressing plant numbers versus the sales numbers, but that's a discussion for another time!
I participated in the "Home Entertainment Trends According to the Journalists" panel that I recorded and will post as soon as possible. Of course I talked mostly about vinyl but I also talked about making trends rather than following them and how the vinyl revival happened only because people made it happen rather than following trend lines. Some of what I said surely ticked off some in the room, which was fine with me! I also spoke up during the Q&A after another panel about quality and how the record business seems intent upon repeating the mistakes of the late '60s when it started making thinner, poor sounding records and packaging quality also took a hit. I did go on and lecture! And I enjoyed every minute of it!
Later in the afternoon came "The Brilliant History of the Meistersaal and Hansa Studios" panel moderated by Mr. Rennefeld with panelists Eduard Meyer who engineered Iggy Pop and Bowie albums, among many others, Thilo Schmeid, of Berlin Music Tours and Mr. Maillard. The history was fascinating and they had pictures to show of the bombed out post-war building and its restoration of the room in which we sat. I have that one recorded too and it will be posted ASAP.
Then Bob Mould (do I have to identify him? I won't) came onto the stage and was interviewed by Making Vinyl co-founder Larry Jaffee. Afterward, Mould performed one song solo. The video begins with a hilarious promo video Mould shot in Portland, Oregon at Music Millennium in Portland, Oregon the RSD before the last one. A video I recently shot there with Malachi will be posted here soon. The sound is a bit raunchy at first but gets better for the discussion.
I arrived in Berlin early Wednesday morning and was picked up by a fellow named Frank Wonneberg, who I didn't really know, though I think we may have met years earlier at the High End Show when it was in Frankfurt, probably in 1996. He offered to pick me up and take me to the hotel, which was beyond kind. He also took me on a tour of Berlin. It was May 1st, which is a holiday in Germany so the streets were open though there were tourists and others at the big sights. I saw the Reichstag, and other similar touristy spots but Frank also took me to some amazing record-centric spots that few people know about including a small, run down little car repair joint that once was where the Odeon record label started in the early 20th century. It's where two sided records were born.
<!- ------------------------------------>