Brian Wilson and the Long Journey of "SMiLE" Part 1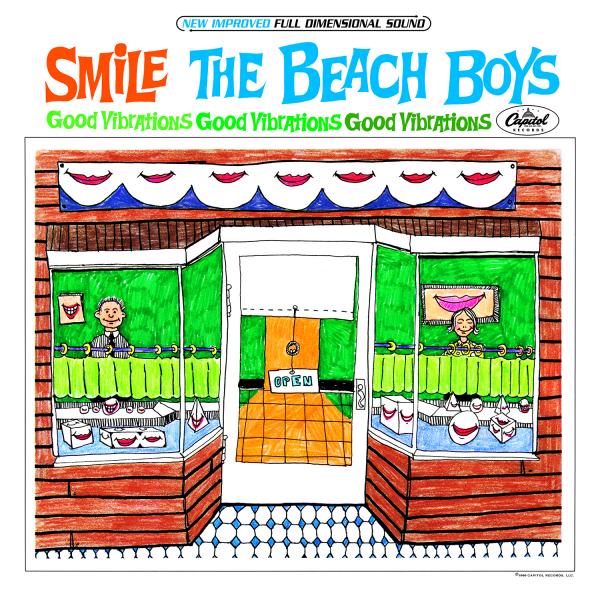 In director David Leaf's 2004 Grammy nominated film, "Beautiful Dreamer: Brian Wilson and the story of SMiLE," songwriter Jimmy Webb pointed to the tune "Surf's Up" as evidence that Brian Wilson instinctively knew that the miraculous musical moment that was "
SMiLE
" was rapidly coming to an end.
"It almost seems to me that 'Surf's Up' is like a premonition of what was going to happen to our generation and what was going to happen to our music. That some great tragedy that we could absolutely not imagine was about to befall our world. There's some really very disturbing clairvoyant images in 'Surf's Up' that seem to say, watch out, this is not gonna last."
Who could have predicted that in 2011 we could go to Amazon.com and pre-order the "SMile Sessions" box set?
The never-before-completed Beach Boys' original 1966-'67 album SMiLEhas now been assembled for 2CD and digital packages and deluxe, limitededition box set as "The SMiLE Sessions" to be released on November 1st by Capitol/EMI Records.
Between the spring of 1966 and summer 1967, producer Brian Wilson recorded the Beach Boys in many sessions in a forward-looking vision earmarked for SMiLE, that was intended to follow the band's 1966 Pet SoundsL.P. Those sessions were ultimately shelved, and The Beach Boys' SMiLEhas never been commercially available.
Bits and pieces of the fabled recording activities have been widely-bootlegged for decades. In the summer of 2011, the "Detroit Metro Times" mentioned "No album, released or not, has generated a more personal relationship with its audience, since no two people can ever agree on its content and purpose."
During 2011, "Pitchfork" reported, "The Beach Boys' SMiLEis quite possibly the most storied album in rock history." "Billboard" proclaimed "an event that pop music fans have been waiting for since the Summer of Love," and "The Washington Post" suggested SMiLEas "the most legendary unreleased album of all time."
Capitol/EMI Records in 2011 touted their "The SMiLE Sessions" in a news statement and explained the history and the mystery around the famous SMiLEalbum.
"The reason SMiLEdid not see a release in early 1967 had more to do with back room business that obscured the creative side of the program than anything else. In late 1966, The Beach Boys formed Brother Records, initially to produce outside artists. Soon, however, The Beach Boys would become embroiled in a court action with Capitol Records with the goal to become the top-selling artists on their self-owned, independent label. The group withheld Heroes And Villainsand announced they would instead release Vegetables– recorded with the band's own money in April of '67 – on Brother Records. By July of 1967, Capitol Records and The Beach Boys had come to terms, with Capitol agreeing to distribute the band's Brother Records, and it was agreed that SMiLEwas no longer to be the band's next album.
"In 2011, with the full participation of original Beach Boys Al Jardine, Mike Love, and Brian Wilson, Capitol/EMI has collected and now compiled the definitive collection. 'The SMiLE Sessions' presents an in-depth overview of The Beach Boys' recording sessions for the enigmatic album, which has achieved legendary, mythical status for music fans around the world."
The deluxe box also contains a 60-page hardbound book with rare and previously unseen photos and memorabilia from The Beach Boys' archive and spotlightsnewly-written essays by Beach Boys Al Jardine, Mike Love, Brian Wilson, and Bruce Johnston.
During 2011 the Capitol/EMI record label also supplied praise for the endeavor from the individual Beach Boys themselves."I'm thrilled that The Beach Boys' original studio sessions for SMiLEwill be released for the first time, after all these years," says Brian Wilson. "I'm looking forward to this collection of the original recordings and having fans hear the beautiful angelic voices of the boys in a proper studio release."
"One of my favorite songs from the SMiLEsessions is 'Wonderful'," says Mike Love. "The song truly lives up to its title, as do many of the tracks on SMiLE. Cousin Brian was at his creative peak during those sessions. I'm unaware of anything that comes close in pop music."
"I recently played some of my personal acetates from the SMiLEsessions and they held up really well," says Al Jardine. "We would come home from touring and go straight into the studio to record. Brian couldn't wait to show us his latest ideas. We were recording SMiLEand Pet Soundsmaterial simultaneously, so the tracks and vocals all have the same great quality. Most of the vocals were done at Columbia Studios in Hollywood, across the street from Western Studios, where most of the tracking was done."
"For me, it's always been about the way Brian Wilson brilliantly composed and 'voiced' his amazing chord progressions and melodies," says Bruce Johnston. "SMiLEreally made me smile!"
"Personally, I loved it," the late Carl Wilson said in 1994 of the SMiLEsessions (from the Don Was-directed documentary, "Brian Wilson: I Just Wasn't Made For These Times").
"In my opinion it makes Pet Soundsstink - that's how good it is," the late Dennis Wilson told a journalist in 1966 of the planned SMiLEalbum.
Carl Wilson reportedly called SMileusing a baseball analogy, "a bunt instead of a grand slam," when he compared Smiley Smileto the much heralded and then unreleased album that has become "The SMile Sessions"
"The SMiLE Sessions," drawn from the original studio masters, was produced by Brian Wilson, Mark Linett, Alan Boyd and Dennis Wolfe in Los Angeles.
The "SMiLE Sessions" physical and digital configurations include a collection of revealing core session tracks, while the box set delves much deeper into the sessions, adding early song drafts, alternate takes, instrumental and vocals-only mixes, and studio chatter.
The multi-format retail item invites the listener into the studio to experience the album's creation, with producer, singer and bassist Brian Wilson leading the way as he guides famed Hollywood studio session musicians and his fellow Beach Boys, singer Mike Love, drummer Dennis Wilson, lead guitarist Carl Wilson, rhythm guitarist Al Jardine, and newest member Bruce Johnston (who'd replaced Brian Wilson in the touring group during 1965), through the landmark sessions.
"The SMiLE Sessions" is a 2CD lift-top box, double vinyl LP, digital album, and iTunes LP formats feature an approximation of what was intended to be the completed SMiLEalbum, compiled from The Beach Boys' original session masters. Additional session highlights and bonus tracks are also included, including demos and stereo mixes."
Capitol/EMI offers an expanded, boxed edition of "The SMiLE Sessions" distributed in both physically and digitally, featuring the main SMiLEalbum tracks, plus four CDs of additional audio from the legendary sessions, a double vinyl LP set, and two 7" vinyl singles."
In 1965, Brian Wilson first encountered multi-instrumentalist and songwriter, Van Dyke Parks. In 1966, the duo were collaborating on keynote compositions for SMiLE: "Heroes And Villains," the band's follow-up single to "Good Vibrations," "Surf's Up," "Vege-Tables," "Cabin Essence," "Wonderful," "Do You Like Worms," "Wind Chimes" and other selections in the SMiLEtapestry. Wilson, with the support and guidance of Parks, begun to construct a new contemporary pop music style operating in a modular form, where musical individual sections and sound fragments were crafted to later be edited to form a coherent whole.
In the 1966-'67 time period, Parks also introduced Beat-Pop artist Frank Holmes to Wilson and Capitol Records, who created the LP sleeve artwork and booklet designs for the original SMiLEand the album's James Joyce-mode lyrics.
"The SMiLE Sessions" feature Holmes' original 1967-birthed artwork initially commissioned for the SMiLEalbum. "The SMiLE Sessions" box set shadowbox lid reveals a whimsical peek inside the 'SMiLE Shop.'
In addition, "The SMiLE Sessions" box set incorporates details and information about Operation Smile, an international medical charity organization with a presence in more than 60 countries dedicated to healing children's smiles. Since 1982, Operation Smile - through the help of generous supporters and medical volunteers - has provided free surgeries worldwide for children born with facial deformities such as cleft lips and cleft palates. For more information on how to be involved or donate to Operation Smile, visithttp://www.operationsmile.org
In 2011, I asked Guy Webster, the 1966-67 SMiLEsessions photographer to reflect on the musical and recording world of Brian Wilson he observed. Webster and I are both acknowledged in the credits for "The SMiLE Sessions" packages.
"I love Brian. Child-like innocence and he was playful. And I believe in that. One of the things about studying Buddhism all my life is getting that playful side, exposing it and don't be afraid of it and let it out. Everything Brian did I loved. Even the silly songs like 'Surfer Girl' I thought were brilliant.
"Well, the first time I walked into the living room at Laurel Way, it was this giant Moroccan tent was in the middle of the room, and there was sand on the floor by the piano, and I just went nuts because they could live the way they wanted to. Because they were rock n roll and then, I had to go home to a straight house with you know, no tents in my living room... My wife wouldn't've allowed it, but it really worked. The group would gather in the tent and it was such an intimate experience. I used to sit in there with the guys and we'd talk and hang out and it was such a beautiful light that came in the tent through this wonderful amber, rose and red sheeting. And I enjoyed it. I thought it was a lot of fun. It made the house unique and different."
For "TREATS!" Magazine in the September 2011 issue, Webster further elaborated to me on SMiLE.
"I saw Brian take pop music into a new direction. I feel it an honor that I was at the recording session for the vocals of 'Good Vibrations.' Oh my God. I had chills up and down my arms and back the whole time. I had never seen anything like it and to be in that recording session and to see them practice in the halls getting their harmonies. Holy shit. That was a real treat. It's one of the highlights of my musical life. And now later this year Capitol Records is releasing the SMiLEbox set with the original 1966 and '67 sessions for that album, including 'Good Vibrations.' I took photos and I'm involved in the new book for the package. And Van Dyke Parks is the lyricist with Brian on SMiLE. And he's brilliant. I did the cover of his Song Cyclealbum."
"I never liked SMiLE," offered record producer and author, Andrew Loog Oldham in 2011, who around his multi-tasking activities during 1964-1967, managed the Rolling Stones and helped administer the Beach Boys' music publishing in the U.K. market. Oldham's production of the "What To Do" track from the Stones on their epochal Aftermathalbum is audio homage to the Beach Boys' song structure and vocal harmonies. Mick Jagger initially remarked during that recording session, "what do you want me to do? Brian Wilson?"
"'Good Vibrations' was brilliant, but cold," Andrew suggested. "Genius has to function with a beat in the third ear, and his third ear was on Ritalin. A lot of folks went along for the ride because it was pretentious, or at least lofty. And in a way that too belonged to the times. We had had the sex, drugs and rock 'n' roll and now we desperately wanted to make a difference. Be it at Kent State or Grosvenor Square. So in a very warped way Brian was on the money. I liked the Beach Boys again with Wild Honeyand 20/20."
In summer 2011, "The Tree of Life" producer Bill Pohlad and acclaimed television writer and producer John Wells ("ER," "The West Wing"), have teamed to develop a feature-length move drama based on Brian Wilson's personal and professional story. They've acquired life rights from Wilson and his wife, Melinda, and hired Oren Moverman, the Oscar-nominated screenwriter behind the Bob Dylan film, "I'm Not There" to write the script.
Pohlad told "The Los Angeles Times" in their June 26, 2011 edition. "I have no interest in making a biopic. What's fascinating to me is to look at the different elements in his life, like that super-creative period when he was doing Pet Soundsand the later part when he was redeemed."
In 2012 the Beach Boys and Capitol/EMI Records will celebrate the band's 50th Anniversary with the label. Plans for commemorative releases and additional anniversary activities will be announced.
The release of the analog, newly-wrought "SMiLE Sessions" Hollywood-birthed 1966-67 audio dream is ready for retail release close to a half a century after it was recorded near "the scream of the butterfly."

Harvey Kubernik interviews Brian Wilson
Q: Before SMiLE you teamed up with lyricist Tony Asher for Pet Sounds.
A: A cool kind of guy. A little soft spoken. His attitude is just right for creativity and just right to work with. Just before we began collaborating on Pet Sounds I asked him what it was like writing commercials for an advertising company. It seemed like interesting work. I said, "You should be good with words if you can do that." And, he said, "I'm pretty good with words." Out of nowhere I said, "Would you like to work with me on some songs and write some lyrics?" "I'll give it a try."
Q: What was the difference collaborating with Van Dyke Parks on SMiLE to lyricist Tony Asher whom you worked with?
A: Well, Tony Asher worked a little slower working with me than Van Dyke who was faster.
Q: Why did you select Van Dyke Parks? He emailed me and said the first time he talked to you was at a party.
A: I met him in 1965. We met initially at a lawn party held by Terry Melcher at his home off Benedict Canyon, overlooking Beverly Hills. Later Van Dyke came up with David Crosby on a visit to check out my new home recording set up. "Van Dyke was brilliant at talking. I picked him because he was good with lyrics and pretty good with music, too. I can't answer what drew me to him.
Q: Why did you name the album SMiLE?
A: That was Van Dyke's idea. He thought it was fun. It was fun, but it was serious and it was work. Lots of work. Fun work.
Q: With SMiLE you started recording and producing musical tracks that were pieces, fragments and segments of ideas. Instead of the traditional verse chorus and verse pop music song structure. Why? The first version of "Good Vibrations"was initiated at Gold Star.
A: I liked writing in pieces. That was easier for us. And I was tired of the pop song structure. I wanted it to be different and a departure. I would say when it was time to write a section, "Hey, here's a rhythm pattern." Overall we coldn't get through a whole song.
Q: Do you remember your first writing sessions with Van Dyke Parks?
A: Initially, he did not want to work on "Good Vibrations" because when he heard it he thought it was finished.
Q: Do you remember the origin of "Heroes And Villains?'
A: I sure do. The song started at my Laurel Way house. We had a sandbox and a piano. The actual recording took five or six weeks. "I love 'Heroes And Villains.' The magic of Van Dyke's lyrics and my lead vocals. It's a pretty youthful lead.
Q: What was it like writing songs in a sandbox?
A: It made us feel like we were on the beach and gave us a touch of the beach. I took my shoes off. Got me in touch with nature a little bit more. I remember when they poured the sand in the sandbox. It was pretty cool to watch.
Q: As a producer of SMiLE what were you trying to accomplish when you first began the endeavor? Was it a meditation on the meaning of America?
A: Trying to capture early America. Van Dyke and I both loved early America. The vibe of early America. Indians."The nature ideas on SMiLE were Van Dyke Parks' ideas. Water, fire. The use of these elements.
Q: Do you remember when the original title of SMiLEwas called Dumb Angel?
A: Yeah. I was sitting in my office in my Laurel Way house and I was stoned on pot and came up with Dumb Angel. I came up with Dumb Angelbecause I was thinking about far out titles, so I came up with that. Van Dyke (Parks) suggested SMiLE.
Q: A bunch of the songs on SMiLE began with you and Van Dyke Parks sitting in a sandbox in your living room. The piano was right in the sandbox. How did the sandbox inform the songs being developed?
A: It brought in a beach vibe to us.
Q: SMiLE is not exclusively about the beach.
A: I know, but that was why we did it anyway. "Cause we wanted a departure and wanted to feel like we weren't in some house.
Q: There's a section in SMiLE on the tune "Do You Like Worms," where at the end there is this Hawaiian section happens, and actually serves as some re-occurring theme in SMiLE. I believe you and Van Dyke intended for SMiLE to visit or end in Hawaii. Van Dyke had a tropical section constructed during "Do You Like Worms" with a lap steel and vocal doubling. You tried to explain the sound once after Van Dyke described the recording, "It is so December 6, 1941." Maybe it's a logical extension, going back to earlier songs for the Beach Boys, where water is a thread. You had a previous song, "Hawaii."
A: I was in Hawaii when I wrote it on a piano. "Catch A Wave." That was my attempt to create a group style that mixed falsetto, mid-range and bass and backup singers all at once.
"When we started SMiLE, Van Dyke told me that there were going to be nature elements like fire and water. He told me that. I didn't know.
Q: How did you initially react when those concepts were laid on you?
A: Well, I think, first I said, "What do you mean?" Fire, water, earth and air. He said, "We can do a little of each." After that I can not remember what we did. "Van Dyke and I were very quick at music. See the thing is, Van Dyke knew music also. He also helped me with the music. I wrote most of it but he gave a direction for me.
"I was using both sharps and flats and he was like, 'Hey. Try another key.' And it all sort of happened because the key made all the difference.
Q: How did it feel writing music to this type of American imagery that Van Dyke was providing?
A: I got so close to his images that we'd touch upon the very actual mood of early America.
Q: When your band mates were touring and you were working on SMiLE, were you planning specific tracks for individual members to put their vocals on?
A: No. Actually, I did not write it for any specific one of guys. I wrote it for myself.
Q: In 1965, even before you were working on Pet Soundsand SMiLE, you told record producer Andrew Loog Oldham who was working at the next room to you at RCA Studios with the Rolling Stones that you would one day, "write songs that people would pray to."
A: On SMiLEI did that with 'Our Prayer' that I wrote myself. That's why I want people to pray when they are hearing 'Our Prayer.' I didn't want to throw it at people. I wanted to present it to people.
Q: There's a lot of humor in SMiLE. I remember talking to you about Ken Nordine's Word Jazz LP on the Dot Records label. Randy Wood and his Dot Records office were right next door to Wallichs Music City record store in Hollywood. You also bought comedy albums there and they influenced aspects of your work on SMiLE.
A: Jonathan Winters. I also loved "How To Speak Hip" by Del Close. Loren Schwartz who I lived with was the first guy who turned me on to it. Comedy makes thing happen.
Q: You were recording on a four-track tape machine in 1965 and '66, and then Columbia Studio on Sunset Blvd. was the first place where you really got into 8-track recording. What was it like recording on 4-track and then moving to an 8-track machine?
A: Well, we recorded the background tracks at Western. And then we went over to CBS for the vocals on 8-track. I felt confined with 4 tracks. 8 track was fantastic. You could put the cello on one thing and the theremin on another. It was fantastic. I was also able to record tracks at Gold Star, Western, Sunset Sound, CBS--- and bring the tapes to each studio. It's a whole different trip because it's the same song but you're going to a different studio. Truth is, going to different studios didn't really matter. All that matters is the vocals, because I tried to do vocals first and then the music. I didn't like to do that a lot. It was tracks first because you had to have something to sing too.
Q: Did you have any specific philosophy on SMiLE as far as producing vocals?
A: Vocally, during SMiLE, we got the best out of people at CBS. A great place with a great engineer. Really good. As far as producing, mixing the recording with the engineer, 4-track, 8-track is the same. Just a couple of more tracks.
"I liked to mix with big speakers. You can hear the overall sound better. I would then take acetates home and play them on my little record player. Dubs. I would play them for friends and SMiLE would unfold. I would hear things and then fix them.
<!- ------------------------------------>