Brian Wilson and the Long Journey of "SMiLE" Part 2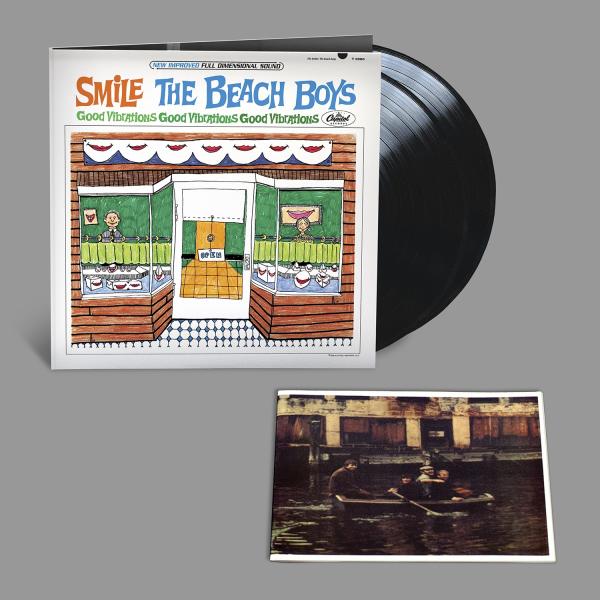 Harvey Kubernik Interviews Brian Wilson Part 2
Q: During Pet Sounds and then SMiLE, the recording studio became an instrument.
A: Yes. It became an environment to record music. It's a place to make music. Right?
Q: How about working with engineers like Chuck Britz at Western, Stan Ross and Larry Levine and Doc Siegel at Gold Star. Then, Bruce Botnick at Sunset Sound, along with several engineers at Columbia, including Ralph Balantin and a session for "Vege-Tables" with Armin Steiner at his studio.
A: The best trip is that they know music. They are good at music and engineering, too.
"People like Chuck Britz made suggestions. "How 'bout if we had a little more pick on the bass?" "How 'bout if the piano had more of a tacky sound." Chuck Britz was like a co-producer but only got credits for being an engineer.
Q: Were you aiming for a sound when you began SMiLE?
A: We weren't going for a sound when SMiLE started. We were going for just music. We didn't know what it was going to sound like.
Q: I know your early Beach Boys albums for Capitol Records were done inside studios at the company. We've chatted about this before, but did you split from Capitol to other local studios? Was it because you wanted to be away from under the watch of the record label located in the same building? Their underground echo chamber is in the parking lot and was designed by Les Paul.
A: I didn't like recording there and not because it was too close to the label. I liked the Capitol rooms, and I liked the instrumental sound, but I didn't like the vocal sound. I didn't like that kind of echo chamber. Tell me I'm an idiot! I just didn't like the vocal sound, so we switched over to Western, and Gold Star. Western had a big room, and Phil Spector was over at Gold Star. Western had a good bass sound and a better vocal sound. Sunset Sound also hada great tack piano, too. I did things at RCA with engineer Dave Hassinger. 'Help Me, Rhonda." Capitol did have a good violin sound.
Q: You were a regular Gold Star visitor and customer for many years. In that facility you produced The Beach Boys' "Do You Wanna Dance," "I Just Wasn't Made For These Times," "Wouldn't It Be Nice," and the original version of "Heroes And Villains" at Gold Star. And, a version of "Cabin Essence" targeted for SMiLE. Let's talk about Gold Star. A: Basically, it was their echo chamber. More than anything else. I liked their drum sound. I loved their tack piano, too. It was a great studio next to the Musicians Union on Vine. I liked the whole vibe. I liked the owners Dave Gold and Stan Ross and engineer Larry Levine.
"I went to Phil Spector sessions at Gold Star in 1966. The tracking date for 'River Deep, Mountain High.' I met Rodney Bingenheimer at Wallichs Music City record store on Sunset and Vine and we went to the session together. It was scary! The introduction to the production…That blew my mind. I had never seen that sort of power in a studio before. I did not get to see Tina do her vocal. Just the tracking session. I was a big Phil Spector fan. There were a lot of people on the floor but I didn't really learn anything from that session.
"On Pet Sounds and SMiLE, I had Phil Spector's players: Lyle Ritz the bassist was also a ukulele player. He was a trip and played good stuff. Carole Kaye on bass. She was previously on "California Girls." Ray Polhlman. Fender bass. Hal Blaine was the greatest drummer I ever worked with. Don Randi, the keyboardist.
"Let me tell you a story. I went to Gold Star and asked Larry Levine, the engineer, 'What is the secret of the Phil Spector echo trip?' 'Well, we have two echo chambers under the parking lot. Phil uses both the chambers at the same time.' So I tried that myself and it worked.
Q: I was at Capitol records studio in 2004. Paul McCartney said how much he liked the bass lines on Pet Sounds. I know you utilized the bass as a principal instrument. Like on "Here Today," where you conceived the idea of the bass playing an octave higher on the rhythm bed track. You did that as well during the production of SMiLE.
A: Because the bass parts resound better in a studio and you can take three hours to get one line if you really needed it. You could take forever and get a goddamn line, you know?
Q: In 2007 you explained how you started utilizing two bass players on the same instrumental music track, on both Pet Sounds and SMiLE.
A: I asked Larry Levine what Phil Spector did with his basses and Larry said Phil uses a standup and a Fender both at the same time. And the Fender guy used a pick. So I tried it out at my session and it worked great! You also get a thicker sound putting the two basses together. I start with drums, bass, guitar and keyboards. Then we overdub the horns and the background voices.
Q: You employed studio session players on SMiLE and this went back a few years earlier. But why were they so good to work with implementing your ideas and what you wanted on tape?
A: Because they were able to learn strange chords. They were able to learn licks that other people couldn't learn. They were able to learn and play with more force and more creativity.
Q: What about the incorporation of strings in your work, from Pet Sounds to SMiLE.
A: I liked Jack Nitzsche's string arrangements with Phil Spector. Sid Sharp was the guy I called for violins for my sessions. I like strings. It's good to use strings. Strings bring you in more. Like Nelson Riddle and Frank Sinatra. But you need some spaces and holes. I like horns, too. Brass. I liked to use two saxes, baritones, and a trumpet.
Q: You mentioned a few years ago that things you produced on SMiLE, like recording two guitarists at once directly into the console board began on Pet Soundswith "Wouldn't It Be Nice."
A: Barney Kessel did the introduction to the song and Glen Campbell was also there. And, I said to myself, "I'm going to have these guys play directly into the board instead of going out into the studio." And they plugged their instruments into the recording console direct. They are on SMiLE. That's how we got that sound. I also did that on 'California Girls.' My brother Carl played a 12-string on that and we plugged him into the console and he did his thing. Every now and then I'll do that. It sounds more mellow and it is something I can't quite describe but it is much more mellow than an amp.
Q: You brought in the theremin instrument in Pet Soundsfor "I Wasn't Made For These Times" and it is even more prominent in "Good Vibrations" and tracked for SMiLE. I know during Pet Sounds you saw jazz guitarist Barney Kessel at a session at Western Recording with a theremin player for a science fiction soundtrack. You then requested Barney to do a session thevery next day and to bring the theremin guy. Barney said, "I'll ask him and see if he's available."
A: Yes. I first discovered it when I was a little kid. My mom and dad had a friend who had a thing where you put your hand out and get a sound that goes higher and lower. And then I found out about what they call a band theremin where you slide your finger across a band. And I used it. It is an instrument that you use sparingly.
Q: Do you remember the first time you heard the final mix of "Good Vibrations" in the studio?
A: At the playback, all the guys said, Hey Brian. This is a number one record.' I said, "You know what? I agree. I think this is gonna be a number one record."
Q: What is the one thing, the specific element in "Good Vibrations" that still resonates with you when you hear the recording?
A: Mike's bass part was the one. Mike's voice on it was the thing that sold me on it. Mike's singing got us famous. Because his voice has a quality to it that goes hand and hand with the song. He was the appropriate singer for the song.
Q: Brother Records' songwriter Steve Kalinich and I remember when the Beach Boys rehearsed "Good Vibrations" on Sunset Blvd. at the former site of The Moulin Rouge that eventually was known as The Aquarius Theater. Just before the play "HAIR" was in that building. You were teaching the group the intricate vocal parts because you were not going to performing in concerts with them. Do you recall the rehearsals?
A: Yes. I wanted it to be done right and I wanted them ready to go for tour. I knew it could work on stage. I never thought "How is this gonna work live?" When we rehearsed everyone was very cooperative.
Q: You were watching the song leaving the studio.
A: Yes. When the boys were touring in 1966 that was when I first started writing even more parts for them. I can't answer anything else about it.
Q: You subsequently flew to Michigan to see "Good Vibrations" played live for the first time. What was that like?
A: Right. In front of an audience. I just remember saying, "That's fantastic." Ten minute ovation. What was it like? I was proud as hell. I took a bow. I knew the group could perform the material on stage. When it went to number 1 it did give me some confidence I could write in sections.
Q: I know with you everything is, "What key is it in?" Al Jardine said to me that starting in 1965 you really started thinking, "I've got to get these guys leads that they can sing on the road." Like, Al's vocal on "Help Me, Rhonda." Al Jardine is all through SMiLE. Talk to me about the other group members as singers.
A: In 'Good Vibrations,' Mike's singing got us famous. Because his voice has a quality to it that goes hand and hand with the song.
"Carl Wilson is my favorite rock 'n' roll singer. He had a resonant voice and he had a lot of energy and power in his voice. In which I didn't have or Mike, or the other guys. Carl and Dennis were both my brothers and my artists.
"Dennis as a singer... First of all, he had an energy. Right? Second of all he had a nice quality about his voice. Coupled energy with a sweetness and that was his whole trip.
"Bruce Johnson. He is not an energy singer. Bruce is a sweeter singer and a better falsetto.
Q: You told me in 2007 the first time you ever heard "Surfin'" on the radio from DJ Wink Martindale on radio KFWB that you had to pull over to the side of the road.
A: I couldn't believe I was actually on the radio. Could not believe it. And, when I heard "Good Vibrations" on the radio for the first time on the radio I cried my eyes out. I was in my house in Bel-Air when I heard it on the radio. My God!
Q: Was there ever a time where you could just a listener and a fan and just enjoy the moment when you heard your work on the radio?
A: I heard "Heroes And Villains" and thought to myself, "Hey! I did that with Van Dyke!"
Q: You told me a few years ago you loved that record because of the magic of Van Dyke's lyrics and your lead voice on the record.
A: It's a pretty youthful lead. Because the damn thing is so together and cohesive. It comes together so beautifully that people can't resist lovin' it.
Q: You started using the recording studio as an instrument.
A: I agree.
Q: I know there were more dials to play when the 8-track world happened in Hollywood. What was the main thing in the studio that lent itself to having the room and the technical environment as your collaborator? How different were the music and the tracks you were creating for SMiLEthan what you had earlier constructed on Pet Soundsand before that?
A: It was more a percussive bass line kind of thing. It was a concept in bass lines and echo. And we utilized a lot of echo that we never used before.Here is what I used: I used reverberation and echo. And that's how the studio lends itself to the song. So the record is the proper use of echo, and the proper use of reverberation. I always loved echo from (The Penguins) "Earth Angel" to Phil Spector. And the Four Freshmen had some echo, too. When you have echo and reverb to work with you can stretch the note from ah.. to ahhhhhhh. You can stretch notes longer.
"As far as the love or joy of making music, you start with your background track. You get the drummer to get to get the right beat and the bass player to thump the right thump. Guitars, pianos, violins and horns. Then you try and get them to all work together.
Q: There was also a version of "Good Vibrations" with lyrics from Tony Asher, who you worked with on Pet Sounds. as well as another "Good Vibrations," with words from lyricist, Mike Love.
A: Mike came over to my Laurel Way house and I had a "Bop Bop …And he said, "Do that again." And he goes, "I'm pickin' up good vibrations.' That's how he did it. On the piano and that (writing) session I could not envision the whole recording. In those days you went into the studio with ideas and paper but I was using portable cassette players back then.
"The title came from my mother in Hawthorne, California. She said, 'dogs bark at humans because they think of good vibrations. They pick up on bad vibrations but don't mind picking up good vibrations.' My mother got the title for it."
Q: I know you employed different studios for different things. Van Dyke Parks told me he had never seen anyone before you move from studio to studio in the course of one song with basic tracks. Van Dyke also mentioned the technological changes in equipment that began in 1966. Image rate changers, where the speed was changed but not the pitch. You also worked at Armen Steiner's studio that had an early 8-track machine around the corner from Capitol Records. Before the Columbia studio had their 8-track really going.
A: I like the bass sound of Western. And I like the echo at Gold Star. I like the tack piano at Sunset Sound and I like the vocal sound at Columbia. Each studio has its own kind of thing.For "Good Vibrations" we started at Gold Star studio with the verses. Then we went to Western studio and did the chorus background. Then we went to Sunset Sound to get the bridges, and then we went back to Western to get the second half of the bridge and over to Columbia on Sunset where they had an 8- track machine for the vocals. And that's we went there because we heard they had an 8-track machine.
Q: What was the biggest impact on you when you had access to an 8 track machine after growing up in a world that was 2-track direct and then 4 track?
A: Well, I was so completely blown away at the prospect that we could put the cello on the far right on the 8 channel, and the theremin on the far right and the cello on the far left.
Q: What drew you to the use of cello as almost a featured percussive instrument?
A: Well Carl (Wilson) said, "Why don't we use a cello?" And I replied, "Well, good idea." So we called a cello player to come to the studio. We had him play the part. Came right in and did it. Van Dyke and I also talked about the role of the cello on "Good Vibrations."
Q: In 2007 you really reinforced to me that you mix in mono.
A: I mixed in mono because I can't hear in one ear. Made me concentrate more and get the best for that one ear. I always loved mono. Transistor radio. With mono you have one single sound source. We were doing stereo but I could only hear the mono and I always put the vocals up front in the mix. Mixing in mono is good for my left ear. My right ear is broke. Done and over with.
"I liked to mix with big speakers. You can hear the overall sound better. I would then take acetates home and play them on my little record player. Dubs. I would play them for friends and SMiLE would unfold. I would hear things and then fix them.
Did you have concerns even going into SMiLE that the music business, let alone your own band would not accept the music tracks you earmarked for SMiLE even after "Good Vibrations" was a huge hit?
A: When the Beach Boys came back from England I was a little worried that they wouldn't like what I was doing. I thought it was advanced to be for people. Sure, "Good Vibrations" would be a good opportunity for people to like what I was doing. Well the thing is, we took a lot of drugs which got us into that kind of music anyway.
<!- ------------------------------------>