Bruce Springsteen: The Album Collection Vol. 1 1973-1984 Reviewed Part 2
Darkness on the Edge of Town
A troubled Bruce is on the cover of an album with an equally troubled title released Spring, 1978—a long three years after BTR, the result of legal and contractual issues with form manager Mike Appel. The Roy Orbison meets "Eve of Destruction" "Badlands" has Springsteen concerned with the workingman's plight (and more specifically with a troubled guy Springsteen evokes on the cover) even as he's starting to see real success and real money.
The darkness continues on the bleak "Adam Raised a Cain", the lyrics of which are literal despite the biblical references, and obviously autobiographical.
Clearly, having proven his commercial bona fides, Springsteen aimed here for gravitas—at the expense of hit singles though he wrote many that he rejected for the album that become hits for others including "Because the Night" for Patti Smith. Others ended up on The River.
"Something In the Night" is about as bitter a lonely ride into the night as you'll find in a song and it contains many Springsteen staples: driving, drinking, pedal to the metal, bitterness, a state line, etc. while "Candy's Room", clearly about a prostitute doesn't exactly brighten things up, and the side ender, "Racing in the Street", a well-detailed, forlorn look at a mindless life of street racing and a relationship born of a street shut-down does the same to the side. I don't have an original but I can't believe "Camaro" is spelled "Camero" as it is twice in the reissue's lyric sheet. Bruce would be appalled.
Side two offers more of the same working class hero themed fare. You can see the guy with the lunchbox hitting the factory doors. It's a tough life. Today that guy would kill for a factory job instead of minimum wage at the local fast food emporium. The hot cars drag racing now is more Hispanic dudes in Hondas than white guys in Chevys as Bruce probably imagined them when writing these tunes.
The melodies are purposely sledgehammer plodding but by this point the band had crystallized into an impeccably tight unit with Federici and Bittan on keyboards, Tallent on bass, Max Weinberg on drums, Little Stevie and Bruce on guitars and of course Clarence Clemons. Hardcore Bruce fans probably wanted that lineup to go on forever.
This album was well-received upon its release even though it didn't contain any obvious hit singles, though "Prove it All Night" got plenty of FM airplay. Today, in some ways, the sentiments sound dated but if you're nostalgic for a tough time in white working class America, it's all here, with a wicked backbeat and some of Bruce's most impassioned singing, though you get the feeling that it's as much about his money guilt as anything: he'd lived the dream and escaped like many of his characters had fantasized and perhaps he felt the need to portray as heroes those left behind.
My original had foolishly been traded in for a Columbia half-speed mastered edition, which sounds awful compared to this reissue, which at this point was the best sounding Springsteen album. It was recorded at The Record Plant by Jimmy Iovine and mixed by Charles Plotkin and Iovine to a polish (probably at the behest of Jon Landau) previous albums lacked.
The original was mastered by Mike Reese at The Mastering Lab then in Los Angeles, now in Ojai so if your original has a TML stamp it's original. There were three lathes at TML back then. The main one was TML-M, the slave was TML-S and the "extra" one was TML-X.
I don't have the original so I don't know how this compares but on its own, this new reissue sounds as it should: like a very good late seventies studio production: punchy and taut on bottom, clean and crystalline on top (without processing edge) and a surprisingly good sense of depth missing on most digital transfers (if Bob Ludwig reads this he'll be rolling his eyes, but that's what I usually hear). This one sounds as "non-digital" as Kevin Gray's Tommy mastering. I guess Springsteen's voice is a bit thinner here than on the original just as it is richer and warmer on the half-speed mastered version but on that the price you pay is thickness and goo all over town—not just on the edge. Chris Bellman cut this one with little or no limiting and some cartridges may have trouble tracking some of it but blame the cartridge not the record.
The River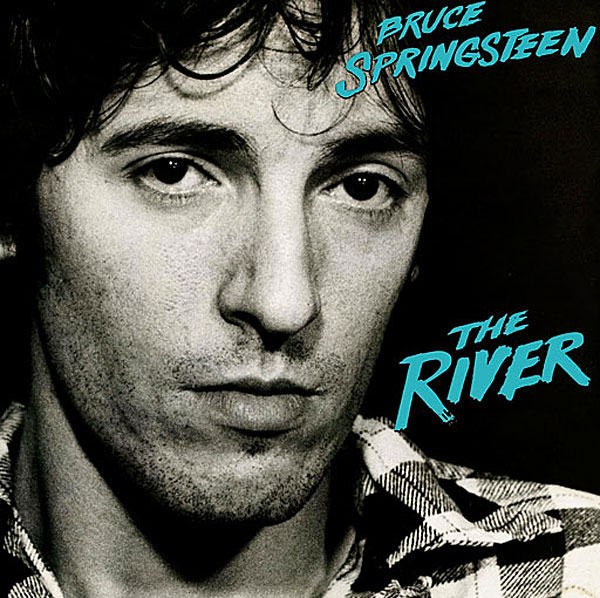 What's this all about? This is the oddest Springsteen album musically, sonically and graphically. Someone here was high on coke and don't tell me otherwise. I was around studios in those days and if you wiped your finger on the platform where the Auratone Cubes and/or Yamaha NS-10 speakers resided and stuck that finger in your nose, all music would soon sound like this record.
The cover and album title make it appear to be an album set in "The Heart of Darkness". Bruce looks pretty pissed and/or wasted. In a dark mood for sure, but then the back cover is a party— a cardboard cutout party, but a party nonetheless.
If the musical concept was to channel Elvis Costello and The Attractions on a Merry Go Round, playing Roger McGuinn's 12 string Rickenbacker directed by Tom Petty well then mission accomplished! And I think that was the mission. Costello's and New Wave's appearance turned rock on its head and Springsteen needed a U-turn from darkness of his previous album.
If the sonic concept was the E-Street Band playing in a large sewer pipe at one end and you're listening at the other, mission accomplished! It sort of reminds of me of when I saw Hendrix, Big Brother and The Holding Company with Janis Joplin, The Chambers Brothers and The Soft Machine at The Singer Bowl in Flushing Meadow Park back on August 23rd 1968. They sold out the entire bowl so the stage had to revolve so everyone could hear and see some of the show. Unfortunately the P.A. system resided only on the revolving stage. The stage pointed your way for a few tunes, then revolved a quarter and you saw it from the side and heard it that way too. When it turned again it faced fully away from you and you saw nothing and heard what this album sounds like minus the glare and edgy top end.
The entire production is slathered in nasty digital reverb (or what sounds like nasty digital reverb). The tonality is thin, sunlit and cartoonish. It's everything you hate about "digital" and worse and guess what? Though it was recorded at The Power Station (now Avatar Studios) in NYC it was mixed in California digitally in 1980 to the Sony PCM 1600, which stores the bits on a U-Matic video tape. Did RL master from a working U-Matic deck? Or was the data previously transferred to 96/24 files? I don't know but once the mix was to PCM 1600 the damage was done. On the other hand, much of the sonics here are not the result of the mix to digital. That would be a convenient excuse for the producers (Springsteen, Landau, Van Zandt) and the engineer (Neil Dorfsman along with an engineering assistant crew that included the excellent jazz engineer James Farber [what was he thinking during this?]). Bob Clearmountain recorded the opener "Ties That Bind", which gets the album off to a rollicking, ear-bleeding start, and he mixed "Hungry Heart."
Springsteen sounds Costello-ish on the first few tracks and there's plenty of Farfisa-sounding organ. The musical and sonic message is "time to party", which makes the cover art so confounding. But if you listen to side one's lyrics, they're consistent with previous Springsteen albums: "come back baby", escape, imprisonment, and the side-ender is a downcast break-up and a season-ender on July 4th not Labor Day. New people are coming to town. It's like the end of an era. Bruce is leaving the beach.
"Hungry Heart" starts side two with a Billy Joel/Phil Spector kick accented by a Motown sax. "Flo and Eddie" sing back-up but they're barely audible in the bright digital wash. Great track though! On this album the guy loading crates down on the dock doesn't sink under the weight of his load. Instead Springsteen has him out of his work clothes partying after work. The New Wave scene took the music there and the lyrics had to follow.
"Crush on You" has a Mitch Ryder-like energy and sentiment you wouldn't get from Springsteen a few years earlier. It's another party song that's 180 degrees from the cover, which almost seems to be from the album that was supposed to have been released but was scraped in favor of this but there wasn't time to shoot another one.
Okay, so finally you get to the side-ending title tune and it's everything promised by the cover and thematically it encapsulates everything upon which Springsteen has fixated from the beginning. It sounds like a refugee from the previous album. Even the sound retreats a bit from from the digital carousel wash. It's there to prepare you for side 3's opener "Point Blank", about as bleak a Springsteen song as he'd written to that point. The digital wash retreats further.
Then it's back to partying with "Cadillac Ranch" which at that point in time wasn't all that well-known. America's Stonehenge off Route 66 became a popular tourist stop after this song. "I'm a Rocker" is another E.C.-blast as is, it could be argued, the ballad "Fade Away". Springsteen's voice even channels Costello's. If you want to appreciate Costello's influence on that era's musical firmament, consider Darkness… Springsteen and this album. It's a sea change or a tire change or whatever. "I don't want to fade away" is what many '70's era American musicians were thinking as the next British invasion swept over America.
Another glum side-ender but at this point the argument is made and the case closed for experiencing this album on vinyl. Springsteen sequenced it this way. To hear it as a continual stream of tunes is to completely miss the point.
Side four opens with a 50's style rave up with a Dave "Baby" Cortez-like organ part—just a carefree dance party tune with an "auto"-erotic analogy later adapted by AC/DC on "Shook Me All Night Long"—though the group claims the song is about a car.
The album's sound improves, getting less cartoonish as it goes. There's actually some dimensionality on "The Price You Pay", a minor piece of Bruce boilerplate. "Drive All Night"'—an Otis Redding style ballad pleader sounds even warmer and more harmonically complete. It's among Springsteen's most passionate and sincere love declarations but of course there's gotta-gotta be a car reference: "I'll drive all night".
The album ends with a gory "Wreck on the Highway" that joins a long list of maudlin car crash songs. An unusual choice for an album ender, but it's more of a denouement after "Drive All Night", which sounds like the real album closer.
All things considered, going from "The Ties That Bind" and "Sherry Darling" to "Wreck on the Highway" demonstrates the schizophrenic nature of this double LP, both musically and sonically. I think an album of best song "do-overs" from this album might be a good idea—The River Reconsidered or something like that.
Here I've got an original pressing and hands down this reissue beats it in every way. Not that all of the cartoonish reverb and digititis is banished, but there's much greater delineation of the instruments and vocals against the reverb wash and the original's top end glare is well-reduced. It's almost listenable with the volume cranked, which is more than you can say about the original. "The unpleasantness can't be because of 'digital'" the apologists would say. So I guess it is just a coincidence that one album on the Stevie Ray Vaughan box sticks out like this one does in the Bruce box and both just happened to have the "D" word attached to it (that one was recorded completely in "D"). I hear you: "but this was cut from a digital source." True but a great deal has been learned since the early days of declared perfection!
My take on the album is that Steven Van Zandt is responsible for taking Bruce to party mode and not a minute too soon, but that's pure speculation since I don't pretend to be a Bruce expert.
Nebraska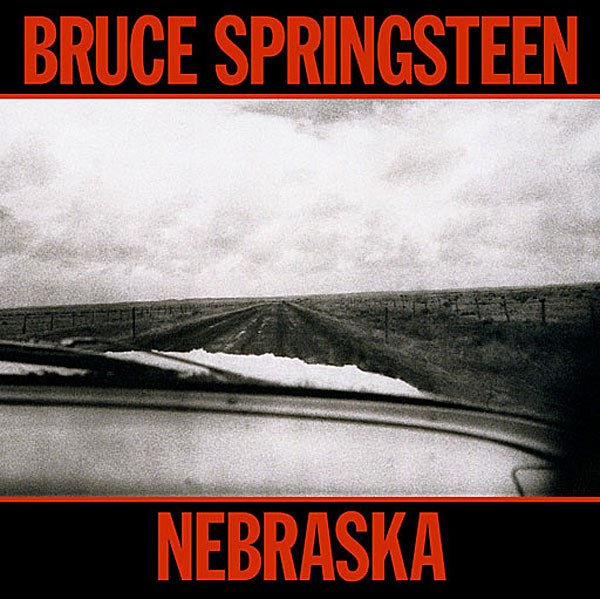 The less I write about Nebraska the better. It's my favorite Springsteen album from this era. Just him, a guitar, a harmonica, a glockenspiel and a 4 track Tascam Porta-Studio cassette recorder. It doesn't get more basic than that and Bruce delivers a powerful set of dark, haunted songs that cut deep. There's plenty her from Springsteen's past to chew on: cars, New Jersey, class warfare, a factory closing (the Ford factory down the road from me in Mahwah, NJ that's now the site of Sharp Electronics' headquarters and soon possibly a shopping mall as well), cops, grease, carburetors and everything you'll see and imagine looking down as your plane comes in for a landing at Newark Airport. You don't have to be from New Jersey for this album to resonate, but it doesn't hurt!
In this case the reissue "cleans up" some of the original's ragged spatial edges, but I'm not sure I prefer it to the rougher sound of the original. It doesn't matter. This is late night listening that satisfies. Wallow and enjoy. Played at low SPLs you're in the room in which it was recorded. Crank it up and you ruin the illusion.
Born In the USA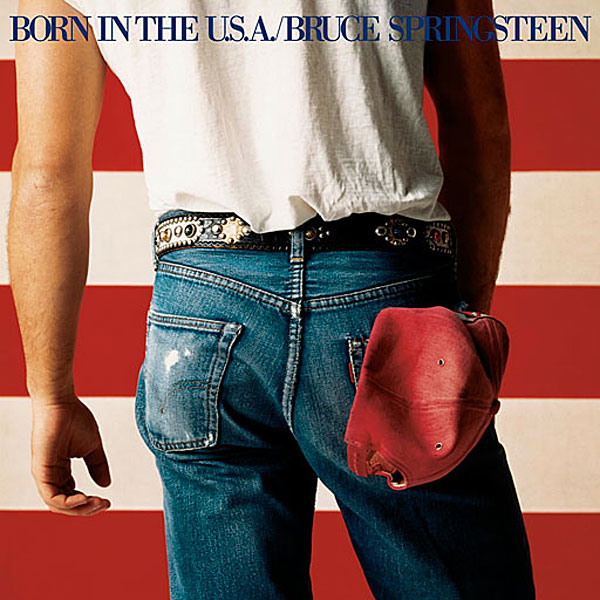 Bruce buffs up for the '80s, Clarence cuts his hair, Roy Bittan starts looking like your accountant, Little Steven puts on "Little Mary Sunshine" airs and Max Weinberg looks like he was in my college fraternity and the look is 2015 in 1984.
Sonically, this analog recording is more of The River's sizzle recorded by Toby Scott at both The Hit Factory (now Sony Music's Battery Studios, but where John Lennon once hung out bigtime) and The Power Station and mixed by Bob Clearmountain. If the idea is to drench everything in so much reverb you destroy much of the music's impact and turn Springsteen's voice into a squawk box apparition, another mission accomplished. It doesn't make any sense to my ears but I guess it was the sonic fashion of the times.
This is the album where on "Darlington County" Bruce and John Mellencamp intersect. On this reissue on this song there's a background vocal on the right channel by Little Steven that just jumps out at you in a way it doesn't on the original (for one thing Steven's voice isn't drenched in reverb!) and the sizzle is tamed somewhat like it is on the reissue of The River. A song like "Working on the Highway" simply does not need the cartoonish reverb. In fact it's at odds with it in my opinion.
Other than the title tune's strong political protest statement, the album breaks little new artistic ground, either musically (plenty of glock!) or lyrically ( though it's more coherent and less far-flung than was The River and certainly has more consistent power and forward thrust.
The songs get better as the album proceeds through "I'm On Fire", to the punkish anthem "No Surrender", which has Clash-like overtones, as does "Bobby Jean" where Clarence finally gets to wail. There's some serious looking back and nostalgic twinges on this album both lyrically and in musical tone. "I'm Goin' Down" has fifties elements and takes a down subject and frames it with a high-energy groove, while the nostalgia of "Glory Days" is obvious as is the reverb overdose. Why is it that the stronger Springsteen sings, the more it's washed out in reverb?
The album ends with "Dancing In the Dark" one of Springsteen's most hook-laden tunes, produced with very mid-80's synth accents and again with Clash-like bravado. The denouement, "My Hometown" is among Springsteen's most affecting songs. It's another nostalgia song that hangs on a heart-tugging melody. He's writing for his audience all grown up.
I don't know how many times I've written in a reissue review "I wouldn't bet against a Bob Ludwig original". In this case we have a Bob Ludwig original versus a Bob Ludwig reissue—even though Chris Bellman did the cutting from a Bob Ludwig supplied 96/24 file. Chris, I'm sure didn't mess with the file. For anyone who thinks otherwise, cutting lacquers these days does not require dynamic compression and/or bass limiting.
People are playing these records on much better gear not on kiddie phonographs (except for those herded into buying groove chewers. Why Jack White…well you know where I'm going and one place I'm not going is to interview him at Third Man Records or to United Pressing, even though I've given them credit where credit is due. I don't care, I'm just going to tell it like it is and if they are going to be babies about criticism, fuck 'em).
So I'm sure this record is how Bob wanted it to be cut. It's got more punch and slam than his original cut and the top end is better balanced and not as bright and aggressive. You could say overall it is an improvement over his original—but the original has an "analogy-ness" that's missing on the reissue (if Bob is reading he's again pulling out hair), which is not to say the reissue sounds "digital" because it does not other than that certain "something" that's not there—call it "flow" or "smoothness" or whatever. If you buy the box and don't have an original of Born in the USA find an RL original—it won't cost much—and feel as much as listen to it compared to this excellent sounding reissue.
Conclusion
Yes some of us are disappointed to not have this first Springsteen opus in an all-analog state but ultimately it's not the source that counts, it's the sound and the sound here is for the most part superior to the original pressings to which I compared them (I'm missing a few and hope to have them here soon just for the "academic exercise"). I think Bruce fans will be thrilled with the box's sonics, the well-done packaging and the full sized "scrap-book" booklet filled with memorabilia and reviews.
As for the pressing quality, my box was not inspected. It was sealed so no special treatment. The records were pressed at the French MPO plant. During vinyl's 1990's "dark days" most European records were pressed at MPO and the results were mediocre and noisy at best and in some cases the records appeared to have been sabotaged by someone taking a ball point pen and scribbling in one place on each side—I do not know how else to explain it.
That said, the MPO folks have stepped up to modern standards of excellence big time. These records were all well-pressed physically and had velvet-black backgrounds. With the exception of one record that was slightly dished, they were flat, ultra quiet (no non-fill) and close to perfect.
A well done production from Legacy that's easy to recommend to Springsteen fans and detractors alike (watch the video):

<!- ------------------------------------>