Cracking the Columbia Records Code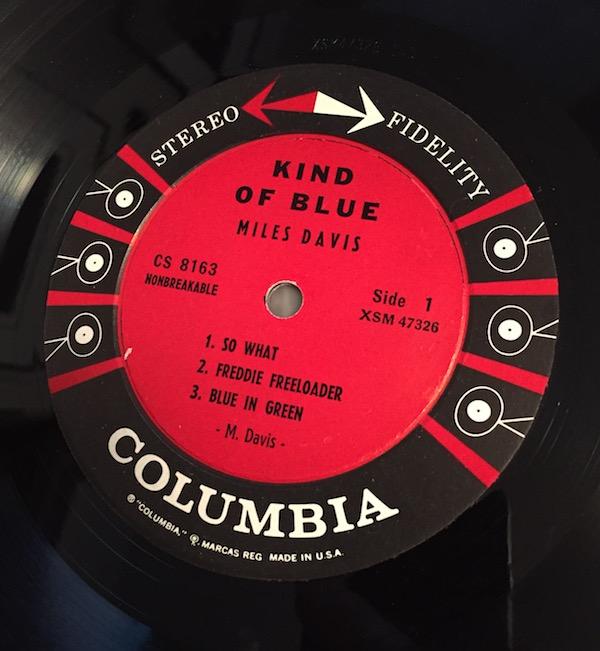 You can find a great deal of information online about matrix codes and their meaning. Unfortunately some of it is incorrect.
For example a post on the often useful Steve Hoffman Forums claims that Columbia "cuttings" are A-1st, B-2nd, C-3rd through L-11th and then AA is 12th "cutting" with AB being 13th. AA through AL would be cuttings 12-22, BA through BL would be 23-33, and so on.
However, that is incorrect according to Phil Brown, a Columbia Records cutting engineer who recently contacted analogPlanet. He worked for the label in the 1970s, so in addition to lacquers, Dolby tape copies were included with the lacquers for "file recuts and tape duping".
According to him: " An initial lacquer order was 6 sets plus a ref for QC and 4 Dolby copies (of course. 1A&B went to Pitman (N.J.), 1C&D to Terre Haute, (IN) 1E&F went to Santa Maria (CA)."
In other words the claim that "A" is the "first cutting" "B" the second and "C" the third, is incorrect. In fact 1A-F were all "first cuttings".
This explains why one could find a record with "-1A" on one side and "-1B" on the other, since both were sent to the same Pittman pressing plant.
According to this individual, " Any change in program triggers a -2. another change, -3. I saw a lot of -2, never saw a -3. In other, more common systems the -2 would be an RE-1."
A "change in program" could be a revised mix of one or more tracks or a different take entirely. For instance, the first edition of Bob Dylan's Highway 61 Revisited (CS-9189) had a different version of "From a Buick Six" than did later ones.
So the 1A-Fs had the original fast version, while the "-3" had the slower one, no doubt changed per Bob Dylan's request. I have a -3 so I can be sure about that, I don't have a -2 so I can only speculate about what was changed there. It could have been the "From a Buick Six" change and perhaps -3 has yet another change that I'm not aware of.
Interestingly, you can read detailed descriptions of this album and its recorded history, for instance this one on Wikipedia, yet it does not reference the substituted take on the later pressing.
I have a -3A of Blonde On Blonde that I bought shortly after the record was first released. It came with the cover sticker, but good luck figuring out what "program changes" were made between it and the original -1A-F, though if you want to see "obsessive-crazy" with no particular purpose other than to point out label and/or jacket variations check this out
It's also possible that if the first lacquer cut was ruined the next cut was 2A and that was really the "first cut". That is how it was done at EMI for instance.
According to my source: "Each plant got 2 sets because it's easy to lose a lacquer in plating. All the majors sent 2 sets to each plant. The reason is that it saved time if they lost one and we were always up against release schedules."
"The only time I cut 1 set was for indies. We would sometimes at Columbia and later almost always at Warners have one plant do the plating for everybody. This is central plating. At Columbia it was almost always Santa Maria because they had the newest-and best-plating operation. The masters would still carry the dash number for the plant doing the pressing. Central plating generated the mothers that the plants would then pull stampers from. At Warners they bought Sheffield Plating which did plating for all the plants."
The system may have been different for mono or different during the '60's because I received this image from either Sundazed or Sterling Sound when the mono Dylan titles were mastered: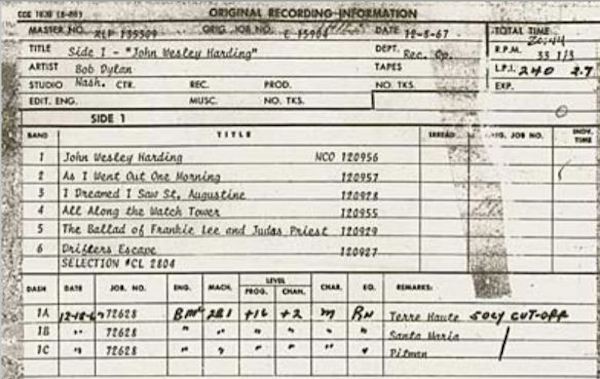 It shows but a single lacquer sent to each plant and the 1A going to Terre Haute. Perhaps by then mono was in decline and a single lacquer sufficed, but it doesn't explain why the 1A went to Indiana.
These symbols, often found in the inner groove area identify Columbia Records pressing plants: CT or CTH = Columbia, Terra Haute, IN
CP = Columbia (Pitman, NJ)
CS or CSM = Columbia (Santa Maria)
Incidentally the number found on the back jacket, right hand lower corner of all or most vintage Columbia jackets refers to the jacket manufacturer. It has nothing to do with the pressing inside (so #4 doesn't mean fourth pressing!)
<!- ------------------------------------>