A Steely Dan Steal!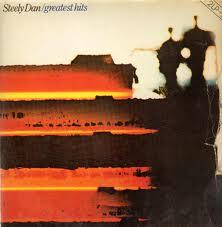 Steering clear of vinyl "greatest hits" packages is normally a good idea. The packages are often assembled by a disinterested producer at the label's behest as an easy money maker. For the most part when you compare the same tunes on the original releases and on the greatest hits package, the latter suffers sonically.
However, that's not always the case. For instance, Paul Simon's Negotiations and Love Songs 1971-1976 compilation (Warner Brothers 9 25789-1 2 LPs) was lovingly assembled using the original master tapes by engineer Roy Halee and mastered by Greg Calbi at Sterling Sound. Yes, it was cut DMM in the "early days" but it's a fine sounding, well-pressed compilation of great tracks and you get a Robert Mapplethorpe cover thrown in for good measure.
1978's Steely Dan's Greatest Hits (ABC Records AK-1107/2) is a neglected treasure for a few reasons. When first released it was dismissed as unnecessary. For one thing, fans already had the original albums and most thought there was little if any filler on any of them plus ABC stingily put but four tunes on two sides and five on the other two sides for a total of eighteen, and there were no unreleased bonus tracks either so who needed it but the goobers who weren't fans in the first place?
What prompted me to pull out the album today was Janet Maslin's book review of Donald Fagen's recent book "Eminent Hipsters", which is a tour memoir of his curious outing with Michael McDonald and Boz Scaggs, which opens with this line "If you like Steely Dan's greatest hits too much, Donald Fagen of that band probably hates you already."
So did he hate the audience for the final night of the recent Steely Dan tour dedicated to the greatest hits? I doubt it, but maybe. I was there and he and Walter seemed to be thoroughly enjoying themselves. I know we did!
So I pulled out the long-neglected greatest hits album realizing now that the original tapes that probably no longer exist for most if not all of the older Steely Dan albums did exist back in 1978. I had forgotten who produced the package but Fagen is a sound stickler so it wasn't all that surprising to read that the reissue was "engineered" by Elliot Scheiner at Automated Sound Studios in New York City and right below that credit it read "Mastered by Bob Ludwig at Masterdisk Corporation, New York".
I played the two discs through (easy assignment) and the sound is uniformly superb. Whatever the source tape and however it was assembled the sonics are dynamic, wide-band and the music just plain erupts from the grooves. I saw copies all over Ebay for under $20. That's a steal. You can find the track listing online but obviously given the release date, it goes from the debut album through Aja. Cisco did an admirable job with its Aja reissue but it didn't have a master tape and probably not even a safety copy. Such is the state of the Steely Dan tape legacy. If you have that Cisco, reissue play "Peg" and then play the one here.
If you're a fan of Aja you should try to track down an original (ABC AB-1006). It beats the Cisco and especially the thuddy Mobile Fidelity from way back when. There are two catalog numbers here: AA-1006 and AB-1006. AA is actually a later catalog number but both editions were mastered by Bernie Grundman (though you won't see "BG" in the inner groove area) and I can't hear much of a difference between the two.
<!- ------------------------------------>