Easy to Warm Up to ELAC Alchemy's $1250 PPA-2 Phono Preamp

ELAC Alchemy designer Peter Madnick is well-known to veteran audiophiles as the man behind, among other companies, Audio Alchemy, the "high end" brand that during the 1990s made high performance affordable. With Madnick designing and the business side run by Mark Shifter—a guy who could sell ham to a Hasid—Audio Alchemy had a formidable, decade long run before it folded.
While Audio Alchemy's mission was more or less to figure out and fix what was wrong with the sound of "perfect" digital audio (and the company's many innovations made major improvements, particularly in terms of jitter reduction), it also produced headphone amps and phono preamps among other well-regarded, reasonably priced products.
Audio Alchemy re-launched in 2015 with another line of innovative, affordable gear including the made in America $1795 PPA-1 phono preamplifier reviewed here in 2016.
But the business side foundered and just around the time we published that PPA-1 review Audio Alchemy was acquired by ELAC an almost 100 year old company founded in Germany that again, some of you know from the Benjamin Miracord ELAC turntables marketed during the 1960s and '70s.
The ELAC purchase has allowed Madnick to design here and built in China, bringing with it, products designed to his exacting specs but priced lower.
While the current PPA-2 does not have the PPA-1s elegant casework, it's also $500 less expensive yet has much of the PPA-1's performance and feature set including fully discrete FET based gain and EQ stages as well as a DC servo-controlled output stage (meaning no sound damaging coupling capacitors in the signal path).
The PPA-2 also features a few innovations not found on the PPA-1 like continuously variable loading, monitored via a front panel screen. The PPA-2 has two independently adjustable inputs, one of which—unusual at this price point—features a choice of single-ended RCA or balanced XLR in. Either of the two inputs via a rear panel mounted DIP switch can be configured for MM loaded @47kOhms or for variably loaded MC.
There are no fixed MC load settings but with the front panel screen monitoring your rear panel knob turning, this set-up, in addition to giving you a nearly infinite range of load settings (from 5 Ohms to 1kOhms) is at least, if not more convenient than fixed loads set via a DIP switch—especially if it's mounted inside the chassis. But even compared to rear mounted DIP switches, this makes load setting easy.
There are both single-ended and balanced outputs. An 18V rear panel connector can be used to power certain model recently introduced ELAC turntables.
In addition to the aforementioned fluorescent screen and a power "on/off" button, the front panel includes a row of six LEDs and 5 push buttons. The LEDs indicate "mute", "inputs 1 or 2", "High Pass filter" "MM/MC" (labeled +18dB) and "L+R" (mono). The buttons select mute, input 1 or 2, high pass filter, MM/MC and mono. This is an unusually well thought out and easy to use operating system!
Single ended gain is spec'd at 42dB (low) and 60dB (high) and 48dB and 66dB in balanced mode (+6dB). Spec'd THD+N is < 0.005%—a number usually seen on far more costly gear.
Rinse and Repeat
I began by playing the same records used for the just completed Parasound ZPhono XRM review. The ELAC/Alchemy piece is a bit more than twice as expensive. Was it twice as good? I can't accurately quantify how much better, but I'd say "yes, twice as good". That was made immediately obvious to me because the sound of the Chico Hamilton album A Different Journey (Reprise R9 6078) using the Audio Technica AT150ANV into the ELAC more closely resembled the velvety richness and detail produced by the Anna D into the CH Precision P1/X1.
It was like listening to a different cartridge: attack was far more supple and timbrally complex, particularly on Gabor Szabo's mellow sounding guitar, (which sounded like a hollow bodied electrified something or other). The entire picture became richer, fuller and more detailed. Sustain was more generous and the decay around instruments and the sound of the space, whether actual or artificially induced, was far more pronounced. Lloyd's flute was reproduced with far more air and roundnesss.
It was hard to believe it was the same cartridge loaded at the same 47kOhms, but of course it was. The less costly phono preamp definitely lost a great deal but the design there was so well executed it turned the "missing" into attractive speed and excitement. Here there was far more detail produced by the lingering attack, the more generous sustain and the longer decay into an observationally far blacker backdrop that made all of the instruments sound more convincingly real and three-dimensional.
Hamilton's snare hung in space and "popped" with convincingly, while a very subtle stick on cymbal accent hidden in the ZPhono's underbrush became clarified.
Back to Way Out West (ERC 053M). The problem with this record is "I'm an Old Cowhand" has a really long "brain shelf life". Once you hear it, it's impossible to get out of your mind! It lingers for days.
Here, compared to the far less costly ZPhono, the PPA-2 produced an enhanced sense of front to back layering of the mono image with Ray Brown's bass appearing well behind the sax. Transparency greatly increased and the background blackness intensified. The timbral balance smoothed out, removing a layer of brightness "excitement" the ZPhono clearly added. The envelope around Rollins's sax clarified and Ray Brown's bass line finger plucks produced a sense of "string pull" not managed by the ZPhono (don't try measuring "string pull"!). Compared to the ZPhono's somewhat "cardboardy" rendering of Rollins' sax, the PPA-2 produced
Based on the MM performance alone my conclusion is that the Elac PPA-2 performs sonically well above its price point—especially in the blackness out of which the picture emerges and it's convenient operating system is a welcomed bonus.
MC Mode
I repeated with the Anna D in MC mode. Firstly, the instructions don't lie when they warn you that adjusting the loading (each channel loads independently) can be "finnicky". It's easy to over and undershoot the desired load and of course you want both channels to be at least close to identical. But with a bit of practice it's a learnable skill set and it's nice to not have to access a DIP switch behind, or worse inside the chassis to choose among a limited number of loading choices. I settled on this minor loading disparity.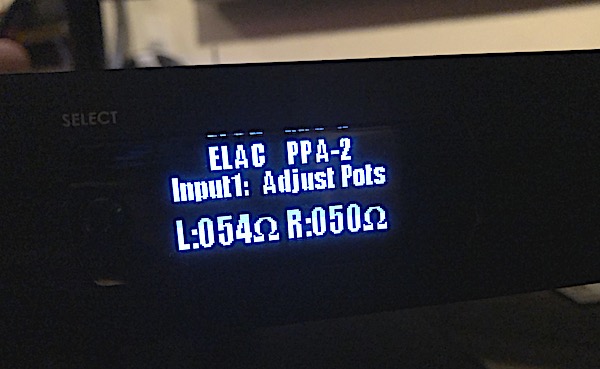 As in MM mode the PPA-2 in MC plays beyond its $1249.98 price point, though you'd be wasting your money pairing the Anna D with the PPA-2. That's not the point. The point is, a cartridge like the $1200 Hana ML (review coming up) paired with the PPA-2 produces sonic performance that you'll have to hear to believe and you will when the ML review is published here.
One of my favorite demo records lately is Decca Classical Stereo Sampler Album (SXL 6177) produced for the 1965 International Audio Festival and Fair and released in limited quantities for that event. It proved so popular that Decca soon issued it in its regular catalog, which is the pressing I've got. I found it in Portugal in a used record store's basement after about a half hour's looking through every record in there and finding nothing worthwhile until the very last record, which was this one.
It's got excerpts from many Decca greats that feature spectacular soundstaging and imaging like "Toreador's Song" from Carmen taken from SXL 6147 featuring Nicolai Ghiaurov with the LSO conducted by Edward Downes. Huge stage, solid imaging, etc. and an excerpt from Mahler Symphony #1 with the LSO conducted by Solti (SXL 6133 I've got the LP of that one).
The PPA-2 gets these excerpts remarkably correct timbrally, dynamically and spatially, though compared to my reference phono preamps as if you are hearing it all from an adjacent room—that's a compliment! because everything is there proportionally correct, just diminished (played through a mega-buck system).
Conclusion
The $1249.98 ELAC/Alchemy PPA-2 combines low noise and "see into the stage" transparency with supple attack, generous sustain and decay to produce a well-detailed musical picture that plays well beyond its price point. Its overall sonic personality is on the warm, velvety and supple side, yet it also delivers impressive detail, and clean, well delineated high frequency transients. Plus it has all of the desirable phono preamp features you'd want (mono switch, high-pass filter, infinitely variable MC loading). I once sat with Peter Madnick evaluating cartridges on a very high end system and we came to very similar conclusions about what we heard. Based on what I'm hearing from the PPA-2, he did a great deal of listening before signing off on the design. The $1000-$1,500 price point is crowded with MM/MC phono preamps and I've not heard them all nor have I heard many in quite some time, but I'm confident that if you're looking in this price region, you won't be disappointed here.
Specifications
Inputs:
2 RCA unbalanced, 1 balanced
Input impedance:
5-1KOhms variable or 47KOhms
Frequency response:
10hz-20khz +/- 0.2dB
RIAA accuracy:
+/- 0.2dB
Nominal THD+N:
<0.005%
Signal-to-noise ratio (1 kHz):
>86dB
Output Voltage:
>6.0V RMS
Crosstalk (L-to-R or R-to-L):
>80dB
Single ended Gain:
42dB (low) or 60dB (high)
Balanced Gain:
48dB (low) or 66dB (high)
Output impedance:
50 Ohms
Analog Outputs:
(1) XLR balanced, (1) RCA unbalanced
Available finishes:
Black
Dimensions (HxWxD):
2″ x 17.5″ x 15″ including jacks
Weight: 12 lbs
Warranty:
1 year
<!- ------------------------------------>