Liberty Audio's $1995 B2B-1 Phono Preamp Is Sneakily Stunning

Last year Peter Noerbaek offered me a review sample of the
Liberty Audio
B2B-1 phono preamp. "I'm happy with my MoFi UltraPhono," I told MF, "but I'll try the B2B-1." Not necessarily thinking it would at first make a significant difference in my system, I soon instead found that in terms of imaging, punch, dynamics, and sonic cleanliness, it greatly enhanced my hi-fi's performance.
Overview & Features
Measuring 10.5x17x3.25" and weighing 11 pounds, Liberty's B2B-1 is an American-made all-FET (field effect transistor), pure class A, dual mono configuration MM/MC phono preamp. Held inside a thick aluminum case, it has a set of RCA inputs and outputs (for conventional stereo use), a single XLR input and output (for mono use), a ground lug, and five cartridge load settings (100, 221, 332, 499, and 47k ohms) configurable via a set of internal jumpers. It can also be converted to a fully differential monoblock phono preamplifier, (hence the single XLR input/output), and its internal power supply is enclosed by several "impenetrable aircraft grade" aluminum shields. The stock model is sold directly from the manufacturer for $1995, with additional (minor) add-ons available. I reviewed the stock model set, for my Ortofon MC Quintet Black S, at 100 ohms.
Setup
Since Noerbaek, who also heads PBNAudio, kindly calibrated my Liberty sample for the Quintet Black S, my experience was plug-and-play. However, make sure its placement doesn't block the top and bottom heat vents (as a class A component, it runs a bit warm). When powered on, a set of blue LEDs light up - during the review period, I never turned off the preamp.
Listening
Upon initial installment, I didn't immediately hear a great improvement. Sure, the noise floor lessened and the gain increased, but aside from a few noticeable things (such as the deeper and cleaner bass on Billie Eilish's WHEN WE ALL FALL ASLEEP, WHERE DO WE GO?), it didn't feel $1995 good, or to be more specific, $1496 better thank the $499 phono preamp I own. The overall tonal balance felt similar, and the differences mostly minor, but in my system I nonetheless left the B2B-1 for at least 3 months. During that time, I noted the exceptional sound quality of a few recent pickups. Charli XCX's Charli (Asylum Records 0190295409579 45rpm clear vinyl double LP) showcased exceptional punch and imaging qualities, Lou Donaldson's Blues Walk (Music Matters MMBLP-1593 limited edition mono SRX vinyl) had plentiful instrument separation and space (as Rudy Van Gelder's Hackensack studio was sonically dry, it's probably from plate or spring reverb), Stereolab's Dots & Loops (Duophonic Ultra High Frequency Discs/Warp Records D-UHF-17R remastered and expanded 3LP set) had a gentle and appealingly smooth midrange, Daft Punk's Random Access Memories (Columbia/Daft Life 88883716861 Pallas-pressed 2LP) lived up to its audiophile hype, and Tyler, The Creator's IGOR (Columbia 19075970191 limited edition picture disc) demonstrated A-tier transparency. As with any system upgrade, the great records sound better and the bad ones worse. The Stone Roses' "Sally Cinnamon" (Revolver/MVD Audio 12 REV 636 limited edition 12" 45rpm EP), lacked resolution, and the CD-sourced "1972" label pressing of Dots & Loops sounded even more like thick sludge. Still, not all CD-sourced (or likely) albums sounded bad: the Nashville Record Productions recut of Solange's A Seat At The Table (Columbia 88985387471 double LP) didn't have the immediacy of a higher resolution source but still sounded like a really good CD (albeit still a CD).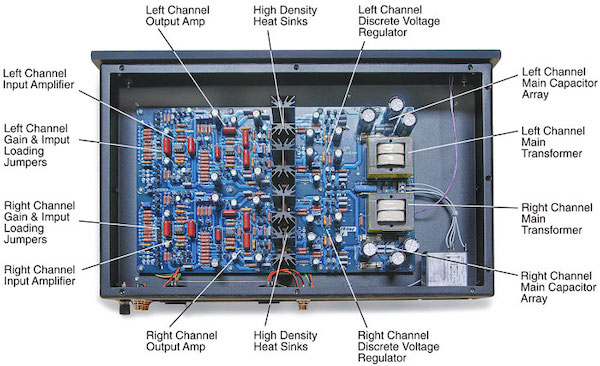 Recently, using the above mentioned records I did direct A/B comparisons between the Liberty B2B-1 and my MoFi UltraPhono ($499 retail, but it contains the same phono preamp section as the $249 StudioPhono). On the UltraPhono, A Seat At The Table sounded grainier, Random Access Memories traded the Liberty's "in the studio" drum sound for the MoFi's "playing on someone's speakers at home" vibe, Charli didn't explode with the necessary punch and realistic imaging, and the SRX pressing Blues Walk spatially sounded more like an original Blue Note (based on the original Van Gelder BN's I own) than what's actually on the tape (although tonally, it still sounded like a Music Matters pressing). Only after going back to the UltraPhono could I notice the Liberty's drastic improvements in spacial accuracy, immediacy, top and bottom end extension, as well as its reduced noise floor, which more significantly than I'd thought impacted my musical enjoyment.
Conclusion
For those upgrading from a budget-level phono preamp, the Liberty B2B-1 is an excellent choice. It's tastefully smooth but not overly so, with wide frequency extension, detail, spacial and tonal accuracy, and an overall enjoyable listening experience. Upon first listen, you might want a refund. But by the time you've finished going through the return preparation, your ears will have a hard time parting with it.
(Malachi Lui, is, well, Malachi Lui. Follow him on twitter: @MalachiLui.)
<!- ------------------------------------>