Exclusive: One Week With Technics' New SL-1000R Direct Drive Turntable (See update posted 2/21/18)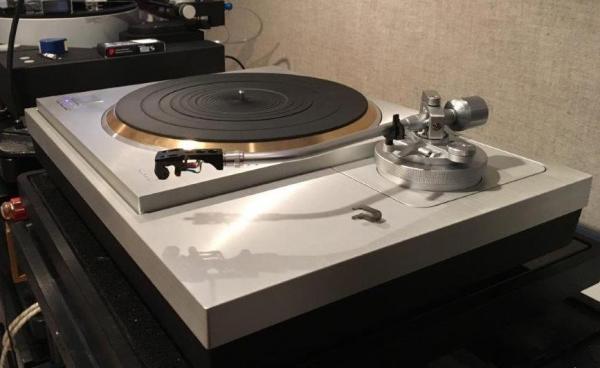 Shortly after the conclusion of the 2018 International Consumer Electronics Show, Technics CTO/Chief Engineer Tetsuya (Tony) Itan, Yoshiyuki Sumida, Assistant Manager Technics Team, and Technics Business Development Manager Bill Voss brought over and installed the new Technics SL-1000R turntable and tone arm for a week's stay. While this was a pre-production sample and not suitable for a full review, I thought you would be interested in first impressions that is
not
a review.
The SL-1000R is the fully integrated version of the SP-10R turntable, which is a "module" meant to be dropped into either an existing plinth for an older SP-10 or into a newly built one. Most of these are made of slate or graphite and the end user can use the arm of his or her choice either in an arm board integrated into the base or as part of a separate module.
The SL-1000R is the SP-10R built into a Technics plinth as pictured above that you can listen to in this video. You can also see an interview with Mr. Itan produced at last fall's Tokyo Audio Show.
The SL-1000R comes with a new 10" version of the special magnesium arm-tube arm that was part of the limited edition SL-1200GAE. According to Technics, the new arm has more precise bearings, analogous to what Rega does with its upscale arms that outwardly appear similar if not identical to lower cost ones but are not. The supplied arm is in a board that can be swapped out for a few other arms, with Technics supplying the boards, so far for an Ortofon and an SME. In addition there are two other arm boards that mount to the back and side of the plinth for a total of 3 possible simultaneous arms as seen at CES. You can see that on AnalogPlanet's CES video coverage elsewhere on this site.
The SL-1000R is a large and heavy assemblage weighing in at 88 pounds that sits on four specially designed damping and isolating feet (details best for full review). The SP-10R is a "drop-in" that features an approximately 18 pound full-sized brass platter, the underside of which is heavily damped with a black compound that fits within a machined recess on the platter's underside.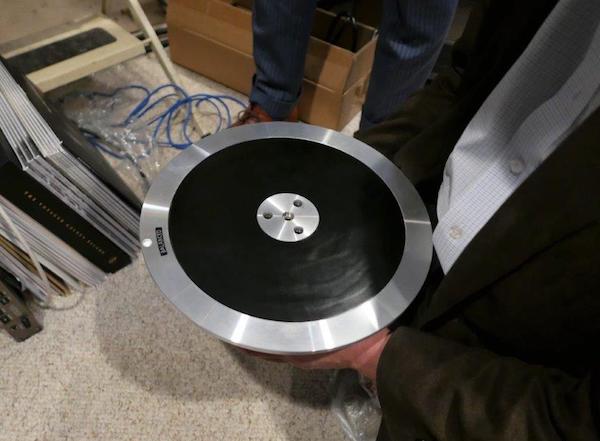 The power supply and motor drive unit is an outboard device connected by an umbilical to the main unit. It offers a large digital screen and complete speed and pitch adjustability the details of which are best discussed in a full review.
The supplied rubber mat is either identical or similar to the ribbed one that comes with less costly Technics turntables but I was told it's not likely to be what's supplied with the production model. I ended up using a variety of mats including the Funk Firm Achromat and Stein's Pi mat. I'm not a fan of thick soft ribbed rubber mats. A new Ortofon A95 was already mounted to the head shell so that's what I listened to. It's one of my favorite cartridges anyway and I'm well familiar with its sonic performance.
Because this was a pre-production unit I expected there might be a glitch or two and that proved to be the case. First I wanted to double check the cartridge set-up. The spec sheet said the 10" arm's effective length was 239mm, which is the standard Rega's effective length but that's a 9" arm so I knew something literally didn't add up.
The pivot to spindle distance of the Rega arm is 222mm with a 17mm "overhang" for that 239mm total. So first I used the WallyTractor's 239mm arc and not surprisingly found that the stylus did not come close to tracing the arc. Next I used the Acoustical Systems SmartTractor to precisely measure the pivot to spindle distance, which not surprisingly was far greater than 222. The measured number plus the 17mm overhang spec produced an effective length of 254mm, similar to that of Immedia's two arms.
All of this took place with the Technics people present, which for them was somewhat embarrassing but keep in mind that this was a pre-production model and probably someone at the factory simply copied the specs from the SL-1200 series arms and that led to this. I'm sure it would have been caught by someone before the SL-1000R went into production! Of course I re-set the overhang using the Wally Tractor's 254mm arc, though until it's confirmed I have no idea if the overhang really is 17mm!
Once the cartridge was correctly installed it was time to play tunes. Everyone from Technics enjoyed the sound the turntable produced in my system and you had better believe so did I! It was clear from the first record played that this turntable's speed accuracy and consistency was on a new level of excellence. I didn't need to measure it to hear it. When I did get around to measuring it, the results were even better than I was expecting. I've never seen such an impressive set of measurements. Here they are: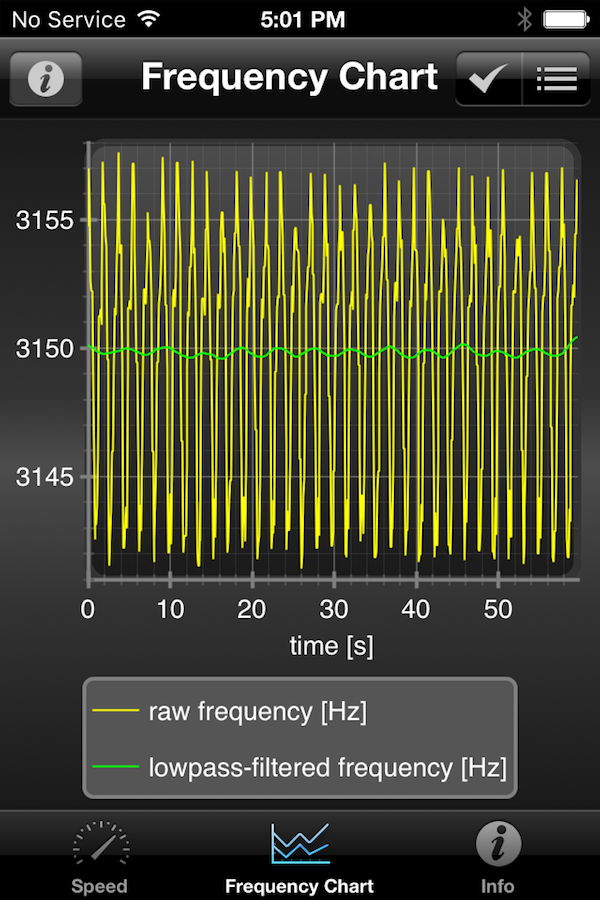 Those results prove that the SP-10R "engine" is either the most accurate or among a handful of the most accurate turntables ever designed and manufactured. It sounded as it measured, with a reel-to-reel tape-like rhythmic consistency and accuracy that produced severe relaxation and unprecedented, in my experience, low listener fatigue. You can get a taste of it in the video linked above. The sound was notably smooth yet precise. Transients and especially vocal sibilants were well-articulated and "clean" with not a whiff of "etch" or hardness. "Grain" was nonexistent. What was easily audible at CES was repeated (not surprisingly) at home. Record after record produced big "wows" from me.
My only issue was the bottom end, which was not as well articulated and seemed to vary from record to record. It wasn't as deep and firm as I'd expected given what the rest of the audio band sounded like. When I used the Hi-Fi News test record and measured the arm/cartridge resonant frequencies lateral and vertical, I found out why: in both planes the resonant frequency turned out to be centered at close to 16Hz, which is too high. It should be between 8-12Hz or above "warp/wow" and below the lowest possible musical information engraved in the record.
The reasons for this were obvious: the A95 is an unusually light cartridge weighing in at approximately 6 grams. The arm was originally designed "in the day" for high compliance moving magnet cartridges. However, most moving coil cartridges weigh in at around 11 grams, some higher, which is why the Lyra Etna performed so well on the 1200 reviewed here last year.
The solution here would be to add mass to the head shell. 11 total grams at the head shell would produce a resonant frequency in the ideal 8-12Hz range. I didn't add mass to the head shell for this encounter but I think Technics will either have to include a heavier head shell option or list recommended cartridge weights and compliance figures.
When I went back to my reference turntable featuring an arm that costs more than the entire SL-1000R assemblage the results were a mixed bag. The Technics SL-1000R produced that "tape like" sensation the big rig didn't quite have, which of course was disappointing! But the bottom end was significantly better. Some of that was due to the resonance issue but I don't expect the SL-1000R's arm to perform as well as the Swedish Analog Technology arm. I think the supplied arm is very, very good overall and given the SL-1000R's cost of approximately $20,000, it's almost (dare I say) a "freebie" considering the performance of the 'table itself.
I also felt that the Continuum/SAT combo had "blacker blacks" and a perceived lower noise floor for reasons understandable to anyone who knows the design of the Continuum chassis (cast magnesium based upon vibrational analysis) and especially its unique "floating" three dimensional arm board. But we're talking about almost $200,000 versus $20,000 and in the key factor of speed consistency, the Technics was the clear winner and it was audible though of course the big limitation is record eccentricity or lack thereof.
To really know how good a performer is the SP-10R portion of the SL-1000R requires hearing it dropped into a slate or graphite or whatever is used by the "outboard" designers, combined with an SAT or other "stupidly expensive" state of the art tone arms. However, as delivered for around $20,000 the SL-1000R presents a formidable challenge to just about anything available from other manufacturers at just about any price—especially in terms of speed accuracy. One listen and you'd be hard-pressed to disagree.
The SL-1000R plinth as currently designed does have some issues. It's not "user friendly" if the user wishes to use arms other than what's supplied or the two for which Technics plans to offer arm boards. In addition as currently configured you will need a straight DIN to RCA or DIN to XLR cable (Technics supplies one and if you don't think cables make any difference you're all set!) because angled ones cannot fit into the very constricted space at the back of the plinth.
Another issue is the low platter height relative to the arm, which only becomes an issue if Technics decides to supply a "universal" arm board that you can custom drill. Even with the supplied arm, achieving 92 degree SRA with the A95 required the arm to be raised almost as high as the built in adjustment allows.
Of course in an ideal world, Technics would completely re-design the SL-1000R's arm interface to make it easier to use a wider variety of arms and lower the mount to make height less of an issue. I doubt that's going to happen, which is not that big a problem. For many who can afford to spend $20,000 or so dollars, the supplied arm and SL-1000R infrastructure will produce spectacular "out of the box" sound and for those who insist on coaxing every last bit of performance from the spinning system, there's always the $10,000 (appx.) SP-10R plus a custom plinth designed for your choice of arm.
My hope is to review both the finalized SL-1000R and an SP-10R set into a custom plinth designed to handle the SAT arm (and perhaps have it sitting on a Minus-K stand). Only then will it be possible to know the true full potential of what is clearly a brilliant design and execution of the latest "state of the art" turntable from Technics. That said, the SL-1000R made for an exciting and musically satisfying (and addicting) listening experience. Unfortunately Technics' ability to manufacture these is limited because of the time consuming motor building process so if you want one and you can afford it (in either form), get your order in as soon as that's possible!
Assembling SL-1000R at CES in Las Vegas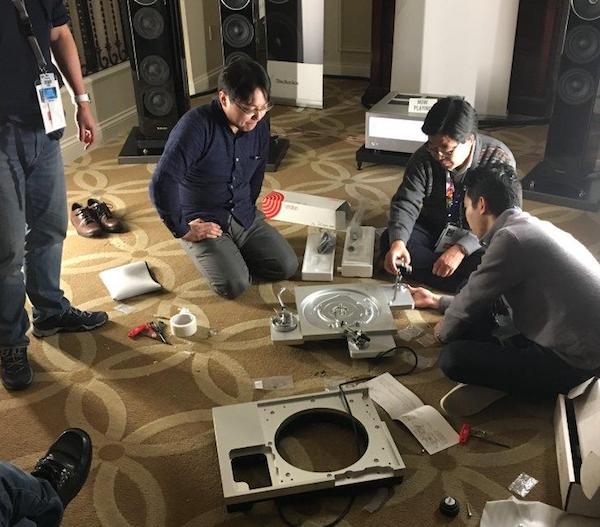 <!- ------------------------------------>