A Stellar Show Debut For Florida Audio Expo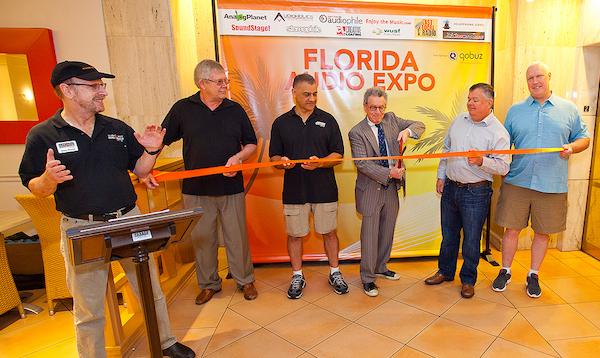 Suppose a group of exposition amateurs produced an audio show. What do you think would happen? The crew that created last week's Florida Audio Expo had no show producing experience and did not know what to expect when they went into this dicey venture. They succeeded beyond what must have been their most optimistic projections. From left to right holding the ribbon in the photo are Bart Andeer (President of the Suncoast Audiophile Society and of Resolution Acoustics), Ammar "AJ" Jadusingh (owner of Soundfield Audio), AnalogPlanet editor Michael Fremer, Mike Bovaird (proprietor of Suncoast Audio, a Sarasota high end store) and John Chait (a longtime DIY audiophile and member of both the Suncoast and Sarasota audio clubs).
Perhaps that some of the organizers brought to the enterprise a business background helped. They knew enough to hire experienced publicists Sue Toscano and Angela Speziale, without whom, all acknowledged, the show might not have been as successful as it was. Both used social media to the fullest possible extent and that helped drive both industry and consumer participation. The team smartly chose to not charge an admission fee, though in the future they might have to if they want to hold the event in a larger venue that can accommodate seminars and large audience events.
Meanwhile attendance on Friday seemed well larger than they'd anticipated and Saturday the place was packed. The exhibitors were in hotel rooms from floors 3-8 as well as in the larger event rooms on the second floor but without an auditorium-sized room, seminars were not possible this year. Toscano and Speziale helped produce a well-organized, attractive show guide as well as useful and attractive signage.
Participation by Florida dealers including some from the state's east coast, helped make the show a success as did manufacturer support from both well-established companies and upstarts. Among the participants were Martin Logan, Parasound, Magico, Harman (Mark Levinson/JBL), MBL, the McIntosh Group (McIntosh, Sumiko, Audio Research, Pro-Ject), AVM, Legacy Audio, Cardas, Mobile Fidelity Distribution, Joseph Audio, Doshi Audio, Auralic, VPI Industries, Vanatoo, Nola, Aurender, Dynamic Sound Associates, Luminous Audio, Spendor, Audio Note, Ortofon, Wilson Audio Specialties and many others. The Minnesota contingent (Atma-Sphere, Tri-Planar, Classic Audio Loudspeakers) needed no excuse to escape the cold for Florida! The result was an eclectic mix of products including debuts of new turntables from Dr. Feickert, VPI and Luxman. Even the hotel acoustics cooperated. The sound throughout the show was very good.
AnalogPlanet editor Michael Fremer was asked to cut the ribbon and make a short opening statement, so he did. Journalists from Stereophile, Part Time Audiophile, and Enjoythemusic.com were there to cover the show. In every way, the first Florida Audio Expo was a complete success. Congratulations to all involved!
Michael Fremer offered to do a turntable set-up seminar but because there was no place to do it, he played D.J. in the large Von Schweikert, VAC, Esoteric, Kronos turntable room hosted by Atlanta's The Audio Company. Four, hour and a half sessions attracted "sell-out" crowds of 60 people during which Fremer played records he'd brought as well as files produced at home from vinyl. Everyone had a good time. "Performances" of "Mood Indigo" using a 45rpm Analogue Productions test pressing of Ellington Masterpieces got applause each play as if it was a live performance but what really "brought down the house" was the last file played on Saturday evening: side two of Abbey Road sourced from an original U.K. pressing bought in 1969 and played constantly for almost fifty years.
The transfer was a recent one after a Kirmuss restoration cleaning (more about that in a future review here) using the Ortofon MC Century cartridge, SAT CF1-09 arm and Continuum Caliburn and the CH Precision P1/X1 phono preamplifier. The crowd sat silently, heads bowed (after a few mutters of "I've never heard it like that" as George sang "Here Comes the Sun") until the very end (after "Her Majesty") when the record got a standing ovation! The VAC/Von Schweikert system produced some of the finest sound I've ever heard at a hi-fi show and demonstrated to all the SAT's incredible bottom end performance. A few people wept.
In an attempt to improve video quality I borrowed an Osmo2 gimbal and mounted on it an iPhone X. The picture came out really well and smooth (though there's a learning curve involved in using the gimbal) but using AirPods as a microphone as suggested by some on line, turned out to be a semi-disaster. While the meter on the phone showed sufficient gain, the AirPod's secondary microphone acts as a noise suppressor unless you put the phone in "hearing aid" mode! But no one mentioned that so while the narrator is easy to hear, nothing else is.
Nonetheless, post-production sound processing helped and post production "signage" adds much of the lost information. More videos to follow and be sure to read Jason Serinus's detailed coverage on the Stereophile website.
<!- ------------------------------------>