IGOR, Tyler, the Creator's True Masterpiece, is Essential Listening Page 2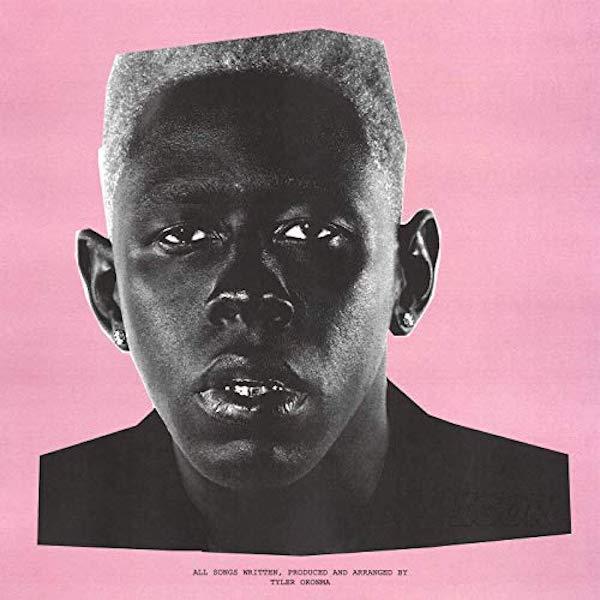 Arguably the first significant turning point in the LP's narrative is "RUNNING OUT OF TIME." Tyler, in a pitched-up voice sings "I've been running out of spells to make you love me." This is where the story becomes more solidified with less duality, although it still appears later on, albeit sometimes more subtly. Perhaps the most important part of "RUNNING OUT OF TIME" is the line "Take your mask off/I need her out the picture." The next song "NEW MAGIC WAND" reveals more details about the narrator's male lover being distracted by his ex-girlfriend and the conflict caused.
"NEW MAGIC WAND" is by far the most lyrically and instrumentally dense track on IGOR. Comedian Jerrod Carmichael opens it with the phrase "sometimes you gotta close the door to open a window" after which the listener is immediately assaulted by an aggressive bassline and a lo-fi drum machine. Here, the conflict between the narrator and his boyfriend is amplified. "I need to get her out the picture/She's really fucking up my frame," Tyler sings, more explicitly confirming that the relationship in the story told on IGOR is facing a crisis. We then find out that the boyfriend is spending almost as much time with his ex-girlfriend as he is with IGOR/Tyler: "This 60-40 isn't working/I need 100 of your time/You're mine." Possibly referring to his bisexuality, Tyler's pitched-up, distorted voice sings "Now pick a side and if you don't/I'll pick you both/It's not a joke" towards the song's middle section. I could spend far more time dissecting all of the details in "NEW MAGIC WAND," but it's unnecessary. The gist is that it's a significant turning point in the LP's narrative, and provides a cinematic level of detail not often found in this musical genre.
As previously mentioned, "NEW MAGIC WAND" also has the album's strangest lyric: "My eyes are green, I eat my veggies." To a first-time listener not paying the narrative any attention, it may seem like a cringe-inducing, half-baked line that tried to have meaning but fell flat on its face. However, when you look at it in the context of the rest of the song and album, it makes perfect sense. The beat and vocal delivery on "NEW MAGIC WAND" indicate a high level of stress, and the IGOR character Tyler portrays may not be thinking clearly at that moment. It also could mean that IGOR is scrambling to find reasons to convince his boyfriend to stay, but subtly reveals his personal flaws when he can't find a better reason than "my eyes are green, I eat my veggies. Either way, it's a lyric that can seem embarrassing on the surface but has meaning when diving deeper, something that is also present on Kanye's best albums ("I'm In It" on Yeezus comes to mind in the embarrassing but meaningful sense). This, of course, is no surprise at all considering the many parallels between IGOR and Yeezus, The Life Of Pablo, and parts of Graduation.
Do we need to talk about yet another similarity between Yeezus and IGOR? Of course we do! "A BOY IS A GUN," arguably the centerpiece of IGOR, samples Ponderosa Twins Plus One's 1971 single "Bound," which West sampled on Yeezus's closer "Bound 2." In fact, Tyler and Hudson Mohawke produced the unreleased demo "Bound 1," which Kanye used as the basis for "Bound 2." Here, Tyler steals back his "Bound" sample and uses it to great effect in a different way than does "Bound 2". "A BOY IS A GUN" is IGOR reminding himself that fighting to keep himself in this relationship can be dangerous to himself, therefore he is the gun described in the song's title. "How come you the best to me/I know you the worst for me." This song also confirms that he is in love with a man: "You're my favorite garçon/Don't leave, stay right here/Yeah, I want you right near/You invited me to breakfast, why the fuck your ex here?" So far, the narrative has traveled from holding onto a conflict-filled relationship to acknowledging that it's unhealthy. Where does it go next?
"PUPPET", which follows "A BOY IS A GUN", features Kanye West himself. Tyler/IGOR slowly begins to accept that he's being controlled by his love for a man who's not dedicating enough time to him, yet admits to his own vulnerability: "I do not have self control/I am starting to wonder, is this my free will or yours?/I'm your puppet/You control me/I'm your puppet/I don't know me." His dream of having this relationship is failing to materialize in real life, yet as he chases it to his detriment, he begins to feel like a puppet being controlled.
Due to the poor recording quality and lack of correct transcriptions (Tyler released the lyrics to the song with the statement "Kanye lyrics cannot be transcribed"), I can't provide any insight into the meaning of Kanye's verse on "PUPPET." I attempted to transcribe the lyrics myself, but only got halfway through the verse. According to Forbes, however, Kanye instructs Tyler/IGOR to "breathe on a song" towards the end of the track, which I interpret as a reference to the sustained "and breathe, and breathe" line on "Blood On The Leaves" from Yeezus. (Again? Yes.) Maybe this was unintentional, but considering how many Yeezus references and parallels there are on IGOR, it's easy to believe Tyler and Kanye did it on purpose.
"WHAT'S GOOD", the LP's second-most distorted and hectic song is a display of ego masking IGOR's vulnerability. "When you see the brand new Le Fleurs on the floor/If the cop says my name, bitch, I'm IGOR," Tyler raps, referring to his Golf Le Fleur Converse sneaker collaborations and confirming that the story is told from the perspective of the IGOR character. (For your sanity's sake, I won't mention the potential "New Slaves" interpolation here.) However, "WHAT'S GOOD" has more references to real-life Tyler than any other songs on the album. "That car crash couldn't take me/Green-haired angels all around me" shows Tyler talking about his 2018 car crash (no injuries or damages caused to anyone or anything [other than to his own vehicle]) and his soundtrack contributions to Illumination's The Grinch remake. The song ends with Slowthai whisper-singing "I see the light." "The light" is about to be seen, indeed.
"GONE, GONE / THANK YOU" shows IGOR coming to terms with the failed relationship and it frees himself from the trap in which he was caught, therefore he's "seeing the light." "Whether it's rain or shine, I know I'm fine for now/My love's gone," Tyler sings with high-pitched vocal harmonies, creating the most Pet Sounds-like atmosphere on a record very reminiscent of the Beach Boys' classic (consider that Pet Sounds is a cutting-edge record telling the story of a relationship beginning and ending, and that IGOR is a similar concept, differently executed). "Maybe it's just a dream that I can't seem to wake up from," he continues. It's probably the only song on IGOR that distinctly reminds the listener of Flower Boy: first, it's a two-part song in the vein of "911/Mr. Lonely," and Tyler's flow towards the end of the "GONE, GONE" section can be likened to his flow on "Boredom." Yet, at the end of the day, it really isn't that similar.
"I just hope to god she got good taste/Can put you on some shit you've never seen/Can play a couple songs that you can dance to/I hope you know she can't compete with me," IGOR, as he becomes content with the way things ended, tells his now ex-boyfriend. Further, the "THANK YOU" section thanks the man for "the love," "the time," and "the joy" before Tyler sings that he'll "never want to fall in love again." On "I DON'T LOVE YOU ANYMORE," he again changes the tone, saying, "you wasted my time and I know that these things are not hard." On the last leg of the album, the lyrics' duality makes a strong comeback comparing "GONE, GONE / THANK YOU" with "I DON'T LOVE YOU ANYMORE" as well as with the finale, "ARE WE STILL FRIENDS?"
On "ARE WE STILL FRIENDS?" Tyler/IGOR tries to settle for a simple friendship with his ex-boyfriend after failing with a romantic relationship. Tyler asks "Are we still friends/Can we be friends?" before saying "I've got to… know." However, the way he pauses before, and sustains the deep "know", could also mean "no." If you choose to think it's "know," it obviously means that IGOR wants an answer from his ex. But if you interpret it as "no," it means that IGOR has failed at forming with him a simple friendship. I think of it as both, which is another example on IGOR of duality propelling the narrative. Also of interest is the slight growl at the end of the line "I don't wanna end the season on a bad episode n**** no", which could be another indicator of a friendship not succeeding. Further, Tyler's last vocals on the LP are screams over Pharrell singing "we say goodbye." Ahhhh, the duality of this song is killing me!
As mentioned earlier, I could probably spend 20 more paragraphs dissecting the fine details of the album, but I won't (if you can't get enough of the narrative dissection, I suggest you read narrative art and Kanye obsessive Chris Lambert's 4,000-word IGOR dissertation in Forbes). What you really need to know is that Tyler, the Creator's IGOR is a masterpiece for the ages, made by a genius at the top of his game. Rarely do we hear an artistic work on this high a level, and even rarer do we get to witness it unleashed to the world in real time. This is more than deserving of the 11/10 score for music as it's endlessly fascinating and even dozens of listens later, continues to reveal new details.
The sound on this album proves that a good recording doesn't need to replicate the image of musicians playing in a room. Despite the gritty and occasionally distorted production style and mix, IGOR sounds rather excellent, especially for a modern "hip-hop" (if you can even call it that) recording. While I've only heard the 44.1kHz/16bit files, the album sounds extremely dynamic, with excellent bass and soundstage depth. On "NEW MAGIC WAND," every sound is suspended in a three-dimensional space that surrounds the listener. When it gets loud, it gets necessarily so, but the production doesn't make excessive use of loudness (despite what the dynamic range numbers want to tell you). This is probably one of the few albums that I know of where the harder edge of CD-quality files can be used to its benefit. However, I'm still excited to hear the vinyl when it comes out this summer. I ordered the limited-edition colored vinyl with alternate cover, but hopefully the standard black vinyl variant will be available in stores come late August-early September (both variants have since disappeared from the Golf Wang website). Until then, you can stream it or buy the 44.1/24 files if you wish to pay $18 for them (I didn't as I've already spent lots of money on this album and associated merch). I'll write an update on the sound when I get my physical LP, but no matter what, IGOR album will continue to be great and maybe, as time goes on, even better!
(Malachi Lui is an AnalogPlanet contributing editor, music lover, record collector, audiophile, avid Kanye fan, and a host of AnalogPlanet Radio. Follow him on Twitter @MalachiLui.)
<!- ------------------------------------>