Lyra Kleos MC Cartridge Still A Smoothy After All These Years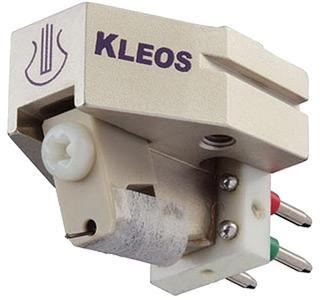 The $2995 Lyra Kleos Cartridge was billed back in 2010 as a replacement for the Helikon. The Kleos is a much better sounding cartridge in every way. It maintains and actually ups the Helikon's detail resolution, while adding the more expensive Skala's smoothness and midband warmth.
Helikon fans will be delighted by the sonic upgrade while even Helikon detractors will drop their objections when they hear the Kleos (I heard from plenty of those after giving it a very positive review).
The Kleos weighs in at 8.8 grams (.8 more than the Helikon), the body machined from Duralumin, an aircraft-grade aluminum, with an attractive plated finish. Two press-fit specially tuned metal cylinders inserted into the body provide damping and resonance control. The Kleos is Lyra's least expensive cartridge to include an Ogura .3mm diameter boron cantilever fitted with a Lyra spec'd low mass, 3x75 µm line contact stylus.
The new cartridge also includes Lyra's "New Angle" dual neodymium disc magnet/coil alignment system that produces symmetrical flux lines during play instead of when the cartridge is at rest. For a visual representation go here.
Output is a substantial .5mV, internal impedance is 5.4 ohms and compliance is moderate. Because of the new coil/magnet alignment system the tracking force is tightly spec'd at between 1.7 and 1.8 grams, with 1.75 said to be optimum. Stick with the plan but I found slightly shy of 1.8 to be optimum, at least in the SME 309. The new design is extremely sensitive to VTF setting. When you've hit "the spot," you'll know it and it will be within the narrowly specified range. Loading ranged from between 100 ohms to 470 ohms depending upon the phono preamp used, but mostly I found 100 ohms ideal.
If you liked the Helikon's speed and detail retrieval, you will be absolutely overjoyed by Kleos. Its out of the box performance was better than a fully broken in Helikon as well as a Helikon SL for that matter. Both are still great but the Kleos produced greater micro detail, while greatly ramping up midrange warmth and delicacy. Its overall tonal balance is decidedly more neutral and less on the cool side.
The Kleos produced a far more enticing tonal balance and its ability to course through the grooves silently complemented the turntable's impressively quite backgrounds. Its tracking and tracing abilities, thanks to the long profile line contact stylus, were impressive, without regard to price, producing cleanly rendered sibilants and shimmering high frequency transients without a hint of edge or the cool overlay that turned off many to the Helikon.
Staging and imaging were exemplary. Expect a wide and deep stage populated by solid, three-dimensional images and don't expect much in the way of mechanical artifacts, particularly if you get the SRA correctly set. The Kleos delivers fine, low level detail above an exceptionally low, dark noise floor.
The Kleos was smoothly and almost vividly balanced, with a firm grip on its well extended bottom end, a rich, generous but not cloying midrange and an airy, extended and decidedly not bright or etchy top end. Whatever negative preconceptions you may have about Lyra cartridges, you can toss them here while pocketing the good ones that dwell on speed, detail, high frequency extension and tracking excellence.
I didn't have one here for a direct comparison, but based on what I remember, I think I like the Kleos better than the older, but more expensive Skala. I think it's a better-balanced, more detailed cartridge. And while the Kleos can't match the Titan's resolving power or dynamic capabilities, I think the Kleos' tonal balance is more neutral. Overall, I think Kleos is one of designer Jonathan Carr's best effort yet and at a "reasonable" price point!
The Kleos was "highly recommended, without reservation" back in 2010. That is still true four years later.
<!- ------------------------------------>