"Making Vinyl Detroit/2017" Part 2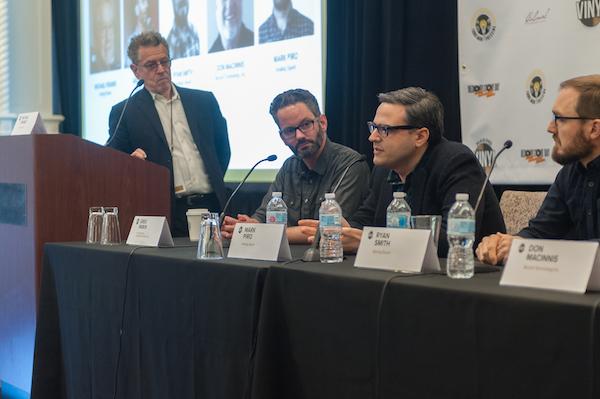 Day two of the international "Making Vinyl 2017 Detroit" event began with Darryl "DMC" McDaniels' rousing keynote address in which he described growing up as a rock'n'roll fan (Beatles, Stones, Dylan, etc.) in Hollis, Queens, listening to vinyl records, and his getting drawn, along with his friend Russell Simons into the then emerging turntablist scene that evolved into rap.
McDaniels, a good student who went to Saint John's University, continued with his love of music and his being drawn to the new urban music and the formation of DMC. It's unfortunate that we were asked to not record his keynote because it included a vibrant and dynamic telling (as I remember it!) of how the group was asked to record a version of Aerosmith's "Walk This Way" and refused and how Simmons and Rick Rubin, partners in Def Jam Records, engineered a surprise in-studio meeting between DMC and Aerosmith that resulted in the crossover rap/rock hit Walk This Way" remake.
Throughout his half hour plus talk that included rapping, comedy, and a warm endorsement of vinyl records, McDaniels was funny, entertaining, wise and inspirational. At the end he received sustained, appreciative applause from the assembled. It was a great way to begin day two.
Mastering engineer Eric Boulanger, who apprenticed with the late Doug Sax and who bought the late Stan Ricker's ½ speed lathe system, moderated "The Fine Art of Mastering and Lathe Cutting" featuring Ryan K. Smith (Sterling Sound), Adam Gonsalves (Telegraph Mastering), Chris Mara (Welcome to 1979 Studios), Michael Dixon (Mobile Vinyl Recorders) and Matt Earley (Gotta Groove Records).
Earley, who is not a mastering engineer and not at all involved in that aspect of record production was probably miscast but he managed to detail what happens once the metal parts arrive at the pressing plant. The others talked about mastering issues and prepping tapes and files for both digital and vinyl production and distribution. Dixon talked about his live "one off" direct to disc recordings using a fleet of vintage portable machines. It was a lively, interesting panel, excerpted in this video.
Next up was "What's Happening at Retail", moderated by Michael Bunnell, president of the Coalition of Independent Music Stores (CIMS). Panelists were Karl Groeger, whose family owned Long Island, New York store and record label (Looney Tunes/Brookdale Records) has been in business 47 years, Andrea Paschal (ThinkIndie Distribution), Lisa Foster (Guestroom Records), Carrie Colliton (Co-founder Record Store Day) and Chad Dahlstrom (Discogs).
In the excerpts here you'll hear how vinyl helped save indie record stores, how the mix of vinyl and CDs has flipped over the past decade, and the problems faced by indie record stores in the new vinyl-based record store model, though all agreed CDs are anything but dead.
Somehow AnalogPlanet editor Michael Fremer missed the next two panels: "Big and Small Labels Talk Vinyl" with Groeger, Billy Fields (WEA), Andrew Rossiter (Org Music), Bob Irwin (Sundazed), Ben Blackwell (Third Man Records) and Sabine-Lydia Schmidt (Unbreakmyheart) and "Vinyl 2.0 Innovations", though he did walk in towards the end of the second panel as the pugilistic Dutchman Harm Theunisse advocated for the oft-tried, never successful process of injection molded vinyl records. Mr. Theunisse claimed he'd succeeded where others failed and that he'd soon demonstrate the system.
Also on the panel was Rebeat Digital's Günter Loibl, whose controversial interview on the AnalogPlanet website has produced a lively discussion among the commenters. Mr. Loibl's still in development innovation uses lasers to precisely cut a ceramic disc that could then be directly used to press up to 10,000 records before it would need to be replaced. At this point in time the automated cut would take at least a day as opposed to a conventional lacquer's real time record length and the entire process is still theoretical, but in tow with Mr. Loibl was a wealthy Austrian audio enthusiast who proposes to fund the project. As they say, stay tuned!
The final panel was "Where Do We Go From Here" moderated by Record Store Day co-founder Michael Kurtz. Panelists were James Donio (Music Business Assocation [which runs an annual Music Business event every spring in Nashville]), Matt Earley (Gotta Groove), Jeffrey Smith (Discogs), and Lisa Hresko (American Association of Independent Music).
The panel discussed where the business is today in the midst of the vinyl resurgence and what it can do to help sustain and grow it. One positive outcome of the two day event was the forming of the "Making Vinyl Alliance" a new group dedicated to "fostering end-to-end collaboration in the vinyl pressing industry—mastering through manufacturing featuring a seven person exploratory workgroup team comprised of many of the names cited in this and the previous video.
Following lunch, Third Man Records opened its doors for guided tours of its recently opened pressing plant. Since the grand opening party (which you can watch on another AnalogPlanet video), Third Man has added a fully automatic Viryl Technologies WarmTone press, which you can see towards the end of the video in both video and stills.
The event producers Bryan Ekus and Larry Jaffee successfully pulled off the unlikely: a 100% successful and useful two day vinyl-centric debut event that went off without an apparent hitch and that all, including those who traveled halfway around the world to attend, felt was worthwhile and productive.
AnalogPlanet editor Michael Fremer had Wednesday morning breakfast with a bleary-eyed and exhausted, but satisfied Larry Jaffee. Well done, Mr. Jaffee! I told him how glad I was to have overcome my initial skepticism and attended.

LATEST VIDEO
<!- ------------------------------------>