"Making Vinyl Detroit/2017" Part 1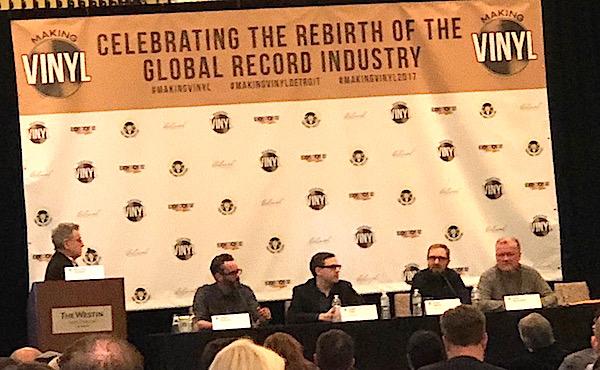 (This blurb runs under the YouTube video embedded below).
The international "Making Vinyl Detroit 2017 Symposium—or whatever you want to call it—was successful beyond most people's highest expectations for the first of a kind event that saw in attendance representatives from many of the world's major record pressing plants (GZ Media, Optimal, MPO, URP, QRP, RTI, Rainbo).
Statistics provided by Buzzangle and discogs indicated that the renewed interest in vinyl records is neither a "fad" nor a "bubble" and that dire predictions of a vinyl collapse by hack journalists including the WSJ's Neil Shah are laughably wrong.
New presses are being manufactured and purchased and new pressing plants are opening. in attendance at the event were new pressing plant owners and those working to fund and open small "artisan" type single press operations designed to produce quick, economical small runs for up and coming indie bands.
Two of the new pressing plants will be owned and operated by entrepreneurial women: one in Austin Texas and one in Wes Virginia. Watch in this video the short interview with one of these visionaries. The other will be in an upcoming video.
More than 250 people from throughout the re-vitalized vinyl industry attended, watching and participating in panel discussions, some of which are partially included in this video.
Apologies for the poor sound quality of some of these segments recorded under difficult conditions, but it's definitely worth slogging through parts of it for the great information. Also, not recorded was AnalogPlanet editor Michael Fremer's panel "The Audiophile Vinyl Work Flow", which included Sterling Sound mastering engineer Ryan K. Smith, Analog Spark's Mark Piro, and RTI's Don MacInnis and Iron Mountain's Greg Parkin.

LATEST VIDEO
<!- ------------------------------------>