Multi-Cartridge Survey: The Hard Work Completed!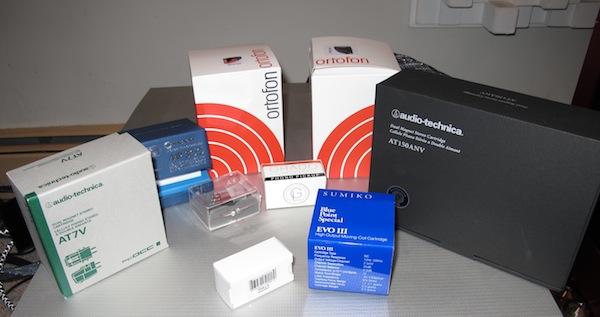 The listening has been completed to the nine moderately priced cartridges for this survey. The cartridges are: The Audio Technica AT95E, the AT 95SA, the Ortofon 2M red and 2M black, the Grado Prestige Gold 1, the Sumiko Blue Point Special EVO III, the Audio Technica AT7V and AT150ANV and the Nagoaka MP300.
Why so many Audio-Technicas? They manufacturer many moderately priced ones, probably more than most other manufacturers. If your favorite is not among those, maybe next time.
Here's how I proceeded: I set up each on the VPI Traveler and ran the output into a Graham Slee Era Gold MM phono preamplifier. I set VTA/SRA by eye using a jeweler's loupe figuring no one buying any of these moderately priced cartridges is spending hundreds on a digital microscope.
Each was broken in for a few hours but not the 40 that's usually required for full break-in. That would have been too time consuming. It was time consuming enough! But all of these cartridges was auditioned under the same circumstances.
Here's the best part: thanks to Acoustic Sounds' Chad Kassem, we'll be able to post audio samples of each cartridge for you to judge for yourself. I used a song from the Kassem produced album My Night to Dream by Myra Taylor (Analogue Productions Originals APO 2017). The late Ms. Taylor is a 40's era style jazz vocalist who was very popular in the Kansas City area and beyond. Kassem recorded her in 2000 at his Blue Heaven Studio live to two track analog on 1/2" tape at 30IPS, engineered by the justifiably legendary David Baker, who unfortunately has also since passed away (I had met him at a party just a short time before).
The live recording on two 45rpm LPs is sonically superb. Backing Taylor are piano, tenor sax, guitar, trombone, bass, drums and back up singers.
In other words there's plenty to listen for: instrumental and vocal timbers, staging, dynamics, air and reverb, etc.
After breaking in each cartridge I recorded "Spider And the Fly" using an HRT Streamer+ A/D converter into the Pure Music vinyl recorder.
As soon as the technical issues can be worked out (shortly, not longly), I will post each cartridge's rendering of that song in as high a resolution file as can be accommodated on this website along with the cartridge's price and specs. I don't think I'll post my sonic impressions. I'd rather have yours!
Coming up soon so stay tuned!
<!- ------------------------------------>