The musicangle Interview: Song Cyclist and Brian Wilson Collaborator Van Dyke Parks Speaks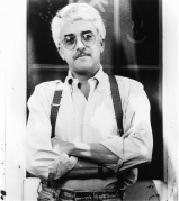 Matthew' Greenwald Sparks Van Dyke Parks
MG: Well, let's first hit that great rewind button in the sky... After you attended Carnegie-Mellon in Pittsburgh, I believe that one of the first professional jobs that you got as a musician was playing clarinet on Art Linkletter's television show, "House Party"...
Van Dyke Parks: (Laughter) No, I came out to California expecting that job to be waiting for me... It didn't happen. (Laughter)
MG: So, you came out here and lived with your older brother, Carson?
VDP: Yeah, we lived in Seal Beach.
MG: So I guess at that time you kind of set the clarinet aside and learned 'Raquinto' style guitar... Did the two of you play coffee houses?
VDP: Well, we played all of the hip places to play. We played all the way from San Diego to Santa Barbara. We went up and down the coast and played all these places.
MG: Did you pass the basket for the money?
VDP: Well, it changed by degrees. It went for two years... It changed from taking day-old vegetables from behind supermarkets. We were competing for day-old vegetables. We got paid $7.50 a night at some events. That's what I got... My brother got $7.50 as well! That was like that until we got a stand-up bass player and we went up to $20 a night, that was with Terry Gilbert. Then we played at the Troubadour in 1963 and we got $750 a week.
MG: Big change...
VDP: Big change! We added a percussionist for that event.
MG: Well, I guess you could afford it by then...
VDP: (Laughter) Yeah! So you know, it changed... We played The Ash Grove, The Insomniac in Hermosa Beach, across the street from The Lighthouse... We saw the end of the Beat Generation and its dreams. I saw all of those folks snaking around heroin dens. I saw Lenny Bruce and met him at Pandora's Box. I saw the end of an era and the beginning of another era... I got enough caché and got offered jobs in emerging groups in rock 'n roll. I had one of the hottest dens of iniquity at my apartment. Everybody from New York came out and visited. People like Peter, Paul and Mary; members of The Byrds; David Crosby; and people like Roger Miller. All of these people that would come into town... Country artists...
MG: Did you know Loren Schwartz at this time (1) ?
VDP: I didn't meet Loren until '65... I forget who I met Loren through.
MG: Is he still around?
VDP: I've heard that Loren Schwartz is in Carmel or somewhere - Lauren and Linda Schwartz.
MG: Did he play?
VDP: I wouldn't think so...
MG: But his apartment was kind of a gathering place for a lot of musicians in L.A. at this time, from what I understand.
VDP: Yeah... But, I don't know who I met Loren through...
MG: I've heard that Brian Wilson met Tony Asher through him.
VDP: Did he? I have never figured how Loren came into that situation, whether he sold marijuana or what was happening... Someday I'd like to see how this group dynamic developed. You know, some of the people
1) Schwartz was an assistant at William Morris and a music biz hanger-on-er who Brian Wilson says turned him on to marijuana in 1964- MF
who are credited with a great deal, to me, did very little... Movers and shakers from the top to the bottom... The drug dealers, as far as I'm
concerned, are the record magnates, o.k.? Those are the dope dealers. Those are the people to point the finger at to talk about the smoking gun... Those are the people who are responsible for the untimely deaths of so many great musical talents, who threw them out on the road with impossible schedules... Those are the people who should be chastised and those are the people who survived, whose wives own all those collections of dressing rooms with dancing shoes. Those are the people who ought to be brought to trial... Loren Schwartz probably skulked out of town with no reputation - and residual problems from that era, the same as Brian Wilson has... That I pretty much escaped from because I never really made my mark in the era. But, if I'd made a bigger mark, I would have been a bigger target for the accusations that pursued many others. But, I must say that I have enjoyed every minute of it - with its excesses - and I wouldn't change anything, except I'd rather do it again in half the time. I wouldn't want to spend as much time at this reckless falling... We thought we were immortal, of course. That's the problem. It took too damn long.
MG: To jump back a bit, there was a songwriter named Terry Gilkyson who later co-wrote some things with you on the Jump LP. Did he lead you to the session work that you did for Disney films, Jungle Book and The Moonspinners?
VDP: Terry wrote the songs for those movies. Terry was a generation ahead of me, but he was like a pal. I had met Terry through my brother's group, The Easy Riders, and I came in to play in the last of the golden years of that group that had started in the early 50s. When I was a child, I had bought into that campaign. I put a nickel into a jukebox and played "Memories Are Made Of This" with Dean Martin backed by The Easy Riders: Terry Gilkyson and his friends. They had been glorious back in the days of Woody Guthrie. They had hung around with Woody Guthrie and Leadbelly in the pre-McCarthy hearing era.
MG: At this point you were also playing with a group called The Brandywine Singers...
VDP: (Laughter) Yeah, I went to play guitar with The Brandywine Singers. I lived in Durham, NH and then Cambridge, MA... Folk music...
MG: Stripped shirts, à la Kingston Trio?
VDP: Blazers! (Laughter) We went blazers! We played Harrah's Club in Las Vegas... I lost my shirt in Harrah's Club - fell in love with a dealer. (Laughter) This is 1964.
MG: Prior to your deal with MGM, you met Stephen Stills around this time. I don't know if Stephen sat in with you guys...
VDP: Pretty much.
MG: In one of the books that I read about Crosby, Stills & Nash, Stephen had very complimentary things to say about you. He did say that there were some thoughts about the two of you forming a group around this time; this is pre-Buffalo Springfield.
VDP: Yes, all through that era. I had a reputation in this town, I played very well. I had a great extemporaneous flair. I could play guitar light years around just about anybody. I could play blues, bongos, this Mexican music... I had the discipline to do it. I practiced hard. I was interested rather than very interesting. But, my interest kept me alive and I developed particular specific ability in a lot of different kinds of music. But, when I saw everybody moving over to the steel string guitar, I decided rather than make that move from nylon string guitar - and there's a difference a world apart - rather than to compete in that arena and try to be among the first at the trough, I would find my entry in arranging and keyboard work. So, that's what I did. I became a pianist and I became no threat to these other people. I immediately removed the sense of competition; I always felt more comfortable in collaborative mediums. I wasn't interested in being rich, famous, any of this stuff they talk about. I didn't even want to go up and be in a group. I'd had seizures from these lights that started to dance, the photostropic stuff. I didn't want to have seizures. I didn't want to be in a light show. I didn't want to take the requisite amount of drugs to do it. I didn't really have any interest in it.
MG: Fortunately your versatility lent itself for you to do some other things.
VDP: Yeah! I wanted to work in the studio, really. I wanted to make music. This Terry Gilkyson that you mentioned, he is alive and alert today in Santa Fe, NM... I owe him a debt of gratitude for what he did for me and in what he brought to popular music a generation before Brian Wilson had a stunning and pivotal effect in my life, and he [Terry] turned me around... He was the man who had to tell me that my brother had died in Germany. My brother was a consul to Frankfort and died on the Autobahn; Terry had to announce that to me one day. He took me to the musician's union to be in my first union date. I got enough money from that union date to get a black suit and a round trip ticket to the graveyard where we laid my brother to rest. Terry didn't have a very easy job in doing that and you don't forget things like that. It seems to have very little to do with music, but you see I draw exception here; Terry Gilkyson meant something to me that was terrific, Brian Wilson meant something to me that was terrific... Brian Wilson gave me 50% of the copyrights to these songs (Smile ) when he was at the top of the record industry, at the peak of his powers. So you just wonder what kind of generation of character, what makes up a person who is constituted to do such selfless things, you just want to know what drives a person to do something so decent, and you can't forget it! Those are the things that matter to me. Steve Stills came to me, he came to my house, he asked me for some money for his friend Neil Young for a ticket. I accommodated him in this. I introduced him [Stills] to all the hip cats. I taught him the rhythms on the guitar. He hasn't forgotten, that's very good. I'm glad to hear that.
MG: Can you tell me about your deal with MGM? You released a couple of singles, "Come To The Sunshine", "Number 9"...
VDP: Yeah, when I heard Bob Dylan sing, my first impression was that if he could sing, I could too - like hundreds of other guys. So, I made the mistake of pawning myself off as an artist and that was a mistake, I feel. But, in fact, it advanced my interest in town. It did get me more recognition and more people became interested. The fellow who did this was Tom Wilson; an eloquent Harvard graduate, amazing man...
MG: Who had produced Bob Dylan...
VDP: Produced Dylan, right. He was just terrific and he signed me to MGM. I went in, did a record, and it became #16 in Phoenix ("Come To The Sunshine"). I immediately had to get a group together and Steve Stills was my second guitarist, so that's what happened there. There was another song called "Farther Along" that I put on the "B" side of that record.
MG: Was that the traditional hymn that The Byrds later recorded?
VDP: Yeah, I credited the Hopi Indians for that. My attorney, Abe Sommer, said 'The Hopi Indians are not signatory to BMI! They're not going to collect a dime!' But, I didn't want to collect any money for a song I hadn't written ... let alone a song that used the word of Jesus. I thought it would be wrong to do that. Those weren't great records, but they were calling cards.
MG: Some other sessions that coincided with the Smile era, a very busy time for you... You played organ on The Byrds' song "5D" and, since we're on the subject, I have read in other articles that you also played on "Eight Miles High" and I don't believe that's true... Can you clear that up for me?
VDP: Did not play on "Eight Miles High", was not the baby in Gone With The Wind... (laughter) ...contrary to popular belief.
MG: Got ya. Glad we could clear that up. (Laughter) Now, during the time that you were working with Brian, there were some other sessions that are among my favorite records, these sessions evolved around the Warner Bros. buy-out of Autumn Records... The Mojo Men, The Beau Brummels, Harpers Bizarre. The Mojo Men single "Sit Down, I Think I Love You" and "Me About You", to me, is like a double "A" side... Did you produce and arrange those tracks?
VDP: I believe I produced them with Lenny Waronker...
MG: Did you do any other work with them besides that single?
VDP: I think that that was it, not a full album... Politics makes strange bedfellows. We all just kind of got together... The Harpers Bizarre had a terrible name, The Tikis, and I thought that was very un-hep. Lounge Lizard would have been a very good name for them at that time, so I thought the bizarre reference was good for them and still to give it the caché of acceptability with the Harper's Bazaar thing, that was clever...
MG: They did a nice version of "Come To The Sunshine". On The Beau Brummels record Triangle, you're just on that one track, "Magic Hollow"... That album is truly a lost classic...
VDP: Yes, and I have great respect and friendship with Ron Elliot, who is on Song Cycle and Sal Valentino who is alive today. Where he is, I'm not sure. My phone number changed after the earthquake. People are getting Delta Airlines! So I'm not sure how to get in touch with him. (Sal, please contact Matthew in care of The Tracking Angle ! )
MG: Those two records that The Beau Brummels put out for Warner Bros. in '67 and '68, Triangle and Bradley's Barn, are just amazing records that didn't get the credit that they deserved in light of other records from that era, i.e. Surrealistic Pillow, Younger Than Yesterday...
VDP: Oh, absolutely! The point is that Warner Bros. had a sound then and that sound is not known ... because the numbers aren't there, and those records need to be searched... It was a sound. It was an attitude. It became an orchestral sensibility, in a way, but it worked to have a room full of people sometimes.
MG: You also worked with Gene Clark on a single that didn't get released at that time, "The French Girl" and "Only Colombe", and those tracks finally got released shortly after his death on a collection called Echoes that includes his first solo album... I was fortunate enough to meet him at a show he did at The Palomino. We spoke and I had made reference to those songs that you played on. He told me that he recorded another album in 1967 that you performed on, that Columbia didn't release due to the lack of sales of his first solo record...
VDP: Oh yeah, I can believe that...
MG: Gene was an amazing songwriter...
VDP: Yeah, and a lovely guy... I liked that guy a lot. A very righteous fellow, and very indignant, but a fine man...
MG: Kind of a psychedelic Johnny Cash...
VDP: (Laughter) Yes! Lonesome, ornery, and mean. Wonderful man.
MG: I've heard that you were asked to join Crosby, Stills & Nash...
VDP: At some point, yes that's right. I went up to Wally Heider's studio, because they thought that they might want to have a keyboard player... But, there was something about the chemistry... What I didn't want to admit to was that I didn't have the stamina to do that, to go out and 'concert-ize'. It wasn't my thing and I didn't want to admit that... Now recently Neil Young came out of the closet and admitted that he is an epileptic - which I am not, by the way - but I have a fine seizure threshold. You wouldn't want to admit that in a business that depends on perception of such things as perfect health... If you want to get laid, the last thing in the world you want to tell a woman is that you wet your pants! So yeah, I could have been in Crosby, Stills & Nash, and I could have been in The Byrds. David asked me to join The Byrds...
MG: They could have used a great keyboard player...
VDP: Yeah, it wouldn't have hurt them, but I liked The Byrds as they were ... even at the time. I was sorry that I didn't participate in The Byrds' success, but I would have done something different. There was also something that I had a revulsion for; that Trans-Atlantic cough, that apology for all things American. It was a very difficult time and there wasn't a group that struck me that had the perfect body politic. You know, it was something that I couldn't totally endorse, a group. But I named groups. I named The Buffalo Springfield. I named Three Dog Night.
MG: Speaking of other groups, another band that you had a lot of involvement with was Little Feat. They played on your Discover America album, the song "F.D.R. In Trinidad"...
VDP: Yeah, Lowell George played guitar on that one, when I was having a fight with Ry Cooder... I called Ry 'cool' and Lowell 'hot'. But, actually, I just loved Lowell and his sense of humor and we got along great. I was his best friend and he was my best friend. We hung together all the time...
MG: I miss him.
VDP: I do too... His daughter is now starting a group called Lode with some friends of hers from Topanga Canyon. His daughter is the centerpiece of this group, her name is Annora. They are just fantastic. They'll be on Geffen Records (GEFD 24960).
MG: Another person who is no longer with us, that you worked with, whom I miss a lot, is Harry Nilsson... You're on the Duit On Mon Dei album; listed as 'Musical Coordinator'...
VDP: What does that mean? (Laughter)
MG: I don't know what that means!
VDP: I probably produced the record, but didn't have a renumerical (2) consideration for it. But, I felt o.k. about the situation with Harry. I feel that he was reasonable in that respect, not in some others... He
2) I guess he meant he didn't get paid-MF
was abusive, physically. He couldn't take what it was that he was
dishing out and he took too many drugs. That he took any at all is questionable. I don't question it ... but I do question the narcotic level that he maintained. It was the very thing that killed him. But, I was a constant companion of his and I would have rather been a constant companion of his rather than do time as a record executive ... with all the privileges appertaining thereto...
MG: And 'do time' might be an accurate description of that line of work...
VDP: Oh yeah......
MG: Can you give me some reflections on your soundtrack scoring efforts?
VDP: Well... My first offer for soundtrack work came with Easy Rider, but I didn't involve myself in it. Because, quite frankly, I was frightened - and I was also very busy as a bureaucrat at Warner Bros. I had an office there. I knew Jack Nicholson, he was impressed with my work, and he solicited me. I turned him down with that and successive pictures, but I finally accepted his third offer - the third offer was a charm - Goin' South. That was my first score and it's a beautiful movie. But, to date,
I haven't done a great score, I feel. I did do a competent score with the film Casual Sex, an Ivan Reitman film. The music ran the gamut from salsa to large symphonic romantic music. It was a very well crafted score, I felt. Also, I don't think it should be discounted that I have done documentary scores which are mostly chamber music. I enjoy them just as much and it's a lot harder to do a score with a string quartet than with a wall of brass. A lot of music scores are just very large - what musicians call "Brahms in Space." (Laughter) They're just so huge...
MG: Perhaps overblown...
VDP: Yes. Exactly, Matthew. (Laughs) I enjoy scores that have more variety in approach. I hope that my opportunities to do scores will continue and I hope those opportunities would be supported by the excellence of the picture. I think I have done some "A" scores on some "C" pictures... That has to change. I believe with age and perseverance, it will. I think my best work is ahead.
MG: Can you describe your position at Warner Bros. in the Audio/Visual Department?
VDP: It was a self-made office. I saw a lot of people struggling to promote their records on the road - specifically the Ry Cooder project. I saw the rigors of the road take the lives of a lot of people and I thought that the record companies had cast a blind eye to the difficulties of record promotion. I felt that records needed to be promoted with films. It was my idea to do that. I was the first person to take that upon himself. Warner Bros. was the first company to make audio/visual promotion and pay for it. I did that with a series of ten-minute shorts, so they could be put in local theaters as openers to major films. It was a lot of fun. I feel very happy I did that. Ironic that I can't get Warner Bros. to make a promotional video of my current project (Orange Crate Art ) Ironic - given the amount of work I put into developing their audio/visual interests. It's a testament to the dim view that those boys over there have...
MG: Yes, you have talked with me about this before...
VDP: Well, I won't stop mentioning it. It's become a point of great disappointment. It's just a travesty and a total insult... It seems like a bad way to reward three years of hard work, but I'm moving on. I'm already thinking about my next record - and, of course, the video that will come from it. (Laughter)
MG: Of all the solo records you've made, do you have a personal favorite?
VDP: I don't think I'd be the first one to say that records are like children and it's inevitable to consider the youngest one to be the favorite. But, I can tell you what my least favorite record is - Clang Of The Yankee Reaper. That's because the record was produced at the nadir of my personal life. I had just lost my best friend - he lost his life in an automobile accident - and I was in no mood to contribute to the development of a record.
MG: What's some of the latest session work you've done?
VDP:I just did some strings for Sheryl Crow. I also did strings for an artist named Theona Apple, who I think will be very big. She's a very fine singer/songwriter... She's on Sony. I expect her to come out with a big bang. She's wonderful. But, the fact is, I enjoy arranging and I do it as often as I can. I don't think that there is anything conscious to be gathered from this, but I think it has a subtle influence on, well, perhaps attitude... I enjoy being around musicians. I'm happy to say that it's a new generation and it's refreshing to be around people that have other influences. It's not always material that I would agree with, or perspectives I would agree with, but I'm very liberal in my thinking. I don't necessarily have to agree with someone to respect their point of view or certainly their right to a point of view. I always put my whole heart into my arranging work as if it were my own music.
MG: The last time we spoke, you mentioned the possibility of going over to Japan to do some concerts and filming there. Is that something that's still in the works?
VDP: Yes, it is being discussed. I hope it happens - with the objective of coming up with a global television special to promote Orange Crate Art...
MG: Maybe this would get around the problem of a "regular" video...
VDP: That's the idea... I think it's a great way to do it and I'd love to be able to do it with Brian, if Brian is interested... I think it will happen.
MG: Perhaps I could get Warner Bros. or somebody to finance me to go over and cover it as a journalist. (Laughter)
VDP: If you can get Warner Bros. to finance you, tell them you want to bring a friend ... ME! (Laughter)
MG: To close out, is there anything you'd like to say to the readers of Tracking Angle ?
VDP: Yeah ... regarding Okinawa. I'm very sorry about the way our American solders behaved over there and I believe justice was done. I am sorry that it has been a clear embarrassment. I hope music continues to offer a peaceful solution to global problems. I think it can. I really do. I believe in it.
Separate BOX... VDP on Song Cycle
MG : When you were signed to Warner Bros., in what capacity was that? It seems you did a lot of arranging work for Warner Bros. prior to Song Cycle. What I'm getting at is - did you have a stipulation in your contract to do a solo album?
VDP: I was signed to Warner Bros. to do a solo album. The contract I signed in January 1967 stipulated that I would be a leader and pianist on every session that Lenny Waronker did while under employment with Warner Bros. This indicates the degree of reliability that Lenny placed in my studio savvy. I think that rider clause speaks volumes. But, yes, I was signed to do an album.
MG: What kind of budget constraints did you have on Song Cycle - if any?
VDP: I wasn't aware of any as an artist. Any fiscal responsibility would have been placed on the shoulders of the producer, who was Lenny Waronker. I had absolutely no idea what the finances were, what were legitimate expenses for a record company, how they should be charged against the artist's possible royalties, or the reasonableness of royalties. My job was totally musical and I did that as well as I could...
MG: You wanted to make an album.
VDP: Right. However, given the adverse publicity of the album's cost, I took a growing interest in the expenses of making a record and the method of payment for the services of the artist. That's why I took the opportunity to produce other records with Lenny.
MG: Like Randy Newman's first album...
VDP: Yeah, so I could get a better idea of what standard operating procedures of records companies were.
MG: If you're a swimmer, you ought to get used to being in the water...
VDP: Yeah! (Laughter)
MG: What were the logistics involved in hiring musicians and booking specific studios for Song Cycle ? Were they your decisions?
VDP: They were mutual decisions, I would think. A lot of the musicians that I used on Song Cycle were people I was familiar with from working on other projects, like my work with Brian Wilson.
MG: The Mojo Men and Harper's Bizarre...
VDP: Exactly.
MG: Was the album recorded at Sunset Sound?
VDP: Yeah, largely at Sunset Sound - some of it at Armin Stiener's studio, which was called "Eight Track Studio." It was the first eight-track studio and I did my basic self-propelled backing tracks, the rhythm tracks - keyboards, tuneful percussion and the guitar family. I did those things at Armin's studio and then combined those tracks to work on at other studios. At that time, it was difficult to change from studio to studio, so a great deal of my work on Song Cycle was done on four-track and then bounced to another four-track. Now, during the course of making the album, eight-track became available at several other studios, Sunset Sound being one, and we moved over there to cut down on cartage fees.
MG: Were any of the songs on the album written before you got signed to record it?
VDP: No. I wrote as I developed the project. I wrote while I was recording.
MG: Were you involved in the mixing of the record?
VDP: Yes, heavily involved. As a subjective force, I was probably responsible for the mixing of Song Cycle. Lee Hirshberg was the recordist and Bruce Botnick was the main engineer - he was involved with the mixing along with myself.
MG: It seems to me that Song Cycle was also part of Lenny Waronker's vision. Would you consider that statement somewhat accurate?
VDP: Well, vision - I'm not sure, but I feel that it was a very personal project for me. I would say that he absolutely insured his interest with a defensive relationship. It never would have happened without him. You could say that it was his vision to allow an artist to explore the nature of their individuality and that's an absolutely priceless commodity. It's apparent that Lenny let me indulge myself. If the project can be said to be self-indulgent, it's because of my abuses - not Lenny Waronker's. I think Lenny did everything right in letting me make my own mistakes. In fact, I did make mistakes, but I made them early - if you keep in mind I was twenty-two years old when I recorded it. At certain times it seemed like there were two minds in search of a single thought ... more often than not, it was a healthy degree of exploration and I'm proud that we got it done.
MG: Can you tell me approximately when the album was recorded?
VDP: I believe it would have been from January forward - over the course of a few months - in '67. It could have sat on the shelf for several months while they figured out what they could do with such an album. That type of thing happens to this day with artists that have far greater reputations. They, the record companies, time album releases to achieve a degree of maximum marketability. In the case of Song Cycle, it was shelved because it defied categorization. I know when I did Jump, they waited over a year to release it. It laid there in ignominy in someone's bin. (Laughs) That's the way things go in this business. It's happened to bigger fish than me.
MG: Well, we're all glad it finally came out. (Laughter)
VDP: Me too! (Laughter) I am happy with it and a great deal of that has to do with the personal nature of the work. It was influenced by the free association of James Joyce and the lyrics have tremendous dispensability about them. I feel Song Cycle is a very interesting work, especially from it's lyrical perspective, that it is anagramatic in a way. I think it's a proper piece of entertainment ...... still.
<!- ------------------------------------>