Neal Schon of Journey Discusses Freedom of Choice When Sequencing an Album for Double Vinyl, and How to Not Stop Believin' for 50 Years and Counting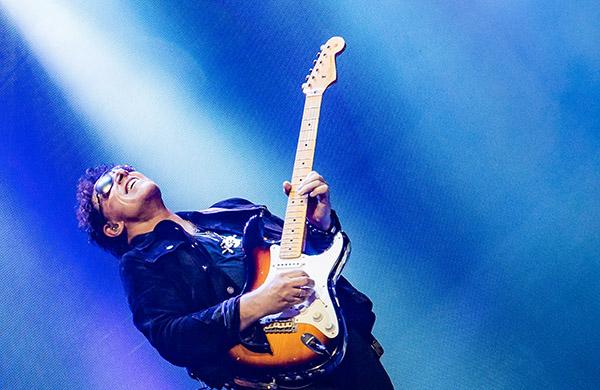 Could there really be a better band name than Journey? In just two syllables, the word journey succinctly describes the arc of a musician's career, from the initial fire to create something lasting and memorable, to the facing up to and vanquishing of the inevitable artistic pitfalls, to maintaining and building upon a particular level of quality across the decades, year in and year out.
Neal Schon is someone who certainly agrees the name Journey carries a special weight to it.
"It's about something that's constantly changing, and it enables you to move with the changes and feel that it's all ok. It's ok to journey to new frontiers — no pun intended," observes Schon, the guitarist who's been the lone founding bandmember involved in every incarnation of Journey since the very beginning, back when the band was initially known as the Golden Gate Rhythm Section before wisely adopting the Journey moniker. Pun not intended or otherwise, Schon has also knowingly referenced one of Journey's biggest albums — January 1983's megaplatinum Frontiers — in the process, the commercial apex of the band's two decades with Steve Perry as their lead singer.
And that all leads us to today — and to Journey's 15th studio album, Freedom, which came out on CD via BMG back in July but now sees its official 180g 2LP release on August 26. (Hardcore fans and collectors will have likely already gotten their hands on the 2LP import version released internationally on the Frontiers label.) Freedom is 73 minutes of prime 21st century Journey, whether it's the affecting balladry that made them a household name ("You Got the Best of Me," "After Glow") or the more adventurous, progressive-leaning epics that hearken back to the band's early/mid-'70s roots ("Holdin' On," "Beautiful As You Are").
"On Freedom, I tried to really encompass all the elements I ever experienced since the beginning of Journey, back when I started the band with [original Journey manager] Herbie Herbert midway through '72," admits Schon. "Even though there aren't any instrumental songs on the album, there's looseness and there's freedom, mentally, for me to move around. I tried to diversify, songwriting-wise, and to show the diversity of the band again — like we did on [July 1981's] Escape and [January 1983's aforementioned] Frontiers. I wanted to come up with a new album that was of a certain quality, like those two were — a new album that shows the musicality of the band, and that we are not done creatively."
Based on what resides within the grooves of Freedom, the journey of Journey is far from over. Schon, 68, and I got on Zoom together a few months back to discuss the challenges of sequencing Freedom for double vinyl, how listening to jazz and blues records growing up influenced his playing and arranging skills, and what vintage deep cut he'd like to pull out of the vaults to play during Journey's upcoming 50th anniversary celebrations. Turn around, face the changes / Life rolls on. . .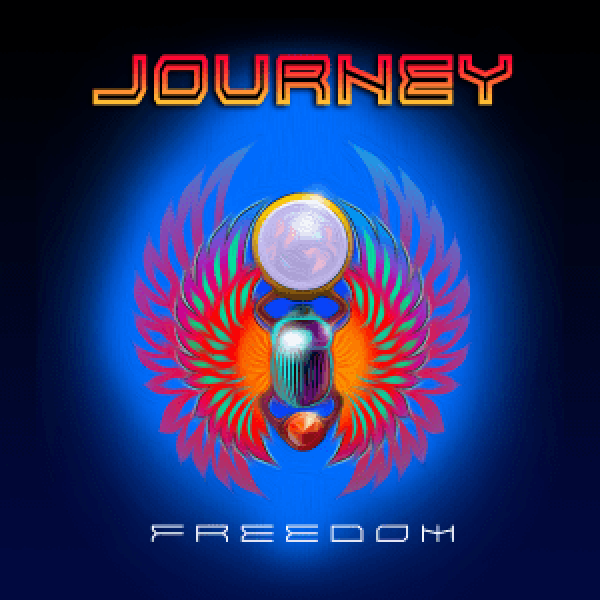 Mike Mettler: I really love the sequencing choice of having "After Glow" end Side 2, followed by "Let It Rain," "Holdin' On," and "All Day And All Night" to start Side 3. That's my favorite portion of Freedom. I feel like every cylinder of Journey is firing on those four songs.
Neal Schon: It's funny you say that's your favorite section of the album. When it came time to sequence Freedom, I went into the studio by myself one day, and the engineer and I sequenced the album much different than what it came out to be. I actually started the album out with "Holdin' On."
Some guys got scared by it because it was so different and removed from what we had done before, but I wanted to be more bold about it, and make it raise some eyebrows. I wanted it to make everybody go, "Wow! What else is on this record?" But, you know, nevertheless (chuckles), they [the listeners] get to it, no matter where it's sitting on the album.
Mettler: That's true. I do feel there's a different level of excitement by the time we get to the end of Side 2 and the beginning of Side 3. That's where we're in the middle of what I'm gonna say is the "360 degrees of Journey," because I feel like you've captured literally every facet of 50-ish years of the band on this album. Is that similar to what you feel about it?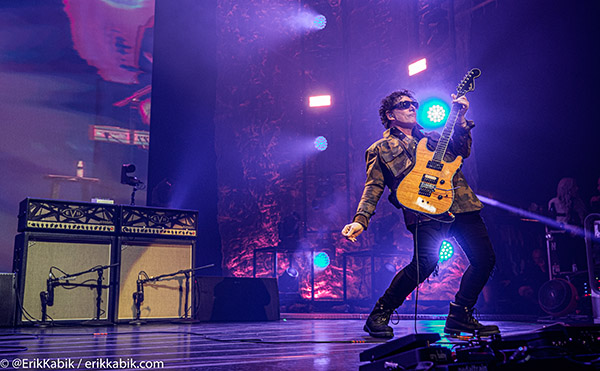 Schon: I do! I do — and that's exactly what I went after. I'm really proud of the fact Freedom remains so musical, and it wasn't stuck all in one genre. I wanted to check out some new areas that we [as a band] have not been. You hear things that kind of sound similar, but really not quite as funky and heavy as something like "Let It Rain," which is like a Cajun soup mix — like a Prince kind of mix, along with Chaka Khan, Larry Graham, and Sly [Stone].
It's all that stuff mixed in one — which is really a big part of my roots I never got to explore in the band Journey itself. So I felt like, you know what? There's a new chapter sitting here with songs like "Come Away With Me" and "Let It Rain."
Mettler: Yeah. And I'd say "All Day And All Night" has that feel to it too.
Schon: Yes! "All Day And All Night" does too. I mean, it's just funky, and it's rocking, and to me, it sounds more like — I wanted to cater to a younger audience that maybe would not be so attracted to our older stuff, to reel them in. And then once they get attracted to this, they're more open-minded.
Mettler: Your father [Matthew Schon] was a big-band player. Do you feel a lot of that style of music filtered into your listening experience growing up? Your palette of listening is probably broader than a lot of people may even realize.
Schon: I listened to all the best jazz guys. I mean, he [his dad] took me to see Ella Fitzgerald with Count Basie, and we also saw Duke Ellington. I was weaned around a lot of really great jazz — Miles Davis, [John] Coltrane. And he liked Stan Getz, as a tenor sax player. [Schon's father was also a reed player.]
Mettler: Amazing. Ok, let's get back to vinyl. When you were a kid, what were the records you had growing up that were your personal talismans, the ones you played over and over from that era?
Schon: Ok, I was attached to vinyl growing up. I was living with my folks in a small apartment. I had a wall of amplifiers on one side of my room (laughs), and I had my guitar, and I had a little phonograph player. I would study different records, and the records I spent the most time with in the beginning were blues records. I listened to a lot of B.B. King, and I loved Albert King, and I really loved Michael Bloomfield — especially the Electric Flag stuff. Paul Butterfield was great too.
I became good friends with [guitarist] Elvin Bishop, and that's kind of how I got my start in the city [i.e., San Francisco], playing in a bunch of different clubs. I played at the Keystone Korner with Elvin a lot, and he introduced me to B.B. I went and played with B.B. at Fillmore [West], which was the first time I walked out on that stage. [Schon was but a 14-year-old guitar phenom when he played with Elvin Bishop and B.B. King at Fillmore West in San Francisco in 1968.]
I proceeded to go through many, many different records, and I learned as much as I could off of records. Nowadays, everybody's got YouTube and all these learning devices. Kids are excelling so fast now, it's mind-boggling.
Mettler: It really is. Did you ever slow the record speed down to figure out how certain guitar solos went — as in, slowing a 45 down to 33?
Schon: I didn't really have to slow down the rock records — like the [Jimi] Hendrix rock records I studied, I didn't have to slow them down. The Cream records, I didn't have to slow down. I studied [Cream's June 1968 2LP set] Wheels of Fire for a long time, the bass and the guitar. That's where I came up with all my Jack Bruce influences you hear in "Let It Rain." That was my bass playing you hear on there.
Mettler: It's funny you say that, because I had a question in my notes about "Let It Rain" to the effect of, "Boy, that sounds very Jack Bruce-like." So, yeah, that makes sense.
Schon: Yeah, and you can hear that in what I did on "Stone In Love" and "Don't Stop Believin,'" and that counter-bass part — that all came from my Jack Bruce influence. ["Don't Stop Believin'" and "Stone in Love" are, of course, the first two tracks on Side 1 of July 1981's aforementioned Escape.]
And then [bassist] Randy Jackson then took it to another level, you know? He took it further than I even did.
Mettler: I think Randy's the secret weapon here on Freedom — but that goes back to what Randy did on [April 1986's] Raised on Radio, right?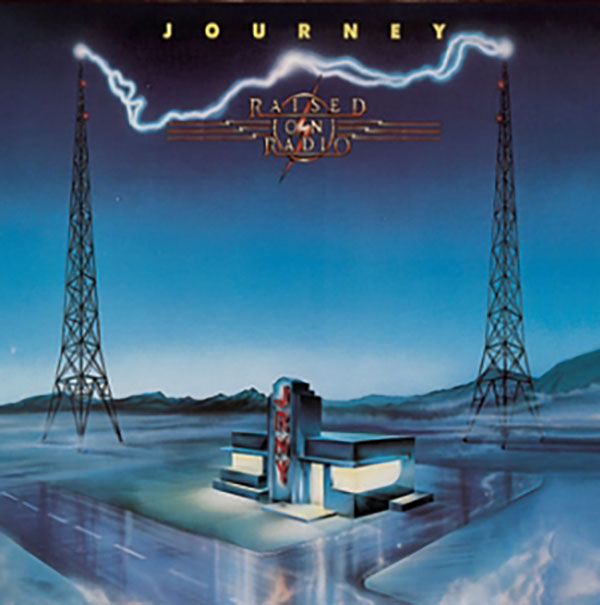 Schon: That's right. Randy is just such an amazing guy, and an amazing musician. He can play anything, whether it's R&B or rock — whatever you want. He can get as progressive as you want or as jazzed out as you want, and it's just amazing having him and Narada [Michael Walden, drummer and Freedom co-producer] together as a rhythm section. It's all sitting there — it's just up to you for where you want to go, and what direction you want to go.
What came out of it was, "Let It Rain" was the first one, and then it was "Come Away With Me." I told Narada, "I want to follow this different vibe we've got going here — this funky, hard-rocking vibe." It's a little like Band of Gypsys — that [drummer] Buddy Miles and Narada kind of feel.
Mettler: Yes! I feel like I hear some "Them Changes" going on in there, to some degree. ["Changes," a.k.a. "Them Changes," is on Side 2 of March 1970's Band of Gypsys, a live album featuring Jimi Hendrix on guitar and lead vocals, with Billy Cox on bass and background vocals and Buddy Miles on drums and vocals.]
Schon: Exactly! Exactly. I mean, I'm big fan of all that stuff! It's embedded in me. It's not like I had to go back and go, "I want to cop that off that record." It's just influences, you know?
Mettler: Very true. I also think you have an arrangement skill about how songs should unfold, and that probably comes from all that kind of DNA. Especially when I'm looking at a track like the last song on Side 4, "Beautiful As You Are." It's a 7-minute track, but it doesn't feel like it. When you get to that sequence toward the end where that little instrumental break comes in, I mean — oh man! I feel that had to be a choice of yours like, "Hey, this song can really play out."
Schon: Yeah, and I had a lot of different sections I had written in "Beautiful As You Are" musically — and I didn't know quite how they were all gonna pan out together, because I'd never listened to 'em all together. I just had the sections written in my head, and there was actually a whole other section that was in there! (laughs) But I had to take it out because we were gonna run over time, and then it [the album] wasn't gonna fit on two vinyl records. It was another 3½-minute section — a rock section there in "Beautiful As You Are" that fit just as well as the rest of them. What I'm thinking is, once this record is out there, if there's a lot of interest, I'd like to go back in and I'd put that extra section back in, and then just release it.
Mettler: I vote for you doing just that. You could do a 10-inch Record Store Day Journey EP where you just have the whole long version of "Beautiful As You Are" on one side, and then maybe a live version of some other tracks on the other side.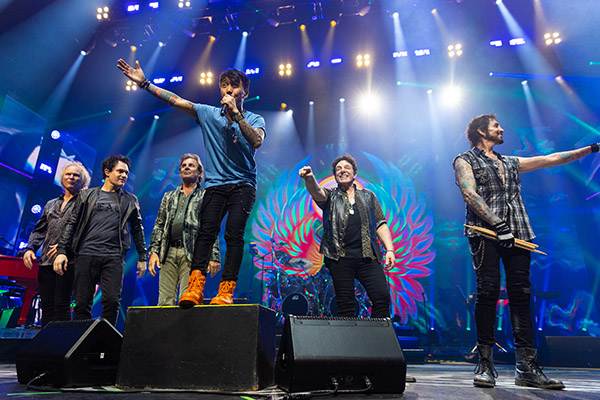 Schon: I like that idea. "Beautiful As You Are" was very thematic, and we'd never really done a suite before. Like, I was a big fan of The Who for many years as a kid, and I learned how to play their stuff. I learned Cream, and Hendrix, and [Jeff] Beck with Rod Stewart, and Zep [i.e., Led Zeppelin], and all that stuff.
I went to see The Who live a lot at the Fillmore West in San Francisco. I just loved them. I loved the looseness. I loved that they were really orchestral — that whole Tommy album [released in May 1969] was a full experience, but I loved it! I loved the fire, with the drums and the rock-ability, and just how, really in the moment, they weren't afraid to stretch out. [MM notes: Tie-in time! Look for our all-new Abbey Road Studios half-speed-mastered 180g 2LP Tommy review that posts on August 26.]
When I was cutting the rock section in "Beautiful As You Are" with Narada, it was just Narada and I. And I said to him, "I don't know where this is supposed to go right here, but play it like a drum solo. Do your Narada Keith Moon!" (both laugh)
Mettler: He's so good at that. I've spoken with Narada before, and I feel like you guys had this special mindmeld thing going from the beginning, because you were able to record in the same room together, unlike the other guys in the band. Do you feel like having that physical proximity with Narada helped how you played this new material?
Schon: Absolutely. I think being able to do that with Narada in this lockdown really helped this album feel like we were almost all together in a room. To cut separate drums and separate guitars in different studios — it may have worked, in time. Like, you can hook up anywhere in the world now to record, and it can be in time.
But there's something about being in the same room with your drummer, for me as a guitarist. I loved cutting our record like that, because a lot of times you get together on newer records, and everybody's so used to using Pro Tools and a computer, and you don't get past the computer. The human element, especially on the rock stuff, just doesn't live in a computer. It ends up sounding like homogenized sh-t, you know? It's overly produced, and overly calculated.
And so Narada, when he was playing the drum solo in there, the part where we're featuring the drums [it starts around the 6:10 mark], I didn't know where I was going. I just kind of moved the chords around just like I would live, if I was jamming. I just had to go with it. I put the bass on there after it, and I went, "Follow the guitar."
Mettler: That totally worked. I also feel, in the last minute of "After Glow" [the earlier noted last track on Side 2] where you just go off into — well, what I like to say is, because your melodic sense is so good that when you play a solo, it's like the audible version of what a smile is, because it's always an uplifting kind of performance. You always seem to have this air of positivity about what you're playing. I feel like that has to be a conscious choice in what you're doing.
Schon: I don't know if it's conscious, but I like to come from that place where I'm smiling. 'Cause if I'm smiling and I'm listening to it, I think everybody else is gonna like it, you know? (smiles)
And "After Glow" is a different one to orchestrate and arrange correctly — the outro, especially. I had sung a lot of the scats that Deen [Castronovo] ended up singing, because it's his lead vocals that are actually on there. Initially, it was my melody in the verses and in the B-section, the gospel stacked vocals that I did — very Perryesque, very Queen/Perryesque gospel. And then I had Deen replace a lot of my parts. Some of mine are still there, but I'm singing in falsetto, because I can't sing that high! (laughs) I would clone myself, just to make it sound like a bigger choir.
Bob Clearmountain, when he mixed it, I had to keep telling him, "Push up those vocals," but he didn't wanna push them as loud as I wanted to hear them. Still, you get the feeling of what it's about.
And I didn't know exactly how the ending was gonna play out because it was a jam — it was just Narada and I jamming. Again, just the two of us, and there were no vocals on it at the time. I played a couple takes, from beginning to end. And when I decided to put Deen on it so he would be on this record, because Narada had really played all the drums and Deen was in the band at that point with us, playing live. [Walden and Castronovo shared drumming duties in Journey onstage in 2021. Walden left Journey in 2022, and Castronovo currently handles all the band's drumming duties himself.]
Narada was busy that day, so I produced Deen's vocals with his engineer in Oregon, and had him replace a lot of my stuff. Deen sang everything I did, and he just nailed it. When he came to the end, he started doing all the adlibs — and he did so many great adlibs. The ones that I did, he replaced those, and he completely nailed those too.
Then I listened to it with our engineer Jim Reitzel, and I was going, "Wow." It's like I had to figure out where everything goes. And so, using the arrangement skill I think you're talking about from doing this for so many years (chuckles), I ripped it apart, and put it back together — that tune probably more so than anything else on the record.
I didn't really do too much to the other songs on Freedom. It ["After Glow"] was just kind of laid out that way, and it was right from the get-go. But I did move my guitar around his [Deen's] vocals.
Mettler: The way you and Deen weave in and out of each other there gives off a call-and-response kind of vibe to me.
Schon: Yeah, and it was a delicate kind of thing, because I didn't wanna lose either one of them [i.e., the guitar or the vocal]. I loved what he was singing, and I loved what I was playing too — but both of them, at certain points, were colliding. I had to figure out where I was gonna breathe and let Deen be heard, and let the guitar go away. And then, where is it gonna come back?
I kind of messed with it for one day for an hour or two. Then I got frustrated with it, and I put it away. I came back the next day and we went at it again, and I think I came up with the best solution.
Mettler: You really did. The last time I saw you in person [in April 2016], we were in New York City, talking about the Santana IV reunion album. Do you foresee you and Carlos working together on new music anytime soon?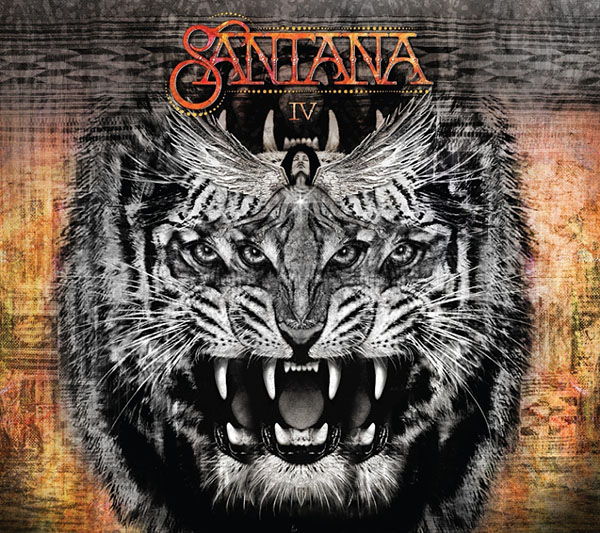 Schon: Yeah, that's still — there's still stuff going on there, you know? I've been very tight with Carlos. We're probably better friends than we've ever been, and we're talking about doing more work together. Carlos and I are talking about playing some more too, so that would be really cool.
It seems like a natural thing that would occur in probably the latter end of 2023, to do some dates with Santana — in some stadiums, probably, because it will be my 50th anniversary of being with Journey, and it just seemed like it would be a natural thing to do since we [Journey] came out of Santana.
Mettler: Agreed! When you do those big 50th anniversary shows, can we get songs like "Kohoutek" in the set? Is that a possibility? ["Kohoutek" is the six-minute instrumental that ends Side 1 of the band's self-titled April 1975 debut album, Journey, and it's also a song Neal has played live a few times in recent years in different incarnations.]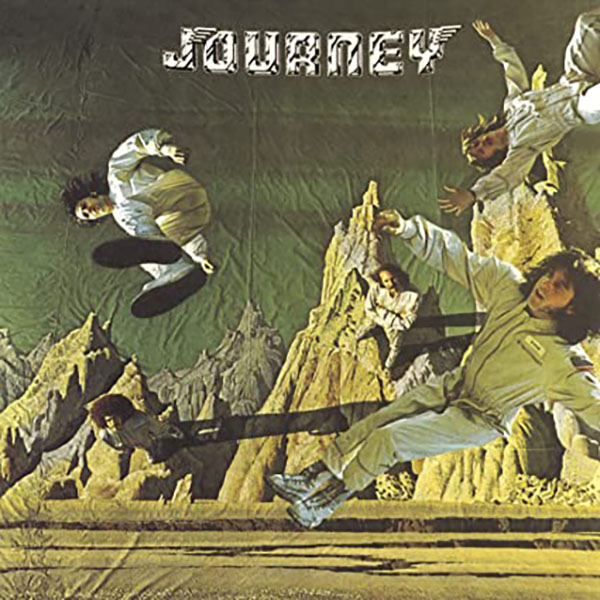 Schon: Oh, I think there's a way of working everything in. I don't think you're gonna get a full song, but I've been thinking about this for a long time. I think a real, true — well, we're gonna be celebrating the 50th anniversary for quite some time, and maybe even into 2025. In '25, I see us actually going and doing "An Evening With" and incorporating everything, and playing a 3½-hour show, with an intermission in the middle.
Mettler: Oh, I love that idea. Besides including some other people, I would also vote for Jan Hammer joining in that "Evening With," because I think some Schon and Hammer material [culled from the two albums they did together in 1981-82] would be a nice addition to the setlist. You could just play a five-hour show, Neal — you've got plenty of music for it! (laughs)
Schon: (laughs) You know what? I wouldn't have a problem doing it because I play so much. Even at my ripe age, I have no tendonitis going on. I use my hands so often, and I try to play two or three hours a day.
Mettler: Since you're the guy who's been here the entire 50 years, is there one song from any era of the band that you're like, "We have to play blank. We haven't played this in a long time, but I, Neal, wanna play . . ." fill in the blank. What song would you fill in there?
Schon: (no hesitation) I'd say, "Of a Lifetime" [the first track on Side 1 of Journey's aforementioned self-titled April 1975 debut album]. I've seen some audiences come unglued whenever they hear that song. It's so good.
Mettler: Being a consummate fan of that first Journey album, I think it's a fantastic choice. Let's now "Look Into the Future," to borrow an album title of yours. [LITF is the title to Journey's second album, which was released in January 1976.] Let's project 50 years into the future, when it's gonna be 2072. If some music listener cues up Journey music in 2072, what experience would you like them to get out of that?
Schon: (exhales) Whew! That's quite a question, man. I would like them to get a full body experience of Journey music from the beginning to the end, and whatever they like in between.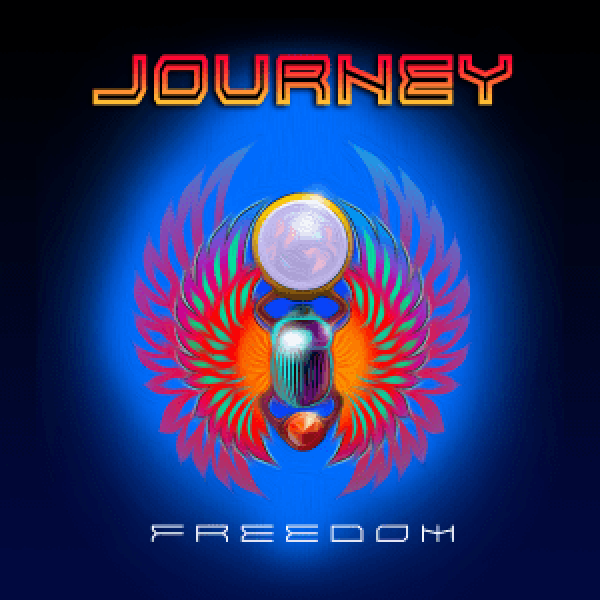 JOURNEY
FREEDOM
180g 2LP (BMG domestically; Frontiers internationally)
Side 1
1. Together We Run
2. Don't Give Up On Us
3. Still Believe In Love
4. You Got The Best Of Me
Side 2
1. Live To Love Again
2. The Way We Used To Be
3. Come Away With Me
4. After Glow
Side 3
1. Let It Rain
2. Holdin' On
3. All Day And All Night
4. Don't Go
Side 4
1. United We Stand
2. Life Rolls On
3. Beautiful As You Are
<!- ------------------------------------>