Ortofon Quintet Black Moving Coil Cartridge: Fast, Clean, Nimble and Detailed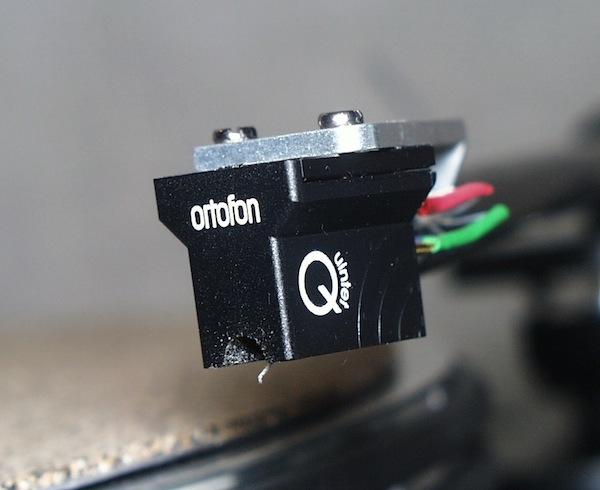 Ortofon's new moderately priced Quintet MC series duplicates the color designations used on the company's highly regarded MM line. That was a smart choice. Analog enthusiasts have an instant tiering picture. The $314 Quintet Red is at the line's bottom, the $999 Quintet Black at the top.
The Quintet Black features a Boron cantilever to which is attached a nude Shibata stylus. The coil wire is of Aucurum (gold-plated 99.999999% oxygen free mono crystalline copper). Magnets are Neodymium. Output voltage is a modest .3mV while internal impedance is 5 ohms. Ortofon recommends loading >20 ohms (a good rule of thumb is 10x internal impedance or in this case around 50 ohms). Compliance is a moderate 15µm/mN. The body is of ABS (Acrylonitrile butadiene styrene) to which is bonded a tapped aluminum top plate. The Quintet Black's innards resemble in many ways those found in the far more expensive Windfeld and A90, though don't for a second think you're getting either of those for $999!
Setup
The line's square body makes initial set up easy though you should never use the body to set overhang or zenith angle. Instead use the cantilever (and even that's somewhat problematic since we've discovered using the USB microscope that styli are sometimes not "squared" upon insertion into the cantilever). Setting the cartridge body parallel to the record surface is again made easy by the body shape but that is only a starting point for setting SRA/VTA, which in the case of a Shibata stylus is critical.
The Quintet body is tall and so in most cases when you replace your current cartridge with the Black you will be raising the back of the arm to get it parallel to the record surface (which again is not usually the final VTA/SRA setting point, especially given the sample to sample SRA variations found throughout most cartridge manufacturer's offerings. I used a digital microscope (AMT 313) to set SRA and in this case the arm ended up slightly below parallel to the record surface but should you buy a Quintet Black don't use that as a guide.
Tracking force was 2.3 grams while final loading was 100 ohms though for whatever reason or reasons the Quintet was not as sensitive as some MCs to small loading changes. If you like to play around with fractions of an ohm or even 10s of ohms, be my guest. I tend not to be so obsessive once in the "ballpark".
Smooth MC Sound
The 2M Black's $775 price tag makes it awfully close to the Quintet Black's price tag, though I realize that for many people $225 is a lot of money and probably what they might budget for a cartridge in the first place. Still, while the 2M Black is an amazing MM cartridge, for an additional $225 the Quintet Black offers a significant performance upgrade in terms of speed, extension, overall nimbleness and timbral accuracy particularly in the midrange where the 2M good as it is, sounds somewhat clogged though one person's 'clogged' is another's 'rich' if you know what I mean.
There's simply no getting around the fact that compared to a MM cartridge, a lower mass MC cartridge, where the lighter coils not the heavier magnets do the moving is going to be faster and nimbler. Add the Quintet's lighter more rigid Boron cantilever and you have in the Quintet a cartridge better able to delineate space, dig out reverb trails, and produce overall greater detail retrieval, though the 2M Black is not all that far behind thanks to its Shibata stylus.
MM advocates who find MCs bright on top need to hear the Quintet Black. It's top end is anything but "bright". In fact it's well-burnished and reminded me of the top end of some of the premium MySonic Labs cartridges. Top end detail is "in the pocket" tight without exaggeration or edginess. I spent an evening comparing an original pressing with a Light in the Attic reissue of Lou Adler's oddity Dylan's Gospel (Ode Z12 44018 vs. LITA 106) and though the LITA is especially well packaged and nicely pressed (review coming) and the record is tonally very good, the cut by John Golden omits the original's spatial perspective and image focus. I'm betting it was cut from a 96/24 digital source. If it's analog I'll eat a CD.
Of course the Lyra Atlas produced the spatial differences with startling ease but the Quintet was not all that far behind. This studio recording was miked by Armin Steiner (who I believe is still alive and deserving of an interview!) with direction from Adler to make it staged like a church setting so that the lead singer was in front of "the pulpit" with the large male and female chorus arrayed behind. The drum kit mixed to sound well behind the lead and surrounded by plenty of room sound "pops". The individual chorus members are startlingly present and easily to delineate from the group.
The Quintet does an impressive job separating out these elements and of producing a vast three-dimensional space, though not equal to that of the 10X more expensive cartridge. Though Ortofon conservatively rates separation at 'greater than 23dB', I measured 28 dB, which is very good.
When I switched to the LITA reissue, while the overall presentation was very good and it could be argued that the tonal balance was somewhat more linear and the sound "cleaner", the lead vocalist's presence was diminished and focus somewhat blurred. The drums so clearly delineated in space on the original is pressed against the lead singer's image. There's nothing "digital" about the sound, it's just spatially "lossy" compared to the original—much like the sound of the Led Zeps cut from 96/24 files.
I know, this is a cartridge review so I'll get back to it! The point I was trying to make is that the Quintet's spatial abilities are outstanding even compared to a 10X the price cartridge and its tonal balance is very accomplished, particularly in the all important midrange where it is supremely linear.
So from bottom to top: the lower octaves are nimble and "faster" than my recollection of the 2M's, but if the Quintet has any shortcomings its less than fully extended and/or expressive bass response (remember I'm auditioning on a full range speaker system). But what's not there in full weight is more than made up for by the cartridge's bass detail and excellent textural presentation. I covered the midrange. The top end, though slightly burnished has plenty of snap and "chimey goodness" on cymbals where it counts (I remember hearing my first cymbal hits on the first MC cartridge I ever owned—a Dynavector Ruby—and that was an unforgettable ear opening experience). The Quintet's macrodynamic presentation is good but not much superior to that of the 2M Black. It is much better than the 2M Black in the micro-dynamic region—the small dynamic shifts that make recorded music sound more "live", which is to be expected given the cartridge's faster response time.
Summing it All Up
If you are looking for a MC cartridge that unravels large amounts of transient, harmonic and spatial detail without being overly analytical and one that is "fast" without moving so fast it misses the textures, then the Ortofon Quintet is a great good choice to consider. It's especially neutral tonally, with a rich but not overly rich midrange component—contrary to the bad rap MC cartridges get in some quarters for being "thin and overly analytical". The Quintet is neither.
Its reproduction of the piano is particularly impressive capturing well the initial transient without metallic overlay, and the sounding board sustain and generous decay—all aided by excellent tracking and of course with the Shibata stylus tracing as well. I pulled out the Volto Incitare LP reviewed here recently and can confirm that the Quintet can do justice to edgy electric guitar transients and it was equally good on the drum kit's kick, snare and especially cymbals.
Interestingly, the Quintet shares the far more expensive Windfeld's tonal and textural superiority with its less than fully expressive macro dynamics. In my opinion I'm happy to give up some dynamic capabilities in exchange for near tonal perfection especially at $999.00. Just remember that with its .3mV output you need a quiet phono preamp capable of at least 53dB gain. Feeding an MC stage with those capabilities the Ortofon Quintet is an all around great performer for all musical genres. $999 is not chump change but if that's your budget and your phono preamp can do it justice and your tone arm's VTA/SRA is adjustable to optimize the Shibata stylus, the Quintet is recommended without reservation.
<!- ------------------------------------>