Pioneer PL-30-K Automatic Single Play Turntable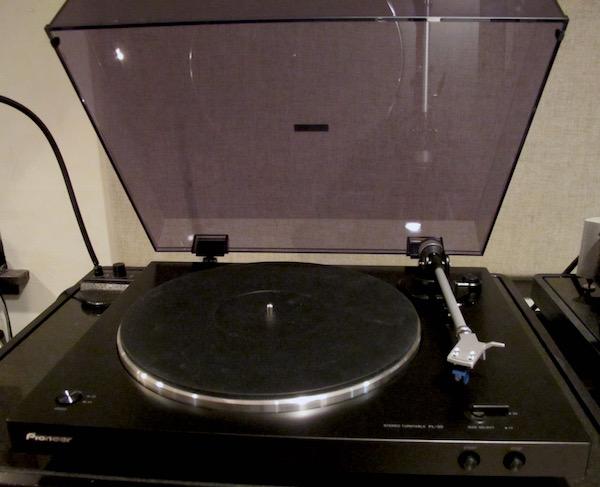 Spend some time with Pioneer's PL-30-K automatic turntable ($349 MSRP/$300 "street price") and you'll quickly realize it's not a "throwaway" turntable put together in haste by a company keen on "cashing in" on the vinyl resurgence.
It's a very well thought out product aimed at a particular market segment: the music fan looking to play records with minimum hassle.
At 12.3 pounds it's not exactly a high-mass 'table but it's also not a light-weight piece of plastic. The weight mostly comes from a metal plate in the chassis bottom that lowers the center of gravity and helps immunize the 'table from footfalls.
The lightweight die-cast aluminum platter topped by a relatively heavy 5mm "moderately" thick rubber mat is belt-driven via a D.C. servo controlled motor.
A straight pipe arm with a detachable, locking collet-type head shell comes fitted with an Audio-Technica 3600L moving magnet cartridge that tracks at a 3.5 grams, which I consider unacceptably high, but it's an easily solvable problem.
The cartridge and its variants are among the world's most popular. The "L" model with the white plastic housing features a carbon fiber cantilever fitted with a spherical stylus. The 3600L sells for around $25.00, with replacement styli priced at around $12 and up.
The arm has an effective length of 221.5mm with a 19mm overhang. It can accommodate cartridges weighing from 4.5 to 9.5 grams. < b>Easy Set-up and Use
Pioneer has done an outstanding job with the directions so even a first time turntable owner can easily set it up correctly. The belt is in place around the platter's inner hub, with a "grab and pinch" piece of paper attached at the access opening.
It allows you to stretch the belt over the pulley without touching and contaminating it with finger oil, after which it can easily be removed from the belt. After removing the stylus guard, you balance the arm, set the tracking and anti-skating force and after plugging in the 'table, you're ready to go, though it's important to check the "line-phono" switch at the back to make sure it's set to "phono" (2.5mV output) if you're plugging the 'table into a moving magnet phono preamp, or to "line" (150mV) if you're plugging it into a line level input.
Put a record on the platter and after selecting record size and speed, simply push the "play" button. The platter starts turning and the arm moves across and lowers itself gently onto the record surface. At the end of the side the arm rises and moves back to the rest.
The mechanism proved to be 100% gentle and 100% reliable.
What to Do About the 3.5g Tracking Force
As the review was getting way, an email arrived from the LP Gear website offering for review theCF3600LE, a newly developed Audio-Technica cartridge exclusive to LP Gear that uses an elliptical stylus on the carbon fiber cantilever in place of the spherical one on the supplied cartridge.
Along with an obvious sonic and tracing improvement the elliptical stylus replacement tracks at 1.8-3.5 grams, with 2.5 grams optimal. The cartridge's list price is $75 but on the LP Gear website it was priced at $34.95, with the stylus replacement costing $29.98. In other words, you might as well buy the whole cartridge, though you'll just want to pop out the white spherical stylus and replace it with the elliptical one.
After auditioning the original stylus with a few expendable records in went the LP Gear elliptical tracking at a full gram less. The sonic improvement was noticeable in terms of high frequency clarity and extension and improved detail.
The Built-in Phono Preamp
It gets the job done but to get more from the 'table and cartridge it's worth investing in an outboard phono preamp. I listened through the Schiit MANI SCH-18, an American made MM/MC unit that sells for $159 (sorry, not going to make any "Schiity jokes" other than that one) and later I listened through a Pluto phono preamp, a brand new dedicated MM one from the U-Turn folks, made in America that sells for a ridiculously low $89.00. Too bad they didn't call it Uranus, which would have melded nicely with Schiit (oops, two Schiit jokes. I'll stop now). Separate reviews to follow.
I chose not to try other, more expensive cartridges in the PL-30-K because I feel this automatic turntable is a "starter" 'table, or a "finisher" turntable for those only interested in hearing records without regard to sonics, though with the upgraded stylus, the PL-30-K sounded decent enough.
The overall sound was warm, with reasonably good low frequency extension and control and a rich, somewhat ripe midrange. The high frequencies were less than fully developed but cleanly rendered and overall you could say things were a bit murky compared to both far more expensive and similarly prices 'tables that don't offer the Pioneer's feature set of built-in phono preamp and automatic start and stop.
Of course I was playing it through my reference system, which was a ridiculous fit. I imagine through a budget priced system with somewhat steely high frequencies, the Pioneer might be just the "warming trend" required to produce a pleasing overall balance.
The biggest issue was the unit's approximately 1% fast speed. With a D.C. servo motor onboard, it's possible that a speed adjustment potentiometer might be lurking within, but finding it was not my job, nor would most buyers be likely to look—or to even notice the slight speed error. Better too fast than too slow, though better to be on speed! However, speed consistency was impressive, which led to decent "rhythm'n'pacing" despite the slightly less than well-controlled bottom end.
The Pioneer's strongest suits then, were its impressively quiet background and its speed consistency. I'd say a young person given one of these and a stack of clean records, would have a blast, freed from the harsh, hard, sterile grim reality of MP3 files.
Before packing it up, I put the PL-30-K in "phono" and plugged it into the Vanatoo powered speakers I bought after reviewing them and the combo worked better than the 'table plugged into the big system. It was a more appropriate match.
Conclusion
Pioneer's PL-30-K is not intended for the "serious" audiophile, yet the company has produced a well-designed and built automatic turntable that goes the extra revolution to produce pleasing sound and a mechanical infrastructure that will take good care of the records played on it. There's a well-defined constituency for an automatic turntable so while this might not be for you, it is definitely for those people, and with this 'table their records will live to see another generation. However, I highly recommend the stylus upgrade for the better sound and a gram lower tracking force.
Have a look here:
<!- ------------------------------------>