The Pro-Ject Classic SB Superpack Turntable: "Brains" and Good Looks Too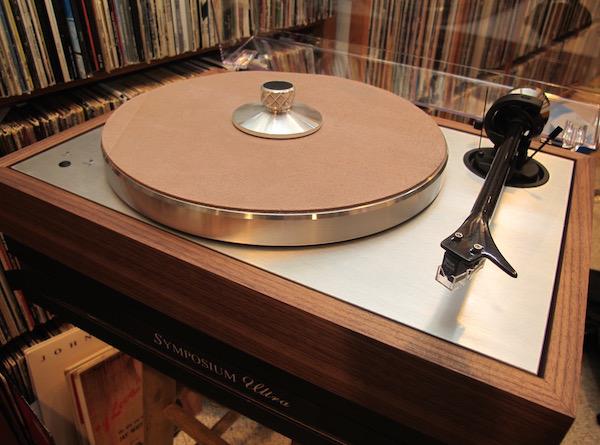 It's doubtful Pro-Ject could have produced a high performance, feature packed, beautiful to look at turntable like the Classic SB Superpack and priced it so reasonably ($1499 including $449 Blue Point No. 2 cartridge) were it not for surging turntable sales and Pro-Ject's place at the top of the high performance turntable market ("high performance" meaning not counting the plastic mass market cheapies).
Though with its wooden base (your choice of three finishes: Eucalytpus, Rosewood or Walnut) the look is "classic" 1960s-'70s era (or you could say Linn Sondek-like), the engineering is thoroughly modern.
The inner chassis of handsome brushed aluminum and MDF rests upon the wooden base on 6 vibration damping/isolating balls of TPE (thermoplastic elastomer), while the entire assemblage sits on 3 height-adjustable damped feet.
Drive is via an A.C. synchronous motor (built in-house at Pro-Ject) controlled by a built-in D.C. electronic speed controller that at the push of a button allows you to change from 33 1/3 to 45rpm. With the use of an additional belt (supplied), the platter can spin at 78rpm, though I wouldn't recommend playing 78s with the supplied Blue Point 2 cartridge.
For added rotational inertia, the 5 pound aluminum alloy platter is precision-machined to feature on its bottom surface a thick outer ring that's damped with a TPE insert. The result is a platter that does not ring when finger "pinged".
A flat belt rides on a stepped, crowned, machined aluminum pulley and fits around a precision-machined plastic sub-platter upon which the main platter rests. Pro-Ject founder Heinz Lichtenegger quipped during a recent factory tour that while the plastic sub-platter may look "cheap", it's carefully machined to very tight tolerances and is anything but "cheap". The main bearing, similar to what's found on lower cost Pro-Ject turntable, features a Teflon-coated brass bushing in which rides a mirror-polished stainless steel spindle.
The 9 inch arm is of an aluminum/carbon fiber sandwich construction that combines stiffness with effective damping. Smooth, precision movement is said to result from the use of ceramic (Zirconia) vertical gimbaled bearings and in the horizontal direction, low-friction Japan-sourced ball bearings in a configuration that effectively dresses the arm wires to prevent interference.
The heavy yoke provides for the bearing housing what appears to be excellent stability, while the chromed TPE damped counterweight is said to reduce by half, the amplitude of the tone arm-cartridge resonant frequency. The arm is fully adjustable for both VTA/SRA and azimuth though not "on the fly". Anti-skating is via the familiar weight attached to a length of looped monofilament.
Accessories include a high-quality, attractively produced hinged beveled dust cover, a locking machined record clamp, a leather mat, a set of low capacitance interconnects that are not an afterthought or the usual "throwaway" cables supplied with moderately prices turntables, a "basic" tracking force gauge and of course the Blue Point No.2 cartridge—a high output moving coil design that outputs 2.5mV and is designed to track at 1.8 grams. It sells separately for $449.00.
The standard Classic is also available for $1099 minus the electronic speed controller and substitutes for the Blue Point No.2 a Pro-Ject/Ortofon 2M silver (coils wound with silver, not copper wire) cartridge.
Unboxing and Setting Up
Pro-Ject has seriously upped its packaging and instructions quality putting it up there with the best. Don't discount the importance of good instructions and packaging!
Thanks to the fine instruction manual complete with excellent photographs, setting up the Classic SB Superpack will be relatively easy even for a first-time vinyl person.
Accessories include a rudimentary but useable stylus pressure gauge, a set of Allen keys and a singles adapter. You even get the "white glove treatment".
Screw in the feet, remove three transport screws, install the platter and the dustcover, level the turntable (it's preferable to begin with a level mounting surface), top the platter with the leather mat (or replace with the mat of your choice) and you're almost ready to go.
The cartridge comes mounted and aligned so all that's left to do there is remove the stylus protector, attach the anti-skating weight and set the vertical tracking force. Use the supplied RCA to RCA cables or substitute your own favorite low capacitance phono interconnects (Pro-Ject includes a nicely built RCA jack/ground lug termination block at the back). Plug in the "wall wart" power supply and you're ready to play records. (For the purposes of this review I chose to use the supplied cables, leather mat and locking record clamp rather than substitute others).
Sonics and Speed Performance
The PlatterSpeed app numbers and graph look good considering the Classic SB Superpack's price point. First note that the turntable spins at just a shade slower than perfect at 3147.6Hz for a 3150Hz test tone. That's a negligible deficit that a strobe wouldn't pick up. WOW is low and the low pass filtered frequency deviations both relative and absolute are very low.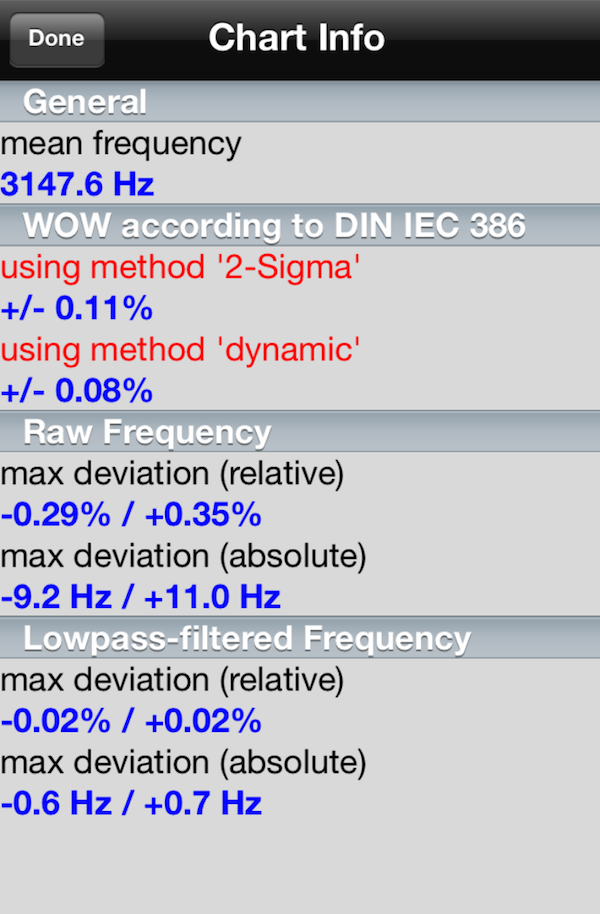 Looking at the graph, you'll note that the low pass filtered green line is not the straightest you'll have observed (if you've been paying attention to this in the AnalogPlanet turntable reviews). I suspect that's due to the speed controller's attempt to keep things "tidy" but having to work at it due to the relatively light platter. Still, both charts indicate good speed consistency and stability.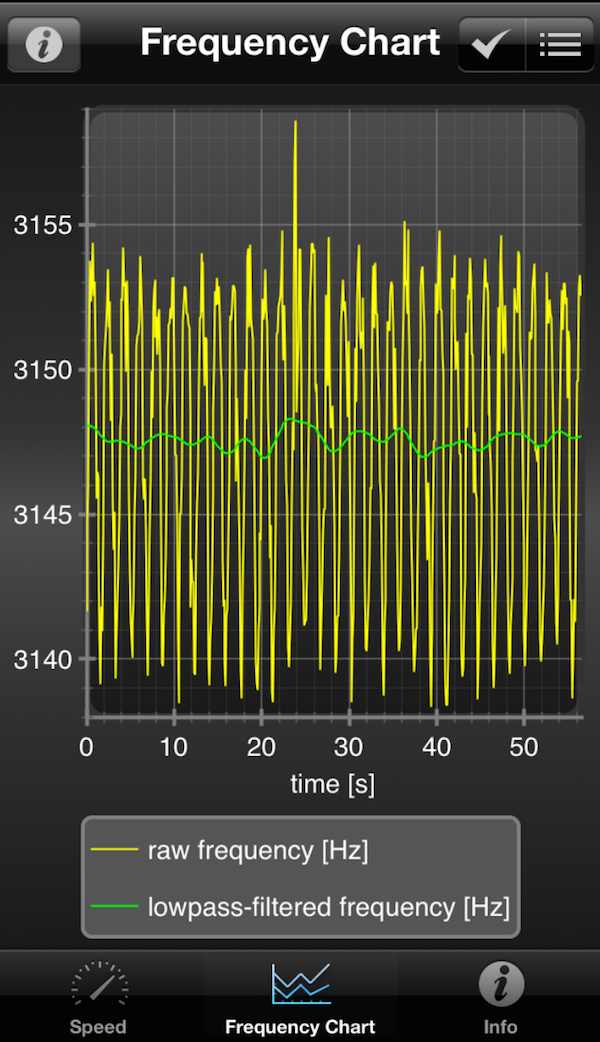 The impulse "tap test" (putting the stylus in the groove of a non-spinning record and gently tapping on the platform, on the chassis and then the record), while not necessarily indicative of final sonic performance usually hints at overall coloration or lack thereof particularly on bottom.
The platform tap demonstrated decent isolation between the stand and stylus/record interface though both the frame and chassis tap produced a healthy amount of passed energy to the speakers—though I've heard more from some costlier turntables. The tap on the record though was impressively low thanks probably to the clamp/leather mat/damped platter combo.
So how does all of this translate into sonic performance? That's easy! The Classic SB Superpack with Blue Point No. 2 cartridge produces music that's smooth, detailed and stable that's as easy to listen to as the 'table is to use.
When I returned from Hong Kong with the final pressing of the Anne Brisson Trio's Four Seasons in Jazz Live at Bernie's (BMS-DD 101-45) a direct to disc recording engineered by Michael C. Ross at Bernie Grundman Mastering.
It was interesting to play what I was certain would be a spectacular sounding record on a modestly priced turntable through a costly system in which it's not likely to find a permanent home.
The recording is sensational—in the open, free, natural sense—and features Ms. Brisson on piano and vocals backed by Jean-Bertrand Carbou on acoustic bass and Pierre Tanguay on drums and percussion.
There's lots of quiet to trip up a noisy turntable, many sustained notes on the piano to highlight pitch instability and between the acoustic bass and the piano's lower keys, plenty of low frequency energy to produce "mud" on bottom and if things seriously go awry to fudge up the vocals.
Of course the cartridge has a profound effect on the overall sound. The Blue Point No. 2 (elliptical stylus, aluminum cantilever) has been around for many years and it's a "bread and butter" cartridge that produces all around moderate to fine performance (once broken in) that's ideal for a "starter" cartridge on this 'table. Tonally it's on the warm and smooth side but it's "faster" than many moving magnets and so delivers satisfying transient detail and speed.
The turntable/tonearm produced a very pleasing combination of background quiet, image stability, good top to bottom extension and overall tonal neutrality with a minor touch of warmth extending throughout the midrange.
I compared the original UK pressing of Radiohead's OK Computer (Parlophone 7243 8 5522918) with the 20th anniversary 3 LP OKNOTOK 1997 2017 reissue (XL 634904086817) and heard the same differences heard through the "big rig", though to a lesser extent (review coming). This turntable/cartridge combo reveals plenty.
When I was in Hong Kong recently I was recommended Zhao Cong's Sound of China (Dance in the Moon) (MCD3101LP). She plays the Pipa (stringed instrument) on this "goes to 11" recording of Chinese/western fusion music that is cinematic in scope (Hans Zimmer take note!). It was engineered in Denmark by Hans Nielsen and the sound is spectacular, plus you'll dig the music ("tip-on" style gatefold sleeve, pressed on 180g vinyl at Pallas).
The bass on this recording is depth-charge deep. It nearly rearranged my room the first time I played it. I was pleasantly surprised by how the Classic SB Superpack handled the bottom end. It went deep and was very well controlled with only hints of "hangover" that was more expressed as a slight softness than as unwanted bloat or notes that hung around too long.
The Pipa's sharp transients were also somewhat soft compared to what the big rig produces but that was expected. Overall though the turntable produced a credible, rhythmically and spatially satisfying rendition of a sonic spectacular.
Conclusion
Pro-Ject roughly (and informally) divides its turntables into "lifestyle" and "performance" categories. This one is visually more on the "lifestyle" side but sonically it straddles the fence, offering both great looks and accomplished (for its price) sound.
My wife, who is very critical (of both me and sound) came downstairs while this was playing, having heard it from upstairs and also having heard it the first time I played it a few weeks ago on The Air Force 3/ Graham Phantom III/ Grado Epoch cartridge combo into the CH Precision P1/X1 phono preamplifier, the combination of which costs approximately $90,000.
She came down, listened but didn't look to see the source. I was surprised that she didn't comment on the sound, which doesn't scale the sonic heights and depths provided by the aforementioned combination.
That's how good is the Classic SB Superpack's overall performance. It has no glaring additive deficiencies and it's main one is pleasing slight warmth, which if you don't care for you can probably eliminate with a more "analytical" cartridge. Othewise, its "issues" (if you can call it them that) are subtractive. However, I suspect most buyers will be more than happy with the Classic SB "as-is".
Combine performance, looks, presentation, set-up ease and price and you have from Pro-Ject one of its best balanced, most attractive "plug and play" offerings at a very affordable price.
<!- ------------------------------------>