A Quick Visit to Stockholm's Veteran Hifi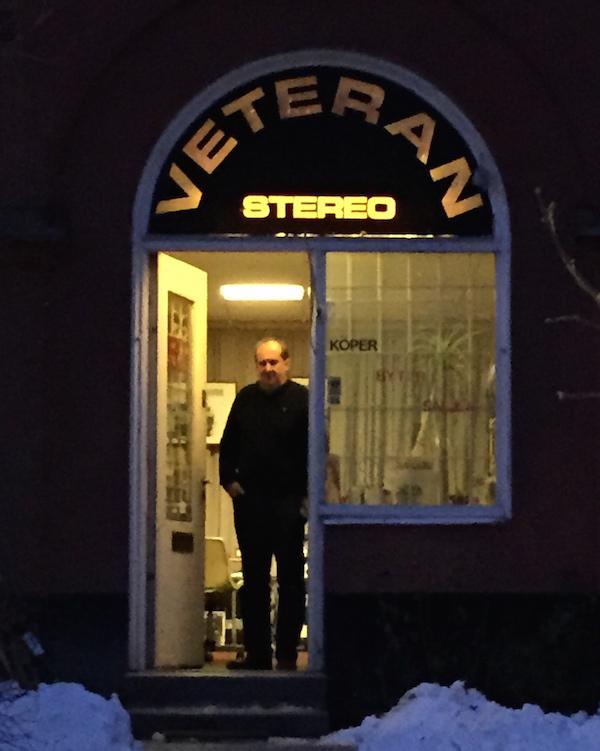 Towards the end of the Stockholm show I was called away and asked to visit a hifi store on the other side of town. I was told I'd like what I saw and I did.
Veteran Hifi is an old establishment filled with shelves of vintage analog gear and some new including cartridges from Miyajima Labs and Clearaudio and a Music Hall MMF-1. Other new gear includes Gradient speakers, which are really terrific, versatile speakers that are not well known in America.
Among the gear you'll see in the quick video are vintage turntables from Thorens and Luxman as well as a legendary Transcriptor similar to the one in "A Clockwork Orange" an an EMT. Also if you look carefully you'll see an Edison voice recorder, a vintage Ortofon arm and a reproduction. There's an old EMI transcription arm and I can't even remember half of the stuff I saw.
Of particular interest is a turntable that the store owner Mirre Stasilowicz designed and manufactures in the store along with a $1200 (appx.) tangential tracker that a customer said sounded much better than a far more expensive German one he'd been using. The 'table, also around $1200 (don't hold me to the prices), features a multi-ply wood arm board (similar to what Simon Yorke uses) that can accommodate two arms, an acrylic platter and a nicely machined bearing with an adjustable magnetic repulsion feature. The outboard A.C. motor is the same one used by many other manufacturers.
One of the 'tables was fitted with a March DP-8 arm and the combo also sounded really good (that arm is considerably more expensive than the tangential tracker and analogplanet currently has one under review).
A larger version of the 'table with a much taller, heavier version of the platter and a drive system that includes a pair of passive pulleys was also on display.
The back room was an analog fanatics playroom, filled with cartridges, tools, a lathe for building replacement parts and just a whole lot of great clutter. It was like stepping well into the past while having a foot in the future.
<!- ------------------------------------>