Remembering Gene Clark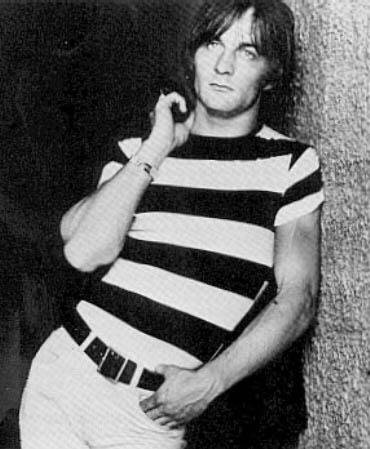 This updated feature originally ran in Listener magazine and was re-published here in 2004. We brought it back to accompany Sundazed's reissue of
Gene Clark
—ed.
Gene Clark simply didn't fit in. While a member of The New Christy Minstrels during the early '60s, the young mid-westerner heard "She Loves You" on a jukebox and realized his place wasn't in a folksploitation group. He quit and headed West where he joined up with McGuinn and later Crosby at Doug Weston's famed Santa Monica Blvd. folk club, The Troubador.
On the first album, while the novelty of electrified Dylan songs attracted immediate attention, Clark, "the songwriting Byrd," quietly gave the album its most memorable moments with the haunting ballads "Here Without You," and " I Knew I'd Want You," and "I'll Feel A Whole Lot Better," the jingly/jangly kiss-off song that distills and defines The Byrds' sound.
Though he contributed mightily, Clark seemed to be lurking in the shadows. He was the singing, tambourine shaking "front man," but he never seemed comfortable thrust that far into the spotlight. McGuinn and his Rickenbacker stole stage focus. The famous Mr. Tambourine Man back jacket photo of Dylan joining The Byrds onstage, showing a displaced Clark standing behind the folk-hero serves as a powerful metaphor.
On Turn! Turn! Turn! Clark once again provides the songwriting backbone and the most memorable, and moody original tunes with "Set You Free This Time," "If You're Gone," and "The World Turns All Around Her," though one could make a case for McGuinn's startling "It Won't Be Wrong."
Then Clark was gone. But not before writing and recording "Eight Miles High" with the group. The song is, of course, one of The Byrds' greatest musical accomplishments and one of the finest singles of that, or any other pop music era.
Clark's solo career never reached such exalted heights, nor did it ever find such fine focus, but he left many great moments, many of which can be found on the obscure but essential Gene Clark with the Gosdin Brothers. Sundazed has been kind enough to issue it on a 180 gram vinyl edition cut from the master tape, adding 3 previously unissued bonus tracks.
The story of how this album came to be, how Clark hooked up with The Gosdin Brothers (two bluegrass pickin' Alabamans and friends of Chris Hillman), and was joined on the record by Leon Russell, Van Dyke Parks, future Byrd Clarence White, Glen Cambell and the guy who played the opening lick to The Monkees' "Last Train to Clarksville" and the others who played on the record, is well documented in the newly commissioned liner notes for the January, 16th, 1967 release.
Original "360 Sound" pressings of CL/CS 9418 are nearly impossible to find (I paid $50 for an original mono "radio station service" copy) and a later 1972 issue Gene Clark, Collector's Series: Early L.A. Sessions (Columbia KC 31123) remixed from the original 8 track tapes with new Clark vocals, misses the magic of the original.
The title may fool you into thinking Gene Clark with the Gosdin Brothers is a bluegrass album. This resourceful, pioneering album is anything but "of a genre," though it includes elements of country-rock, before there was such a category. The album is original, experimental and daring, and yet at the same time as unfocused and derivative as all of Gene's "career" was. It wears the musical and lyrical influences of The Beatles, and especially Dylan, on its sleeves, sleeves which grow longer and more obvious as time passes.
Despite its meandering, ill-conceived eclecticism (ill-conceived then, but all the more fascinating now), the breakaway solo set showcases Clark's compositional and rhythmic sophistication, and his singular melodic gift. Clark's tunes on Byrds albums sound almost spliced in from another universe with the Byrds' "sound" tacked on. Here his burning originality punches through the malleable musical settings which include lush Leon Russell orchestrations ("Echoes," and "So You Say You Lost Your Baby"), a Lovin' Spoonful copped skiffle ("Tried So Hard"), and many Revolver-ish and Rubber Soul-like tracks, ("Is Yours Is Mine," "Elevator Operator"). There's a curious tune which combines Monkee business, "Taxman" and bluegrass ("Keep on Pushin'"), and a bonus unreleased song "The French Girl," a Bach-like, harpsichord drenched tune, that Michael Lookofsky would be proud to have written—and he wrote "Walk Away Reneé."
And then there's the melancholic voice; the aching catch, and the deep yearning and sadness that runs through nearly all of the material Clark wrote and sang throughout his long but unfulfilled career. It's a pure, honest voice one never tires of hearing because Clark communicates directly and daringly from a place of pure vulnerability. Cushioning Clark are backing harmonies influenced by The Everlys, The Beatles, The Mamas and the Papas and others.
Taping took place at Columbia's West Coast recording studio on Sunset Blvd.—a large room that yielded a clean, big sound. The kind you don't hear much in contemporary recordings because the rooms no longer exist. Reissue producer/mastering engineer Bob Irwin does a fabulous job of capturing that sound on this reissue, which remains true to the wonderful sounding original, which got lost when it was released simultaneously with The Byrds' Younger Than Yesterday. It's now yours to find on vinyl thanks to Bob Irwin and Sundazed. Highly recommended. For the analog challenged, back in 1991 Irwin produced a compilation of Clark material called Echoes, which includes his Byrds tunes, the remixed versions of the songs on the original albums along with outtakes. I'm not sure if it's still in print.
Gene Clark never managed to "fit in," or to have a "breakthrough" album. Nor did he ever find his musical or esthetic center— or at least the kinds of identity that translates into album sales. At the end of the '60s he hooked up with The Dillards' Doug Dillard and released two much sought after A&M albums, The Fantastic Expedition of Dillard and Clark (SP 4158, October, 1968 recently reissued by Sundazed and reviewed here: http://www.musicangle.com/album.php?id=1017) and Through the Morning, Through the Night (SP 4203, September, 1969).
The former is a short, exceedingly well-recorded (by Dick Bogert) bluegrass-like album (it was still Gene, remember) containing eight Clark, or Clark co-written (with either Dillard or soon to be Eagle Bernie Leadon) originals. The latter (co-engineered with Bogert by Ray Gerhardt) is a lengthier set, though Clark's down to four songs, including the title track, which may be one of Clark's most haunting ballads. Guest players include Byron Berline, Sneaky Pete, Chris Hillman and Bernie Leadon, which gives the album a fuller, but more congested and muted sound.
Both are also highly recommended (natch!) if you can find them on original LP. UK Demon records released Through the Morning, Through the Night on an inferior sounding LP in 1986 which has bad digital written all over it. Both are currently available as pricey Demon CD imports (with a few outtakes) and the late lamented Mobile Fidelity issued a great "twofer" containing both on a single aluminum disc.
In August of 1971 A&M issued Gene Clark (SP 4292), arguably his most coherent, heartfelt effort, produced by Jesse Ed Davis. The songwriting was exquisite (ie: "Because of You," "One in a Hundred" and the Dylanesque "Spanish Guitar") and the country/rock arrangements were clean and crisp, as was the Village Recorder sound. Though only 4 years had passed since Gene Clark with the Gosdin Brothers, the back cover photo shows a shockingly older looking, somewhat haggard, long haired Clark peering from the other side of what looks like a motel window.
This was a do or die album for Clark, and despite critical acclaim around the world, it died on the charts, perhaps because it simply didn't fit into any recognizable slot or because the songs were so achingly melancholic airplay was almost impossible.
Three years later in 1974, Clark released his first and only Elektra/Asylum/Nonesuch album, No Other. Some fool had the indefensible and totally idiotic idea to package Clark as a "glam-rocker." The cover was a meaningless collage of vintage movie star photos, old posters and one sexually ambiguous muscleman thrown in for good measure (or David Geffen's pleasure). The back cover had the damaging photo of Clark made up to look something like Marc Bolan on a very bad day, complete with black eyeliner, tied at the waist oversized open chested white shirt and silk bellbottoms that looked like they were made of old movie theater curtains. Worse, a "bonus" poster of the photo, with Clark posed against a stone Golden Gate park alcove was included in the jacket.
The humiliation was palpable. The music, (over) produced by Thomas Jefferson Kaye, was not nearly as offensive as the artwork, but that's only because it was so ill-focused (complete with the then au currant "black backing chicks" Venetta Fields, Clydie King and Shirley Matthews on some tracks) and so completely overwhelmed Clark's vision with phony musical artifact. The title tune saves the record from complete disaster. (See Matthew Greenwald's different take, in his review of the re-mastered CD with bonus tracks here: http://www.musicangle.com/album.php?id=127
Three years later Clark returned on RSO with the deflated Two Sides to Every Story (RS1-3011). The cover photo showing a bearded, overweight smiling man who, unless identified, you would not know was Gene Clark. When an artist is reduced to a smile, the art is gone, and on that record Clark's music was as unrecognizable as his face.
There were reunion albums with Hillman and McGuinn (see the excellent, complete discography at (http://ebni.com/byrds/refdiscoggc.html), a solo Takoma album, Firebyrd in 1984 and then in the spring of 1987 So Rebellious a Lover, a promising duet album with former Textone Carla Olson on Rhino (RNLP 70832). But by then Clark's genius and desire had faded and the album, though well intended and containing a few fine moments, never caught fire.
Gene Clark died on May 24th, 1991. He was 50 years old and left us with a lifetime's worth of great music that continually gets rediscovered by generations of young people who are convinced that there must be more than the crap radio throws their way. That's more true today than it has been in decades, making Gene Clark's legacy more important and more than ever, worthy of discovering.
<!- ------------------------------------>