T.H.E. Show Newport 2015 Wrap-Up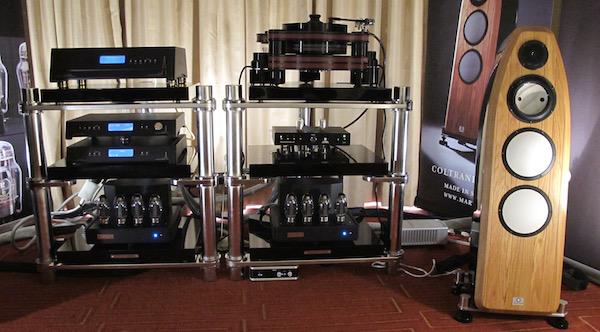 This year's Newport show was easily the best yet, in great part because of the new Hotel Irvine venue—a much larger and more "user friendly" hotel than the previous dual-hotel location. The attendance was way up, too.
Having everything in one hotel added to a festive, inclusive environment and was a time-saver for harried journalists and consumer attendees alike. The main floor's restaurant and bar area can accommodate large crowds and includes an adjacent open space for live entertainment. At the old venue the music was outdoors and not nearly as inviting and casual, especially in the sometimes windy and chilly So. Cal. evenings.
As expected, not much new was introduced at this show, after the Munich debuts of so many products. However, there were some significant launches including Dan D'Agostino's $28,000 phono preamplifier shown in the previously posted story.
On a Higher Note's Philip O'Hanlon demoed the brand new tube-based Luxman EQ-500 phono preamp (appx. $7500-$7900), which includes multiple inputs and a wide range of front panel settings.

T.H.E. Show Newport was the American debut of the new Swedish Analog Technologies tone arm (reviewed in the next issue of Stereophile).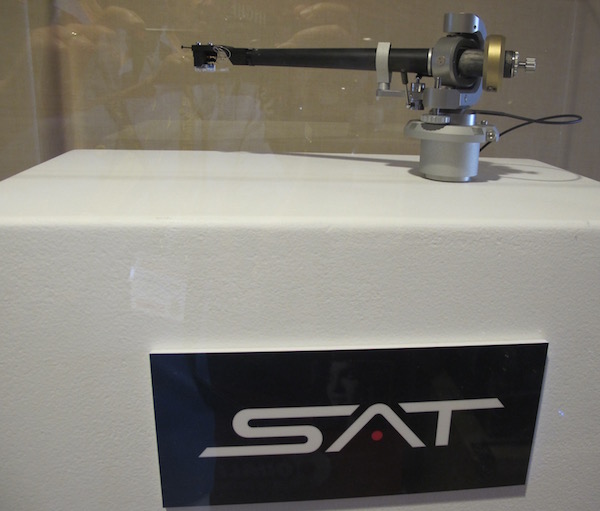 There was not much else new in the analog domain (unless I missed something) but the show was packed with great vinyl for sale in the ballroom and turntables were all over the show.
I participated in three seminars: two turntable set-ups and one "Meet the Editors" panel moderated by The Absolute Sound's Editor-in-Chief Robert Harley. The other panelists were David Robinson, Positive Feedback online, DigitalAudioReview.net's John Darko and Chris Connaker, editor of Computer Audiophile.
Mr. Connaker must have been having his "time of the month" because the mere mention of the word "vinyl" had his lips curled and him lashing out dismissively. In fact, I'd say of the dozens of panels I've sat on—many of which were contentious—Connaker's demeanor was easily the most unpleasant.
He's having none of "the vinyl resurgence", which he claimed was (in my words) the equivalent of a pimple on the ass of the great, new digital world.
Connaker mocked my claim that vinyl was "huge" except that I never made such a claim. "Rewind the tape" he retorted, which surprised me. Tape??? From a digital guy?
He went on to say vinyl is but a few percent of total sales and I agreed! It's gone from 1% to 2% to now 6% of the physical software market and tens of millions of records sold—and who knows where it will be next year— but Connaker wasn't buying.
"It's still tiny" he insisted. "So is gourmet food compared to fast food and in fact," I went on and not at all cordially you can be sure, "you might as well dismiss the entire high end audio industry and this show too, because it's tiny compared to Bose and what the average person listens to, but so what? What does that have to do with quality?"
Believe me, I got the better of the snarky, unpleasant Mr. Connaker. He's one of those guys who just can't stand the fact that some of us get pleasure from analog and vinyl, whereas even Mr. Darko who writes for a digital site, enjoys vinyl as does David Robinson who was there extolling the virtues of Quad DSD.
Connacker could have said he's not into vinyl and left it at that but he was there to pick a fight and he got one from me, no holds barred.
Robert Harley graciously credited me for being among vinyl's staunchest supporters even during the dark days of "perfect sound forever." The dyspeptic Mr. Connaker, not so much!
If you go to the computer audiophile website and read his show coverage you'll read a reference to the "huge" vinyl statement I never made and please read the vinyl comments from his clueless, equally bitter and uninformed readers (unless you too believe that the "vinyl resurgence" is a couple of mustachioed hipsters).
As I aways say when reading such "stuff", why are these people so bitter about how others get pleasure? Maybe they're not having as much fun listening to digital as they think they are, which is why I think they are always "on the rag" about vinyl.
Because there was so little new to cover, I had a chance for a change to sit down in many rooms and listen to music for extended periods.
There was good sound in many rooms but the stand-outs for me were (in no particular order):
The D'Agostino Audio room where Dan's electronics drove a pair of Wilson Audio Specialties Sasha II speakers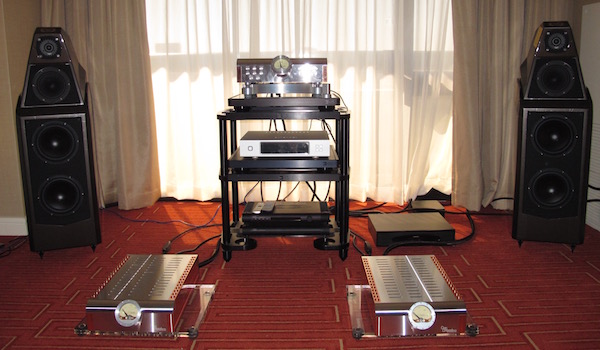 The Kyron room, where the complete system (100K+ for electronics, DAC, room correction and baffle-less Kronos speakers) sounded as impressive as it did in Australia when I reported from the Melbourne show. The company had not such good sound in a bad room at Munich. I was glad they got good sound here since they had a quote from me prominently displayed by the door!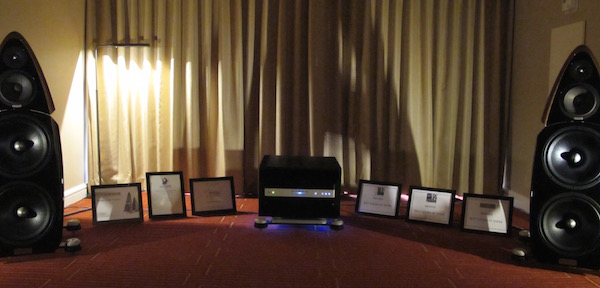 Also outstanding was the sound in the Perfect 8/Ypsilon/Bergmann turntable room. I played "Mood Indigo" from Ellington Masterpieces and the presentation was holographic and tonally right on the sonic money, which was fortunate since the speakers alone cost around $150,000.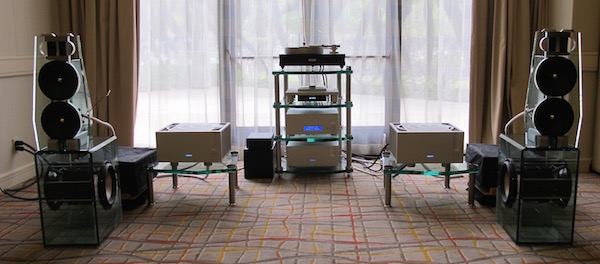 Also worth mentioning for good sound was the GTT Audio room featuring YG Acoustics speakers, Kronos turntable, Kubala-Sosna cables and I forget the electronics brand. Many other rooms had great sound too, including the one pictured at top of the page (KR Audio amps, Hanss turntable, Marten Coltrane speakers, Pranawire cables) so that's just a small sampling.
A special shout-out to Andrew Jones's new speakers for ELAC. Mr. Jones, formerly of TAD designed those amazing Pioneer budget speakers reviewed here a few years ago. Jones has done it again (even more so), with the new ELAC two-way book shelf speakers he demoed at the show that cost $229 a pair. They go down to circa 40Hz and sounded sweet, yet well-detailed, while producing an expansive soundstage and well-focused images. A larger bookshelf and a floor stander and center channel are in the works too. Based on those speakers, you could assemble a genuine high-performance system for as little as $1500.
So congratulations to T.H.E. Show Newport's president Richard Beers and to the L.A. and Orange County Audiophile Society's President Bob Levi for a great show! It lived up to the hype!
Have a "walk around" the show yourself!:
<!- ------------------------------------>