SOTA Quasar Turntable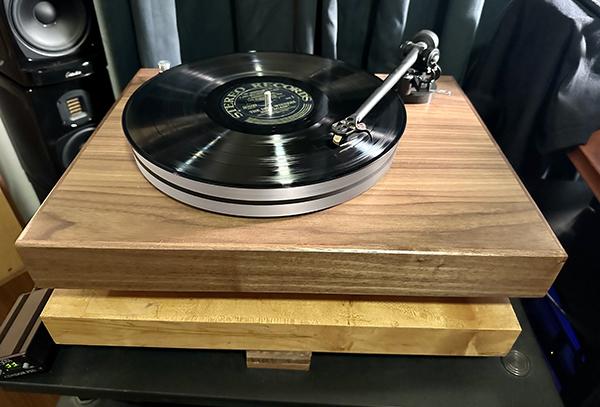 What's in a company name? Let's find out in relation to SOTA, the maker of our turntable review subject at hand. "Sota Turntables started in 1979 manufacturing Audiophile Grade Turntables in Oakland, California," states the SOTA site. "Sota moved to Chicago and became SOTA Sales and Service, operated by Kirk and Donna Bodinet until 2018."
Sota Sound Inventions LLC was then established in January 2018 with Donna Bodinet partnering with Christan Griego of Griego Sound Inventions LLC, in turn giving the company a machine and wood shop to develop the next generation of SOTA turntables (with the name now officially in all caps). For his part, Griego became SOTA's President/Director of Development and Marketing, while Bodinet continued to provide customer service and other support.
As one of the oldest turntable manufacturers in America, SOTA has the rare vantage point of both understanding what U.S. customers want while also addressing a large international following. SOTA has maintained a relatively low-key presence at hi-fi shows of late, though once I posited the idea on social media that a review of the company's Quasar turntable was in the works, fans came out of every nook and cranny to tell me how much they love the SOTA sound. (Long-term viability has its rewards.) Let's now find out if the Quasar 'table, which sports an SRP of $2,995 (sans tonearm), has got the goods to back up such an outpouring of international admiration.
Features & Specs
The SOTA Quasar offers a "three-phase synchronous motor controlled by the Condor PSU," per the company's site. The plinth is made of a "thick MDF core wrapped in American walnut." The 2.25in thick plinth is topped with a 1.5in clear acrylic platter with "hand-lapped" steel shaft in a 360 brass bearing cup. (360 brass is a copper-zinc alloy known for having the highest machinability of copper alloys and exceptional strength and corrosion resistance, at least according to our research.) The Condor digital power supply is a crystal-controlled unit offering 33 1/3 and 45rpm operation. SOTA's Linear Power Supply ($395) for the Condor PSU was also provided for this review.
SOTA also supplied the well-regarded Rega RB330 tonearm ($675), "but the Quasar mount accommodates SME, Origin Live, Audiomod, and other tonearms as well." The Quasar 'table includes three brass spike feet with small pads for "improving imaging" while protecting the mounting platform's surface.
Additionally, SOTA supplied their Sota I-Clamp ($150), Pyxi phono preamp ($300), and the optional Eclipse RoadRunner tachometer with built-in accumulated time counter ($325), which works by use of a magnet affixed to the underside of the platter. (I tried the clamp and phono stage, but not the tachometer.)
The Quasar turntable is part of SOTA's entry-level Urban series. Above it, the SOTA Heritage line offers the $4,550 Sapphire VII and $5,250 Nova VII 'tables, before ascending further to the Statement series and its $10,500 Cosmos Eclipse and SOTA's state-of-the-art Millennia Eclipse (SRP unavailable as of this posting). All SOTA 'tables are wrapped in the same rich American walnut veneer and, get this — no matter how old your SOTA turntable is, it can be traded in for a new SOTA turntable. That's the kind of "Made in America" approach I remember as a kid that is exceedingly rare today.
The SOTA Quasar is a handsome turntable. Its old-school wood look recalls prime '60s hi-fi consoles and '70s teak bowls, but this machine is as modern as Class D amps, Roon, and Qobuz — and, frankly, it sounds better.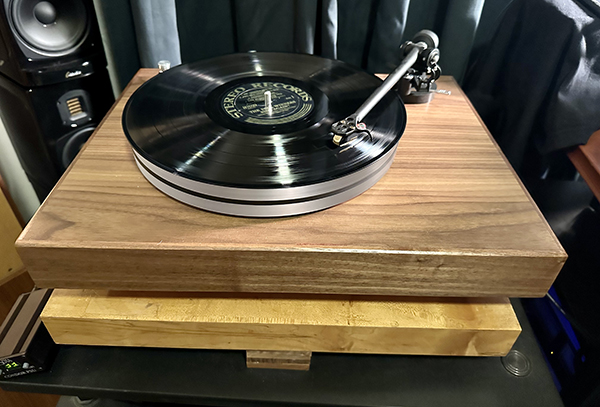 Setup
The Quasar turntable was reasonably easy to set up. The Rega RB330 tonearm came attached with an Audio-Technica AT OC9XSL MC cartridge ($749) aligned and affixed to the headshell. I imagine SOTA would supply the same service to new customers who, of course, should confirm with SOTA if this option is sold as a package. I used the adjustable feet to level the 'table, checked cartridge alignment, and all was ready steady go!
Depressing the small button on the Condor PSU enabled the choice of 33 1/3 or 45rpm speeds, to which the Quasar accelerated fairly rapidly. That said, it did struggle to maintain speed when a record-cleaning brush was used to a greater degree than other belt-drive turntables I've encountered. Using the Condor essentially as an on/off button, I found it a bit finicky to use. It took multiple presses to get it to land on 33 1/3, switch to 45, or turn it off. Sticky, sticky, sticky. (Or perhaps it's my tricky fingers.)
Also worth noting is that the Quasar is the first turntable I've reviewed that arrived without a platter mat. I experimented with and without a mat and preferred the former — though the door is open, mat-wise, for prospective customers.
Additional equipment used for this review included the Luxman L-509Z integrated amp, Aurorasound Vida MKII phono stage, DeVore Fidelity O/baby loudspeakers, Auditorium 23 speaker cables, and Triode Wire Labs interconnects.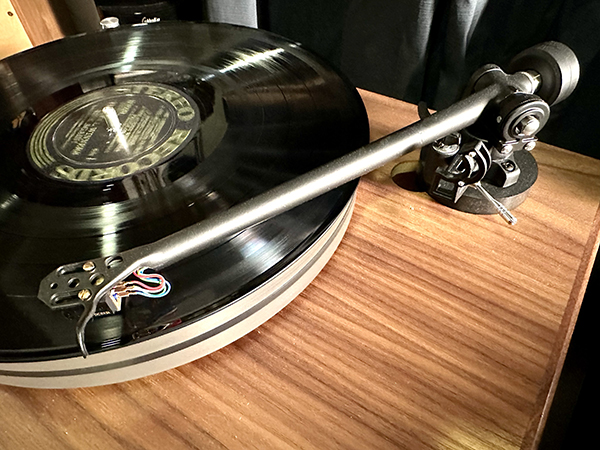 Listening Sessions
Out of the box and reasonably broken in, the SOTA/Rega/Audio-Technica's collective sense of solidity and boldness instantly struck me. Nothing pallid, small, thin, or lukewarm here — only propulsive, heart-pounding music reproduction that would only get better, spin after spin.
I hate to fall for the canard that wrapping product in natural wood will increase its warmth, but that seems to be happening with the Quasar. That said, its sound was more than simply warm — it was substantive, hefty, and big of heart and limbs, so to speak.
Typically, playing any turntable after my 36k VPI Avenger Direct with FatBoy tonearm results in massive soundstage loss and low-end shrinkage. The VPI presents the largest/deepest soundstage, most acutely dialed-in sense of detail and resolution, and life-size sense of weight and low-end slam I've heard in-house from a turntable. Sure, my Thorens TD 124 bests it (and everything else) in terms of drive, rhythm, and pacing — but that 'table is an outlier. The VPI reproduces music of massive scale, clean tone, with natural and lifelike imaging.
That all being said, of all the 'tables I've reviewed in the past few years excepting the VPI, Clearaudio Reference Jubilee, and my former Kuzma Stabi R 'table, the SOTA Quasar jumped to the front of the pack, providing the largest soundstage of excellent image weight, respectable depth, and — perhaps most importantly, for this audio punter — tonal satisfaction. With the A-T cart, the Quasar leaned toward dark. Though not particularly heavy in literal poundage, the Quasar had a similar silence to some heavier 'tables and their amassed damping and noise-reduction propensities. This baby was quiet, but of big stature and performance.
At the time of the Quasar's entry to Chez Micallef, I happened to be reviewing the new UHQR edition of Steely Dan's Aja for our sister site Stereophile's Revinylization column, using the SOTA Quasar for playback as well as for direct comparison to a number of Aja's other pressings, both past and present. While I can't exactly spill the details of that review here, I can say that the SOTA was drawing every last iota of energy, resolution, force, and finery from all those records. It revealed the stark differences, similarities, and distinctions between the OG Ajavinyl and the reissues I had on hand. In short, this 'table was a truth teller of the first order.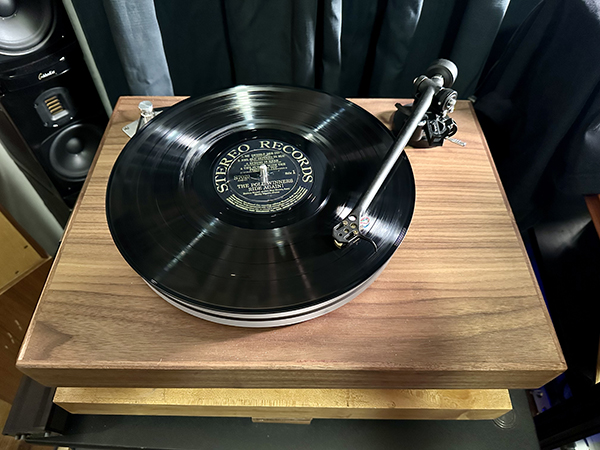 From this point, I continued to put the SOTA through its paces, playing the most widely divergent material I could lay my hands on. Foo Fighters' "Bridges Burning" is taken from the band's 2011 offering Wasting Light (Roswell Records 88697 84493 1), a double 45rpm, entirely analog album cut to tape and produced by Butch Vig, with all Foo hands literally on deck and on the board's faders when it came to mixing. (Imagine a Swedish death metal band channeling The Beatles.) The SOTA/A-T combo didn't work up a sweat replicating the piledriving, full frontal, metal pop mayhem bathed in sugar of "Bridges Burning," meeting every neck-cracking dynamic twist of the song with gusto. I sensed a little compression at absolute decibel levels, but I think that's normal considering the triple guitar, raw drums and vocals, and overall punch-drunk approach of Wasting Light. The sound was forward as would be expected, but also deep and meaty of drums, bass, and ambience.
The SOTA was transparent to a fault, never gussying up a bad recording. The finger-licking, goodness gracious, West Coast urban funk of guitarist Mel Brown's Blues for We (Impulse! AS-9180) is an oddball, 1969 excursion into San Francisco funk 'n' blues, like Wild Man Fisher channeling Muddy Waters. The album lacks low end, is midrange-centric, and is generally small of stature, and that's exactly how the SOTA dipped and withdrew its wick — nothing added; only a clean shot of Mel's mighty funk.
Leaning entirely in a different direction, S-Tone Inc.'s Moon in Libra (Schema SCLP 407) is one of those aromatic, fragrant dance records from the late-2000s based in clever samples, subtle instrumentation, deep-sub synth bass, and lovely Brazilian vocals. The SOTA portrayed the opening cut "Copacabana Soul" with succinct imaging, super-stable midrange sounds, and sweet imaging. It brought the soul and sustenance of this lost era of dance music from Stefano Tirone (a.k.a. S-Tone Inc.) to my home like morning cappuccino with a side of brownie. The top end was a little dry, the mids lush, the low-end deep and throbbing. The SOTA seems to get it all right — discerning differences, making music.
That dryish top-end reoccurred on Alison Krauss & Union Station's "So Long So Wrong," from the 1997 album of the same name (Mobile Fidelity Sound Lab MFSL 2-276). The minor dryness affected guitars and banjos, but not Krauss's lovely, pure voice nor the song's lush midrange and absolutely wet low end. And when the breakdown revealed only her voice and acoustic bass, the sound was intimate, pure, and super-present.
Finally, The Poll Winners Ride Again! (Contemporary Records S-7556), from the illustrious trio of Barney Kessel With Shelly Manne and Ray Brown, laid down the law in the deeply swinging "Be Deedle Dee Do," its innocuous title in no way detracting from this trio's masterful swing pulse, with Roy DuNann manning the board. The SOTA dryness was evident but ameliorated by superb imaging, toe-tapping energy, brisk power, and vivid mid/low richness. In short order, it had energy to die for. Big lifelike images. Color and tone too. Presenting 3D images, these listening sessions with the SOTA 'table were as fun as a hayride with your companion/host of choice.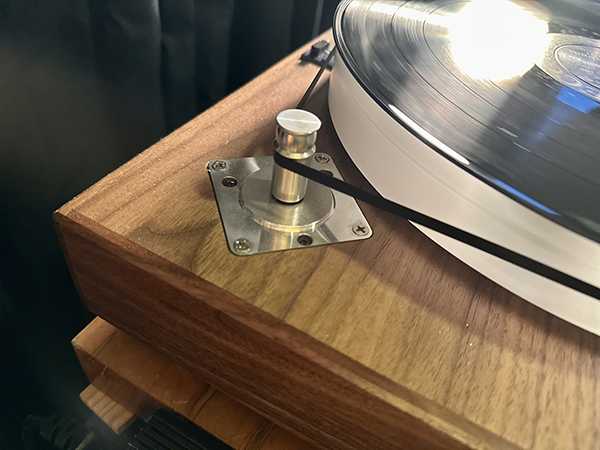 Conclusions
A transparent little beast of a record player, the SOTA Quasar turntable, along with the Rega RB330 tonearm and Audio-Technica AT OC9XSL MC cartridge, put on a helluva a good show together, playing every genre and easily, transporting me to the various eras in which the albums used in this review were recorded. The SOTA/A-T combo was not at all out of place with the far more expensive ancillary equipment it drove, instead only raising its game LP after LP after LP. With the SOTA Quasar turntable, I wanted for nothing, felt in the presence of the musicians playing, and generally relaxed and grooved along with everything I heard. Tom Terrific!
For more about SOTA, go here.
To find an authorized SOTA dealer near you, go here.
<!- ------------------------------------>