Soundsmith SMMC1 moving-iron phono cartridge
The audio industry may have lost a legend and a prolific innovator in
Henry Kloss
a few years back, but it still has another affable, creative eccentric in
Peter Ledermann
. In the mid-1970s, Ledermann was director of engineering at
Bozak
, where, with Rudy Bozak, he helped develop a miniature bookshelf speaker and a miniature powered subwoofer. Before that, Ledermann was a design engineer at RAM Audio Systems, working with Richard Majestic on the designs of everything from high-power, minimal-feedback power amplifiers and preamplifiers to phono cartridge systems. He was also an award-winning senior research engineer at IBM, and the primary inventor of 11 IBM patents.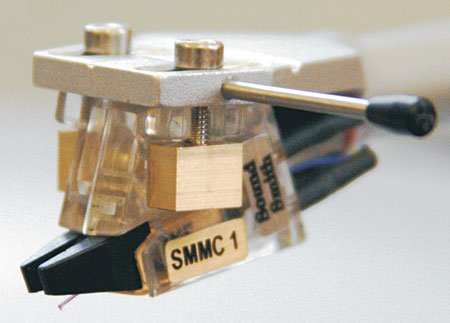 Somehow, more than 35 years ago, Ledermann also found time to start The Soundsmith, which he calls an "audio mentoring" company—one that teaches audio engineering in an arrangement that sounds like a cross between an apprentice program and a school, the tuition subsidized by the repair and restoration of hi-fi gear. Students learn and earn by doing. Fifteen years ago, Ledermann left IBM to devote himself full-time to Soundsmith. When not mentoring, he designed, manufactured, and marketed strain-gauge cartridges, preamps, amplifiers, loudspeakers, and subwoofers.
Never heard of Ledermann or Soundsmith? You're not alone. On the first page of the Soundsmith catalog, Ledermann acknowledges his company's low visibility: "We don't get out much." Like Henry Kloss, Ledermann isn't wired for business or for image-marketing—Amar Bose he's not. Also like Kloss, Ledermann is more a dreamer and idealist than a schemer.
That catalog, for instance: While filled with an extensive line of electronics, and loudspeakers that always sound impressive at trade shows, its production values reek of Kinko's. The exception is a slick-looking ad tacked on at the end, for the CDT-4 automated CD player tester—an ingenious and seemingly useful electronics repairperson's trouble-shooting tool that Ledermann invented in his spare time.
Visit Ledermann's repair and production facility in Peekskill, New York, and you'll find yourself negotiating canyons of vintage gear stacked on shelves from floor to ceiling. Some of it awaits repair or restoration, but a lot of it is there "just because"—this isn't how businesses usually operate, but it sure gives Soundsmith personality.
Soundsmith also specializes in repairing electronic and mechanical products from such Scandinavian companies as Tandberg and B&O. Repeated contact with disenfranchised B&O turntable owners unable to get replacements for B&O's proprietary but long-discontinued moving-iron plug-in cartridges inspired Ledermann to contact B&O and seek permission to make them himself.
That was fine with B&O. Unfortunately, they had discarded all the tooling and engineering blueprints, and in B&O's opinion, reverse-engineering from surviving samples would be impossible.
But that's precisely what Ledermann did. His plug-in (akin to P-mount) clones of B&O's original cartridges are now available in a variety of configurations, and continue to sell very well to owners of B&O turntables worldwide.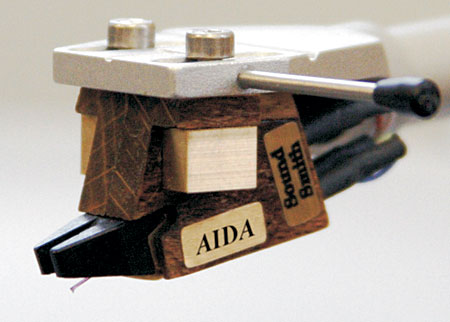 After the first rush of orders, when demand had begun to taper off, Ledermann designed a universal mounting adapter for B&O's MMC series, which he calls the SMMC series: from the SMMC4 with diamond elliptical stylus and aluminum cantilever ($149.95), to the top of the line, the limited-edition The Voice ($1599.95), with ruby cantilever, nude contact-line diamond stylus, lower-mass moving iron, and the closest-tolerance measurements. The Voice is built not by Soundsmith's usual team of skilled cartridge crafters but by Ledermann himself. Prior to the introduction of The Voice, the SMMC1 ($749.95) reviewed here was the top of Soundsmith's cartridge line, as had the MMC1 been the top of B&O's.
MMC = Moving Micro Cross
In a typical moving-magnet (MM) cartridge, a tiny permanent magnet, attached to the cantilever and positioned between two sets of fixed coils inside the body of the cartridge, induces a tiny current in the coils when it is vibrated by the stylus's motions as it navigates the record groove. In a moving-coil (MC) cartridge, the magnet is fixed; it is the coils attached to the cantilever that move. The mechanical and electrical advantages and disadvantages of both designs are best discussed elsewhere.
Moving-iron designs such as the SMMC1, or the Grados, use stationary coils and magnets and a small piece of "moving iron." In the original B&O design, what moves is a cross-shaped piece of ultra-low-mass, high-purity iron attached to a soft elastomer damper stabilized in a plastic frame. The iron also incorporates a minuscule tube into which the cantilever is inserted. Each arm of the iron cross is associated with a fixed-coil/magnet structure and as the cantilever moves, it varies the distances between the four arms of the iron cross and the four fixed-coil/magnets, thus inducing tiny voltages within the coils. The advantages of this arrangement include ultra-low moving mass, even compared to an MC design; relatively high output (because the stationary magnet/coil structure can be made large); high suspension compliance; and low vertical tracking force (VTF).
<!- ------------------------------------>