Tapestry Mobile Fidelity One-Step Versus ORG Standard Pressing (Time Line Correction)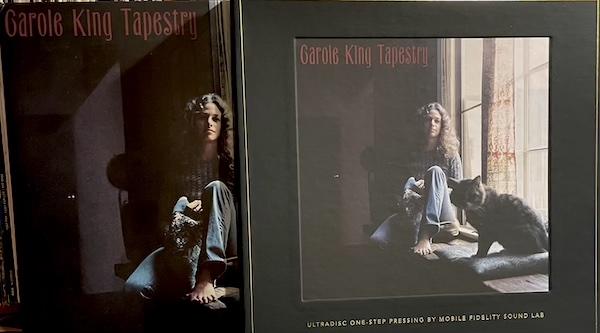 <i>Tapestry</i> Mobile Fidelity One-Step Versus ORG Standard Pressing (Time Line Correction)
"So Far Away" Version 1
37% (265 votes)
"So Far Away" Version 2
63% (454 votes)
Total votes: 719
Thanks to a reader's generosity I was sent a copy to audition of Mobile Fidelity's One-Step release of Carole King's
Tapestry
album. It's clear to me I'm on Mo-Fi's "bad dog" list. I've not been offered for review
any
of the company's turntables, phono preamps or cartridges. When I ask, I'm met with stone silence. Over the past few years I've gotten only one record for review (that was wrong and to Mobile Fidelity music side I must apologize. I've gotten more than a few records to review since I reviewed and raved about the One Step
Monk's Dream
in April of 2020. My timeline was stunted by "Covid compression". Actually more than a few records did show up after that and I apologize to Mobile Fidelity for getting the timeline wrong. It's been quite a while since I got a record from them but that's mostly because nothing's been released in some time. Though after I asked for a copy of Jeff Beck's
Truth album
I got a copy and gave it a well-deserved great review). This audio product review shunning can't be accidental. What did I do to be cut out of the equipment? I have no idea and it's none of my business.
So, thanks to a reader's generosity here's a comparison of "So Far Away" from Tapestry as a One-Step Mobile Fidelity release and the ORG edition from a few years back cut by Bernie Grundman and Chris Bellman. Both of these editions are at 45 rpm. I'm not going to foul the waters by giving you my take. At least not until the votes are in and perhaps not at all. Polls will be open for 1 week.
BTW: turntable was OMA K3, Frank Schröder K3 arm, Lyra Atlas Lambda SL cartridge, CH Precision P1/X1 phono preamp, Lynx HiLo A/D converter.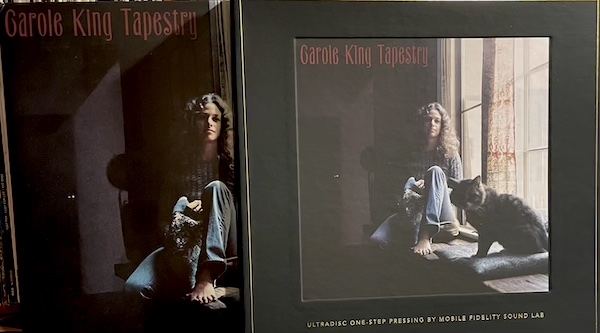 <!- ------------------------------------>