The Thorens TD 1500 Turntable Is a Belt-Driven, Suspended Subchassis Marvel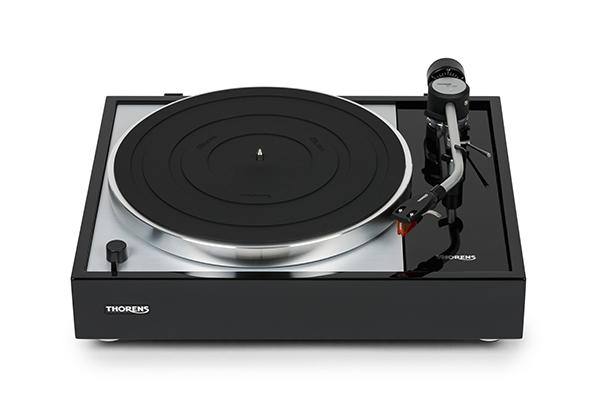 As an aspiring audiophile/drummer growing up in 1970s North Carolina, I had friends of many stripes. One such friend was Ron, who was an excellent songwriter, singer, and musician. At Ron's house near Lake Norman, we weren't able to practice, but we
did
get to enjoy his high-falutin' hi-fi that included a Thorens TD 160 turntable, NAD 3020 integrated amp, and JBL L100 speakers. That Thorens TD 160 sure was a real honey of a turntable, but it never sounded the same after I accidentally
[MM interjects: Ken's explanation of said "accident" has been redacted here for, er, safety purposes]
.
Today, Thorens designs turntables in Germany, with production in Taiwan. Looking at the new Thorens belt-driven TD 1500 turntable ($2,999) reminded me of that classic TD 160 'table of yore and its suspended platter and tonearm, chunky speed selector, and dark, wood-grained plinth.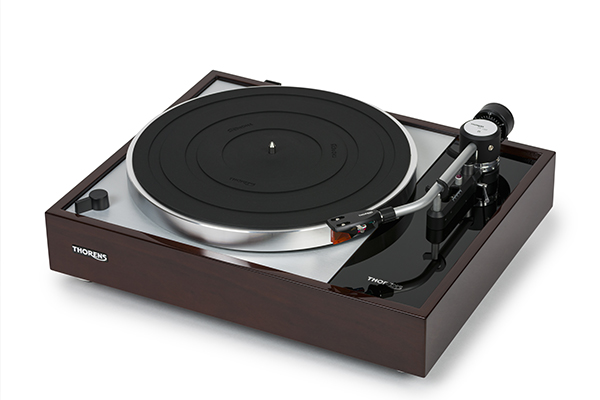 After all, the TD 1500 is a tribute to the classic Thorens TD 150, the predecessor to the aforementioned TD 160, based on its suspended chassis and tonearm origins. As stated on the official Thorens site, "Based on a patent from Acoustic Research, Thorens introduced the first mass-produced subchassis turntable TD 150 in 1966." Though AR was the first to build a suspended chassis/tonearm turntable, Thorens popularized the design, selling more of those units in Europe and across the world.
The TD 1500 features the all-new TP 150 tonearm, an Ortofon 2M Bronze cartridge, Sanko Silent DC motor, 1.4kg aluminum platter, single-ended (RCA) and balanced (XLR) outputs, and a Ruby bearing for its anti-skate nylon string "for lowest friction," according to the site.
Linn, Audio Note, Michell, Avid, and SME all make current-production, suspended-chassis turntables. But isn't the design incredibly sensitive to footfall? Isn't it largely an archaic technology rejected in favor of solid plinth designs?
"Definitely, not!" responded Thorens' CEO and owner Gunter Kurten via email. "Why should it be? The performance of a suspended chassis is much better compared to a non-suspended chassis. It's more complex and difficult to design, and more expensive to produce. That's why nobody is willing to invest into the R&D work and production. Maybe they are not able to do…. (Except Linn)."
Brief sidenote: Suspended-chassis 'tables were all the rage when I was kid. A friend's parents had an AR-XA turntable, Dynaco Stereo 70 amp, and Advent speakers. They played Frank Sinatra, Robert Goulet, and Doris Day. (When they were away, we played Deep Purple, King Crimson, and Greenslade.) [Bonus points from my POV for spinning some Greenslade—MM]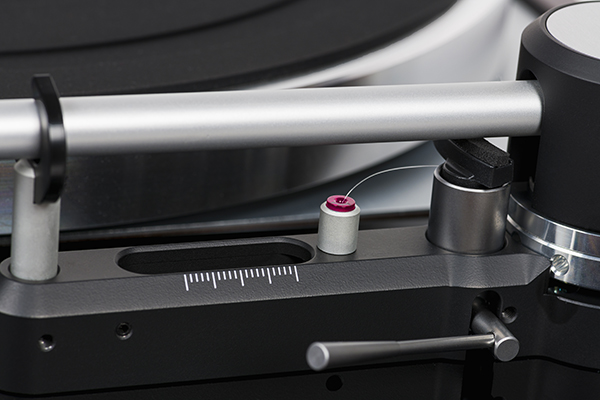 What are the advantages of suspended (on springs or plates) subchassis-and-tonearm turntable designs? Tombo62 at VinylEngine.com explained it like this, on June 21, 2021 (Tombo62's comments follow in italics):
"My understanding is that vibration isolation devices tend to act as low-pass filters. So the springs in a suspended design will tend to dissipate vibrational energy above [its] natural resonance frequency. So a spring suspension design can notably reduce the amount of vibrational energy coming from the motor or through the platform and plinth, before it gets to the arm or platter.
"The springs will oscillate (bounce up and down) at their natural vertical resonance frequency when excited by a floor bounce or by tapping on the platter. The turntable manufacturers often put a foam insert in the center of the springs to damp the low-frequency movement of the springs. It can be more complicated because the springs have both a vertical and lateral resonance frequency which can be different from each other."
Thorens turntables have used suspended platform and tonearm designs beginning with the TD 125, and then with the TD 147, TD 145, TD 150, TD 160, and TD 165. All had sprung suspensions well into the '80s — including the TD 320, when Thorens switched to leaf springs. Why was that design popular? I knew exactly who to ask.
"The isolated suspension isolates the turntable from external vibrations," replied AnalogPlanet contributor and reviewer Michael Trei. "So, if there's vibration in the floor from the speakers, the suspension will filter that out. I don't know if that's the solution to everything, but certainly if the turntable is rock solid, any vibration gets into the stands and it's going right into the turntable, and right into the record and the tonearm. So, if you float it, if it's on springs, then that vibration doesn't get through."
Continued Trei, "You want to set up a suspended 'table, so ideally you don't deal with side-to-side movement, which is what you get when you walk around the floor. The suspension actually moves sideways. I tell people to put a brace between the rack that the table is sitting on and the wall, to hold it. It works really well."
But if it's picking up the footfalls, how is it not picking up vibration coming through the stands? "The footfalls are DC," Trei replied. "It's a kind of motion, not vibration. It's DC, it's moving in one direction. Whereas I'm talking about vibrations."
Why have suspended tables largely fallen out of favor? Trei again: "Because they don't handle footfalls as well. I think it's important to have some isolation, but maybe not fully sprung."
Trei added one final comment. "I have a theory," he observed. "AR was an American company, and they instigated the suspended table design. A lot of the turntables that were suspended were British, or European. And here's the thing. If you look at the way houses are built in Europe, they build houses of brick and concrete. In America, they build houses out of wood. European houses are much better built. Suspended turntables on concrete floors don't bounce when you walk around the floor." As opposed to, I might add, a suspended wooden floor, built of studs hung between load-bearing beams.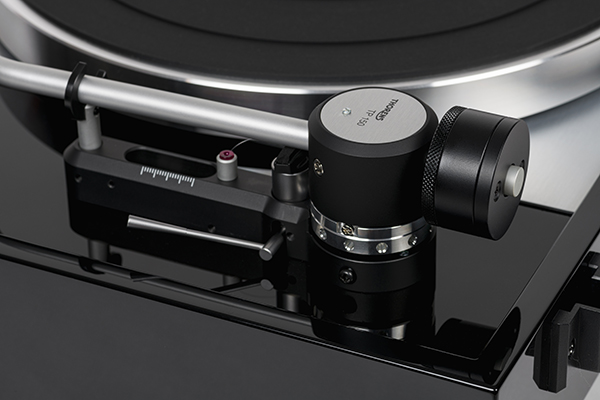 Features & Tech Notes
Obviously, Thorens, with the company's earlier-noted design in Germany and manufacture in Taiwan — where the stunning Thorens DD 124 is also built — has the funding, brains, and know-how to make a suspended design fly, as it were.
The TD 1500's plinth is made of MDF topped with aluminum, its platter is diecast aluminum, and the armboard a multiplex layer with an acrylic top plate. The suspended board is made from Alucobond, a double-layer, aluminum material with POM in the middle. "A very resonance free material!" proclaimed Kurten. (POM, which is short for polyoxymethylene, is also known as acetal, polyacetal, and polyformaldehyde. It's an engineering thermoplastic used in precision parts requiring high stiffness, low friction, and dimensional stability.)
TD 1500 features include (according to the phraseology on the Thorens site) a "counterweight [that] has the same weight on all 3 [conical] springs, to avoid wobbling of the subchassis," "incremental encoder for lower W&F and stable speed," a "new subchassis design, made from a double layer of Alucobond to make it super stiff and resonance free," and "subchassis adjustment from the top through the holes in the platter." The 1500's diecast aluminum, which is fitted with a heavy rubber mat, sits on a sealed-bearing assembly.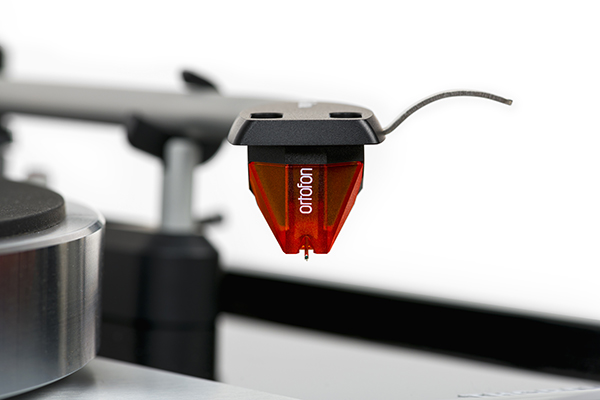 The TP 150 tonearm, which greatly resembles the tonearm on the TD DD 124, is made entirely of aluminum, as are the 'table's three non-adjustable footers. The TP 150 tonearm was designed by Helmut Thiele, and includes a detachable headshell (SME connector), and a Ruby bearing for the anti-skating weight. A two-piece aluminum counterweight allows for a range of cartridges from 5 to 30g — bring on the Ortofon SPU! Anti-skating is determined by a sliding weight in the armbase, controlled by moving the weight on a nylon thread guided over the Ruby bearing. Azimuth is adjusted by loosening the cover of the armbase and turning the tonearm in the correct direction to establish accurate azimuth. (Utilizing a mirror beneath the cart will come in handy for doing just that.) VTA involves turning a small screw in the side of the armbase.
All these functions are addressed in the well-written manual, which also covers adjustment of spring tension, should the plate under the platter not be perfectly flush with the plate under the tonearm. These two planes are adjustable but preset at the factory. (My review sample was perfect.)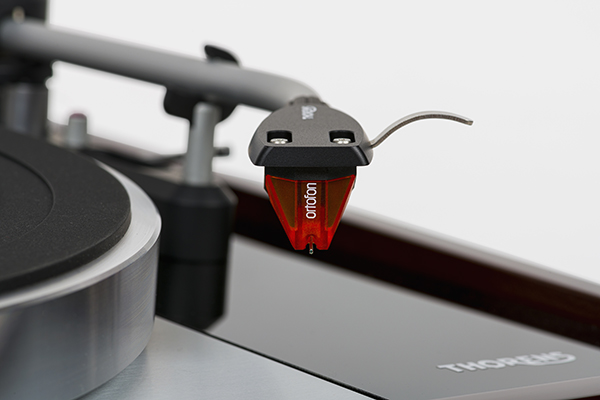 "We think that the Ortofon 2M Bronze offers good value for money," stated Kurten when asked why Thorens includes an Ortofon 2M Bronze cartridge with the TD 1500. "An MM cartridge allows highest connectivity for the most amplifiers. Of course, the tonearm allows more high-grade cartridges like our TAS1500 MC, which is especially designed for the TP 150. Due to the flexibility of the tonearm, you can use heavy cartridges like the SPU but also very light cartridges with 4g weight. The counterweight can be split into two parts."
Like other high-priced tables, the TD 1500 does not include interconnects. "We think that an entry-level cable is not the right connection between the turntable and the amp," Kurten stated. "In addition, what cable should we add? Balanced or RCA? This is something that the dealer should offer to the customer. It's all a question of calculation. We decided to add a 380-€ cartridge instead."
The TD 1500 includes an acrylic dustcover I did not use, as I believe them to be possible resonance traps that can muddy the signal. "The subchassis is a very efficient way to decouple the vibrations and keep them away from the cartridge, Kurten said, "but of course, without dustcover the performance will improve especially when you like to listen to your music in higher volume. That's why we use detachable hinges. To remove the cover is very easy with one hand."
Setup
As the cart, anti-skate, and VTA are pre-aligned at the factory when using the Ortofon 2M Bronze cart, setup couldn't be much easier. After removing the two transit screws, positioning the belt, platter, and mat, you install the headshell with the pre-fitted 2M Bronze, and mount the counterweight, then dial in the 1.4g-1.7g tracking force.
My rig for this review consisted of Tavish Audio Design Adagio and Pathos In The Groove phono stages, Pathos Classic Remix Tube Hybrid Integrated Amplifier, and DeVore Fidelity O/96 loudspeakers. Cabling from Analysis Plus, Shindo, and Triode Wire Labs rounded everything out.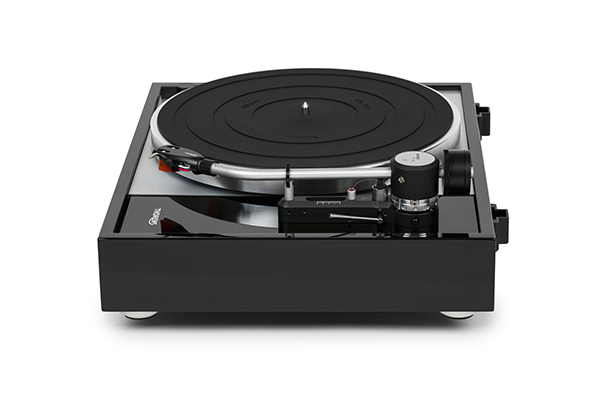 Listening
The TD 1500 gets up to speed quickly — always a good thing. The tonearm resting clutch provides a snug fit, better than my 17k Kuzma turntable. The Thorens' natty wood grain plinth looks cool, as does the arm. Although it's a new design, it looks très-1970s cool to my eyes.
Time to listen — and listen I did. NewVelle Records owner and talent scout Elan Mehler has released his own piano-led trio album, There Is A Dance (NewVelle NV 031), with bassist Tony Scherr and drummer Francisco Mela. This is an exceptional jazz trio recording, with Mehler's witty, magnanimous style beautifully supported by Scherr and Mela in material that ranges from thoughtful and contemplative to sweetly swinging. (Keith Jarrett and Bruce Hornsby seem to be Mehler's guiding lights.) The record sounded fine via the TD 1500 — piano large, transparent, and sparkling; drums and acoustic bass clear and dynamic. There was plenty of air, giving space and a sense of decay to each instrument. The 1500 communicated the essence of the music, flowing forth with immersive PRaT and tone.. [For all the potential AP newbies reading this review, PRaT = pace, rhythm, and timing—MM]
Next, I played an album renowned for its upper treble luster and detail, Nils Frahm's Felt (Erased Tapes Records – ERATP033LP). Playing only treated piano, Frahm unearths a universe of soulful, sad, and occasionally joyous sounds. The Thorens resolved the last iota of Felt's wondrous, glowing aural universe; relaying the lushness and soul of the recording, its litany of tapping, dancing tones, and sky-filling reverberations and delicate rhythms. It also captured the album's large scale soundstage and twinkling dynamics. The TD 1500 is a PRaT king (albeit a little dark tonally), but with strong midband clarity and low, if not equally tight, bass. But, again, the scale and drama of the Thorens was very impressive and immersive.
What's better than late-'70s Brit rock on a German-designed, '60s tribute turntable? Stewart Copeland's Tama bass drum stomped out of The Police's "Message in a Bottle" (from Regatta de Blanc, A&M Records – AMLH 64792) with equal parts stormtrooper punch, John Bonham-like weight, and flat '70s recording tone, pinning me to my seat. The top-end was open and detailed, giving bassist/vocalist Sting's voice clarity and presence. The midband was equally clean and revealing, as Sting's upper register-tinted bass was tonality clear as a bell. The bass drum in "Bring on the Night" pounded with all the air and strength of a gale-force wind. Through the Thorens, "Bottle" bolted hard and hit me like a bronco, the 1500's nerve-shredding dynamics and juicy tone made Andy Summers' surreal guitar figures doubly hallucinogenic — in effect, turning it into an air-guitar party with Sting leading the ensemble.
Toshiro Mayazumi's "Bacchanale" (Angel S-36577), which recalls a lost Bernard Herrmann soundtrack beset by riotous ghosts in the machine, is a fantastic orchestral recording. Issuing a series of swirling crescendos within its first two minutes of play, the piece's various rattling, searing, pounding, menacing, swirling, rhythmic sounds were handled with ease and aplomb by the Thorens, which maintained the music's eerie personality and layered instrumentation through heart-pounding climaxes and spookily quiet passages. The 1500 gleaned tons of detail from the orchestra's smashing hand cymbals, quaking bass drums, and soaring strings. Everything was nicely layered in a deep stage. There was nothing left to resolve, even from this large orchestra.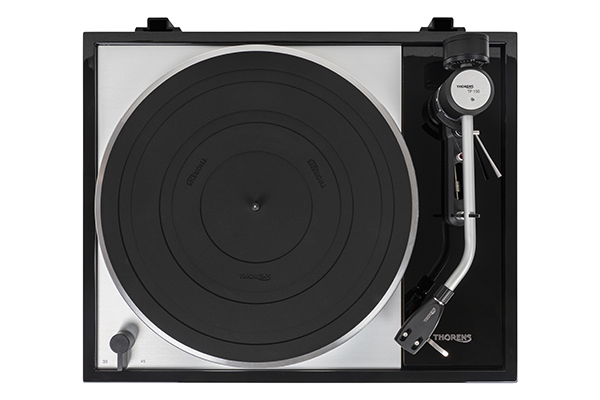 Curious to hear the table with a better cart, I mounted my Ortofon SPU Classic GE MkII MC cart on the TP 150 tonearm. The TD 1500/Ortofon SPU rig raised the table's game considerably, on any plane you'd care to measure. Improvements in transparency, air, soundstage depth and scale, and instrumental detail and clarity were maximized, while a little soul and tonal meatiness were lost. That all goes to show Kurten and Co. know how to dial in a sound. I was impressed that the TD 1500 only improved substantially when matched with a somewhat better cart, which is not always a given. Synergy is key.
Footfall was a consistent problem, however. Being deployed on the top floor of a 1920 building with suspended wood floors is probably the ultimate nightmare for a suspended turntable. A turntable shelf affixed to a wall is recommended, or Michael Trei's above-noted bracing scenario.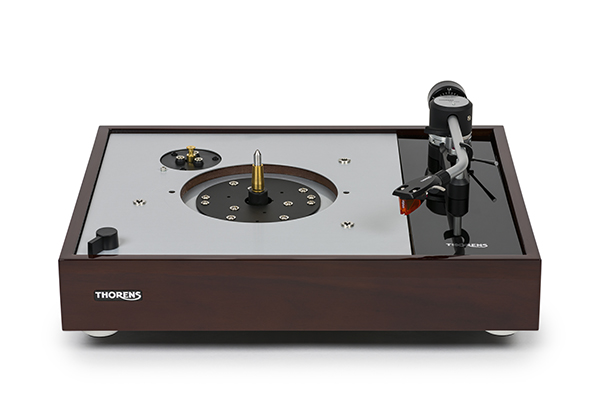 Conclusions
Now, some vintage gear fans might say, for $2,400, you could get an OG Thorens TD 124 'table — the best of all worlds if you are indeed a vintage maestro. That said, you'd have to refurbish the machine and add a tonearm and a cart, which could easily raise the price above the TD 1500's $2,999 asking price. For comparison's sake, MoFi Electronics' UltraDeck with a tonearm is $2,499, while the Pro-Ject Debut PRO with tonearm and cartridge is a bargain at $999. But for me, the Thorens TD 1500 is a slam dunk.
For its stupendous dynamic range, rich tone, excellent soundstage abilities and consistently awesome scale, as well its given ability to switch out carts on the fly, the Thorens TD 1500 turntable is a no-holds success. If you're in the $2,999 neighborhood, including tonearm and cartridge, the TD 1500 is a must-listen. It rocked my world, set me straight, and garnered fantastic enjoyment from my collection of cherished black discs.
For more information, head to the official Thorens site. If you want to order a TD 1500 for yourself, go here. (Note: If you're in the U.S., just scroll down to the bottom right of the linked page above. If you live in another territory/country, you can scroll alphabetically accordingly to find the right distribution information to meet your specific geographical needs.)
Author bio: Former musician, former artist, and former legal wastrel Ken Micallef has written numerous hi-fi equipment reviews for Stereophile and AnalogPlanet, and his byline has also appeared within Mojo, Electronic Musician, and The Grammys. You can also find him at YouTube (Ken Micallef Jazz Vinyl Audiophile).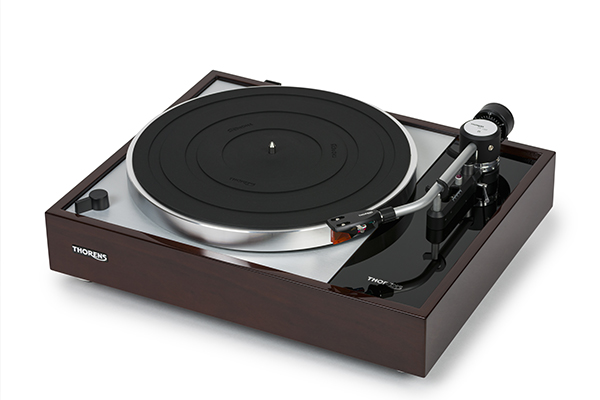 THORENS TD 1500 TURNTABLE
($2,999)
Features & Specs
Type: manual belt-drive turntable with suspended metal subchassis
Drive system: Belt drive
Motor: incremental encoder controlled and stabilized DC motor
Speeds: 33 1/3, 45rpm
Speed selector: electronic
Platter: 12in, 1.4kg die-cast aluminum platter with 22mm height
Tonearm: 9in, 14g Thorens TP 150 with SME headshell
Cartridge: Ortofon 2M Bronze with nude, fine-line stylus
Anti-Skating: anti-skating weight, adjusted on a nylon thread, guided over a ruby bearing
Outputs: RCA / balanced XLR
Power supply: external 12 V power supply
Dimensions: 420 x 150 x 360 mm (w x d x D)
Weight: 7.9kg
Finish: black high-gloss, walnut high-gloss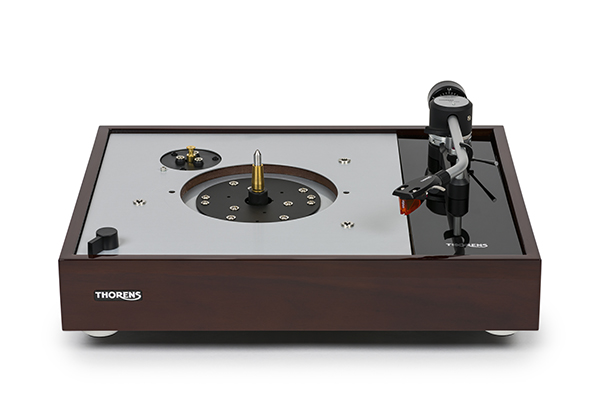 <!- ------------------------------------>