Tom Petty's Longtime Righthand Man Is a True Stereo/Mono Guy. Now, Mike Campbell Adjusts The Dirty Knobs for Proper Vinyl Playback Preferences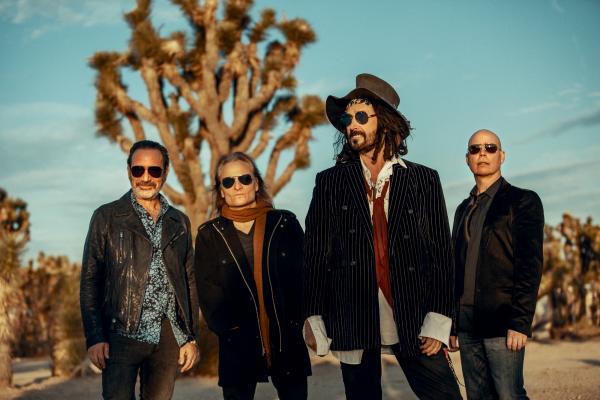 Mike Campbell, the consummate sideman, is now fully embracing his role as the frontman and bandleader of The Dirty Knobs, the long-running sideproject of his that has become his primary creative focus since the unfortunate passing of his lifelong friend and Heartbreakers/Mudcrutch bandmate Tom Petty in 2017.
"Well, I'm just four feet over!" Campbell observes with a hearty laugh, in reference to where he now stands onstage whenever The Dirty Knobs perform live. "I never wanted to be a rock star. I just wanna play music," he continues. "I'm probably weird that way. But with Tom, he was such a great leader. It was easy for me to sit back and be in a supportive role, and not be out in front. I'm very comfortable being there."
Another area Campbell is quite comfortable being in is the analog arena. "I'm a stereo/mono guy," the guitar maestro readily admits, the current proof being the sonically pure contents of the 180g 1LP version of Mike Campbell & The Dirty Knobs' second album, External Combustion, which was released by BMG back in March. For the record, The Knobs' first album, November 2020's Wreckless Abandon, came out as a 180g 2LP offering. (I would suggest cueing up Abandon tracks like "Southern Boy," "F—k That Guy," and "Loaded Gun" to get the full aural picture of that fine, fine album.)
Campbell, 72, and I got on Zoom together a few months back to discuss why he prefers vinyl for his Dirty Knobs releases, how a somewhat inadvertent recurring mono listening situation in his youth ultimately informed his ongoing stereo proclivities, and which Tom Petty & The Heartbreakers song he feels will stand the test of time. You've been missin' something good / I'd make you happy if I could. . .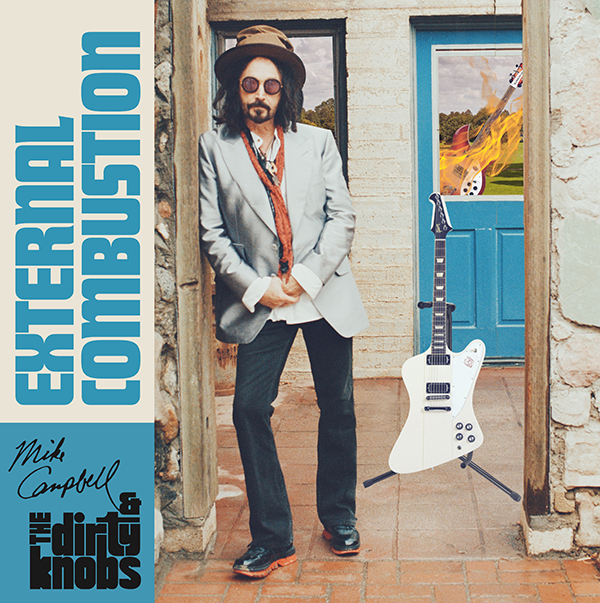 Mike Mettler: When I put the needle down on an External Combustion track like Side B's "Lightning Boogie," which features your old Heartbreakers bandmate Benmont Tench on piano, I feel like I'm back where I belong. Do you think the best way to listen to this album is on vinyl? Is vinyl your thing?
Mike Campbell: Yeah. I like vinyl. When the first Dirty Knobs record came out [in November 2020], I just had all the audio files, but when I got to put the record on my vinyl player, that's when I really got the record. When I put it on, that's when I take it all in. Vinyl is my favorite way to listen. But, you know, I'm an old person, so. . . (laughs)
Mettler: Well, we're all getting up there. (laughs) When you were growing up in Florida, what was the first vinyl record as a kid — whether it was a 45, or an album — that you consider to be "the talisman," the one you bought where you went, "This is my first album, and the one that really connected me to music"?
Campbell: The first record I — of course, I didn't have much money, but you could get a single for like 99 cents back then. So I went out and bought [The Beatles'] "She Loves You" on Swan Records, and "I'll Get You" was on the B-side. That was my first single. [MM notes: Said Swan Records "She Loves You" 45 was released in the U.S. on September 16, 1963.]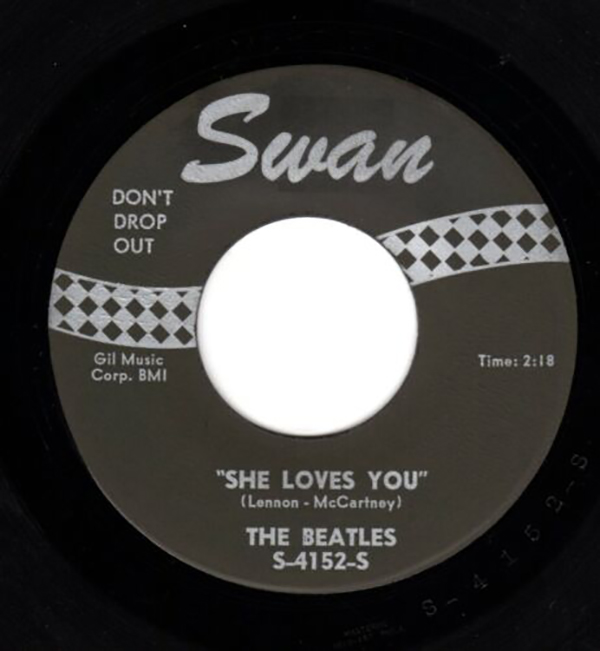 The first album I bought, I think, was a Beatles album, or a Beach Boys album; I can't remember. But I do remember I had The Beach Boys' [October 1963] Little Deuce Coupe album, which I loved. And I wanted [The Beatles' July 1964 perennial classic] A Hard Day's Night, but I couldn't afford it. But a friend of mine had it, so we traded! (laughs)
Mettler: Ahh, I remember those days. I also remember the story about Keith [Richards] and Mick [Jagger] on the train platform, and trading, or at least sharing, their blues records. When you and Tom [Petty] and the other guys were in your Mudcrutch phase, were you all trading records like that back then?
[MM notes: Mudcrutch was the band Tom, Mike, and Benmont were in together in Gainesville, Florida from 1970-74. Tom and the lads later reformed the group for a spell, recording and performing under the Mudcrutch banner on and off between 2007-16.]
Campbell: Yeah, yeah! We would go listen to records together, and trade records around. Like I said, I like vinyl, and I'm glad it's coming back. There's just something romantic about vinyl. That's what I grew up on. There's a sound to it that's very familiar to me — that makes the guitars sound in a certain middle range. It's something I really like.
Mettler: Me too, and I even liked getting later-period Tom Petty & The Heartbreakers albums like [June 2010's] Mojo and [July 2014's] Hypnotic Eye on vinyl. Hearing what you do on "Red River," for example, on vinyl [Track 3 on Side 1 of Hypnotic Eye] — there's just something magical about that.
Campbell: Oh yes! Yeah, I don't know what it is. To think of a little metal needle on a piece of plastic is making the sound — you feel it. You know, I think you feel the vibrations differently than you do on the digital recording. When you're in digital, and you're seeing those numbers involved, there are gaps in the music. It's a different visceral experience, I do believe.
Mettler: I totally hear that. Could you pick your favorite album on vinyl? Like the perfect vinyl experience that you would say to people, "Hey, this is the one to put on that I love the most"?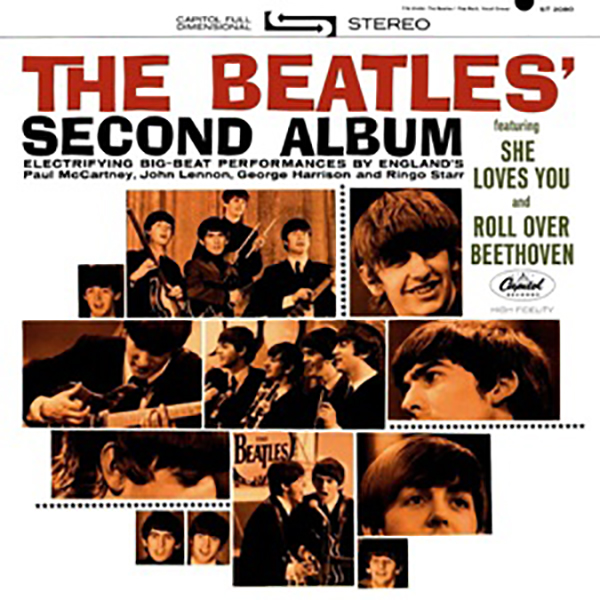 Campbell: The Beatles' Second Album [released April 1964]. That's what I always used to listen to on vinyl. My dad was an electronics guy, and when he split, he left me a record player. But I only had one speaker, so when I listened to The Beatles' Second Album in stereo, I would hook up one side (chuckles), and listen to the whole record. And then I disconnected the speaker and hooked it up to the other side, and listened again. And then I'd put the two pieces together in my head. (smiles)
Mettler: That's amazing. But, see, in a way, that fits a lot of how you play and mix things. I had a question here about whether you're a mono guy or a stereo guy, but you just put that together in your own way. You created your own hybrid in your head.
Campbell: Yeah, I'm a stereo/mono guy! Well, in a way it was probably good, because the stereo mixes they did back then — they would really spread stuff out! I could hear one side where I might hear only George [Harrison]'s guitar and [Paul McCartney's] bass on the other side, between the vocals [mostly sung by John Lennon and/or McCartney] and [Ringo Starr's] drums. I was able to pull the sound apart, and I didn't even know what I was doing.
Mettler: It's funny you say that, because it makes me think of whenever you walk into a grocery store, and if you hear a Beatles song come over the in-store speaker system, you often don't hear the drums because you're not getting the full stereo mix. And then you're like, "Hey, I know there's something else going on in this song, but I can't even hear it." You just fill it in yourself in your head, because you know what should go there, because the original stereo mix is so widespread.
Campbell: You're so right! Yeah, and that's what I was listening to, back in the day. And when I would get to a record player that had both speakers, it was like (exclaims), "Wow! I can hear it all! I can hear the whole band now! It's great."
Mettler: Was there one stereo record that opened your ears differently, once you actually got to hear it in two speakers?
Campbell: Well, no, it wasn't just one record. I mean, I really liked that Beatles' Second Album, and I just wore it out. And then, you know, all that stuff in the '60s — The Stones, The Animals, The Zombies, The Kinks. Those were such great records.
Mettler: Oh yeah. And some of The Byrds records too, obviously. . .
Campbell: Yes, them, and The Beach Boys — I mean, those records were so innovative. Now, sometimes when I listen in the car, I'll turn the balance all the way to one side, just hear what's going on over there! (laughs)
Mettler: For me, as a listener, hearing you say that now unlocks even more of what you're doing as a player, and as a producer. Basically, your brain is separating the sound, and you're kind of mixing things in your own way.
Campbell: (laughs heartily) That's good! I'm probably some kind of stereo/mono hybrid musician, I don't know. (laughs again)
Mettler: This is something I asked Tom [Petty] about when we were sitting down together, talking about all this historical stuff many years ago [at TP's Malibu home, in April 2010]. When you master a record, I feel that's where you get to find it. If you mixed it, but you don't have hands in the mastering, you don't get what you heard originally when it comes back to you. Do you agree with that?
Campbell: Yeah. The whole thing can be blown in mastering, if you're not careful. You have to watch 'em.
Mettler: Were you hands-on when you got to the mastering stage for this new Dirty Knobs album? Are there things where you said, "We've gotta have this here," or "I need to hear this particular vibe here"? I'm thinking of a track like [Side B's] "In This Lifetime," which has a very particular emotionality to it that you had to make sure came through.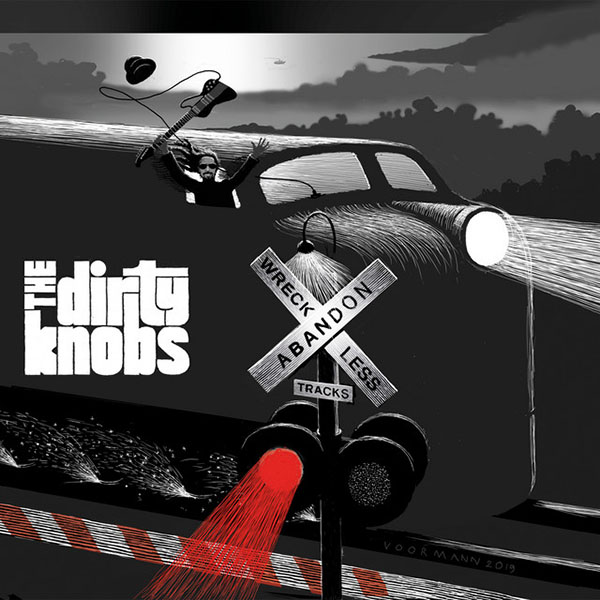 Campbell: Yes. On the first Knobs record [Wreckless Abandon], I was a little more meticulous about it, and I went to a couple of different mastering labs. But I trust my engineer, Martin Pradler, and George [Drakoulias, his producer] so much on the second record, I just let them do it — the mixes, and the overall spread of everything. I really trust them. They know what I like. and they know what they're doing.
[MM notes: For the record, Pradler is credited as having "recorded, engineered, mixed, and mastered" the External Combustion album. As for Drakoulias, he also produced Wreckless Abandon, as well as Tom Petty & The Heartbreakers' October 2002 album, The Last DJ.]
Mettler: Another thing I think that works with you as a dynamic performer and guitar player is what you do with volume dynamics. Are volume dynamics something you're conscious of as a performer?
Campbell: Yeah. Volume is — well, your gain structure is really the key to your sound. Between the volume on the guitar, which is almost always all the way up but not always; sometimes you back it off, and if you have a pedal or an amp — anything in between — all those gain structures have to be in the sweet spot for it to sound right.
Mettler: Sometimes, you're on the edge of distortion when you take those — I guess we'll just use the technical term — those breakneck solos, where you're just kind of going at it with abandon. Or wreckless abandon, one might even call it, or some kind of combustion. . .
Campbell: (laughs) Wreckless Combustion!
Mettler: Oh, I like that. And then the third Knobs album will have to be called Industrial Revolution, or something like that. (more laughter) Well, anyway, the other key element to any two-sided record like External Combustion is sequencing. Do you feel like sequencing is a lost art?
Campbell: Oh yeah. Sequencing is a real lost art — and it's real essential, because you don't want three songs in the key of A in a row. And if you want to tell a story, it has to have an arc to it. The tempos — you can't have four slow songs in a row. It has to have an arc to it. So, we spend a lot of time trying to get all the songs to really flow, and tell a story. They go up, and then they settle down.
Mettler: For me as a listener, when we get to "Rat City" on Side B, it has a certain vibe to it, and then you kind of pull it back for "In This Lifetime." I feel like that's where I'm catching my breath after some serious things had just happened.
Campbell: Yes! Catching your spiritual breath. That's what it is. (chuckles)
Mettler: Oh, now, that's a song title you gotta do, "Catching Your Spiritual Breath." I'm writing that one down. (laughs) Another thing I talked to Tom [Petty] about way back in the day was the actual date you guys left Florida to go out west, which was April 1st, 1976. You all got in the car, and. . .
Campbell: (interjects) On April Fool's.
Mettler: Yeah, it was April Fool's Day. Did you feel at that time something was definitely happening for you guys, that something was coming?
Campbell: Well, we were getting outta Gainesville. We had no idea. We were so green, and we were just flying by the seat of our pants. We just wanted to get some gigs to play, and make a record someday. But it was all pie in the sky — distant dreaming, you know? We were so fortunate that so many things came true for us. But you could see in the "Runnin' Down a Dream" video what we were dreaming about, maybe. We didn't know what we were doing. We were just playing music, just trying to survive.
Mettler: Well, I think the best lines that sum it all up are in a song from Mojo called "Takin' My Time." The lines go, "When I was a young boy / My fuse was lit." Do you agree with that?
Campbell: Yeah. Our fuses were definitely lit — and they burn pretty hot, too. (laughs)
Mettler: No doubt about that. Okay, back to The Knobs. Do you feel like you guys had a good working studio rhythm? Did you have any pre-pro discussion like, "Here's what I want it to sound like"? What was your vibe with George [Drakoulias]?
Campbell: Well, two things. First of all, I wanted to have fun. And second of all, we wanted to sound like a live band in the studio — which is what we did. All the tracks are pretty much live with some live vocals, and all the guitar solos pretty much are live on the floor. George was great at picking the songs with me, and just putting a good vibe in the room so everybody had fun.
Mettler: So, pretty much everybody's in the same physical space [at Hocus Pocus Recorders, in California]. Are you all looking at each other? No baffles, no headphones?
Campbell: Well, we had a drum booth. And the guys sat — the bass player, Lance [Morrison] and other guitar player, Jason [Sinay] sat in the room with the drums [and drummer Matt Laug], with headphones on. We had amps in the other room. I stood in a control room looking through the glass [while singing] on a microphone, and we could see each other, and interact together.
Mettler: I think for you as a performer and a recordist, having that kind of unspoken connection with your fellow players makes for better music. You can anticipate, "Here's where I need to drop in. Here's where I need to let this guy take over. Here's what I need to do here." Is that all fair to say?
Campbell: Absolutely! And that's because The Dirty Knobs is not a new band. I didn't just throw some guys together. We've been together quite a while [more than 20-plus years, in fact], so we had that communication and telepathy that's really great when you track it live.
Mettler: Yeah. And "telepathy" is a good word for it, because I think with the feel of tracks like "Brigitte Bardot" on Side A, and then later in the record on Side B when we get to "It Is Written," you are able to create atmosphere differently from song to song. I'm sure that was key to you, that each song had its own feel to it.
Campbell: Oh yeah. The song has to have a feel that fits the tune. A couple of the songs were demos that I had, that we built up from — and the one you just mentioned, "It Is Written," is one of them.
The last song [on Side B], "Electric Gypsy" — I love that one because I was literally throwing it together at my table when they [i.e., the other Knobs] walked in. I was like, "Oh, they're here. I better pick up some kind of chorus. Okay, 'Take the wheel and drive,' whatever. . ." We jumped into it, and I showed Jason the three chords, and 1, 2, 3, 4 — he played it. It was basically recorded before I even knew what it was! (chuckles heartily)
Mettler: That's great. And I love that very cool, wandering-the-desert video you did for "Electric Gypsy." I just hope you guys didn't get burned or anything. (laughs)
Campbell: (laughs) No. But yeah, we had fun on that shoot.
Mettler: I have to ask since, obviously to me, when I hear the phrase "Electric Gypsy," I automatically think of Jimi Hendrix. Is there a direct connotation there, or did that just fit what you wrote about?
Campbell: Well, it came from a guitar. I bought this guitar online, made by the Teye company. It's a very ornate guitar. I got it mostly because it looked really cool. And when it showed up at the house, it said "Electric Gypsy" on it. That's where I made the phrase from, and the rest of it, the character of it, came from that idea. But Jimi Hendrix is a huge influence on me, yeah.
Mettler: I kinda figured. And "Electric Gypsy" is a great piece, and a great choice to end the record with. How do you go about deciding what songs make it into The Dirty Knobs setlist, whenever you guys get to play live?
Campbell: Well, it's interesting, because in the early days with The Knobs, we didn't have records. We would just do a lot of covers, and a lot of spontaneous stuff. Now we have two records out, so we've got the setlist packed mostly with songs from those two. But we have a little space in there for a couple of covers, and certainly one or two Heartbreakers songs here and there that we do well.
Mettler: When I saw the Fleetwood Mac tour you were a part of at the KeyBank Center in Buffalo [on March 26, 2019], you guys played "Free Fallin'" [from Tom Petty's seminal April 1989 solo album Full Moon Fever] in the encore, which I'm sure had a different emotional weight to it then as it might have today. Do you feel like you can now play certain songs live that you couldn't play before? How does that sit with you?
Campbell: "Free Fallin'" was pretty emotional. I didn't wanna do that song, because I was still deeply grieving. I'm still grieving a little bit, but I'm getting to where I'm really comfortable with The Heartbreakers catalog.
And there are certain songs I've been trying out with The Knobs that work really well, ones I consider to be in my vocal range that I can get across. I'm real proud of our catalog. I like pulling a song out that we can do justice playing.
We can do "You Wreck Me" [from November 1994's Wildflowers], and "Runnin' Down a Dream" [from the aforementioned Full Moon Fever] — a great version of it with just the guitar. It works really good with the guitar, and there's lots of space in the end for me to, you know, go off. "Can't Stop the Sun" [from October 2002's earlier-noted The Last DJ] is another one we do really well.
Oh, and we've got this version I really like of "Southern Accents" [the title track to TP&TH's April 1985 album], this little pared-down version in waltz time, in 3/4, that's quiet, and the words come across really well. We do a couple of Heartbreakers songs each night just to fill out the set.
Mettler: Well, it's a huge, huge part of your legacy as an artist and a creator. So, to wrap things up like I usually do, let's jump 50 years into the future. Neither of us are on this planet, unless there's some type of cool "Mike technology" that the Mikes all get to survive. (both laugh) What do you think the legacy of Tom Petty & The Heartbreakers will be 50 years from now, when neither of us are around? What do you think people will say about that music?
Campbell: Well, I think it'll be like Beethoven or Bach, you know? Good music will be there. It'll be in that genre. And even a hundred years from now, this music, the good music, will hold up, just like Mozart has. Hopefully, it will still be around. I think that music like this will live. Songs that touch people will last a long time.
Mettler: I can agree with that. Not to put the pressure on you, but is there one particular Heartbreakers song you would recommend to that way-in-the-future listener?
Campbell: (no hesitation) "American Girl." That was on our first album [the self-titled Tom Petty & The Heartbreakers, released November 1976], and it's an adrenaline rush. I think it basically says everything about The Heartbreakers — the lyrics, the style, and the energy. That's pretty much us.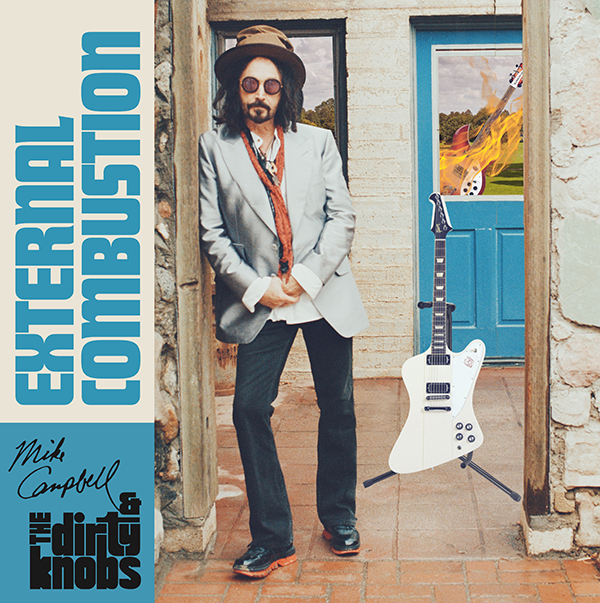 MIKE CAMPBELL & THE DIRTY KNOBS
EXTERNAL COMBUSTION
180g 1LP (BMG)
SIDE A
1. Wicked Mind
2. Brigitte Bardot
3. Cheap Talk
4. External Combustion
5. Dirty Job (ft. Ian Hunter)
6. State of Mind (ft. Margo Price)
SIDE B
1. Lightning Boogie
2. Rat City
3. In This Lifetime
4. It Is Written
5. Electric Gypsy
<!- ------------------------------------>