The Beach Boys: The First Five Analogue Productions Reissues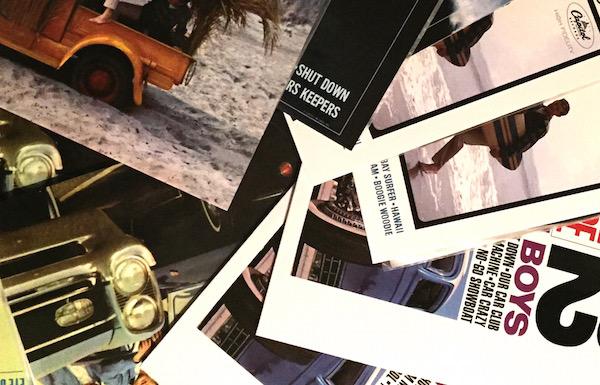 Only one of them had actually ridden a surfboard. They weren't hot rodders or drag racers and by the time the group formed in 1961 lead vocalist Mike Love was already 20 years old and arguably more a man than a "boy". Al Jardine was 19 as was Brian Wilson. Brothers Dennis and Carl were, respectively, 17 and 15, so they qualified as "boys".
The band was The Pendletones, a name that merged "Pendleton" for the plaid wool shirts favored by surfers back in the late 1950's when the surfing craze first made waves in Southern California, and "tone".
Dennis was the surfer who originated the idea of a song about surfing and while he's often regarded as the group's "jock", Brian played football, baseball and ran cross-country track.
Under the direction of the Wilson Brothers' father Murry, the Pendletones recorded two demos, "Surfin'" and "Surfin' Safari". Murry took them to Candix Records owner Herb Newman, who signed them in early December of 1961.
A single was quickly released featuring "Surfin'" as the "A" side and "Luau" on the "B" side. That throwaway was credited to music publisher Hite Morgan, who had turned the group down after an earlier audition.
To more directly capitalize on the surfing craze, and without first seeking permission, Candix Records changed the group's name on the single to "The Beach Boys".
(However, it's important to keep in mind that while The Beach Boys popularized and commercialized the "surf music sound", "The King of the Surf Guitar" Dick Dale gets most if not all of the credit for originated it. "Let's Go Trippin" by Dick Dale and the Del-tones released in September of 1961 [but played in public as early as 1960] is considered to be the first "surf music" song. Dale credits his Lebanese heritage and interest in Arabic music and middle eastern scales as being key to the "surf sound", so put that in your pipe from Uncle Tonoose and smoke it!))
Thanks to airplay on the two teen-centric A.M. radio stations KRLA and KFWB, before the end of that same month The Pendletones had been signed to Candix, "Surfin" quickly sold 40,000 copies and reached #3 on the local charts and #75 on the national singles charts.
In the spring of 1962 the boys were back in the studio—this time at now legendary Western Studios—to record "Lonely Sea", "409" and a remake of "Surfin' Safari". The 45rpm single "Surfin' Safari"/ "409" was issued in June of 1962.
That release brought them greater attention from the big labels. After being rejected by Sy Waronker's Liberty Records and Dot Records, home of Pat Boone and Lawrence Welk, Nick Venet signed them to a seven year contract with Capitol Records.
Released in the fall of 1962 in monophonic only Surfin' Safari (T 1808) was a modest success, reaching #32 on the Billboard charts. However, it should be noted that in 1962 LPs were mostly purchased by adults. "Teens" bought singles. So #32 was an impressive debut showing.
While all of this was happening for The Beach Boys—mostly in the recording studio—The Beatles were busy playing nightly in Liverpool's The Cavern Club (and of course also in Hamburg, Germany), learning how to perform live on stage. As The Quarrymen, the group began performing at The Cavern in 1957. They made their first appearance there as The Beatles in the winter of 1961 nine months before The Pendletones signed with Candix. On August 16th 1962, a few months before the release of The Beach Boys' debut album, Ringo Starr replaced Pete Best.
The Music
While the group's cultural influences were based on the prevailing teen preoccupations of surfing and hot-rodding cars (and to a lesser degree objectivized girls), Brian Wilson's musical influences were far more eclectic. The sophisticated vocal arrangements he created were drawn from 50's mainstream pop groups like The Four Freshmen, whose harmonies Wilson carefully analyzed, though his influences are all over the musical map. It could easily be argued that the group really took off when Wilson, in a singular stroke of genius, produced "Surfin' USA" by melding white bread Four Freshman harmonies with lyrics advertising surfing generally and in Southern California locations specifically, set to Chuck Berry's "Sweet Little Sixteen" and arranged for the Stratocaster-centric "surf sound".
Doo-Wop, '50's rock, mainstream pop and The Four Seasons influenced Wilson as did the production techniques originated by Phil Spector.
It's important to remember when listening to these early Beach Boys albums, that at a time when "suits" ran the studios, Wilson was one of the youngest members of a musical group to grab the production and arranging reins. It's also interesting listening to these first five albums, to note how hesistant or perhaps unequipped at the time was Wilson to write deeply about relationships. The Beach Boys were addressing boys. Contrast that with how Lennon/McCartney approached song writing. They wrote directly to the teen-girl fan base and in the most personal of terms. As McCartney famously pointed out they (including George Harrison) wrote "From Me to YOU", "She Loves YOU", Do YOU Want to Know a Secret", "I Want to Hold YOUR Hand", etc.
You'll find nothing remotely approaching that degree of intimacy (or pandering if you're cynical) on any of these Beach Boy songs but you will find a lot of good old American corn.
The Albums

surfin' safari ( Capitol T-1808)
Credit The Beach Boys and especially Brian Wilson for crafting a twelve-song debut album in which nine were originals, even though some were weak and cringe-inducing. The three covers were the oft-covered instrumental "Moon Dog" by Derry Weaver, Eddie Cochrane's iconic "Summertime Blues" and "Little Miss America", written by Herb Alpert and Vince Catalano and first recorded by Dante and His Friends (the same Dante as in Dante and the Evergreens best known for "Alley Oop" also covered by The Hollywood Argyles). It's interesting to note that The Beatles fourteen song debut contained eight originals but a much more varied and adventurous selection of covers, almost all of which were written by Americans.
While Nick Vanet gets producing credit, Brian Wilson asserted control early on, though Mike Love sung almost every song (Dennis Wilson sang "Little Girl…..").
"County Fair" is a humorous ditty with a decidedly "Leiber/Stoller" Coasters-like vibe and a melody that sticks despite the county fair barker stuff that's almost unbearable, but "Ten Little Indians" is a 100% throwaway and "Chug-A-Lug", about the boys' individual interests, with lead singer Love being the chugger of root beer isn't much better. "Cuckoo Clock" is a clever novelty item about a mechanical clock interfering with a teenage make-out session.
"Little Miss America" is a '50's era Doo Wop number that sounds heavily influenced by The Elegants' "Little Star". Dennis's vocal is sweet.
"409" points the way towards future Beach Boys muscle car songs, while the final song "The Shift" is about a tight dress, not a Hurst "4 on the floor".
This reissue sounds far superior to the original in every way. The original suffers from serious bass attenuation and dynamic compression. However, any way you listen to this one, it was clearly recorded in haste and the production values are not high. Not a serious issue considering the less than memorable, often juvenile songs.
Unless you are a Beach Boy "completist" and want to hear these songs sounding better than you've ever heard them, this debut is not exactly essential. On the other hand, if you can overlook the songwriting you will hear a young band that is getting together its playing chops and getting ready to take its act on the road and hit the really big time. That alone can help make the listening exciting or at least interesting. (Short Notice: the album runs but 24:53).
Surfin'USA (Capitol T-1890/ST-1890)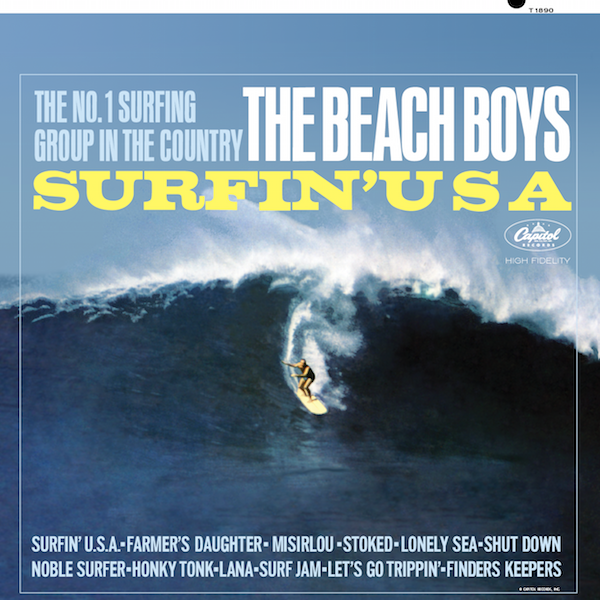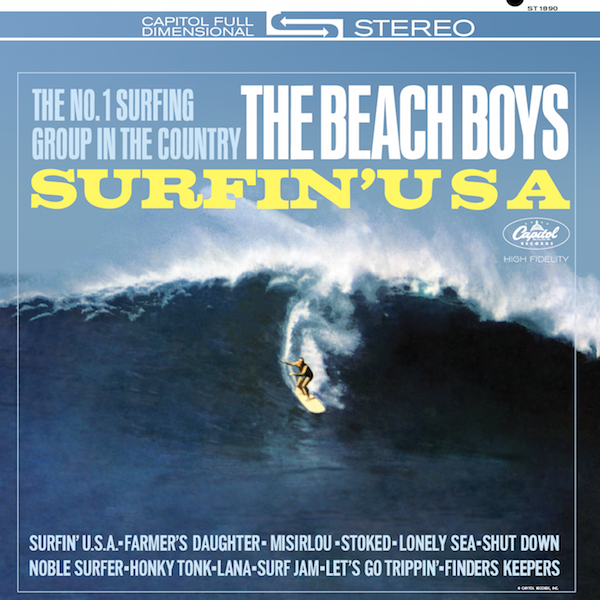 The group's sophomore effort, recorded starting in January of 1963, is altogether a big bump upward for The Beach Boys, musically, sonically and compositionally, compared to the hastily and haphazardly produced and recorded debut.
Again Nick Vanet gets producing credit but this one was a Brian and Murry Wilson production with the great Chuck Britz engineering at Bill Putnam's Western Studios, which was a block from his United Studios (the two studios were later purchased by Allen Sides who renamed them Ocean Way).
From the first "Sweet Little Sixteen" Chuck Berry lick of the title track, you'll hear a big sonic difference from the lackluster debut. The Beatles would later recycle The Beach Boys' Berry recycle for "Back in the USSR". Chuck Berry's publisher ARC has always had publishing credits though Wilson was initially credited as the songwriter. That was later changed to Chuck Berry, who now holds the copyright to the music and lyrics, which contain terms related to surfing culture and a long list of SoCal surfing spots, at the time exotic to young ears.
The first side is strong with the somewhat salacious unintentionally comical "Farmer's Daughter" about a drifter who offers his labor in exchange for a place to stay. It's comical because of the lyrical juxtaposition wherein the drifter sings "glad to help you plow your fields/farmer's daughter" (which is the"plowing" he's really interested in). The short song has a strong melody and a gorgeous, haunting, memorable vocal performance by Brian Wilson.
The "Miserlou" cover is very good—and demonstrates that these guys could really play— but not up to Dick Dale's manic original that Quentin Tarrantino used in "Pulp Fiction". Speaking of which, this is a good place to quash the rumor that Dennis Wilson doesn't play drums on these albums because for the most part he does, though not on this one but only because he was injured at the time and another drummer filled in. The great "Wrecking Crew" drummer Hal Blaine does play drums on songs like "Good Vibrations", "California Girls" and a few other hits as well as on Pet Sounds, but Dennis was a good drummer who played on most of the songs.
"Stoked" is a decent "surf" instrumental that's followed by Brian's absolutely mesmerizing "Lonely Sea" that still produces chills. That alone is worth the price of admission not just to this record but into Brian's psyche. The side ends with "Shut Down"—another great Beach Boys classic. That's one fine side of vinyl!
The pressures to quickly produce a debut follow-up show on side two. "Noble Surfer" is formulaic lyrically and melodically, while the Bill Doggett instrumental "Honky Tonk" is just pleasant filler with Carl Wilson's guitar lines a highlight. That the time keeping on the song is less than 100% correct and less than mechanically perfect is among the charms of a performance that's human and real.
"Lana" is a short, tuneful Wilson composition that features vocal performances and harmonies reminiscent of The Four Seasons. A short, live, "Surf Jam" follows that again shows off the band's tight groove, Carl's surf guitar proficiency, and Dennis's deft touch on the drums. A cover of "Let's Go Trippin'" does likewise as much as it shows that idea exhaustion had set in. "Finders Keepers", the set's final song, probably got Bob Gaudio's and Bob Crewe's attention because it goes further than does "Lana" into The Four Seasons territory with a chorus and harmonies seemingly lifted from "Big Girls Don't Cry", which went to Number One on the Billboard Charts in November of 1962! A good song nonetheless!
Here you have a choice between mono and stereo versions. I think the mono version has it all over the stereo version, which, while not hard left/right like early Beatles albums, still sounds as if the intent was to combine the elements to create a mono mix. The mono mix holds together far better in every way—particularly the way in which Dennis's drums are mixed and in the vocal integrity.
I didn't have originals, though I did wear out my original stereo edition back in the mid-sixties when I confused ultra-light tracking with record preservation. In fact, tracking too light does more damage than tracking on the heavy side (within the cartridge manufacturer's recommended tracking force)—as I found out too late.
Both the mono and stereo reissues sound open, transparent and full frequency. This was a well-recorded album, which given who engineered and where, is hardly surprising (Short Notice: the album runs but 24:15)
End Part 1
<!- ------------------------------------>