The Beach Boys: The First Five Analogue Productions Reissues Part 2
Surfer Girl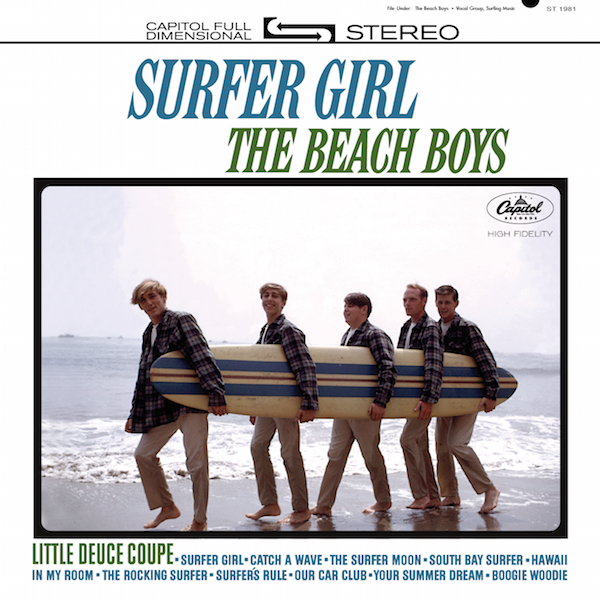 Recording began in May of 1963 at United Western within a few months of the release of Surfin'USA. It was the first Beach Boys album for which Brian Wilson got sole producing credit, so stated in the short, anonymous corporate annotation. The front and rear cover photos were from the same session that produced the first album's cover. It was released in September of 1963
The title song was actually an "oldie" Brian had written at age 19. Though a ballad, backed by "Little Deuce Coupe" "Surfer Girl" was a top 10 single and remains one of the group's most cherished songs along with side two's opener "In My Room". Also here are "Catch a Wave" (with harp accent) and "The Surfer Moon", another '50's style ballad good for "grinding" that features a string section and Wilson's double-tracked vocal lead.
"South Bay Surfer" is a listless take on Stephen Foster's "Old Folks At Home", but unusual in that the vocals are harmony-free; all sung on the same notes. It's co-credited to Al Jardine, who had left the group but returned here though he's not on the cover. Perhaps it was included as a "good will" gesture? "The Rocking Surfer" is a calliope drenched, circus-like track that's filler saved by a Carl lead and some interesting sound effects. The side ends with "Little Deuce Coupe" wherein more love is expressed for a car than for a girl on most Beach Boys songs to date (with the strong exception of the album's title tune).
Side two's opener, the exquisitely produced, recorded and performed "In My Room" is followed by the less exquisite "Hawaii" and then "Surfer's Rule" with Dennis and Brian sharing leads. It's more filler and formulaic, though it's saved by a great chorus. The songwriting rolls downhill from there with "Our Car Club", but "Your Summer Dream" is another ballad beauty written and sung by Brian Wilson, whose production vision was coming fully into focus on this record as exemplified by this song's careful layering built upon a simply strummed guitar, a richly recorded, juicy rim-shot and expansive vocals. "Boogie Woodie" ends the album with more filler but no matter: Capitol's "product" bins had to be filled, The Beach Boys complied and the group's third album in less than a year went Top Ten and was a Gold Record. (Short Notice: the album runs but 25:30).
Another step forward in terms of both overall sound and production finesse, with drums well-focused center stage and solid, three-dimensional vocals effectively spread across the soundstage and hovering transparently on cushions of air, makes a strong case for supremacy of the stereo mix. I've digitized at 96/24 "In My Room" from a stereo test pressing Analogue Productions sent me late last year and when I play it for people at store events and at shows, it never fails to leave people almost paralyzed with pleasure—particularly among those for whom the A.M. radio is their only reference. (Short Notice: the album runs but 25:30).
Little Deuce Coupe (Capitol T-1998/ST-1998)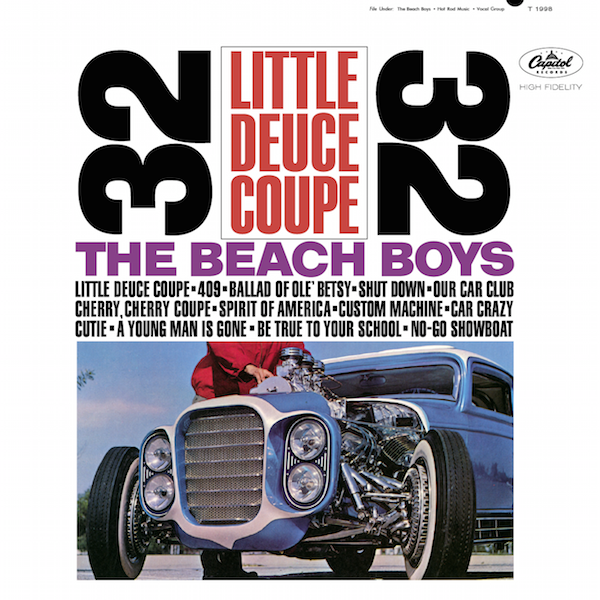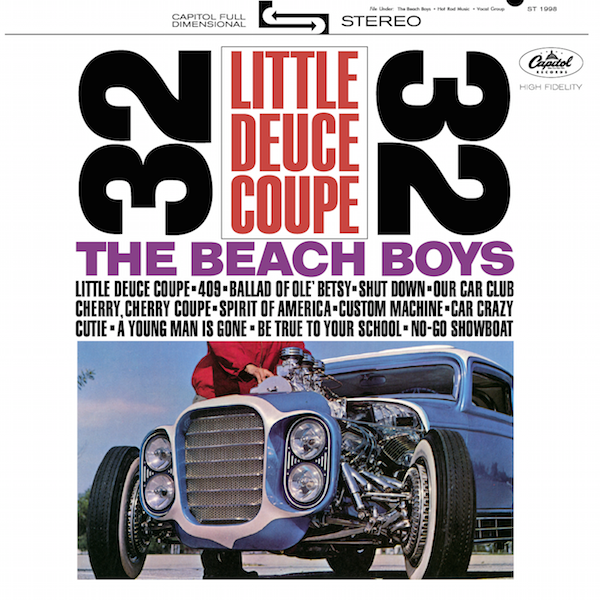 The group's fourth 1963 release was in the stores October, about a month after Surfer Girl. What was that all about? And wasn't the title song on Surfer Girl? Yes. The title tune, "409", "Shut Down" and "Our Car Club" had appeared on previous Beach Boy albums, The remaining eight tracks were new. With the exception of "Be True To Your School", the album's eleven other songs are car-related (a faster, re-recorded version of "Be True to Your School" went on to become a #6 Billboard Top Ten hit single). So what's going on here? Without authorization from The Beach Boys, Capitol had released Shut Down an album of car songs that included two from The Beach Boys. So, in reaction, the group rushed out a car album of its own.
Most of it sounds rushed. For instance "Car Crazy Cutie" is a doo wop tune that sounds like a remake of "Runaround Sue" with a Phil Spector-ish "run, run da doo run run". Even when in haste though, the group's vocal performances are outstanding. "409" was never recorded in stereo so here on the stereo version of the record you get the echoey "Duophonic" take.
If you think Queen's Roger Taylor was rapturously in love with his car on the song of the same name, wait until you hear "Ballad of Old Betsy". There's an ode to Craig Breedlove's jet powered car Spirit of America and one about a car that looks good but doesn't perform ("No-Go Showboat"). The song is another toss-off but it has some interesting chord modulations.
The album's best song, "A Young Man is Gone", is an a cappella tribute to James Dean based on the melody from Bobby Troup's "Their Hearts Were Full of Spring" (and so credited on the label), with the song's lyrics reworked by Mike Love and a vocal arrangement originally used by The Four Freshman—Brian Wilson's fave vocal group.
The album ends with "Custom Machine" another number obviously written and performed in haste, but by this time the group had gotten so damn good that even its trifles were ear-pleasing. Because of the "Duophonic" tracks and the rushed nature of the production I'd go for the mono version. (Short Notice: the album runs but 25:25).
Shut Down Volume 2 (Capitol T-2027/ST-2027)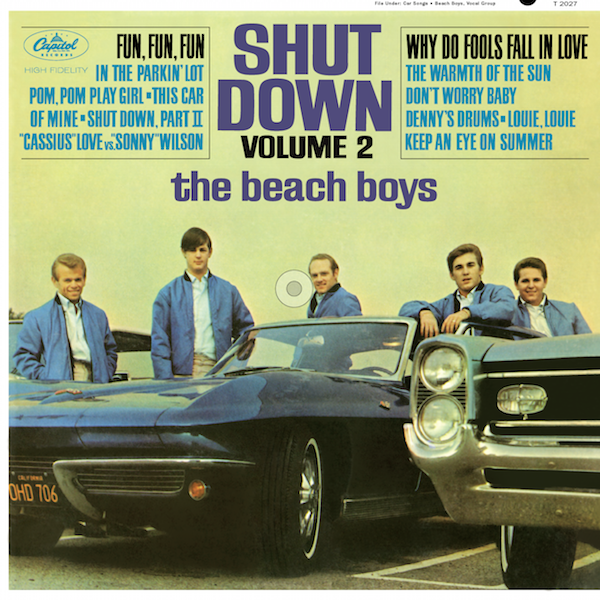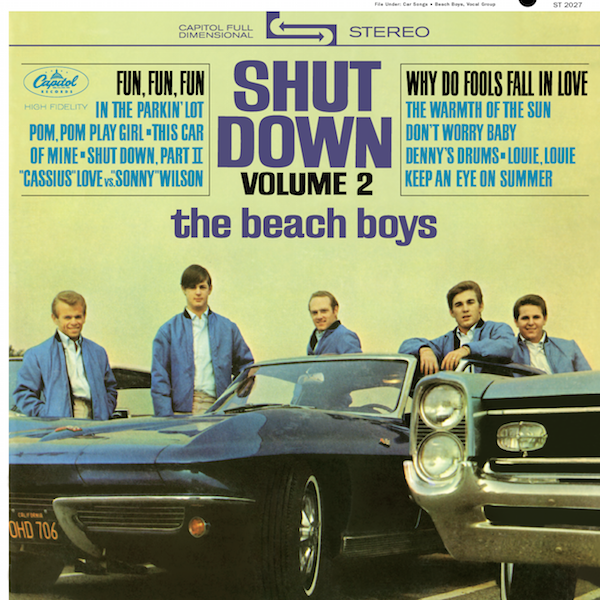 The Beach Boys' fifth album and their first recorded and released in 1964 (recorded Jan/Feb., released March 2, 1964). It had to be called Shut Down Volume 2 because of Capitol's unauthorized Shut Down album.
Though there are cars on the cover and it's a car-related album title, the record has few car songs. Like previous albums there are a few stunners ("Don't Worry Baby" and "The Warmth of the Sun") a great uptempo catchy pop hit ("Fun, Fun, Fun,") and a lot of filler like the eye-rolling "Cassius" Love VS. "Sonny" Wilson", a bland "Louie, Louie" cover with a nice Carl guitar break, another car love song ("This Car of Mine") an echo-y cover of Frankie Lymon and The Teenagers' "Why Do Fools Fall In Love" and the formulaic high school drama "Pom, Pom Play Girl". "Keep Your Eye on Summer" at least has soaring, ear pleasing harmonies even if the lyrics are more insipid high school stuff. The song "Shut Down II" is a not particularly inspired instrumental and the album ends with a drum solo from Dennis ("Denny's Drums").
The album was the first without David Marks, the first featuring a lead vocal from Carl ("Pom, Pom Play Girl"), and the first to use "The Wrecking Crew" ("Why Do Fools Fall In Love"), but overall, not a great way to start 1964, especially since "the you know whats" had a few months earlier been signed by Capitol! Even the production was at best so-so, with a lot of hard left/right pans so I'd go for the mono. (Short Notice: the album runs but 27:05).
Wrap Up
These first five Beach Boys albums include many timeless gems, but also a great deal of filler. Until The Beatles came along this was standard operating procedure for the small number of rock'n'roll album releases. Rock was a singles format. Albums contained the hit(s) and filler. Credit The Beach Boys for limiting the covers, if not the filler.
While early Beatles albums featured more covers, the group's curating of American music was sophisticated, inspired, and in some cases surprising. How many kids buying the early Beatles albums had heard of Arthur Alexander? Or The Marvelettes? Or The Miracles? Or The Shirelles for that matter? How many had heard "Chains"? Or "Baby It's You"?
Because The Beatles were more preoccupied with relationship songs (including forming "you-based" fantasy relationships with their teenaged female fans), while The Beach Boys were more interested in chronicling Southern California teen lifestyles and preoccupations, time has been kinder to the early Beatles catalog than to the early Beach Boys catalog. Plus, it's fair to say, early on, Brian Wilson was either not interested in relationship/love songs or he was steered away from them by Capitol, his dad, or the other band members.
The songs that go deep like "Lonely Sea", can still take you to places no early Beatles songs managed. There are more than a few of those from Brian.
Both Lennon and McCartney had unusual depth too, but neither had to contend with the talented but seemingly shallow Mike Love who tried to steer the music towards the mundane (though, to be give him his due, his re-working of the lyrics to that Bobby Troup song was powerful). It's not surprising that he wanted nothing to do with Van Dyke Parks' lyrics, but by that time Brian's power had grown and the competition from The Beatles required answering.
There's no deterring hard-core Beach Boys fans from these reissues, especially those who grew up with the original records and who want to hear them re-mastered for adult record players (if the first album is any indication). Since Capitol was lopping the bass off of Music From Big Pink in 1968, no doubt the label was doing same to all of these Beach Boys albums. These reissues restore whatever was really on the tapes—and given who was involved and where they were recorded, you can be sure the bass heard on these reissues was not added by Kevin Gray.
For those who are not massive Beach Boy fans but who wish to add to their collections a few of their early albums, I'd recommend the mono version of Surfin'USA and the stereo version of Surfer Girl
As for the quality of these reissues, it's quite clear that, whether or not you like the sonic results, Analogue Productions sets the reissue standard. The company insists upon using analog master tapes (where available), not analog copies, it uses the best available artwork, and packages in "Tip-on"™ jackets. It masters where the tapes are located using Kevin Gray in California, Ryan K. Smith in New York and Willem Makkee in Germany.
A word about record prices: in 1958 Audio Fidelity (the original, not the current reissue label) issued the first stereo LP. It cost $5.95. $5.95 in 1958 dollars is the equivalent of $48.12.





<!- ------------------------------------>