U-Turn's Remarkable $179 Orbit Turntable is A Crosley Killer!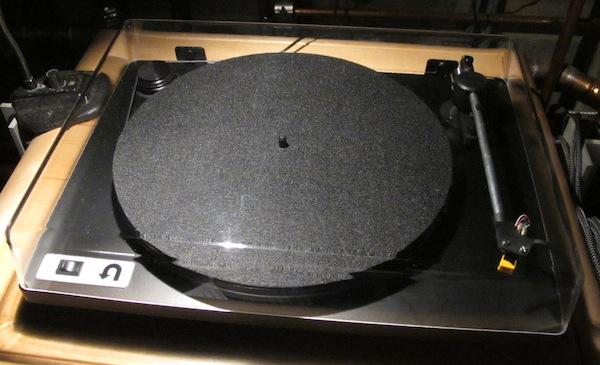 Investors in U-Turn's Kickstarter-funded Orbit turntable get more than their money's worth in this remarkably well-designed record player manufactured in Woburn, Massachusetts.
One can only imagine why the principles chose the name U-turn™, but I'd like to think it means a reversal of direction from the low resolution MP3 digital hell into which a generation or two has been led, back to high resolution vinyl heaven.
Everything about the Orbit, from the packaging to the well-engineered bearing system and tone arm demonstrate careful attention to detail and a thorough understanding both of what's involved in good turntable design and more importantly how to achieve maximum performance on a tight budget.
The heart of the Orbit is a smartly conceived platter bearing system. No doubt the designers did their homework and examined the more expensive budget competition before engineering theirs.
They chose an inverted bearing topped by a captured ball that's attached to a molded plastic recessed circular platform bolted to the nicely finished MDF plinth.
The "female" bearing element is of plastic and incorporates the spindle. It includes a bronze bushing with a Teflon insert at the point of rotation below with an additional insert up towards the ball end.
While this second insert would appear to increase rotational stability some designers would argue that the second insert is a mistake because it actually produces a second axis of rotation that can actually increase wobble, but in the context of a $179 turntable (and one more expensive as well) we are talking about a damn fine, highly stable bearing design that places the point of rotation well above the platter and the center of gravity well below.
The molded "female" bearing element also includes a tapered outer shaft terminating in an ample diameter platform upon which rides the MDF platter. The taper and platform produce sufficient stability to prevent platter rocking.
Platter drive is via a 24 volt A.C. motor to which is attached a two-step Delrin pulley for 33 1/3 and 45 speeds and a silicone O-ring belt that rides on the platter periphery.
The drive assembly is effectively plinth-decoupled via a circular viscous element. The advantage of the design is excellent noise and vibration isolation. The disadvantage is that the pulley's inevitable movement varies the distance between it and the platter, which varies slightly belt tension and thus potentially affects speed stability.
In my opinion this is yet another worthwhile and smartly chosen trade-off.
Though the plinth itself is rather "lively" if you tap on it while a record plays, the three rubber upon which it rests provide surprisingly effective isolation from the outside world. In fact, it was better than some very expensive turntables I've reviewed.
The 8.5" (effective length) tone arm is as ingeniously simple and as smartly designed as the turntable, though there's no anti-skating. It's uni-pivot featuring a money-saving "pyramid" of ball-bearings instead of the usual and generally more costly jeweled cup, with a bushing-restricted azimuth angle feature (similar in concept to Simon Yorke's) that gives it the confident feel of a gimbaled bearing arm at a fraction of the cost.
The aluminum pipe terminates in front with an offset head shell of some kind of polymer and in back it just ends. Hanging from the back via a polymer ring is an under-slung cylindrical counterweight secured with a plastic grub screw. The counterweight places the center of gravity well below the uni-pivot point for greater stability.
The armrest features a soft, molded rubbery lock that secures the arm in place. The cartridge clips are robustly sized and shielded in plastic so if and when you decide to upgrade the cartridge, you're not likely to break one off. Termination is via RCA jacks on a plinth-mounted metal box. U-Turn supplies a set of RCA plug terminated cables but feel free to roll your own.
Out of the Box, Up and Running In Minutes
From the time you open the box to when you're spinning records should be but a few minutes, so nicely packaged and well-thought out is the carton's internals. I checked the stylus pressure and it was 2 grams, which is just about in the middle of the cartridge's 1.5-3gram range.
My only complaints as I set it up was that more emphasis should have been placed on putting the 'table on a level surface. It's in the hints but you know how people who are excited do things. It's critical and a bubble level should have been suggested because otherwise what's "level"?
Another minor quibble is that it should say in the instructions to "remove the stylus protector" since those new to this might not know there's one on there! In addition, I understand that the 'table can come with one of a few cartridges, but it's also important to show how to remove each particular stylus protector.
The stylus guard of the $25 Audio Technica CN5625AL conical stylus equipped cartridge that comes with the Basic model slides forward but I thought it pulls down and off and in the process the stylus assembly came loose. Now I don't panic when that happens, I just popped it back but imagine a kid doing that! I feel for you buddy!
Oh, and the advice in the instructions is to blow off the dust from the stylus every so often. I don't think so! I know the U-Turn folks want to keep this simple and fun but that's like people instructions coming with the suggestion to "brush your teeth every so often!" Good vinyl hygiene should begin immediately (end of lecture).
After letting the platter spin for an hour or so I checked the speed accuracy. Playing at the correct speed is job number one. The U-Turn spins accurately at both 33 1/3 and 45rpm. I used the Feickert Platter speed app and the 3150Hz test tone registered 3147.1, which is outstanding. The raw frequency deviation was significant at around ±.5% but once it was low pass filtered to remove record eccentricity induced wow it was down to very acceptable levels especially for a turntable at this low price.
<!- ------------------------------------>