The Technics SL-1200G Direct Drive Turntable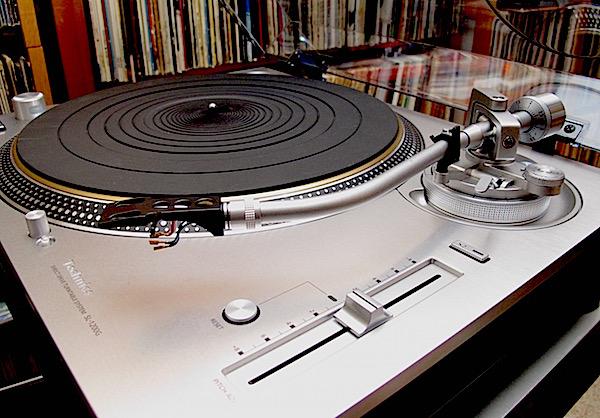 The original Technics SL-1200 direct drive turntable introduced in 1972 enjoyed a thirty-eight year, six generation run. Technics sold more than 3.5 million of them. In October of 2010 just as vinyl was staging its unlikely comeback, parent company Panasonic pulled the plug on the SL-1200 Mk6.
Some speculated the move was caused by worn tooling or that production costs had soared or that the market was saturated with used SL-1200s or that with D.J.s "going digital" the market was collapsing. Whatever the reason or reasons, it marked the end of an era that even vinyl haters recognized as remarkable.
Then, at C.E.S. 2016 much to the delight of turntablists world-wide, Technics announced a return to the turntable market with a brand new SL-1200 aimed not at D.J.s but at audiophiles.
There were two "Grand Class" models: the 1200G and the limited to 1200 numbered units 1200GAE edition (long since sold out).
Other than a different magnesium tone arm finish and of course the "limited edition" plaque on the GAE model, the two models are identical.
Among some SL-1200 fans, the announced $4000 price turned delight to outrage. It was, after all "just" an SL-1200 so obviously Technics was 'price gouging'. Among non-fans, any turntable that looked like an SL-1200 was a non-starter. What audiophile wants a disco turntable?
For its part, Technics obviously felt that losing the iconic look would be a foolish industrial design choice. Its job would be explain to the public that while some technical design aspects have been retained along with the iconic look and functionality, the new SL-1200 is in many ways a new from the ground up turntable.
Frankly, the blowback on the analogPlanet YouTube channel was instructive. It demonstrated just how little knowledge some posters had about vinyl playback and especially about the new SL-1200G, which though it looks like the old 1200 is anything but!
However, in terms of features and functionality it is very much like previous 1200 iterations. The speed can be "locked in" or unlocked and easily varied via a top-mounted slider, though now pushing both 33 and 45 buttons gives you 78. The arm features the familiar rotating and locking VTA adjustment. Any 1200 veteran will know just what to do.
The New Coreless Direct-Drive Motor
As with "digital" where proponents think spouting "Nyquist" proves an open/shut case for CD perfection, direct drive proponents also have their slogans but as Technics points out in the SL-1200G literature, while direct-drive has some obvious theoretical advantages over belt drive designs, including lower wow and flutter, direct drive motors suffer from torque ripple, also known as cogging.
Actually virtually all brushless motors produce cogging, which is caused by torque variations produced as the motor shaft rotates and the rotor's permanent magnets interact with the stator (coil windings). Belt drive systems do a good job of minimizing the effects of cogging by isolating the motor and platter with a belt. In direct drive systems the torque ripple/cogging whatever you want to call it happens within the platter itself so despite the great wow and flutter measurements, the sonic effects of the cogging are easily heard.
Technics' new direct-drive motor eliminates the magnetic core previously found within the stator coils of previous designs. This design eliminates the attraction force between the cores and magnets and thus the motor is free of non-uniform magnetism. The downside is low torque. In some ways this is similar to moving coil cartridges featuring non-magnetic cores around which are wound the coils. They are lighter and thus more responsive, which is good, but they produce far less output.
The new coreless motor uses twin rotors fitted with permanent magnets in a sandwich design with the coreless stators above and below. This produces about twice the torque of the SL-1200 Mk6's motor yet with a reduced bearing load. By narrowing the rotational shaft's clearance relative to the bearing to the same or lower than that of the legendary SP-10Mk2's motor system, Technics engineers have significantly reduced rotational micro-vibrations. New self-lubricating impregnated metal bearings help produce a maintenance-free motor drive system.
These are all significant and costly to engineer and implement upgrades, which makes all the more ridiculous the online whining from people complaining about the price increase. Only those who don't consider and/or understand what's taking place within the record groove could dismiss all of this.
New Motor Controller System
Technics incorporates motor controller technology originally developed for Blu-ray disc players. The SL-1200G's motor controller incorporates a reference clock that's three times as precise as that of the SL-1200 Mk6. There's more to the encoder/detector system but I can see your eyes glazing over so I'll stop.
New Platter and Tonearm Precision
The SL-1200G's platter is a three-layer construction of diecast aluminum topped with a thick brass top plate and an elastomer damping material attached to the platter bottom. At nearly eight pounds, the platter weighs more than twice than that of the SL-1200 MK6's and is said to achieve an inertial mass surpassing that of the SP-10Mk2.
The tonearm may look like the same one used on earlier SL-1200 iterations but it is not. For starters the tube is of cold drawn magnesium, not aluminum. Magnesium has natural damping properties, which makes it ideal for a tonearm tube. The high-precision gimbaled bearings are manually assembled and adjusted. Technics provides additional counterweights that attach to the main one to provide for an unusually wide range of cartridge weights from 10 to 19.8 grams.
The new 'table's base is a four layer construction, three of which are reprised from the Mk6 (rubber base, diecast aluminum chassis, bulk rubber compound) plus a 10mm thick aluminum top plate that's individually cut and polished. The footers are of a complex construction including silicon rubber and a newly developed cylindrical microcell polymer tubes that fit within a zinc diecast housing.
Hand Built
"The playback mechanisms for analogue records are extremely simple, and so mechanical precision in every part is directly linked to sound quality".
Those words are in the well-produced SL-1200G brochure and they are worth remembering, particularly by the knuckleheads posting simple-minded drivel on the analogPlanet.com YouTube channel!
If you buy an SL-1200G, Technics claims it's been hand-built and carefully inspected, down to the precise slit-width of the encoder that's critical for accurate speed control.
The tonearm, platter and other critical parts are manufactured in Japan with final assembly in Utsunomiya. Technics claims (as do many in this field of manufacturing) that what's being produced today would have been impossible when the original SL-1200 was introduced. I never owned an original SL-1200 but there's an early iteration or three at the WFDU radio station from which I broadcast the AnalogPlanet radio show. At a quick glance those look similar to the new 1200G but the closer you look the more you appreciate the differences, even of just "fit'n'finish", which alone are considerable.
Specs and Operational Details
The SL-1200G plays all three speeds with a pitch adjustment range of ±8%, 16%. It can reach stable 33 1/3 speed in .7 seconds. Wow and Flutter is spec'd at 0.025% R.M.S., with rumble spec'd at 78dB (IEC 98A weighted).
The "S" shaped arm is a static balance design (meaning the center of gravity is on the axis of rotation), which means tracking force will not deviate as the arm rises and lowers on a warped record—a good thing. The arm's effective length is 230mm (9 1/16th inch), with a 15mm overhang (meaning that the actual length is 215mm (8.46").
For some reason some individuals insist that the arm was "made for the Stevenson alignment". Or "works best" with the Stevenson alignment. These are ridiculous assertions in my opinion. I set up the arm for Lofgren "A" and was quite happy with the results. This produces a somewhat longer overhang and the cartridge is not "straight" in the head shell. This is not a problem! Though you will read some online knuckleheads claiming it is. The Stevenson alignment produces the lowest distortion only at the innermost groove area and far more elsewhere. That's a measurable fact.
The SL-1200G is operationally similar to decade's worth of 1200s in terms of set-up and use, including sliding pitch control and all of the other features, some more useful than others for audiophile-style playback but none of which are deleterious to high performance.
The 'table comes with a full plate of accessories including a thick rubber mat, dust cover, RCA cables etc. I ran the 'table "stock" for a while and then played with various accessories including mats and record weights.
In case you were wondering if the arm was tailored for high compliance moving magnet cartridges, I can tell you that I used, among other cartridges, the Lyra Etna SL and when I measured the horizontal and vertical resonant frequencies using the Hi-Fi News test record, both measured between 8Hz-and 9Hz, which means yes, you can use the SL-1200G with your favorite low-medium compliance moving coil cartridges.
I also chose at first to use the 'table as set at the factory in "auto mode" meaning it automatically adjusts startup speed. A "manual mode" lets you manually adjust startup speed as well as the torque gain at constant speed. You can also adjust the brake speed (time it takes for the platter to stop spinning). These adjustments are easily accomplished with a flat blade screwdriver through a hole in the platter.
Here are the excellent Platterspeed measurements with the 'table in "auto mode":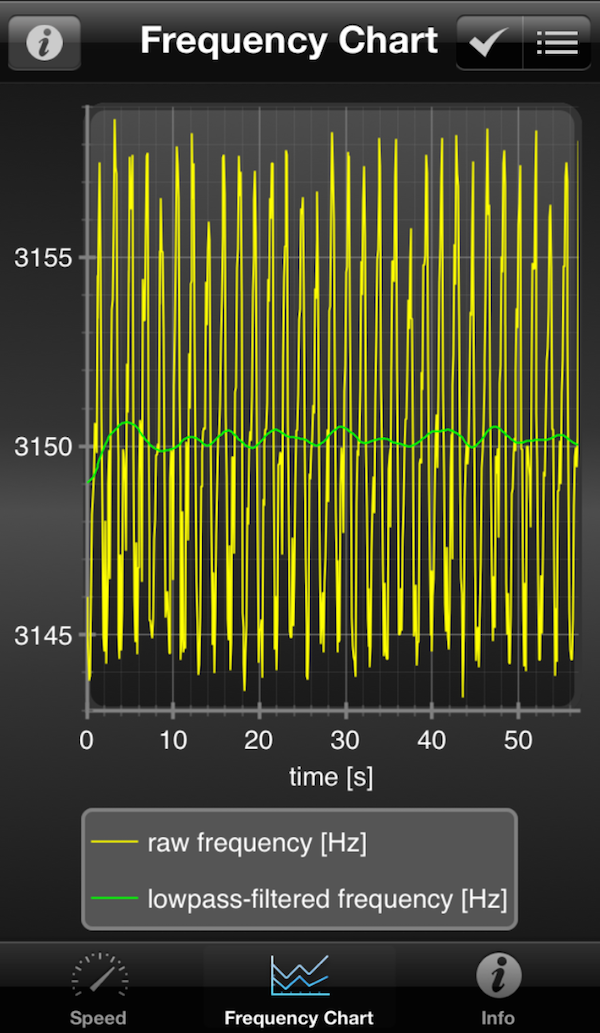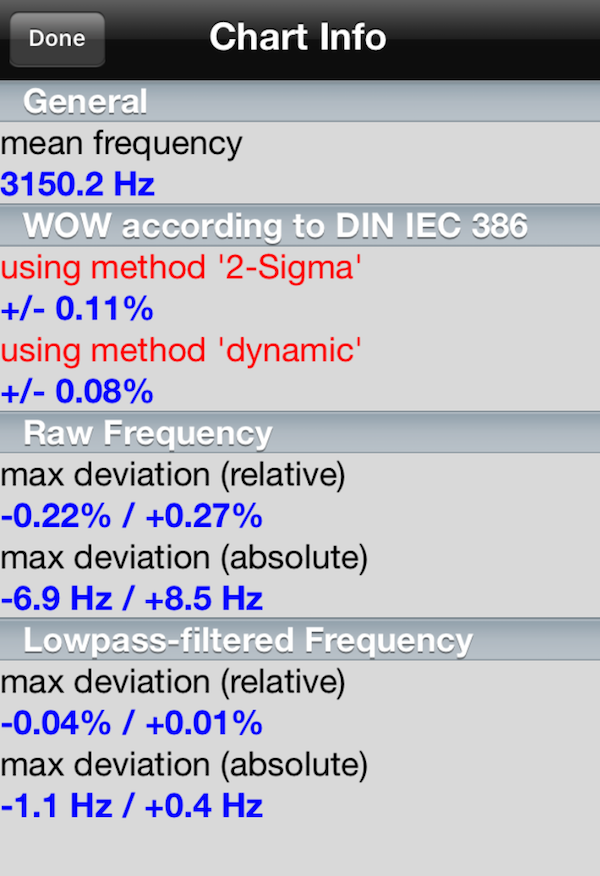 Those are of course excellent numbers by any definition but please note the green line hills and valleys. That is probably the minor, but continual speed correction that some claim is heard as a slight bright edge. And if you look at the YouTube comments that's what some post. Others though, like the somewhat brighter sound, whatever the cause.
There are those who claim the sound can be somewhat "relaxed" by lowering the torque setting, which is easily done through a hole in the platter that gives you access to adjusting start up and braking speed as well as torque during playback. So I reduced the "play torque" somewhat, listened and took these measurements: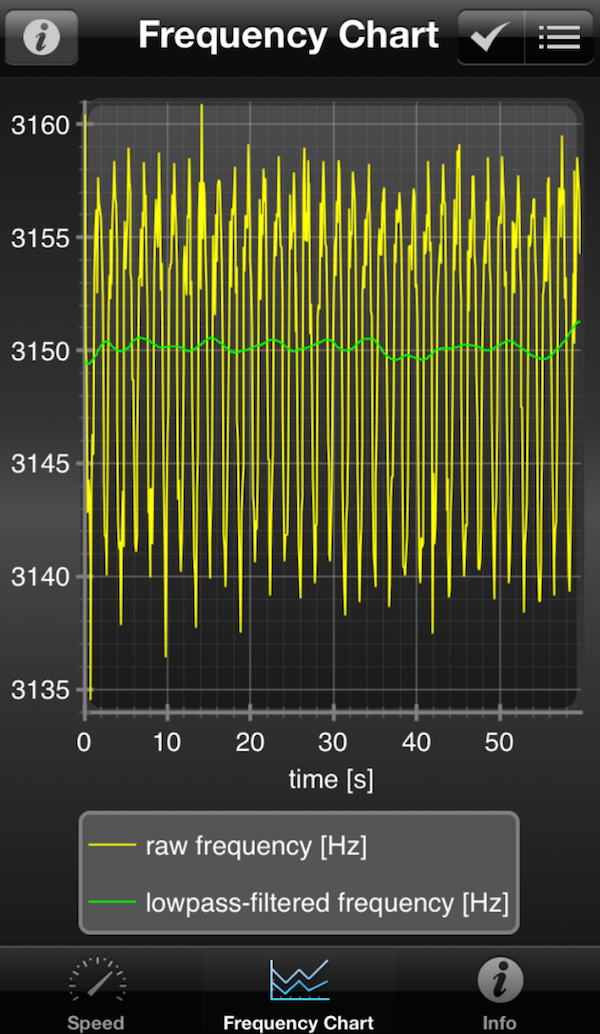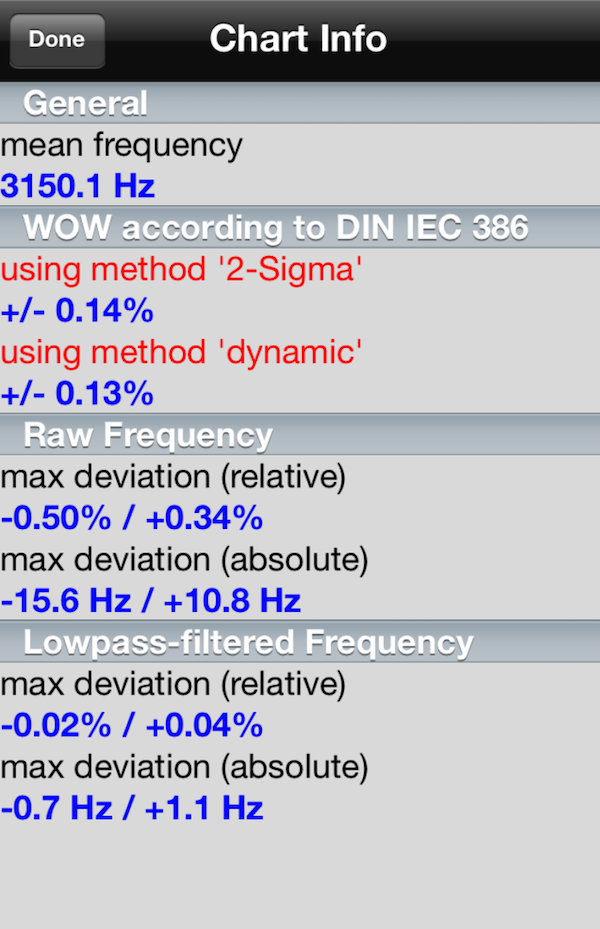 As far as sonic differences, they were not what I'd call major. I wouldn't want to be subjected to a blind test (actually I never again want to be subjected to one because even if you "pass" they find a way to make you fail if the results aren't what they were expecting). However, look at the graph and chart info: by almost every measured metric the "relaxed torque" measurements are inferior. So I think Technics is correct when they say in the manual that you can maximize performance by leaving the 'table in 'auto mode' and not messing with anything, but suit yourself!
Tweaks You Can And Should Do
The first thing you should do it remove the ribbed rubber mat. I replaced it first with the 5mm Funk Firm Achromat (compensating for the slight VTA change) and then with a new mat from Stein called "The Perfect Interface" Carbon edition. This is a thin mat of "special paper from the tapa cloth tree. It is so thin no need to adjust VTA. I was so surprised by the difference between the Achromat and this ultra-thin mat, I next tried the same record (the $555 ERC version of Tommy Flanagan's Overseas [ERC021]) directly on the brass platter!
Don't bother with that. "The Perfect Interface" produced an increased transparency, blacker backgrounds but especially transient precision that was easy to hear don't ask me why that should be but it was easily audible.
Next up was a leather and cork mat from wooden bull, manufactured in Ireland. Definitely produced a softer, warmer more mellow sound! Now if you find the sound of your SL-1200G bright or hard with your chosen cartridge, that might be the one. However, with the Lyra Etna SL, the Stein mat was the one for me.
Another option I've heard mentioned is a replacement head shell. I was gifted a few years ago a beautifully made graphite head shell from the Italian idler wheel drive turntable manufacturer audiosilente that I finally could try. Big improvement. It added mass of course, which for a medium to low compliance cartridge is definitely beneficial in this arm.
While the resonant frequency of 8Hz is "in the ballpark", it would be better to have it up between 9-10Hz. The added mass brought it to around 9Hz. Also the wires are better and the clips and head shell interface are gold plated, plus the thick graphite is a better cartridge body interface.
The Technics SL-1200G is a fine performer as delivered, but maximized with the Stein "The Perfect Interface" and the audiosilente graphite head shell, produced a more exciting and inviting vinyl ride.
The bottom octaves were well-controlled with just a small amount of "hangover" compared to the way more expensive Continuum Caliburn. The midrange, especially with the Stein mat was presented exceptionally cleanly and generously, though free of "warmth" induced colorations. The top end was neither accentuated nor suppressed, though the overall sound can be somewhat dry. The brightness some complain about (and some like) can be somewhat reduced by reducing playback torque. The measurements show what was obvious while listening: the SL-1200G excelled rhythmically and if the record was concentric, pitch stability was exceptionally good.
Ron Carter's album All Blues (CTI 6037) tests the 'table in many ways. Of course the Rudy Van Gelder recording stars Carter's bass, which is given a bit more emphasis than it would be had Carter been a sideman on the date, but it's got Joe Henderson on tenor sax, Roland Hanna on piano and Billy Cobham on drums. This 1973 session was not a Blue Note type recording. Instead instruments were isolated with Cobham hard right, Carter and Hanna center and Henderson center-left (then center). Carter plays both double and piccolo bass (overdubbed).
The heavy bass energy could sink a lesser 'table. The SL-1200G delivered well both the bottom octave energy of the stand up bass and the "pluckier" piccolo bass. The Pure Pleasure reissue is one of the label's better sonic efforts (mastered by Ray Staff at AIR) though for some reason he or someone got the channels reversed.
Nonetheless it's a good re-master (though not as good as an original) that's subtly different from the original on bottom where it's slightly thicker. I was curious to hear if the SL-1200's bottom end control was sufficiently effective to present the differences. It did.
This 'table's dynamic expression bettered that of some far more expensive turntables, which in turn bettered the Technics in terms of liquidity and musical flow, an area where I think similarly priced belt drive 'tables excel. Conclusion
I spent a great deal of time listening to the Technics SL-1200G. That's one reason it's taken so long to get this review online. From an audiophile perspective there was a great deal to really like, particularly the 'table's neutral tonal balance, especially compared to those that are "tuned" to produce a particular noticeable but pleasing coloration. I also really liked the SL-1200G's ballsy dynamic expression. It's not at all polite, but it is well-controlled.
I don't like the number of signal breaks necessitated by this detachable head shell design, one also found on some SME arms, but that's a very minor issue, especially considering how good this 'table sounds, how well it is built, how carefully thought out were the upgrade goals and how well they were accomplished. The SL-1200G is more than competitive at this price point. in fact, had Technics really started "from scratch" and not had a more than forty five year history building SL-1200s, I don't see how this turntable could have been brought to market for $4000, a fact that makes the carping and bitching crowd sound doubly ridiculous. If you look at a Technics SL-1200G and see a disco turntable in need of scratching, well, that's your problem.
<!- ------------------------------------>