StylusTimer is a Handy Cartridge Odometer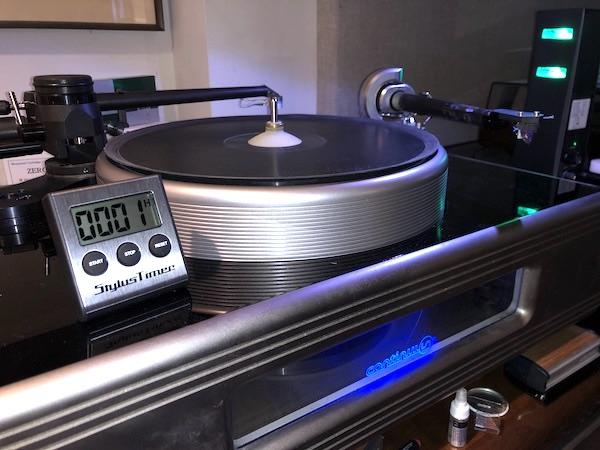 While there's some debate about how many hours a phonograph cartridge stylus lasts and how often it should be replaced, one thing's for sure: not keeping track of your cartridge's "mileage" makes difficult knowing when the time's come for a re-tip or replacement.
The just introduced and soon to be available StylusTimer aims to make it easy to know precisely how many hours your stylus has put in. The Turntable Odometer™ is a device invented by syndicated "Sound Advice" columnist Don Lindich. It's an hours-based timer that you place close to or on top of your turntable. Push "start" when the stylus hits the record. Push "stop" when the record ends and you wake up and raise the cueing lever. The important thing is to train yourself to remember to push "start" at the beginning and "stop" at the end. When you push "start" there's a single "beep" and the "H" (for hours) begins to blink. Push "stop" and there's a double beep and the "H" stops blinking. When it's time to change its single AAA battery (not included) the StylusTimer will remember the mileage. Hold the "reset" button for more than 3 seconds and the StylusTimer resets itself to "0" hours.
Just remember when you begin using the device that it's an hourly timer so when you hit "start" for the first time numbers won't start flipping! It's priced at a very reasonable $19.95. For more information visit the stylusTimer website.
So how long will your stylus last before it needs to be re-tipped or replaced? A reasonable time estimate is about 1000 hours, though both record and stylus cleanliness have a big impact on the "hourage". Dirty styli and records will reduce your stylus's lifespan while clean styli and records will increase it. Wear on "severe profile" styli usually can be heard as a loss of detail and softened transients, as over time the stylus's sharper contours "round out". There's less of a danger to your records than there is a lessening of your listening pleasure.
With StylusTimer, assuming you remember to use it every play, you'll eliminate the guesswork and know your mileage. If you have two arms on your turntable or various cartridges on changeable head shells, you'll need more than one StylusTimer and you should label each of them. If he hasn't already, I can almost see Mr. Lindich thinking of new, enhanced versions. At $19.95 each, having more than one on hand shouldn't be a problem for any record lover.
<!- ------------------------------------>