It's Just Wire (REVISED FILES)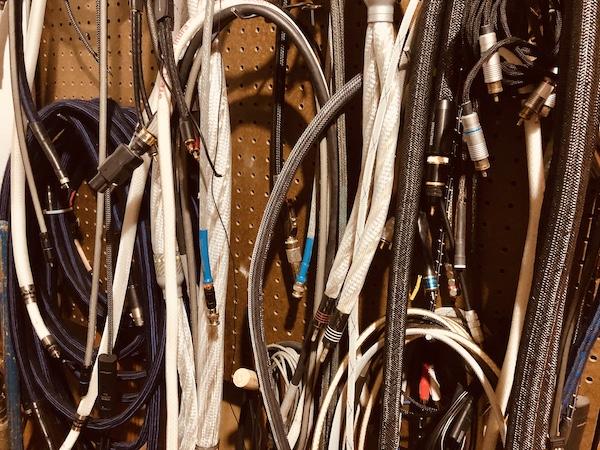 Thanks to all who listened and participated (so far) including those who correctly criticized me for having channels reversed on two files. I posted in haste. Also I should not have "normalized" the files and should have instead posted them "as-is" so the only possible variable was the cable. Also the track lengths are now as close to identical as possible.
The files below have the channels corrected and they are not "normalized" as they were the first go round. That was a mistake. In other words, the only difference between the four files is the cable going from the tone arm to the step-up transformer except for one file, where it was a "straight shot" from the cartridge clips to the RCA plugs. If there are level differences they are caused only by the cables. If there are variable inter-channel level differences, those too are from the cables. The criticism from an AnalogPlanet troll (whose name shall not be mentioned) that the levels among the files should have been equalized is on its face absurd and his claim that he was able to measure the azimuth and that it was "off" is even more absurd. So please listen again to the newly posted files below .
Someone on a Facebook group was asking for some help with new phono cables. One of the responses really annoyed. The guy dismissively wrote "It's just wire". And "do you think anyone in a recording studio uses $400 wire?".
I chimed in (and I'm paraphrasing) "There's no need to be snarky. Phono cable isn't used in studios unless there's a turntable. And many electrified musicians do care about cables when they record and onstage. The correct answer would be something like "make sure it's well-shielded and low capacitance and specifically designed for that purpose."
One response said something like "we're not talking abut expensive cables". Nor was I of course, but for him my name was talking. It started devolving from there as cable discussions always do, so I got out of there quick and decided to give you something to do while quarantined:
I recorded a minute and change of the same track (you'll know it but I'm not going to indentify it) using four different cables from the Kuzma 4 Point arm into a step up transformer (one costing$5700) feeding the Ypsilon VPS-100 phono preamp. Or maybe I'm fooling you and it's the same recording put here four times differing slightly in length just to fool you.
Well not really. It's four different cables. One of the recordings uses the Kuzma's "hard wired" cable, the brand of which I'm embarrassed to write I don't recall. Kuzma offers numerous options including Crystal Cable, and at one time Discovery Cable as well as super costly Kondo silver. I think mine is Discovery. It has two sets of wires going from the tone arm clips: one set goes straight through to the RCA plugs. The other one terminated in a junction box with RCA jacks so I can "play" with phono cables and review different ones. As long as you don't connect both sets simultaneously, there's no sonic downside to having this option.
This description is not in 1,2,3,4 order: One of the short recordings is the "straight through" connection. A second one is a very costly new phono cable probably costing well over $5000. A third is another costly cable selling for $4500. The fourth costs around $15.00 and features gold plated plugs, oxygen free copper conductors and EMI and RFI rejecting OFC spiral shields.
In other words, there are three costly cables and one cheap one. Please listen and hear if one stands out as being not nearly as good as the others, or maybe they all sound the same to you, or maybe you hear differences that you consider major or minor or whatever! By the way, the cartridge used is the Fuuga MC I wrote about back in 2015 after returning from The Consumer Electronics Show that year.
Two years ago at a show in Japan I was honored when the designer Osamu Nagao handed me the cartridge. I finally got around to giving it the attention it deserves. The full review will be in an upcoming Stereophile. I think this short excerpt will wow you! This is not a formal "vote" type exercise but your feedback and guesses are most valuable so please! Besides, what else have you got to do?
Here are the files:
There's another test like this one here
<!- ------------------------------------>