Air Force Zero Turntable Debuts: If You Have to Ask Price, You Can't Afford!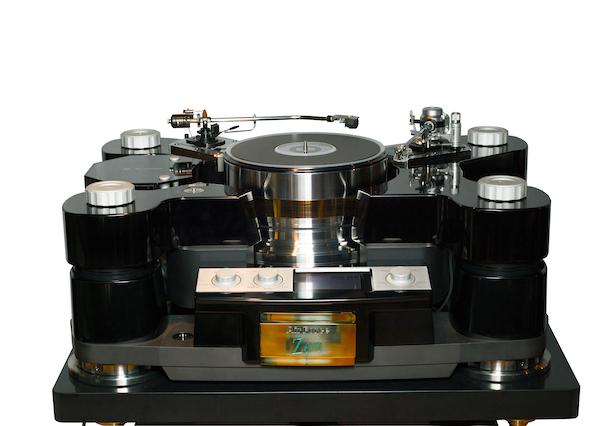 TechDAS debuted the Air Force Zero turntable at a recent (March 16th) event in Japan that commences a "world tour" for the 771 pound turntable (not including power supply and air pumps) that will make its American debut April 9th and 10th at The Audio Salon in Santa Monica California. It will next appear at Munich High End May 9-12th.
The base frame of stainless steel weighs 220 pounds. The platter base of extra super duralumin weighs 77 pounds while the combined weight of five (count them) five platters weighs 260 pounds. Broken down there's a bottom 66 pound platter of forged stainless steel atop which is a second forged stainless platter weighing 44 pounds, topped by one of gunmetal weighing an addition 44 pounds, topped by a fourth forged stainless platter weighing an additional 44 pounds followed by a top platter of powdered sintered Tungsten weighing 61 pounds.
Belt drive is via a 3 phase 12 pole AC synchronous limited edition German Pabst motor. An electric motor powers the built in air suspension system. There are three power supply/air pump units weighing a total of 83 additional pounds. Dimensions are: 35" (W)x26" (D)x13" (H).
If you have to ask the cost, you cannot afford it but $300,000 is probably a good guess and there will be buyers.
<!- ------------------------------------>