All-Analog Reissues of Early Reprise-Era Fleetwood Mac LPs Coming From Rhino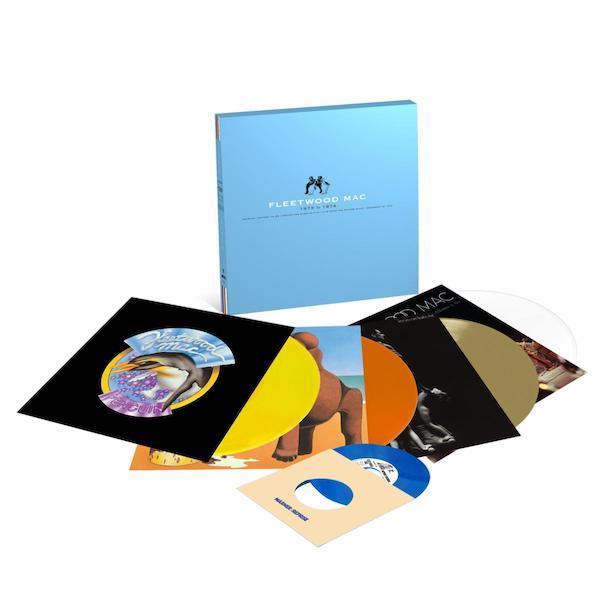 Rhino will release on September 4th two new early Fleetwood Mac box sets: an 8 CD set
Fleetwood Mac 1969-1974
that includes 7 studio albums plus an unreleased 1974 concert, and two versions of an all analog 4 LP+ 7" single set cut from the original master tapes by Chris Bellman at Bernie Grundman Mastering.
The 8 CD set covers the five year span during which the core band of Mick Fleetwood, John McVie and Jeremy Spencer were joined on the various albums by Danny Kirwan, Christine McVie, Dave Walker, Bob Welch and Bob Weston. The albums are Then Play on, Kiln House, Future Games, Bare Trees, Penguin, Mystery to Me and Heroes Are Hard To Find. The CD set also includes a December 15, 1974 Record Plant, Sausalito concert simulcast on KSAN-FM, San Francisco.
The 4 LP all-analog box set Fleetwood Mac 1973-1974 cut by Bellman and pressed on 140g vinyl includes the unreleased live concert along with Penguin, Mystery To Me, and Heroes Are Hard To Find along with a 7" single "For Your Love" (Mono Promo edit) and on the flip side the previously unreleased "Good Things (Come To Those Who Wait)".
The second version of the LP box set is a limited edition color vinyl set available exclusively on Rhino's website.
My suspicion is that original tapes or any good usable tapes were unavailable of Then Play on, Kiln House, Future Games and Bare Trees and that's why they weren't included in the vinyl box set, because in my opinion those are the best of this time period that ended just before Buckingham/Nicks joined the band. If you are unfamiliar with those post blues band/pre pop band Fleetwood Mac, you are in for a treat if you can find clean used copies. The band had an almost Fairport Convention-like folky, wistful sound. Future Games recorded by Martin Rushent at Advision is particularly well-recorded. None of these records charted well but they are musically well-worth checking out.
<!- ------------------------------------>