Analog Corner #26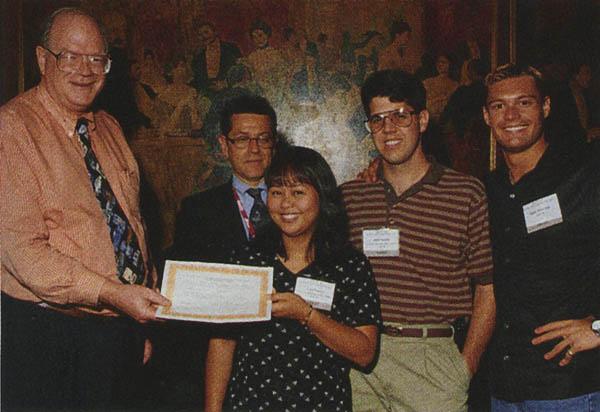 (Originally published in Stereophile, September 12th, 1997)
I've been reading your column for about a year now and I've always thought you were full of shit!" an attendee cheerfully volunteered at the conclusion of the "Vinyl in the '90s" seminar I hosted at HI-FI '97. So it's that kind of gathering, I thought to myself, remembering how the hour had commenced with an audience member accusing panelist Steve Hoffman of messing with the master tape of Nat King Cole's Love is the Thing for DCC Compact Classics' superb-sounding vinyl and gold CD reissues.
"But at this Show I got to hear records for the first time," the young reader continued, "and you're right! Records do sound better than CDs—much better! Now I have to get a turntable and start buying records! What should I buy?"
"Well, how much can you spend?," I asked.
"Cost is no object."
"Well then, call Andy Payor at Rockport Technologies and order yourself a Sirius III record player for $53,000."
"Cost is an object!" he shot back faster than you could say "second mortgage."
"Well then, you've got a hotel's worth of choices and a day and a half to make up your mind," I told him. "Check out the VPI TNT Mk.3, the Basis 2000 series, the Immedia RPM-2, the Oracle Delphi, and the others that are here—I can't tell you what to buy."
Shop 'til you stop
I can't tell you what to buy either, but I can tell you that if you were in the market for analog gear, HI-FI '97 was a great place to go shopping for it: the Show was loaded with the new, the familiar, the commonplace, and the exotic. In fact, though this might sound self-serving since analog is my beat, I thought the big news at the Show was the "mainstreaming" of vinyl and the gear on which to play it back—it was all over the Show, and in some unlikely places.
Fer instance: Denon's Stephen Baker pulled me aside to say that a new Denon manual turntable (the DP 900M) was on its way from the airport and that I should come check it out. I did. It was a beautifully finished, $S-armed, rosewood-based, direct-drive model selling for about $1100. Maybe not your idea of an audiophile's wet-dream spinner with its standard bayonet headshell mount, but Denon's been into analog for a long time. And while the company produced the first PCM-recorded LPs in the late '70s, it never abandoned the old technology. Anyone who's ever heard a Denon 103D cartridge knows the company has the chops to produce great analog. And if the 'table shows up in a few stores that might not otherwise bother with the old technology, it could end up dragging some folks back into black.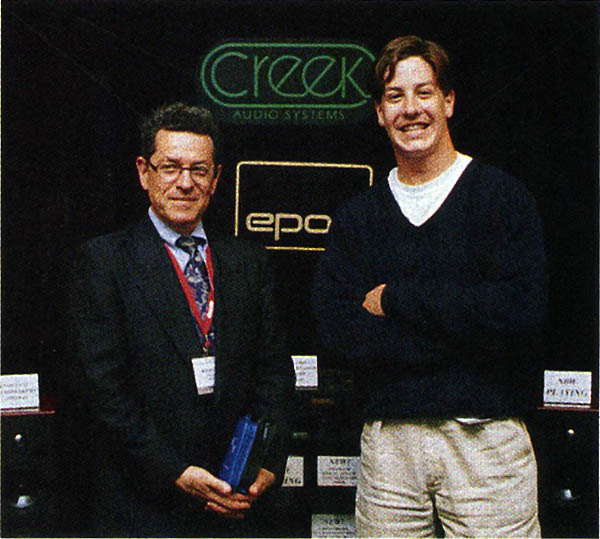 That was interesting, but what really had my head spinning, my ears soothed, and my special parts tingling was what Nagra was showing. No, I'm not talking about the company's open-reel, 4-track, 20-bit digital recorder—though that was making great sounds courtesy Peter McGrath's master tapes in the EgglestonWorks room. I'm talking about a Nagra vacuum tube, (rechargeable) battery-powered preamp built around a superb-sounding phono section based on a moving-coil transformer.
Yes, the Swiss company, currently making a big name for itself in professional digital audio, has taken the plunge into consumer gear with its PL-P preamp. The PL-P is a gorgeous-looking piece of audio jewelry—something like a Nagra IV-S analog reel-to-reel deck—with insides to match. Driven by an Immedia RPM-2 'table, Immedia RPM arm, and Lyra Parnassus DC combo, the PL-P produced a lush, detailed sound that, even under Show conditions, rendered low-level details and microdynamic musical gestures with exceptional grace and fluidity. Given Nagra's experience winding coils for its tape heads, it's not surprising that the transformer-driven phono section would offer high resolution and low distortion. The only thing missing was a Mono button. Vinyl fanatics willing to spend about $10,000 for a preamp expect that much. (I get it for about $2500 with the Audible Illusions Modulus 3A.) [Production Nagra PL-Ps will feature a Mono button, as well as variable cartridge loading and EQ—Ed.]
The Nagra belongs with the budget gear compared to what another custom coil-winder, Audio Note, was showing. How 'bout a $10,000 cartridge that uses an outboard-powered field-coil magnet in place of permanent magnets? The unit puts a full ampere of current through the coil, for that "warm" analog sound—literally! "Makes records sound like master tapes," said Audio Note's Herb Reichert. The company was unwilling to put its money where its mouth was, though: the cartridge was on static display while copies of master tapes were played on a restored vintage Ampex in another room.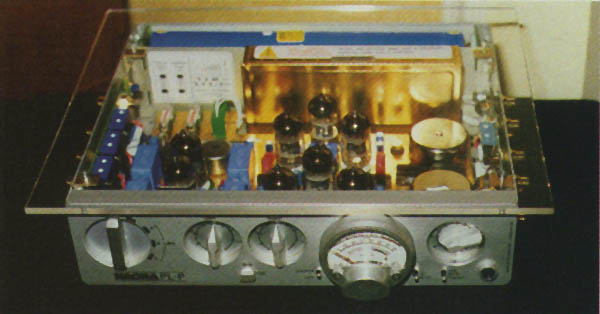 Also sitting on a table for heavy-duty ogling: a $125,000 Audio Note phono preamp with an inductor-based RIAA network and "as much iron as possible instead of caps and resistors" in the circuit, accorded to Reichert. Where caps have to be used, they're handmade, using silver. For $125,000, Audio Note should dispatch a guy to your house to play records for you.
There were "budget" full-function phono preamps on the table too, priced at $25,000 and $2500. But get this: all of them are moving-magnet only. You have to append a transformer to play moving-coils, and those add from $400 to $10,000 to the sticker price. Audio Note also demoed some inexpensive MM cartridges ($200 and $300), a modified Rega RB 250 arm with Audio Note copper cable, a $799 Systemdek-based turntable, and the Oto integrated amp with built-in MM phono section ($2495).
Back in the real world, Ron Sutherland of Sutherland Engineering showed his Acous-Tech PH 1 MM/MC phono section, which he designed for fellow Kansan Chad Kassem. Chad will sell the $1200 unit factory-direct through the Acoustic Sounds catalog. If the beautifully built unit sounds one quarter as good as the $6800 Sutherland PH-2000 I'm currently evaluating, it will be quite an achievement and a great value.
Speaking of value, Balanced Audio Technology introduced the VK-P5, a 10-tube balanced phono section that includes much of the technology in the VK-10 for half the price ($1995). The VK-P5 uses the same RIAA network as the 10, zero negative feedback, separate transformers for each channel, and complete resistive loading and capacitance adjustment facilities.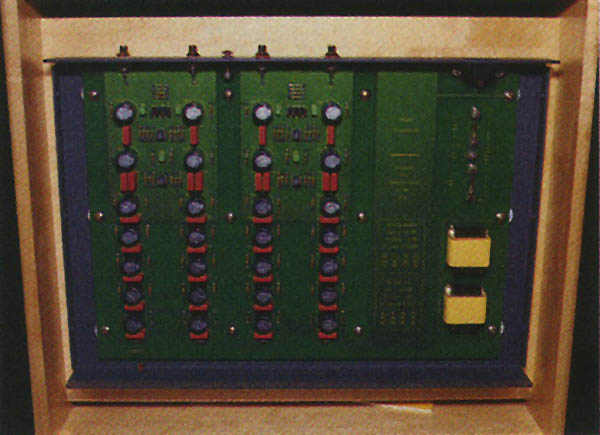 Another promising phono preamp on display in prototype form was the John Curl–designed Parasound PJC 2000 (about $1500 and available sometime in the fall, according to Parasound's Richard Schramm), featuring balanced outputs and adjustable gain and loading. As usual with a Curl-designed phono section, comparisons were being made to his legendary (and out-of-production) Vendetta Research model. If it comes close, the PJC 2000 will be a popular item.
Somehow at the last CES I'd missed one of the more promising "real world" phono sections, the Pass Aleph Ono, which features ultraflexible capacitance and resistive loading, adjustable gain (including a very high 76dB position), ultralow noise, many other impressive specs, and what appears to be very high build quality—for $2000. This I have to hear!
How soft is the software market?
Software is what drives hardware, and don't let anyone tell you anything different. And from what I observed and from what dealers were telling me, what was happening in the retail ballroom was nothing short of a feeding frenzy. Acoustic Sounds' Chad Kassem sold 38 Miles Davis The Great Prestige Recordings 5-LP boxed sets at the Show—along with thousands of other records. Okay, 38 doesn't sound like a big number, but at $200 a pop and for a set of mono records recorded in the mid-'50s, that's significant. It proves that audiophiles will buy mono records. Hopefully, it will encourage the reissue of more deserving mono titles. Kassem left the building smiling, telling me that the ratio of vinyl to CDs he sold was about 65% to 35%. Do you understand how significant it is when, three years before the millennium, LPs outsell CDs two-to-one?
DCC sold out its vinyl supplies of Aqualung, Elvis is Back, and Surrealistic Pillow by Saturday afternoon, according to my sources. (Speaking of mono, it's too bad DCC didn't issue Surrealistic Pillow in its better-sounding mono mix—I bet it would have actually sold better. Not that the stereo version isn't awesome.) Classic Records sold tonnage of Kind of Blue, its first four Blue Note titles (including Ike Quebec's luxurious-sounding Soul Samba), and Hi-Fi a la Española, the first in a series of Classic Mercury Living Presence reissues in a joint venture with Philips overseen by original Mercury producer Wilma Cozart Fine. Because of that business structure, the Mercurys will be identical facsimiles of the originals—there will be no "licensed from" on the jackets.
At Classic's press conference on Saturday, Mike Hobson announced a few other items, including a 12" single of Dusty Springfield's gorgeous-sounding "The Look of Love" from the (in)famous Casino Royale soundtrack, and an all-analog reissue of Jimi Hendrix's Band of Gypsies, which George Marino was due to cut at Sterling Sound under the supervision of Eddie Kramer late in June—a cutting session I was definitely going to attend!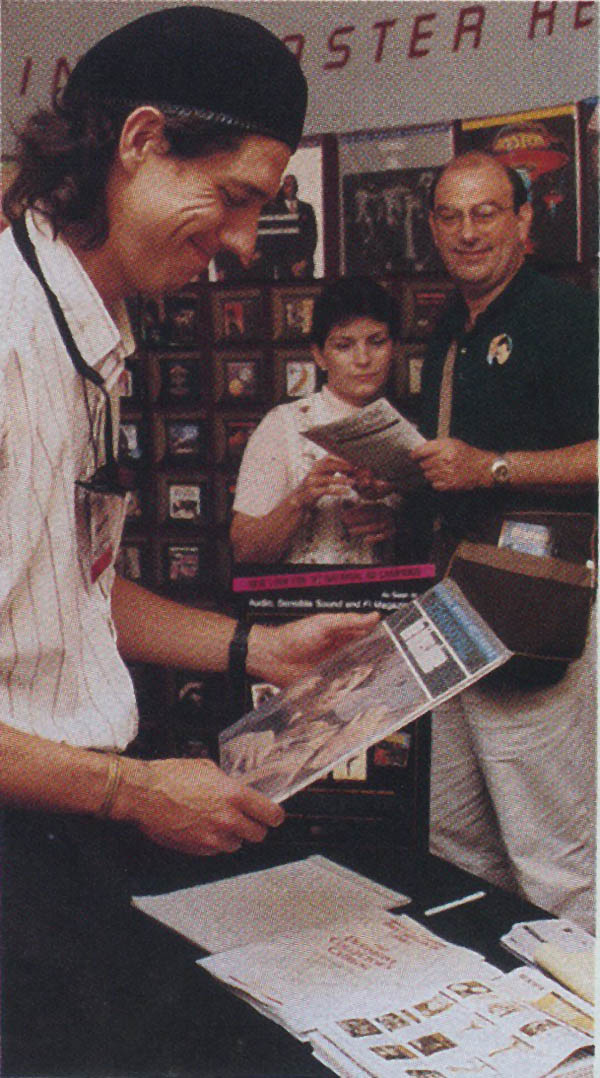 Meanwhile, Hobson's former Classic Records partner Ying Tan and his new partner Joachim Boese, of the German Alto label, announced a new licensing agreement and a new label, Alto Analogue, with MCA which has already produced two stunners: Ahmad Jamal's Live at the Alhambra (LPS-685, originally on the Chess jazz subsidiary Argo), and Nanci Griffith's 1989 pop classic, the Glyn Johns–produced Storms (MCA-6319). The original, mastered by Doug Sax, was no slouch, but this reissue had them melting in their seats wherever I played it—which was in virtually every turntable-equipped room. A "must have" for pop music addicts.
These two RTI-pressed, Bernie Grundman–mastered LPs are the first in a series of reissues that will include John Lee Hooker's The Real Folk Blues, Shirley Horn's Travelin' Light (ABCS-538), Rickie Lee Jones' Pop Pop, Joni Mitchell's Wild Things Run Fast, Gil Evans' classic Out of the Cool, and Rob Wasserman's Duets—a long-time audiophile favorite. Alto Analogue plans between eight and ten additional releases in 1997, including titles by Howlin' Wolf, Muddy Waters, Sonny Boy Williamson, Steely Dan, and Johnny Hartman. And yes, Tan assured me, the Steely Dan analog master tapes do exist—rumors that Roger Nichols transferred them to digital in the early '80s and then threw them away are false.
Add Media Access's German ARS-pressed Telefunken classical, RCA Living Stereo Mancini soundtracks (Pink Panther, Breakfast at Tiffany's, Hatari), the superb reissue of Santana's Abraxas, Cisco Music's "Super Analogue" classical discs, the Speaker's Corner Decca classical and A&M pop releases—plus whomever I may have left out—and you have some of the reasons for the vinyl feeding frenzy and the renewed interest in analog playback gear.
Hardware for vinyl softies
Speaking of which: Basis demoed its latest version of the compact 2000 series turntable, the 2800. It features the high-mass platter, precision bearing, and vacuum platter of the much larger, more expensive Basis Debut Gold turntable. Mated with Bob Graham's new 2.0 arm, the system sounded mighty impressive. I have the 2.0 on my TNT right now with Graham's integral constrained-layer–damped armboard, and the combo is a vast improvement over the Graham 1.5t, particularly in the bottom octaves.
Thorens introduced the TD 295 Mk.2, an attractive-looking three-speed manual 'table/arm combo finished in black lacquer and featuring a Zamak-alloy outer platter, carbon-fiber inner platter, and a Czech Republic–sourced arm similar to what Sumiko offers with its Pro-Ject Series 'tables. (The Pro-Ject 6.1 is currently spinning records in my system.) The TD 295 will also be available in white and rosewood finishes and will sell for "under $1000," according to a Thorens spokesperson—but not before September. The spokesperson also confirmed what I was told at the German High-End Society's Show in Frankfurt last May: 91,000 turntables were sold in Germany last year, 31,000 of them made by Thorens.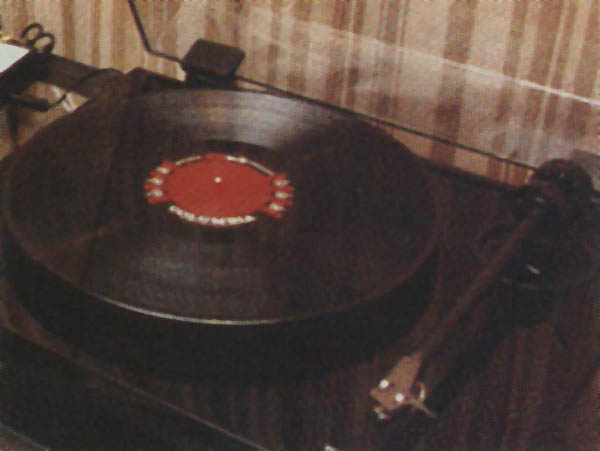 As promised, VPI has downloaded a Firestone-sourced air pod into the TNT's four support towers in place of springs; all who've made the switch report a big sonic improvement. I hope to receive my upgrade shortly, and will tell you what I hear. Meanwhile, it's sort of comic to see tire valve-stems and caps popping through the tops of the towers. VPI has also made a number of upgrades to its JMW Memorial arm, including a new bearing assembly—still fabricated from hardened steel—and a numerical scale on the azimuth adjustment ring. A new 12" model of the arm was in use on The Tweak Shop's TNT. Is longer better? Is slightly lower tracking error enough of an improvement to offset the extra mass and potential decrease in rigidity? Stay tuned. As Maria Muldaur once sang: "It ain't the meat, it's the motion."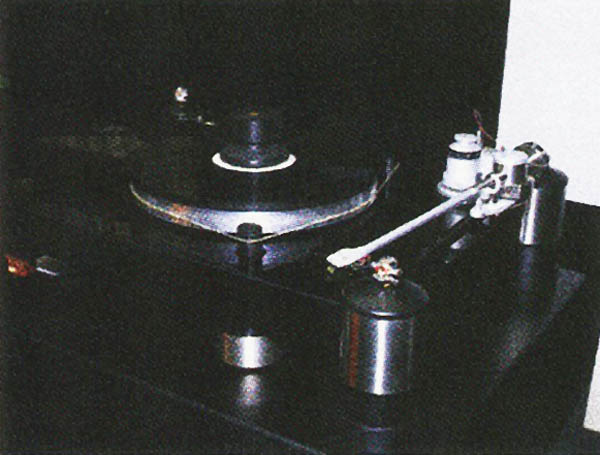 Also on display in The Tweak Shop's room was Micro-Seiki's prescription for good analog sound: the RX-1500 turntable ($5500) featuring a 60-lb platter. Add vacuum holddown and a true airbearing to the platter and be prepared to pay $7500. Sounds like a good deal to me, and a great reviewer's tool—the 'table supports two arms, one of which was the reasonably priced Audiocraft AC 3300: a $1500 unipivot featuring adjustable damping via a top-mounted screw.
The most outrageous accessory was also demoed in The Tweak Shop's room—an $800 high-powered static-discharge gun for vinyl, driven by a rechargeable battery and a compressed-air can to blow dust from the grooves. However, when Air Tight's Mr. A. Miura decided to clean a stylus by zapping it with the device (not recommended), a few colons in the room almost let go. Fortunately, the arm was not locked down; the blast of compressed air levitated it violently, but no damage was done. Meanwhile, if $800 is too much to spend for your static-discharge needs, Roy Hall of Music Hall is importing the trusty Zerostat, which will set you back $50 and should last a lifetime.
Immedia showed a prototype RPM-1 turntable—a scaled-down version of the 2—which designer Allen Perkins hopes to bring to market later this year for about $2500. Better yet, he hopes to combine it with a less opulent version of the RPM arm—which is the arm to beat in my listening experience (stay tuned for the Graham 2.0 review)—for about $4500. Now that should be a winner. The arm will be identical to the one now available as a separate product, save for the damping fluid reservoir/base, which will be fabricated from aluminum instead of stainless steel. Perkins once again demoed without a digital playback system in the room, and, unlike previous years, not one attendee complained. That's progress!
Two 'tables from Germany were on display: the Symphonic Line Addagio ($4600) and the Clearaudio/Souther arm combo ($6500), my review of which is almost complete. Both use solid acrylic platters—very popular in Germany. And back in time for the vinyl renaissance is the Canadian-built Oracle Delphi. Still visually graceful, and clearly refined for the '90s, the Delphi sells for $2775. Making sweet music in Manuel Huber's FM Acoustics room was the British-built Wilson-Benesch Act 1 'table. Playing through the FM Acoustics 222 ($18,000) phono section helped the arm/'table make a good sonic impression.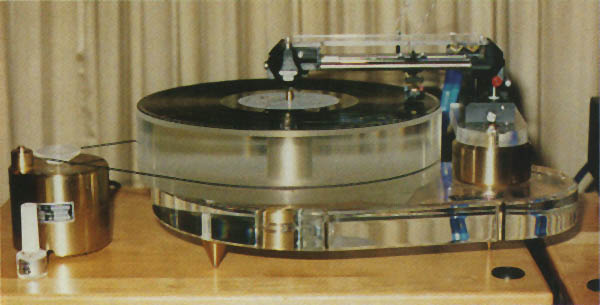 While both the Delphi and the Clearaudio are stunners, perhaps the most mesmerizing-looking and impressive-sounding 'table at the Show was Judy Spotheim's LaLuce—a $16,000 crystal cathedral of analog fabricated from transparent acrylic. George Cardas, no analog slouch, brought his personal 'table to the Show, so impressed is he with the sound.
Spotheim, an Israeli native living in the Netherlands, is a true audio eccentric. I had her SPJ arm for review at the end of my days at The Abso!ute Sound, and it was a promising but unfinished and somewhat unwieldy design. And Spotheim, a true fanatic, is not the easiest manufacturer to deal with—late night/early morning phone calls abounded:
"Mr. Frimer [Spotheim sounds something like Herve Villechez], I just realize I send you ze wrong VTA instructions!"
"Judy! It's two o'clock in the morning, for Chrissakes!"
"Sorry. I'll call you back at five!"
Room sound
Sponsored by The Audio Gallery, a local shop, the Spotheim SPJ 'table and arm—fitted with Cardas Heart cartridge, combined with BAT electronics, Cardas Golden Cross cabling, the mammoth Dunlavy SC-V loudspeakers, Black Diamond Racing Shelves and Cones, and Equi=Tech Balanced Power Conditioners—produced some of the best sound I heard at the Show.
Next door in the Voce Divina room, a different but equally convincing sound emanated from the 92dB-efficient Tenore speakers ($8485) with Basso subwoofers (price to be announced), driven by Bruce Moore tube amps. I could have stayed there all day too, so pure and intoxicating was the music.
I don't know whether it was the high ceilings, the plaster walls, or what, but there was more satisfying sound at this Show than at any other I can remember. A few other standouts: the Reflection Audio OM-1 battery-powered preamp with built-in MC phono section ($6200)/Full Spectrum cable/Artemis Speaker room, sourced with a Basis 2001/Graham 2.0 combo, offered the kind of high resolution, pinpoint imaging, and ultraclarity I prefer. That kind of holographic sound was also on display in the Immedia room with a pair of Audio Physic Avantis ($10,000) driven by Convergent Audio Technologies tubed electronics, Yamamura Millenium 6000 cables, and an Immedia RPM-2 'table/RPM arm/Lyra Parnassus DC cartridge combo. As good a case for the nearfield listening experience—especially in a less than ideal room—as you're likely to hear.
For sheer visceral excitement, there were two knockouts: the Kevin Voecks-designed Revel speakers, driven by a bank vault's worth of Mark Levinson gear, and David Wilson's Series 2 X-1/Grand SLAMMs ($75,900) powered by a diamond mine's worth of Audio Research tube gear. Interestingly, the Revel is a speaker that makes a very big sound, and the Grand SLAMM is a very big multi-driver speaker that makes a tight, fast, coherent, ultrafocused, and appropriately small sound. Wilson played a solo drum recording that was absolutely convincing.
Also-impressive-but-I'm-almost-outta-space: Gershman Acoustics GAP 520-X speakers ($9395), Aerial 8s ($5000) driven by Plinius electronics, Monitor Audio Studio 60 speakers ($11,500), Mesa Tigris integrated amp driving Meadowlark Shearwater speakers, Bow Technologies ZZ series digital (gasp!) gear, the Christian Axis 10.5 speakers ($2500, and not designed by fundamentalists; will play Marilyn Manson), the Cary CAD 572 SEs pure triode amps ($2500/pair) driving new ultra-efficient Elon Lotus SE speakers—and, finally, the mbl room, which offered everything your editor said they would in his April '97 review.
The Final Word
For the second year in a row, Acoustic Sounds' Chad Kassem has had the last word. Last year it was his line at my HI-FI '96 vinyl seminar: "Hey, five years ago I was flippin' hamburgers." This year, Mobile Fidelity's Joe Bermudez was talking about what vinyl sold and what didn't for his company. "I'll tell you what record really took us by surprise," he said, "Muddy Waters' Folk Singer. It's sold out—we have none left." To which Kassem retorted instantly, in his New Orleans drawl, "How many youse want?"
<!- ------------------------------------>