Analog Corner #56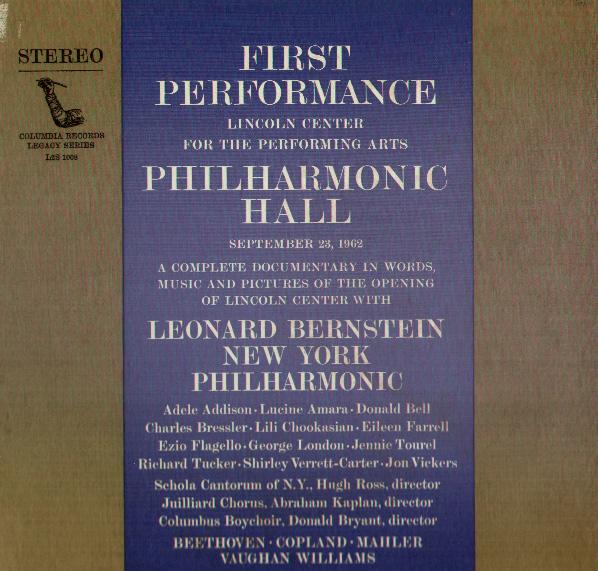 (Originally published in Stereophile, March, 2000)
The ad for the tag sale read "Former member of '60s rock group selling LP collection and vintage instruments," so of course I took the bait. I arrived early, or so I thought---there were already 30 folks ahead of me. I stayed anyway: You never can tell what sloppy seconds will yield---and perhaps they were all there for the other stuff.
I guess I'm an optimist. After arriving late to an earlier tag sale, I'd walked away with a clothbound Columbia/Legacy boxed set (L2S 1008) commemorating the first performance at Lincoln Center, on September 23, 1962. Along with two LPs of the entire night's music with Leonard Bernstein conducting, the box contains a 40-page, full-sized book with opening-night photos of luminaries arriving---Jackie, Adlai, Happy and Nelson, Dean Rusk, U Thant, Aaron Copland, etc.---and a visual history of Lincoln Center, including architectural models and drawings of proposed designs. (Did you know that the Metropolitan Opera House was originally going to be situated in the Rockefeller Center Plaza?)
The book also includes an article, "The Sound of Philharmonic Hall," by Leo L. Beranek, the acoustician in charge of what turned out to be a major-league sonic boner. According to Beranek, the jury of listeners who'd helped with Philharmonic (now Avery Fisher) Hall's final "tuning" the previous June included Leonard Bernstein, Columbia Masterworks' John McClure, Max Abramovitz (the hall's architect), Beranek, and his associates. Joining them from time to time were Erich Leinsdorf, Leopold Stokowski, André Kostelanetz, Bruno Zirato, and "several of New York's music critics." Music critics and musicians---no wonder the sound was off!
"By Saturday, June 2nd," the article concluded, "the special listening panel and the orchestra reported that the sound was now bright, alive, warm and properly balanced." Oops! Should have stopped at "bright." (The hall's acoustics were subsequently substantially improved, thanks to financial assistance from Avery Fisher hence the name change.)
Anyway, there I was, standing on line waiting to get my hands on what was left of the rock star's record collection, when it occurred to me to ask if anyone knew whose modest home we were about to pillage.
"I think he was in a group called The Happenings," a guy in front of me volunteered.
Oy Vay! Some "rock" group. They had one hit single---a corny, Four Seasons–like version of George and Ira's "I Got Rhythm."
The words of Joe Strummer, a real rock star, popped into my mind: Should I stay or should I go? I stayed, standing out in the cold for another hour.
The "vintage" instruments? A glockenspiel and an accordion. Whoopee. But the records were actually pretty good. Amazingly, only one guy ahead of me was there for them, and he was into psychedelia, of which there was precious little. He did get some good stuff, most of which I already had.
I ended up with 32 records at a buck each. Most were fairly common, but not the condition: unplayed first pressings. The spines on gatefold LPs like Joni Mitchell's Blue hadn't even been cracked. I got a mint Warner Bros.–Seven Arts Astral Weeks, an original tan-and-plum Disraeli Gears, various "1-A" Simon and Garfunkel LPs, and what appears to be---and sounds like---an unplayed copy of Led Zeppelin III. Now I got rhythm!
Two tweaks
A reader (I've lost his name) wrote to tell me of a cheap pneumatic damping/isolating system using four small (4") Mylar balloons you can get from a five-and-dime or party store. You put a bicycle inner-tube's air valve into each balloon's neck and seal it using some glue and a wire twist. When the glue sets, you inflate the balloon with a bicycle pump. The reader didn't say how much to inflate the balloon, but I'd suggest not too much---the ideal frequency for turntable isolation is 3 or 4Hz. Then you put one balloon under each corner of an MDF or wooden shelf, upon which you put your turntable. The reader claims it's easy to level the 'table, and the balloons will not leak or deflate. And, he adds, "it works like a charm." I haven't tried it.
The second tweak is for owners of vintage Dyna Stereo 70 tube amplifiers, and it comes from Alan Rauchwerger, who has spent many years modifying Stereo 70s. (He also manufactures an interesting tube amplifier, the Virtual Image, which I recently listened to for a few hours. That's Sam Tellig's territory; I hope he writes about it in his column.)
Rauchwerger says that Dynaco put a 10 ohm resistor (brown, black, black) in series with each channel's input jack ground, figuring that many buyers would use the amp with a pair of mono Dynaco PAM-1 preamps and thus run into ground-loop problems without the resistors. No one today uses dual-mono preamps, and, according to Mr. Rauchwerger, the inclusion of the resistor does nothing but mess up low-level resolution and bass control. He suggests you jump the resistors or cut them out entirely. (They're located on the PC board, running laterally just above the input jacks.) The more highly regarded Dyna Mk.IV (essentially half of an ST-70) does not include the resistor---one reason it sounds better, Rauchwerger suggests.
End-of-the-millennium limited edition cartridge from Scan-Tech
The new Lyra Evolve cartridge from Scan-Tech is based on the Clavis D.C. It features rhodium-plated magnet holders---there are no pole pieces per se in the Evolve, which uses ring magnets---and the wire in the generator coils is of a finer gauge than in the Clavis. While there's still only a single layer of wire, the thinner gauge allows there to be more turns in the same space, so the Evolve has higher output. Its performance is said to combine the refinement of the more expensive Parnassus D.C.t with the dynamics of the less expensive Lyra Beta.
Scan-Tech's distributor, Immedia (www.immediasound.com), says it will receive a portion of the total of 100 Evolves built---each with a serial number reflecting one year of the past century. For more information, contact your local Lyra dealer or call Immedia at (510) 559-2050. The price? $1999, of course!
100 In-print or readily available new LPs worth owning
I've been spending the past few weeks comparing a number of DIN-to-RCA phono cables from Silver Audio and Kimber. I've also been playing with the Nitty Gritty 2.5Fi record-cleaning machine and comparing its cleaning abilities and ergonomics to the VPI 17F, in association with The Disc Doctor's Miracle record-cleaning fluid and Buggtussel Vinyl-Zyme Gold fluid. The idea was to give you a complete rundown on all of that stuff, as well as the lowdown on a few more cartridges, including the Transfiguration Spirit, but here it is deadline time and I'm just not ready. That stuff will have to wait for the May issue (April's "Analog Corner" will be my coverage of the analog goodies seen at the January Consumer Electronics Show). It's Christmas right now, and even though by the time you read this it'll be too late to give holiday gifts, I've decided to instead write about 100 in-print LPs worth owning---or giving.
I recently got four new LP/CD catalogs: from Acoustic Sounds (www.acousticsounds.com), Audiophile International (www.audiophileusa.com), Music Direct (www.musicdirect.com), and Red Trumpet (www.redtrumpet.com, formerly Quality Vinyl and CD Outlet). It's amazing how much new vinyl is out there, and how much reissued vinyl from the past decade remains available. This list of 100 albums only scratches the surface.
I've listened to and enjoyed every one of these records, and each offers outstanding or very good sound and, of course, interesting, worthwhile music. Some may argue that originals of reissues sound better, or that some of the Fantasy OJC reissues, which sell for about $10 each, are nearly as good as or better than the "audiophile" LP reissues. But originals can be expensive and difficult to find---especially some jazz and classical titles.
In my opinion, the OJC LPs, while surprisingly good for the money, don't sound as good as the "audiophile" LP editions, and are certainly not pressed on vinyl of the highest quality or durability. The high-quality pressings are good investments---not as future money-makers, but as records to be enjoyed again and again. Mobile Fidelity's Bill Evans/Tony Bennett reissue sounds much better than the reasonably priced reissue listed here, but again, good luck finding a copy.
The list is short on classical recordings. That's not my strong suit, so I've listed only the few I know well. But the EMI reissues from Testament, the Decca reissues, and some of the King Super Analogue LPs from Cisco sound very good. Absolute Analogue is a small British reissue label that uses analog tapes, either original (as in the case of the Mott the Hoople reissues), or original first-generation dupes---which were used for its Columbia reissues of Miles Davis, Bob Dylan, Carol King, Stevie Ray Vaughan, etc. The label's fine-sounding Keb' Mo' vinyl is from digital (that's how it was originally recorded), but unlike Simply Vinyl, Absolute Analogue says so.
Also, while I nailed Simply Vinyl in February for not coming clean about source material, I've included a few of their reissues because you're not likely to find original vinyl of these. A number of catalogs claim that both Simply Vinyl and the recent American-pressed Capitol/EMI Rolling Stones LPs are mastered from analog sources. Simply Vinyl remains mum, and the EMIs are from digital. I'm sure other digitally sourced LPs are hidden among these analog treasures.
There are still copies available of Mosaic's (www.mosaicrecords.com) fantastic all-analog, limited-edition, 180gm Miles Davis multi-LP sets: The Complete Plugged Nickel Sessions, Miles Davis/Gil Evans: The Complete Columbia Studio Recordings, The Complete Studio Recordings of the Miles Davis Quintet, 1965–1968, and The Complete Bitches Brew Sessions. There are more Davis sets to come (along with many other Mosaic LP boxes), and Analogue Productions still has its Miles Davis and Thelonious Monk boxes. When Mosaic's Miles sets are sold out, as they surely eventually will be, you'll be sorry if you don't have them.
As of deadline time, I've not heard Classic's eagerly anticipated Led Zeppelin LPs, or its reissues of Crosby, Stills & Nash and Carole King's Tapestry. Classic's 45rpm series continues, including Miles Davis' Kind of Blue (coming soon, but not soon enough for inclusion here).
Guide to Abbreviations:
AA = Absolute Analogue
ALA = Alto Analogue
AP = Analogue Productions
APO = Analogue Productions Originals
APR = Analogue Productions Renaissance Series
AQ = AudioQuest
CR = Classic Records
D = digital source (where known)
SC = Speaker's Corner
SV = Simply Vinyl
* = Mikey sez: Take a chance! Not expensive.
Rock, blues, folk, pop, soundtracks
Johnny Adams: Sings Doc Pomus/Mort Shuman (AP)
The Beach Boys:
- Pet Sounds, original mono (DCC)
- Pet Sounds, stereo remix (Capitol-D)
The Beatles: Yellow Submarine Songtrack (Parlophone-D)
Beck: Mutations (Bong Load)
Harry Belafonte: At Carnegie Hall (CR or 45rpm)
Björk: Homogenic (One Little Indian)
The Byrds:
- Mr. Tambourine Man (Sundazed)
- Turn! Turn! Turn! (Sundazed)
- 5D (Sundazed)
- Younger than Yesterday (Sundazed)
Eric Clapton: Unplugged (Reprise-D)
The Clash: From Here to Eternity (Sony/UK)
Nat King Cole: Love is the Thing (DCC)
Ry Cooder: Buena Vista Social Club (CR)
Sam Cooke: Sam Cooke's Night Beat (Abkco-D)*
Cream: Fresh Cream (DCC)
Richard Davies: Telegraph (Flydaddy)*
Dead Can Dance: Into the Labyrinth (4AD)
The Doors: Strange Days (DCC)
Nick Drake: Bryter Layter (SV)
Bob Dylan: Highway 61 Revisited (AA)
Terry Evans: Puttin' It Down (AQ)
Everything But the Girl: Temperamental (Atlantic)*
Jason Falkner: Can You Still Feel? (Lovitt-D)*
Free: Fire and Water (SV)
Roy Gaines:
- I Got the T-Bone Blues (GN)
- Glory: original soundtrack (CR)
Nanci Griffith: Storms (ALA)
Jimi Hendrix: Band of Gypsies (CR)
HIM: Sworn Eyes (Bubblecore)*
Robyn Hitchcock: Storefront Hitchcock (Warner Bros.)*
Buddy Holly: Buddy Holly (MCA)
John Lee Hooker: The Real Folk Blues (ALA)
Janis Ian: Breaking Silence (AP)
Jefferson Airplane: Surrealistic Pillow (DCC)
Albert King: Born Under a Bad Sign (Sundazed)
Jimmy D. Lane: Long Gone (APO)
John Martyn: Solid Air (SV)
Mighty Sam McClain: Give It Up to Love (AQ)
Mercury Rev: Deserter's Song (V2)*
Joni Mitchell: Court and Spark (DCC)
Van Morrison: The Complete New York Sessions (Get Back)
Mott the Hoople: Mott (AA)
Roy Orbison: All Time Greatest Hits (DCC)
Elvis Presley: Elvis is Back! (DCC)
Bonnie Raitt: Nick of Time (DCC)
R.E.M.: Up (Warner Bros.)
Jimmy Rogers: Blue Bird (APO)
Elliot Smith: X/O (Bong Load)*
Bruce Springsteen: Born to Run (CR)
Hubert Sumlin: I Know You (APO)
Tortoise: TNT (Thrill Jockey-D)*
Tom Waits: Mule Variations (Epitaph)
Scott Walker: Tilt (Drag City)*
Rob Wasserman: Duets (ALA-D)
The Weavers: Reunion at Carnegie Hall (AP)
Junior Wells: Hoodoo Man Blues (AP)
The Who: Who's Next (MCA)
Sonny Boy Williamson: Keep It To Ourselves (AP)
XTC: Apple Venus, Vol.1 (Cooking Vinyl)
Classical
Beethoven: Violin Concerto, Heifetz/Munch/BSO (CR)
Brahms: Violin Concerto, Reiner/CSO/Heifetz (CR)
Copland/Ives: Fanfare for the Common Man, Rodeo, etc.; Johanos/Dallas (AP)
Massenet: Le Cid, Fremaux/CBSO (AP)
Prokofiev:
- Lt. Kijé, Reiner/CSO (CR or 45rpm)
- Scythian Suite, Dorati/LSO (CR or 45rpm)
Royal Ballet Gala, Ansermet/ROHO (CR or 45rpm)
Spain, Reiner/CSO (CR or 45)
Stravinsky: The Firebird, Dorati/LSO (CR or 45rpm)
Villa-Lobos/Prokofiev: Uirapuni/Cinderella, Stokowski (DCC)
Jazz
Cannonball Adderley:
- In Chicago (SC)
- Somethin' Else (CR)
Patricia Barber:
- Café Blue (Premonition)
- Modern Cool (Premonition)
Tony Bennett/Bill Evans: The TB/BE Album (APR)
John Coltrane:
- A Love Supreme (IMP)
- Live at the Village Vanguard Again! (IMP)
- John Coltrane & Johnny Hartman (IMP)
Miles Davis: Kind of Blue (CR)
Bill Evans:
- Live at Montreux (CR)
- Waltz for Debby (AP)
Gil Evans: Out of the Cool (ALA)
Ella Fitzgerald: Clap Hands, Here Comes Charlie! (CR)
Freddie Hubbard: Open Sesame (CR)
Wynton Kelly & Wes Montgomery: Smokin' at Half Note (SC)
Charles Mingus:
- Tijuana Moods (CR)
- Mingus Ah-Um (CR)
Lee Morgan: The Sidewinder (BN)
Oliver Nelson: The Blues and the Abstract Truth (IMP)
James Newton: Suite for Frida Kahlo (AQ)
Art Pepper:
- Meets the Rhythm Section (AP)
- + Eleven (AP)
Red Rodney: 1957 (CR)
Sonny Rollins:
- The Bridge (CR or 45rpm)
- Saxophone Colossus (DCC)
- Way Out West (AP)
Wayne Shorter: Speak No Evil (BN)
Bennie Wallace: The Old Songs (AQ)
Ben Webster: At the Renaissance (AP)
- Soulville (SC)

LATEST VIDEO
<!- ------------------------------------>