Analogue Productions Readies Doors Box Set and Separate Box For Those Already Owning the Albums (Updated Again)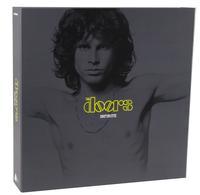 Analogue Productions will have for sale on February 5th a deluxe box set edition of its six double 45rpm 180g Doors reissues. The magnetic door front opening box (there must be a tech-packaging name for it that I don't know) is beautifully and ruggedly manufactured inside and out. It feature a gray cast covering containing a ghostly iconic image of Jim Morrison on the front cover and the group on the back.
The box also includes a full-sized full color printed on heavy stock booklet featuring album notes and a short interview conducted just before Jim Morrison's death by Ben Fong-Torres. It also contains short production notes by Bruce Botnick and one revelation: the multichannel SACDs will be up sampled from the 96k/24 bit files Botnick produced from the multitrack tapes for the DVD-A surround sound edition of a few years ago. NOTE: the two channel stereo layer was mastered from the analog tape to DSD by Doug Sax. Sorry for the omission and/or confusion!
The booklet's layout and graphic content are outstanding and include images of the master tapes and in the case of the first album the copy of the master used on that album for the box (the master tape was not useable).
The box will be available with all six albums for $400 and for those who already own them, as a stand-alone empty plus booklet for $100.00. The SACD box will be released March 5th and cost $280, with individual SACDs available the same day for $30.00 each.
If you don't want the box, of course you needn't buy it, but its quite snazzy and for "completists" and/or Doors fetishists, it's a labor of love "must have."
Like most everything coming from Analogue Productions of late, the packaging and presentation are "world-class"

LATEST VIDEO
<!- ------------------------------------>