The Annual WFMU Record Fair Is This Weekend!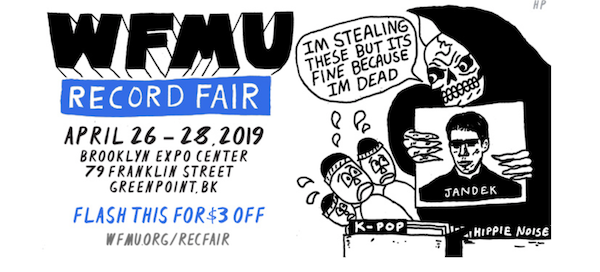 The annual WFMU Record Fair comes to the Brooklyn Expo Center this Friday through Sunday featuring 28,000 square feet of records, 45s, CDs (?), books, collectibles and the usual gang of idiots plus live bands and broadcasts. This is always a great show just like they used to make them except that with the Internet prices are more uniform (though there are still bargains from vendors who don't know certain "stuff" and other great deals from people just there to unload their records at ridiculously low prices).
$30 gets you early admission on Friday from 1-4pm plus free entry Saturday and Sunday. Regular admission is $8 Friday 4-8PM, Saturday 10am-7PM and Sunday 10AM-6PM (PTL). Live bands will perform and WFMU will broadcast live from the fair. Maybe I'll see you there! Flash the visual at the top of the page when you enter and get $3 off! That leaves more money for records!
<!- ------------------------------------>
| | | | | | | | | | | |
| --- | --- | --- | --- | --- | --- | --- | --- | --- | --- | --- |
| | Equipment Reviews | | The Gruvy Awards | | Blogs | Columns | | Show Reports | | News |