Are These Your "101 Essential Rock Records"?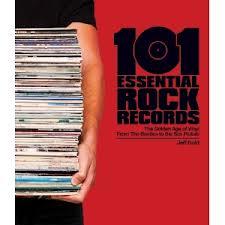 Noted record and memorabilia collector Jeff Gold's sumptuously produced new coffee table book "101 Essential Rock Records: The Golden Age of Vinyl From The Beatles to The Sex Pistols" hits all of the genre's correct notes. It is impressively produced eye candy that first can be consumed visually and later enjoyed for it multi-layered content.
Gold (who I first met at A&M Records in the late 1970's) has assembled from what I assume to be his personal collection what he considers to be the top 101 rock LPs from what he describes as "the golden age of vinyl", reproducing with near perfection on double page spreads, particularly in terms of color and textural correctness, each record's jacket art along with a picture of the record itself.
Gold enlisted rock journalist Gene Sculatti to write short capsule descriptions of each record along with a justification for its inclusion among the 101. In addition, he's called upon rock luminaries including David Bowie, Iggy Pop, Robyn Hitchcock, Graham Nash, Devendra Banhart, Johnny Marr, Suzanne Vega and Peter Buck to add additional perspective. Elektra Records founder Jac Holzman, producer Joe Boyd and others on that side of the music biz fence also add their thoughts. Holzman provided Peter Goldmark's very first long playing record (it was a performance of "Scheherazade")— a gift from the LP's inventor to Holzman. Where else are you going to see something like that not to mention many of the rare LPs so exquisitely and lovingly photographed and reproduced?
Lists like this are inevitably arbitrary and often controversial. Gold chose to begin with The Beatles' 1963 Parlophone debut Please Please Me and end with The Sex Pistol's 1977 Virgin debut Never Mind The Bollocks Here's the Sex Pistols.
Using a quote from his old A&M Records art director friend and later Warner Brothers and Virgin Records executive Jeff Ayeroff, Gold dismisses from consideration Elvis Presley and therefore doesn't feel the need to deal with Roy Orbison, Eddie Cochran, Buddy Holly and others who laid the foundation for the 101. Nor does the list include any of the black artists who really started all of this and influenced rockers like The Rolling Stones that are among the 101. In fact, other than Jimi Hendrix and Love's Arthur Lee, the only other black artist is Sly Stone, though there's a concentration of them in the really neat side feature showing Jimi Hendrix's personal record collection that Gold bought at auction (there's even some of Jimi's blood on one of them).
You could say this is a suburban white kid's collection of guitar driven, song based albums and you'd be correct—not that there's anything wrong with that! In fact, Gold lays out that premise in his introduction "The Record Obsession." Surely everyone reading this can relate!
As you go through the pages—first time to see what's included and what's not—you'll find yourself in baseball card collecting mode: "got it, need it, got it, got it, need it," etc. The more obsessive your collecting and probably the older you are, the more likely you are to find stuff you own. Or not. And even if you have a copy, he usually shows a copy that trumps yours—like The Beatles serial number 700!
And if you do read some of Gold's comments in the margins you may have to stop, pull out the record and see if you have the version.
For instance, when he gets to the third album, the first Rolling Stones album on British Decca, he writes that very early versions mistakenly included a 2:52 long demo version of "Tell Me" instead of the 4:06 master. In addition, early copies mistakenly list "I Need You Baby" as "Mona."
So of course if you have a copy of this album and you didn't know about those differences, you've going to put the book down and pull out your copy. I have two copies so I checked them: one "Mona" and one "I Need You Baby" but neither has the demo "Tell Me."
On the Velvet Underground's White Light/White Heat listing Gold writes that early copies mistakenly lists "Here She Comes Now" as "There She Comes Now" and credits Andy Warhol for "cover concept." Got that!
So what else has Gold chosen? I found myself saying "Well he'd better have included so and so," for instance Love's Forever Changes, and there it was! In fact had I been doing the choosing the 101 would have been almost the same.
Dylan, The Beatles and Stones get multiple listings. Dylan gets Freewheeling (mono), Another Side of Bob Dylan, Highway 61 Revisited (Gold neglects to mention that there are two versions of "From a Buick Six" on early pressings, which surprised me given the breadth of his knowledge) and Blonde on Blonde. The Beatles get the aforementioned first album, plus Revolver, Sgt. Peppers Lonely Hearts Club Band and The Beatles. The Stones get the debut plus Aftermath and Exile on Main Street.
Ogden's Nut Gone Flake? Check. The Pretty Things' S.F. Sorrow, the first "rock opera" (on EMI Columbia)? Check. The Incredible String Band's The Hangman's Beautiful Daughter (on the original UK Elektra label, with the artwork flipped from the American issue), Astral Weeks (a white label promo!). Check. Music From Big Pink, Buffalo Springfield Again , lots of pink label Islands from Traffic, Cat Stevens, Nick Drake, all of the usual suspects. Odessey & Oracle on UK CBS, the original DSOTM with the blue pyramid, Led Zep's debut (turquoise lettering, plum label UK Atlantic of course), Gold's collection has them all as well as Big Star's No. 1 Record and Alexander Spence's off kilter cult classic Oar. I could go on but you'll just have to get the book.
The only questionable record (not the musical choice!) was the stereo UK PYE copy of The Kinks' Face to Face. Like my "stereo" copy, the photographed copy's "NSPL 18149" sticker that had been pasted over the "NPL 18149" catalog number (the mono number) had fallen off leaving a telltale rectangular yellow shadow.
The record was what I consider to be the less desirable "stereo" edition that's mostly mono, though it opens with Ray in one channel and the phone ring in the other and "Too Much On My Mind" and a few others demonstrate some separation, but not a spread that's meaningful and to achieve "spread" the engineers have inserted image and musical energy diffusing reverb. Like some early Beatles albums, the mono version sounds far more coherent and is preferable.
Okay, I admit it: I'm being a jealous record collecting prick with that comment. After all, I've got most of the records in this book—in the original UK pressings where appropriate (like My Generation on Brunswick, Are You Experienced? on Track, etc.)—but the ones I don't have I covet! That first Led Zep, Yardbirds (on UK EMI), Bluesbreakers, and especially, especially folk visionary Davy Graham's Folk, Blues & Beyond (engineering credit: Gus Dudgeon). Damn.
Glad to see Roxy Music's For Your Pleasure but no Hear Come the Warm Jets or Taking Tiger Mountain by Strategy? I would have found room for one of them. By cutting whom? Maybe Emerson Lake and Palmer (I'd go for a Nice album on Immediate there anyway), maybe AC/DC's Dirty Deeds Done Dirt Cheap (hey! That reminds me: no Free albums)?
This part's a game you yourself will play as you feast your eyes on the lavishly produced spread of record porno, pick through the useful trivia in the margins and read Gene Sculatti's capsules. He's done a very good job considering how little space he's given to expound upon the greatest rock records of the last century.
None of this would be of any value whatsoever had the photography and reproduction been anything less than absolutely first class. They are stellar. The colors and the registration are perfect, as you'll note when you come upon a record in your collection so carefully reproduced in the book.
If you don't have any of the 101 records listed, you'd better get busy getting some! But before you do, you should pick up this book. It makes for a swell Christmas present and it's one you'll find yourself opening and enjoying often. Even if you don't own an original pink label Island pressing of Nick Drake's Five Leaves Left at least you can look at the fabulous images of the jacket front, rear, gatefold spread and of course the vinyl. The vinyl—that's what it's all about!
<!- ------------------------------------>