AXPONA 2015 Wrap-Up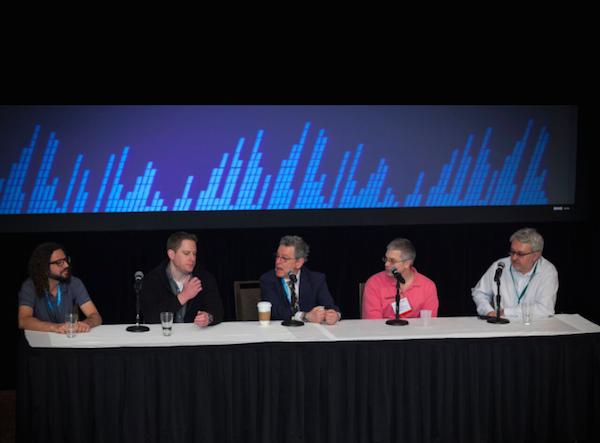 This year's AXPONA Show was the best yet. It demonstrated that Chicago is a great place to hold a regional audio show—even if the city ignored it. It was well-attended by consumers and well-supported by local dealers and a wide sampling of manufacturers.
(Lead photo taken at "Vinyl Lives" seminar shows L-R: Better Records' Todd Drootin, Gotta Groove's Matt Earley, analogplanet.com editor Michael Fremer, Analogue Productions, Acoustic Sounds, QRP's Chad Kassem and Channel D's Rob Robinson).
However, because it takes place a month before High End Munich, the world's largest audio show, AXPONA is not the show where new gear gets introduced.
Analogplanet.com attends AXPONA to do seminars, which are always well-attended and to meet readers. The AXPONA attendees are an enthusiastic bunch and not cynical "tire-kickers". That's why it's such a fun event.
It was also fun for the editor to meet an owner of his 1975 comedy album "I Can Take a Joke".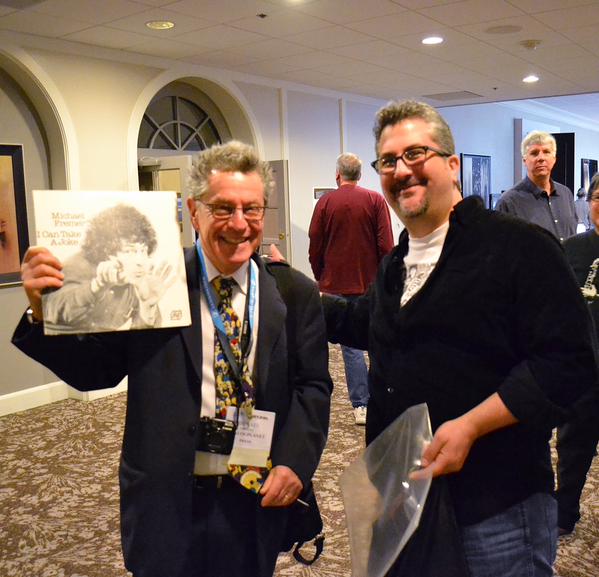 There was some news: MoFi Distribution, a division of Chicago-based MusicDirect.com is now the official Koetsu importer/distributor. I spaced out (sorry) on a demo of various Koetsu cartridges on a series of Avid turntables, with electronics by Balanced Audio Technologies and Quad speakers, three other brands also MoFi distributed.
Not as much vinyl and as many turntables were exhibited as I'd hoped for and not sure why that was the case, though the Marketplace sales area was filled with vinyl for sale. With MusicDirect a local Chicago business, the company brought a lot of "product" to the show, but so did Elusive Disc and Analogue Productions. Chad Kassem was happy with sales at the show as were the other vendors with whom I spoke.
Lobby level analog-friendly exhibitors included Dynavector, Well Tempered Labs, Lamm Industries and as part of the Tweak Studio booth in The Marketplace, SOTA Industries.
Also exhibiting in The Marketplace: Bob's Devices, Anvil Turntables, LKV Phono Preamps, Phoenix-Engineering, and VPI Industries.
Second floor exhibitors included Doshi Audio electronics and Brinkmann turntables.
On the third floor Jeff Catalano's High Water Sound demoed TW-Acustics turntables and Tron-electric phono preamplifiers. Also on the third floor: Townsend Audio and Acoustic Signature turntables, Allnic Audio, and VPI.
Kronos turntables from Canada, were on the floor number four along with Needle Doctor, Ortofon, Pro-Ject, Creek, Rogue Audio, Music Hall and George Warren Precision Sound. Also Moerch tone arms, and ZYX cartridges.
Clearaudio and Oracle were on floor five along with Transrotor, Thorens and Kuzma turntables. Up on the twelfth floor was Aesthetix, AMG, Audio Research, Benz Micro, and Sim Audio—all familiar names to analog audio fans.
Analogplanet.com ran three seminars: two turntable set-up events show organizers called "Michael Fremer's Internationally Renowned Turntable Set-up Seminars" and "Vinyl Lives", which we did last year as well.
"Vinyl Lives" panelists were Matt E. Earley, V.P. Sales and Marketing, Gotta Groove Records, Inc, the Cleveland, Ohio-based pressing plant, Todd Drootin, Better Records, Chad Kassem, QRP pressing plant, Acoustic Sounds, Analogue Productions (etc.) and Dr. Rob Robinson, Director of Engineering Channel D, which manufactures phono preamps and created Pure Vinyl and Pure Music software.
It was a lively, well-attended seminar with everyone contributing useful and information from a variety of perspectives. The discussion ranged from PVC pellet formulations, to how difficult it's becoming to find good used records. Also discussed: exactly what is "mold release compound" and what to do about defective records.
For what's new that you'll see on store shelves and on the online e-retail sites, stay tuned for High-End Munich show coverage starting Thursday, May 14th!
<!- ------------------------------------>