Balanced Audio Technology VK-P6 Phono Preamplifier Does MM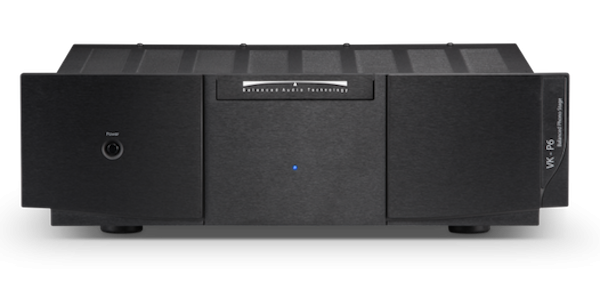 First off, to clarify: I am a big Mel Tormé fan. If I describe a product as producing a "velvet fog" (Mel's nickname), it's meant as a compliment! Some readers emailed wondering how I meant the expression. I meant it as a compliment and I used it because the VK-P6's sonics reminded me of Mel's smooth, sonorous voice. If you want a phono preamp more in the Axl Rose camp, there are some. And there are some that manage neutrality or close to it.
Clearly Balanced Audio Technology sent a mixed message with this product. The VK-P6 isn't labeled as a "MM/MC Phono Preamplifier". It's just a "Phono Preamplifier." The default set-up of high gain (55dB), 0 capacitance and 47kOhm loading sends a mixed message. As does the low gain setting of 50dB, which is 5 to 10 dB more gain than most MM phono preamps produce.
Still, I should have clarified this with the designer Victor Khomenko before, not after writing the review. Apologies to all. So hopefully BAT will make its product description more complete and perhaps either choose 50dB, 47kOhm and 150pF capacitance (MM default), or 55dB and 100 ohms (MC) as the default instead of how it's currently factory configured.
I also should point out that the review left the wrong impression about Balanced Audio Technology's availability within a strong domestic dealer network. The review might have led some to believe that buying online through Music Direct is the way to go because of the company's money back guaranty. In fact, a Music Direct representative told me, BAT dealers are happy to offer the same guaranty and that in fact, Music Direct is not in the business of competing with the dealers but wishes only to sell to customers not located near a dealer.
Khomenko assured me that the unit's overland margin was more than generous and that using 50dB gain with a typical 4.5 to 5mV MM, moving iron or high output moving coil cartridge would be no problem for the VK-P6. I already had the $1200 Clearaudio Maestro v2 Ebony MM Phono Cartridge mounted on the Pro-Ject 9cc arm that had been supplied with the Avid Ingenium turntable ($1999 with arm) currently under review and had been using it with another phono preamplifier so it made for an easy swap and an easy comparison.
Since it's the same input and same circuitry it would be surprising to hear a character change related to anything other than a different cartridge and that proved to be the case.
The Maestro v2 Ebony is among the most "moving coil-y" sounding MM cartridges though its 4.2mV output is about average for a MM cartridge. With its boron cantilever and MicroHD stylus profile the Maestro v2 Ebony's speed and detail retrieval is above average for a MM cartridge.
Compared to the solid state unit I had been using the VK-P6's tonal personality produced a more "velvety" top end without obscuring or softening to any great degree the Maestro v2's pleasingly sharp transient performance but compared to the solid state unit, it was somewhat less sharp. The cartridge's midrange, fully fleshed out and nicely tuned by the ebony wood body was further brought forward but not overly so.
I thought this combination worked better than did any of the very expensive MC cartridges I tried with the VK-P6 but that makes complete sense. I don't think anyone is going to buy a $3495 phono preamp and mate it with a $6000 cartridge but with a $1200 cartridge? Why not? You're good to go for under $5000 and ready for a cartridge upgrade only in a few years.
That the VK-P6's sonic personality might obscure or blunt some of the greatness of a $6000 MC cartridge should not be surprising. On the other hand, it should well-compliment some of the more aggressive, less expensive ones, as well as being a better match for moderately priced MM cartridges—though I'd not pair the VK-P6 with any of the pleasing-sounding MM softies. I think they pair best with solid state. But that's just my opinion.
Yes, I'll stick with the "velvet fog" descriptor for the VK-P6 but please take that as a compliment to both Mel and to the BAT VK-P6
<!- ------------------------------------>