The Band 'Live At The Academy Of Music 1971'— Every Song Performed Drawn From All Four Concerts Coming Sept. 17th From Capitol/UME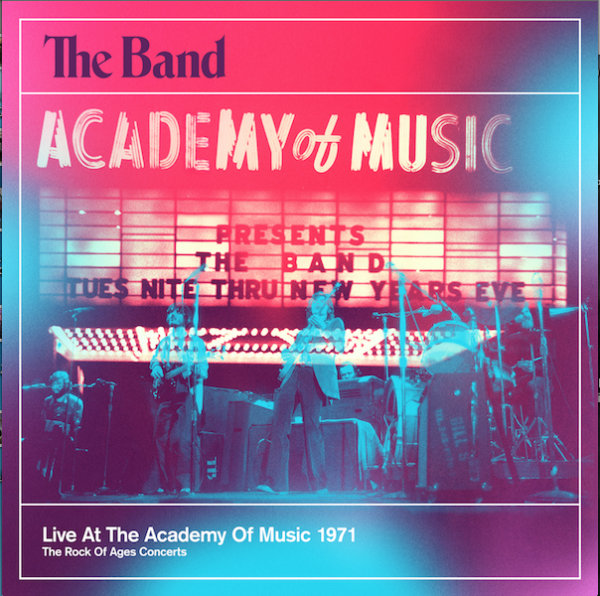 Some music news transcends formats and this is one that does. The Band's "Rock of Ages" double LP set recently reissued by Mobile Fidelity to great sonic effect has been given a complete "make over" for a new release coming September 17th.
The original double LP set was of necessity highlights culled from the four now legendary year-end Academy of Music concerts. This new 4 CD+DVD set set includes every song played by the group during the four concert stand (though not every performance of every song), but it does include the entire New Year's Eve concert including Bob Dylan's surprise encore appearance.
All four multi-track tapes were remixed in stereo, the first two CDs by Bob Clearmountain and the second two, which are soundboard mixes of the complete New Year's Eve concert, uncut and unedited, by Sebastian Robertson and Ryan Nasci.
The set includes 19 previously unreleased performances and newly discovered footage of two songs filmed by Howard Alk and Murray Lerner (director of the not to be missed "Festival" covering the Newport Folk Festivals of 1963-1966) as well as on the DVD a Bob Clearmountain 5.1 channel remix of discs 1 and 2, the resolution of which was not provided in the press material, but we're hoping for 96/24.
The deluxe edition of Live At The Academy Of Music 1971 is presented in a 48-page hardbound book with previously unseen photos, a reproduction of Rolling Stone's original Rock Of Ages review by magazine co-founder Ralph J. Gleason, an essay by The Band's Robbie Robertson, and appreciations of The Band and the set's recordings by Mumford & Sons and Jim James of My Morning Jacket.
The Deluxe set is available on Amazon.com A considerably less expensive set containing just the first two CDs can also be ordered on Amazon.com The entire collection was mastered by Patricia Sullivan at Bernie Grundman Mastering.
All of this raises the question for vinyl lovers: was the set's stereo mixes done in analog (probably not) but if so, might there be a multi-LP set coming in the future? We've asked and hope to find out soon.
Watch the box set's trailer
This is one set analogplanet.com will review, even though it's on seedee.
<!- ------------------------------------>