Basic Disc Mastering: Everything You Ever Wanted to Know About LP Mastering And More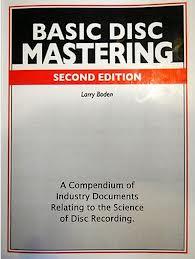 Disc mastering veteran Larry Boden released the first edition of his book "Basic Disc Mastering" back in 1978. He self-published the fifty page book because he was so often asked about the disc mastering process he figured a book made sense.
He never figured a Second Edition would make sense. Not after what he calls the "virtual overnight obsolescence of the vinyl format..." Not after digital audio ended his disc mastering career and he found himself heading up U.S. operations for JVC's digital audio recording system. As far as he was concerned back then, "newer was better."
Boden even wrote another book called "Mastering CD-ROM Technology" published by Wiley and Sons. But it didn't take long before he realized that "without question vinyl sounds better."
So here we are in 2013 and vinyl has made its unlikely comeback so Boden decided it was time for this second edition that includes the first plus hundreds of additional pages of information including a section on CD-4, JVC's quad format.
Boden began his career back in the '60s while still in college at the University of Cincinnati where he was a DJ. King Records was there so he paid a visit and met the gruff cigar smoking owner Sid Nathan. He was there to buy records but Sid wasn't having any of it unless the kid bought in the hundreds.
Eventually he made his way into a recording session and afterwards watched some acetates being cut and he was hooked!
After graduating, he got a mastering job at Nashville Record Productions, which, I'm sure you know, is still in the record cutting business. From there he moved to Los Angeles and cut records for MCA during the boom years. In 1980 he became chief engineer at Hollywood's famed JVC Cutting Center where he cut half-speed, eventually on JVC's CH-90 cutting system.
Then came digital.
So what's in this book and who needs it? Chapter by chapter it goes from "How Grooves Work" to how cutting lathes work (with photos), how a mastering console works and how to work one, all about lacquers, the cutting stylus, half speed mastering, record pressing, specs, glossaries, an updated listing of pressing plants worldwide, reproductions of patents, vintage brochures for lathes and various accessories and so on.
Anyone cutting records of attempting to do so will find this book indispensable. For everyone else, merely interesting, depending upon how deeply into the weeds you wish to get. Want the details on Howard Holzer's disastrous Haeco-CSG system that supposedly made unnecessary producing dual catalogs of mono and stereo releases (particularly useful for radio airplay), but which ruined releases like Neil Young's first solo album, Beau Brummels' Bradley's Barn, The Everly Brothers' Roots and many other albums? You'll find it here.
I'll put it to you this way: if you drive a car but couldn't care less about reading the instruction manuals for vintage machinery used in the production and maintenance of old cars you might not find any of this either interesting or useful. Like do you really need to know how to maintain and trouble-shoot the Westrex RA 1702 power amplifier?
I'm just saying, there's definitely a market for this, but you may or may not be in the marketplace. Still, it's history, fascinating history and for many it's a practical guide. I am sure that anyone and everyone reading this review will find something of interest in this once again indispensable compendium.
You can contact Larry if you wish to buy a copy: masteringbook@yahoo.com.
<!- ------------------------------------>